In his last year at the University of Massachusetts, Tyler had the privilege of spending a semester abroad. Hearing rave reviews from friends and family, he chose to live in Florence for four months, and quickly understood for himself the reasons for Italy's allure. Through travels around the country, Tyler was amazed by the diversity of Italy - where one can find soaring seaside cliffs, Renaissance hubs, labyrinthine canal neighborhoods and unspoiled rolling green hills, all within borders. He had to go back - and in his return trips to Italy's regions, he gained a renewed appreciation of Italian enthusiasm for culture and the legendary hospitality present from north to south.
After roles in event management and customer service, he is thrilled to share the invigorating experience of an Italian journey with Audley clients. In his free time, Tyler runs - a lot - and stays current on European soccer.
Speak to Tyler

Start planning your trip to Italy with Tyler by calling
1-855-223-4748


Recommend Tyler to someone you know
Help your friends and family discover the world with Audley. Recommend Tyler today.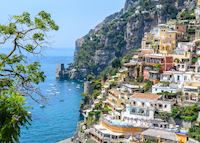 Positano on the Amalfi Coast is like no place on Earth. Houses are stacked almost vertically on seaside cliffs, their bright colors a beautiful compliment to the vivid aqua ocean. Two beaches invite you to test the water, and swim out to where you can look behind and see mountains towering upwards, almost directly above you. And most remarkably, there are the stairs - from the upper residences down to the shore - Positano's version of a highway, for cars are not permitted access to the lower areas. Writer John Steinbeck neatly summarized the sentiment when he labelled the southern town "a dream place that isn't quite real when you are there, but beckoningly real after you have gone.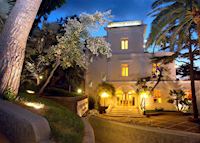 The Excelsior Parco is a small, but lovely boutique property a short walk up from the Capri beach and a quick drive to the center of Capri town. With a staff that treats their guests like visiting dignitaries, this quiet property makes it easy to feel at home as you watch the palm trees sway in the island breeze. A rooftop terrace with views of Marina Grande and the soaring mountains behind is a wonderful place to enjoy an evening aperitif that the staff will be thrilled to prepare for you.
I'll never forget when…
I feel that a good walking tour is absolutely essential when in a new city - and if you can add a fun wrinkle to that formula, even better. In Rome, I had the chance to go on a tour with four built-in stops at eateries to sample local cuisine, including items like breakfast pizza and fried artichokes. This was a perfect way to pace the history lesson given by the tour, with some delectable local gastronomy as your reward!