Bryn grew up in upstate New York, but relocated to Boston, where most of her family resides, to attend Simmons College. After working a few years at a hotel and hostel in Charleston, South Carolina, she embarked on a five month backpacking trip through India. While there, she visited the bustling cities of Delhi and Mumbai, the mighty Taj Mahal, foothills of the Himalayas in Dharamasala, the Golden Temple in Amritsar, the back waters and tea plantations of Kerala, the beaches of Goa, ancient carvings of Ellora, rock formations of Hampi, and of course the culturally rich and vibrant cities of Rajasthan. On her return, she worked in her family business for a few years before venturing off to Seoul, South Korea, to work as a teacher. It was after this time in Korea that she decided to return to India for another month of backpacking with visits to Kolkata, Bodh Gaya, Rishikesh, Varanasi, and a return visit to Agra, Amritsar, and Dharamasala. India is always Bryn's destination of choice but she's also done her fair share of travel through Europe and South East Asia, Italy and Burma being two favorites. After teaching for a couple of years in Boston, Bryn realized her true passions are in travel and joined Audley to specialize in creating tailor made itineraries for North India. When she's not doing this, she's enjoying the parks close to her home in Jamaica Plain, biking around the city, reading, or visiting family on Cape Cod.
Speak to Bryn

Start planning your trip to India & the Himalaya with Bryn by calling
1-844-250-3438


Recommend Bryn to someone you know
Help your friends and family discover the world with Audley. Recommend Bryn today.
Bryn was an absolute joy to plan and work with.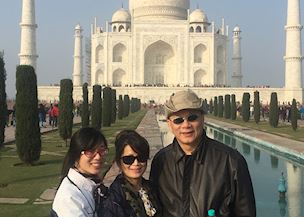 Mr. Hoc Do traveled to India for 15 days in December 2017, organized by Bryn
Bryn was an absolute joy to plan and work with. She is so kind and patient, and we had many wonderful exchanges with her. She answered our many questions and made sure everything was smoothly thought out before and even during our trip!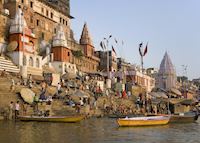 Varanasi, Shiva's City, is the holiest city in India. It is the place where Hindus be cremated on the banks of the Ganges to hopefully break the cycle of reincarnation. It is the oldest inhabited city in the world and its labyrinth like lanes take you back in time immediately. For a place that has thousands of visitors and pilgrims each day, the people are friendly and welcoming to all of their guests. Varanasi can be explored by foot, wandering around and stumbling upon temples and pilgrims performing daily rituals. It can also be enjoyed by boat at sunrise or sunset where some sort of ceremony is always being performed on the ghats. Varanasi has delicious sweets and beautiful silks to enjoy too. Every time I visit Varanasi I have a different experience from the last. There is no other city on Earth like Varanasi and it is a must see when traveling to India.
Mihir Garh in Rohet made a lasting impression on me. Rajasthan has beautiful cities to visit, but this boutique hotel showcases the beauty of the rural areas. I love that it's built out of natural materials and tastefully decorated with the bright colours, textiles and art that Rajasthan is known for. Each room has a private plunge pool and countless lounge areas to take in the spectacular views while maintaining a very intimate feeling since it has only nine rooms total. Mihir Garh is surrounded by tribal villages and wildlife as well as a stable of Marwari horses. This is a very romantic property built by a husband and wife who are very connected to the property and land. Their relationship with the villagers is quite strong which allows for cultural excursions that would not be possible as an individual traveller. One of these excursions is a safari into the Bishnoi Village, where the people live off the land and believe they are reincarnated into the Black Elk that can be seen grazing on the grounds of the hotel.
I'll never forget when…
One of the most exciting experiences I've ever had in India was the Delhi Food Walk in Old Delhi. Old Delhi really delivers the chaos and adventure that one craves when traveling to India. It is a labyrinth of narrow lanes with buzzing shops and a pace that is rivalled only by New York. The varied neighbourhoods showcase individual cultures and cuisines and I always say 50% of the journey is about the cuisine. This tour is such a great way to experience the culture and food with a local and to go where the locals eat. From the Jain neighbourhood, where tasty treats are made following strict vegetarian guidelines as well as without onions or garlic, to the Muslim neighbourhood, where meat curries and the best butter chicken in the world can be found, this tour took me everywhere for as long as my legs could walk and as much as my stomach could eat. A sampling of foods on my tour was aloo tikka, butter chicken, samosas, buffalo biryani, and of course no Indian meal would be complete without sweets like jalebi and a sampling of several different kulfis. The tour guide was really accommodating and designed the tour based on my preferences. He also fit in a few cultural experiences like visiting a 1,000 year old Jain temple, a walk through the spice market, and a view from a roof top where we watched families break their fast during Ramadan.