Born in Ukraine and raised in Saudi Arabia, Talia has always had a passion for travel and learning different cultures. She studied in California and Amherst, finishing up her hospitality degree southern Spain. Talia began her hotel experience in China, but could not resist the temptation to return to the Middle East. Before long, she found herself waking up to a sunrise on the Dead Sea in Jordan, picking fresh olives in the markets of Amman and driving past the breath taking sky line in Dubai.
Eventually, Talia moved to Boston and became passionate about encouraging her friends and family to travel and see the world. Still longing to return to the Middle East, she got an opportunity to travel to Morocco with Audley. The people, the sights, the cultures, the FOOD; everything was marvellous. Talia returned with a plethora of experiences and a desire to share this knowledge with other aspiring travellers.
Speak to Talia

Start planning your trip to Morocco with Talia by calling
1-844-697-7795


Recommend Talia to someone you know
Help your friends and family discover the world with Audley. Recommend Talia today.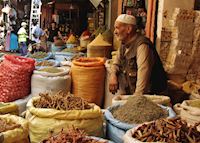 Stepping into Marrakesh is like stepping into an another world. Walking through the medina you bump into a timeline of history seeing men carry merchandise on donkeys, women drive motorcycles to work and boys play barefoot with a ball. Navigating through the thin, snake-like streets of the souqs you encounter handiwork the detail and quality of which is hard to find in this day and age of machines. Although the city is filled with hustle and bustle of commerce, once you step into a Riad, the world melts away and you find yourself in an oasis. With all of its perfect imperfections, every traveler finds something for them in Marrakesh.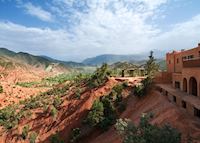 This property has the most breath-taking view of the mountains. The Kasbah has its own swimming pool and vegetable patch with some very friendly animals. The rooms are specious, clean and comfortable with a balcony and a fireplace that is lovely to have in the winter. I would highly recommend the three course dinners provided at the property featuring local ingredients. Each dish is a delicious masterpiece. With its secluded location and limited internet connection, Kasbah Bab Ourika is the perfect place to relax, unwind and be mesmerized by the beauty of nature.
I'll never forget when…
My favorite experience was cooking with a local family in Fez. Ouliya Amrani and her family have lived in the city for countless generations. You are welcomed to the Riad with Moroccan tea and Ouliya with her mother's assistance sets off teaching you how to make bread, sweets and a wonderful tajine. As per tradition, the bread is taken through the small alleys to the communal oven. I got a chance to enjoy a delicious homemade meal, learn about the family's history and experience and even learn some onion chopping tips