Megan is a self-proclaimed travel addict. Her passion for travel started at a young age as she had always preferred the Discovery channel over cartoons. By the time she was in high school, Megan got an after school job to start her very own travel fund. By the time she was 17 she had saved enough for her first trip abroad and traveled to Zambia as a volunteer for an AIDS awareness program. She's been hooked on travel ever since.
After attending college in Miami, Megan worked an array of jobs doing anything that would allow her to travel, including working as a flight attendant and teaching English in Vietnam. She is thrilled to be joining the Audley team and helping others achieve their dreams of travel, especially to her favorite corner of the world, Latin America.
Speak to Megan

Start planning your trip to South America with Megan by calling
1-855-787-0341


Recommend Megan to someone you know
Help your friends and family discover the world with Audley. Recommend Megan today.
Megan was a joy to work with and very accommodating in developing a final itinerary that proved perfect for our needs.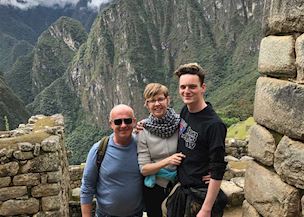 Rich and Tricia Hansen traveled to Peru for 9 days in May 2017, organized by Megan B
We have wanted to go to Machu Picchu for many years and we were not sure how to plan this adventure. When I did an internet search, I found Audley and our country specialist Megan who helped make this a truly wonderful experience. Each hotel we stayed at was more impressive than the last and all Megan's effort added to our enjoyment of this spectacular trip. Megan was a joy to work with and while we were not exactly sure of what we wanted, and we changed our mind all the time, Megan was very accommodating in developing a final itinerary that proved perfect for our needs.
My favorite destination in the world is hands down, Rio de Janeiro, This city really has something for everyone from crescent shaped white sand beaches, to a buzzing metropolis and the largest urban jungle in the world, Tijuca Forest. In addition to sweeping views worthy of a National Geographic Cover, the welcoming and fun-loving attitudes of the locals, or cariocas as they refer to themselves, is as intoxicating as the caipirinhas they serve. Rio isn't just a place you visit, you experience it.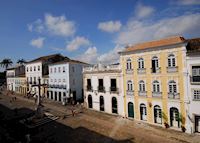 This small boutique hotel sits on a cobble stone plaza in the heart of the old historical district. Previously an 18th Century home, this hotel has been beautifully renovated and decorated with colonial furnishings, taking you back in time to Salvador's heyday during the sugar cane boom. This hotel also has rooftop terrace, the perfect place to relax and mimic the slow pace of the city after a long day of exploring.
I'll never forget when…
My favorite experience while in Peru had to be my trip to the Uros floating islands on Lake Titicaca. My guide took me to visit one of the few families that still lives on the man-made islands built of reeds, just as their ancestors have done for centuries. It was such an amazing experience to see how these people still live such simple lives in today's modern world.