While in college, Tyler took a semester to study indigenous cultures and Spanish in Peru. She knew right away that between Latin America's vibrant atmosphere, incredibly hospitable people, and their ridiculously tasty soups she had found a part of the world she would never get tired of exploring.
Upon graduation she decided to spend a few months abroad, which quickly turned into a four year stint of living and traveling around the world. She taught phonics in Thailand, helped launch a travel website which took her all over the South American continent, and worked in content marketing roles in both Tanzania and Mexico. Her years abroad inspired her to move into a role where she could assist others in their explorations.
Still enamored with Latin America, Tyler feels incredibly lucky to spend her days making sure that others have their own incredible experiences in Colombia, Ecuador, and Cuba!
Speak to Tyler

Start planning your tailor-made trip with Tyler by calling
1-855-223-4902


Recommend Tyler to someone you know
Help your friends and family discover the world with Audley. Recommend Tyler today.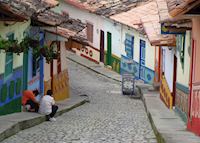 Every time I stay in Medellin I wish I had more time. It's a city of constant change and unlimited surprises. In 2012 Medellin was named the world's most innovative city for its environmental protection policies, cutting edge transportation system, and cultural options. Spend a couple days in the city and it's easy to see how deserving Medellin is of this prestigious title. Take a cable car ride from the city center and within minutes you are in stunning Parque Arvi horse back riding through the countryside, spend an afternoon marvelling at the intriguing statues of Fernando Botero, or go shopping at unique boutique shops in the trendy El Poblado neighborhood.
I was blown away by every aspect of my stay at Finch Bay Resort on Santa Cruz Island in the Galapagos. Located a short water taxi ride away from the main town of Puerto Ayora, this hotel is the best ecological option, meaning that a top notch experience as well as leaving a small environmental footprint are both possible.
It's easy to use this hotel as a base for grand adventures; from hiking to snorkeling to guided island hoping trips (one of the smallest species of penguins are just two hours away)! If relaxation is what you are after this hotel is equally amazing with options to enjoy the spacious pool area, the secluded bay in front of the property, or a decadent cordon bleu meal at the onsite restaurant.
I'll never forget when…
Havana is quite easily the most photogenic city I have ever been to. Colorful building fronts might conceal some of the cities top restaurants or simply a vacant interior overgrown with leafy vines and crumbling interior walls from a yesterday long forgotten. In fact that is Havana in it's essence a place of renewed energy that is simultaneously trapped by the political constraints that seem to loosely define the entire country. The complexity of a place so seemingly simple is what I most enjoyed about Havana, and it was through photography that it seemed possible to capture moments that articulated this better than words could. Going on a photography tour of the city with a local who was able to point out moments that I may have missed and provide context for scenes that were originally lacking depth made the city come alive and provided the backdrop for the rest of my travels in Cuba.

We walked along the malecon where the waves dramatically crashed onto the highway. We waited just beyond the cobble stone streets where the preserved American cars of the 1950's zipped by, their bright pastel exteriors perfectly preserved. We watched as men with leathery skin played dominos, Fidel's game of choice, and laughed raucously as tiles were placed on the small crate table top in which they were all crowded around. We graciously returned smiles that threatened to overshadow the faces of young boys who were rambunctiously kicking around a soccer ball in the central plaza. A place of stark beauty and untold stories, Havana was better seen when isolated through the lens of a camera in order to better grasp the complexity that is overwhelmingly present in Cuba's dramatically beautiful capital city.