Alex is from a small town called Northborough, 30 minutes outside Boston, where his family still reside. After studying and living in Australia a year before graduating from the University of Connecticut, he set off for a backpacking adventure in Europe, spanning from Prague, through Germany and Switzerland, culminating in Italy on the Amalfi Coast.
He then worked for large IT company in Boston before he took all of his saved vacation days to visit Southern Cambodia, where he completely fell in love with Asia. The rest, as they say, is history, as Alex now covers Vietnam, Cambodia, Thailand, and Laos as an Indochina specialist for Audley.
Alex lives in the North End of Boston, where he regularly enjoys delving into Sherlock, playing football (yes, the British variation) with his friends from UConn, and venturing either to Vermont to ski or to Wellfleet, Cape Cod to catch the waves at Cahoun Hollow beach.
Speak to Alex

Start planning your trip to Southeast Asia with Alex by calling
1-844-250-3413


Recommend Alex to someone you know
Help your friends and family discover the world with Audley. Recommend Alex today.
What impressed us most about Audley is the way they selected and liaised with local guides to provide culturally authentic and unusual experiences.
Melissa, George, Corine, and Bruce traveled to Cambodia, Laos and Vietnam for 29 days in February 2016, organized by Alex P
We recently returned from a wonderful Indochina trip planned by Audley Travel. What impressed us most about Audley is the way they selected and liaised with local guides to provide culturally authentic and unusual experiences. For instance, Audley arranged for us to meet with some local fishermen in Hoi An and share time with them as they cast their nets on the local river. This was not a strictly for tourists event, and there were no others sharing this experience. In Siem Reap, our guide was able to get us into Angkor Thom, Angkor Wat, and Ta Prohm Temples at dawn before the throngs of tourists appeared. It was a memorable trip.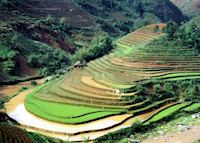 There is something amazing and soul-cleansing about the contrast between lush, towering peaks and the nearly uninhabited valleys below in Sapa, situated in the Tonkinese Alps. The scenery alone left me short of breath, but what rendered me memorized was how simply wonderful and appreciative the people were; sometimes the simplest of experiences leave the most profound effects. The rice field require a new entry of descriptive adjectives in the dictionary, but the intricacies and details of the stair-like hillsides were nothing short of spectacular at the height of wet season.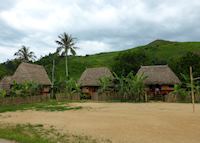 Without a doubt, my time at the Bho Hoong Bungalows was an absolute standout in terms of accommodation. Tucked in between Hue and Hoi An, in the middle of the Troung Son Mountains, I lived among the Co Tu people of Vietnam for two days, trekking through the jungle and plunging into waterfalls. By night, the villagers performed an ancient dance around the bonfire wielding shields and staffs and wearing wonderfully embroidered clothing provided by the women of the village. We feasted like kings as they had prepared a full-on roast, rotisserie style, with a helping of rice wine and spring rolls on the side for the entire community. For dessert, we were serenaded by the two elder men in the town who played ancient instruments while one of the women beautifully sang traditional Vietnamese ballads, which was left me salivating and feeling quite profound. It truly is immersion in its purest form, and Bho Hoong is 100% the perfect way to gain a deeper understanding of the culture of Vietnam.
I'll never forget when…
There aren't enough shades of green in the world's biggest Crayola crayon box to describe the scenery on the drive from Sapa back to Hanoi. In the most remote part of the Northern Vietnam countryside, we stopped for the 189th time for pictures; up on top of one of the hills, there was a group of Black Thai women harvesting rice and their children playing in the surrounding field. My driver, guide, and I wandered up and watched them work for a few minutes before offering to help. Over the next hour, we plucked, sifted, and pounds of rice while running around and playing "Hide and Seek" with the children, who were no more than eight years of age.

The fascinating aspect was that there was absolutely no language connection; my guide could only speak Vietnamese, and these women and children only spoke a regional Thai dialect, which made the experience all the more primitive and humanistic. When the sun went down, we started to say goodbye and one of the women took her farming hat off of her head and handed it over to me, almost as a gift of thanks. I don't think they realized that we were the thankful ones, having been given the privilege to experience such an amazing afternoon in the midst of the happiest people I've ever encountered.