Rachael's obsession with Japan started early in life with an addiction to the Japanese console game 'Pokémon', and flourished from there as she discovered more and more about this fascinating and intriguing country. This lead to the treasured hope that one day she could experience living there and get a true 'feel' for Japan.
Discovering the chance to work in Japan as an Assistant Language Teacher on the JET Programme her dream came true, and she started teaching English to primary and secondary school students just 30 minutes from Kyoto. With such a fantastic location and easy transport links, every weekend was an opportunity to explore Kyoto and the surrounding areas.
On holidays she often travelled further afield, such as to Hokkaido to celebrate the Yuki Matsuri (Snow Festival), marvelling at the giant snow sculptures.
After a year away Rachael returned to the UK. Wanting to encourage more people to visit Japan and experience its unique culture, Rachael joined the Audley team in order to share her experiences of Japan.
Speak to someone who's been there
Start planning your tailor-made trip by calling one of our destination specialists at 1-855-838-0100

Recommend Rachael to someone you know
Help your friends and family discover the world with Audley. Recommend Rachael today.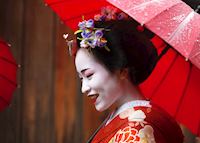 Being a local to Kyoto, l quickly fell in love with its historical charm and seamless mix of tradition and modern day life. In Kyoto you can walk around a corner and discover something new; whether it is a small, old Shinto shrine by the road, a Geisha rushing to her next appointment or a local festival. I don't feel you can ever say you've seen everything in Kyoto.
Just outside of the main hustle and bustle of Kyoto is Arashiyama, one of my favourite escapes. Home to vivid bamboo groves and the elegant gardens of Tenryuji Temple, Arashiyama offers a chance to catch your breath. This is a place you can visit again and again, with each season bringing a different and equally stunning landscape.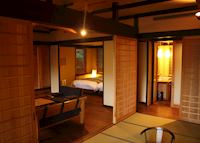 Situated in Hakone National Park, up the cable car sits Gora Hanaogi ryokan. This gem on a mountainside is truly a beautiful place to spend your time in Hakone. The rooms are made and designed using local products and techniques, creating a unique and tranquil atmosphere, which reflects the area.
I can't think of anything better than relaxing in your own open-air rotemburo (traditional wooden bath), gazing over the landscape that you have spent the day exploring.
I'll never forget when…
I've had many memorable experiences in Japan, but those that remain the most vivid are those which I shared with local Japanese people. During my trip to Hokkaido for the Yuki Matsuri (Snow Festival), I travelled out to Otaru for a glass making course with a local.

As I turned the glass in the blazing furnace I looked out towards the sea, and watched the heavy snow form a thick blanket of silence. It felt so special that the local craftswoman was sharing her trade with me. I always remember how happy and willing the Japanese are to share their history and way of life.