When is the best time to visit the Deep South?
The Deep South is at its best between March and May, when the weather is warm and sunny, and the nights are pleasantly cool.
By June, heat and humidity become a consideration, and travel over July and August is best avoided unless you're comfortable in the sticky heat of a southern summer.
By September and October, temperatures and humidity levels have dropped from their summer highs and, in the Great Smoky Mountains, the turning trees provide a dramatic fall display. There is a risk of occasional hurricanes, particularly along the coast, from June to November.
Speak to someone
who's been there
I love to visit the Deep South just after Easter. The days are starting to get longer and the temperatures are comfortable enough for you to get out and explore with none of the crippling heat that affects the region over the summer.
Shannon, USA Specialist
Deep South Climate Guide
Destination
Jan
Feb
Mar
Apr
May
Jun
Jul
Aug
Sep
Oct
Nov
Dec
Atlanta

11°C

129mm

13°C

121mm

17°C

145mm

23°C

113mm

27°C

106mm

30°C

96mm

32°C

125mm

31°C

96mm

28°C

91mm

23°C

79mm

17°C

95mm

12°C

111mm

Charleston

14°C

87mm

16°C

81mm

19°C

104mm

23°C

65mm

27°C

87mm

30°C

137mm

32°C

150mm

31°C

174mm

29°C

129mm

25°C

81mm

20°C

62mm

16°C

76mm

Memphis

9°C

104mm

11°C

109mm

16°C

133mm

22°C

134mm

27°C

126mm

31°C

93mm

33°C

89mm

32°C

80mm

29°C

86mm

24°C

73mm

16°C

120mm

11°C

131mm

Nashville

8°C

104mm

10°C

104mm

16°C

126mm

22°C

104mm

26°C

117mm

30°C

97mm

32°C

100mm

32°C

86mm

28°C

86mm

23°C

69mm

16°C

105mm

10°C

116mm

New Orleans

17°C

127mm

19°C

134mm

22°C

126mm

26°C

120mm

29°C

124mm

32°C

138mm

33°C

167mm

33°C

157mm

31°C

141mm

27°C

77mm

22°C

107mm

18°C

129mm
Month-by-month guide to travelling in the Deep South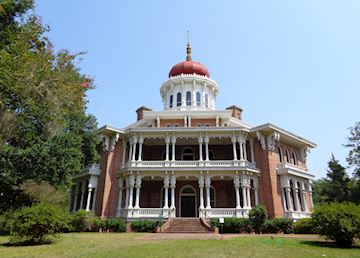 Visiting the Deep South in January - March
Winter is relatively mild in the Deep South, with balmy temperatures along the Gulf Coast. There is increased rainfall across the area, while snow in the mountains can close some of the higher passes. New Orleans pulls in the crowds for Mardi Gras, when the city gets very busy and prices go up, but this vibrant celebration is well worth the additional expense.
Events & Festivals
Mardi Gras, New Orleans' biggest festival, culminates on Shrove Tuesday (usually in February), with the largest and liveliest parades and street parties in the preceding few days. Read more »
The Spring Pilgrimage in Natchez, Mississippi, sees historic antebellum homes open to the public from mid-March to mid-April. Read more »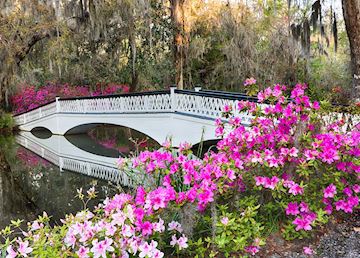 Visiting the Deep South in April - May
Spring in the Deep South is an ideal time to visit, when the climate brings warm, sunny days and cooler nights. By mid-April, the gardens at Magnolia Plantation outside Charleston are in bloom, most of the roads and trails in the Great Smoky Mountains have reopened, and all the heritage sites are up and running.
Events & Festivals
The New Orleans Jazz & Heritage Festival (late April to early May) celebrates the music and culture of the region, from blues, R&B and gospel to country, bluegrass and Cajun. Read more »
The Spring Pilgrimage in Natchez, Mississippi, sees historic antebellum homes open to the public from mid-March to mid-April. Read more »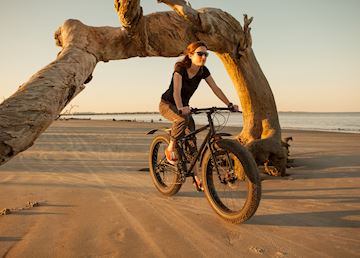 Visiting the Deep South in June - August
By June, temperatures across the south are noticeably higher. By July, it's hot and sticky with averages of 30°C (86°F) and highs of 40°C (104°F). Coupled with high humidity levels, it can feel unbearably hot. To cope with the heat, you could follow the locals and head for the coast to relax on Jekyll Island off Georgia or see nesting sea turtles on the South Carolina beaches.
Events & Festivals
Elvis Week, each August in Memphis, commemorates the anniversary of the King's death with panel discussions, live music and the Ultimate Elvis Tribute Artist Contest. Read more »
The CMA Music Festival in Nashville takes place in early June each year and features four days of concerts in the home of country music. Read more »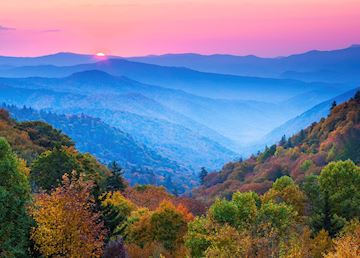 Visiting the Deep South in September - October
September sees a welcome decrease in temperature and humidity, making the Deep South's fall another good time to visit (though the chance of hurricanes reaches its peak along the coast between August and October). The turning leaves provide a fiery backdrop to the Natchez Trace Parkway, an old trade route from Nashville to Natchez, and the Great Smoky Mountains are particularly scenic at this time of year.
Events & Festivals
During the three-week Fall Pilgrimage (late September into early October) in Natchez, Mississippi, costumed guides will show you around the city's historic homes and offer an insight into their original owners. Read more »
New Orleans' Voodoo Music + Arts Experience is a festival of music, concerts and costumed street parties, which happens around Hallowe'en. Read more »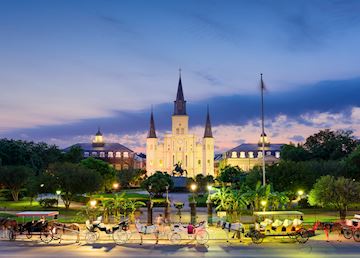 Visiting the Deep South in November - December
Although temperatures fall considerably in winter, the weather is still generally mild in the south with higher rainfall and only rare snowfall. Cities take on a magical appearance around Christmas, with the lights at Nashville's Gaylord Opryland Hotel a major attraction. It's also a great time to take in the special events at the Ryman Auditorium in Nashville, which hosted the Grand Ole Opry for more than 30 years.
Events & Festivals
New Year's Eve is another big party night in New Orleans, with fireworks, plenty of live music and a buzzing bar scene. Read more »
Why travel with Audley?
100% tailor-made journeys
Fully protected travel
Established for 20 years
Trip ideas and travel guides to exploring the Deep South