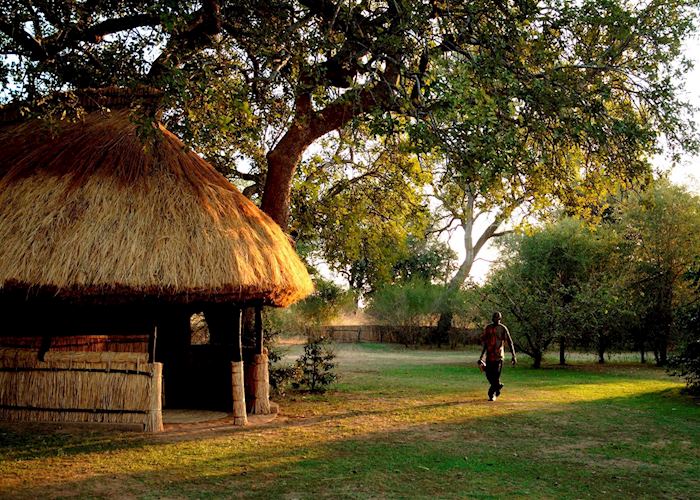 Stay at Tafika, South Luangwa National Park
Tafika is located just outside the Nsefu Sector of the South Luangwa Park in a game management area. As it is a remote lodge, on walks and drives you will see superb game but few if any other vehicles.
Tafika, South Luangwa National Park, Zambia
Tafika Camp has a fabulous situation underneath giant leadwood trees perched high on the banks of the Luangwa River. There is a wide lawn with fabulous views of the river and bush beyond with a few hippo slides indenting the high sided banks for those large herbivorous creatures returning to the water after a night of grazing. Iridescent kingfishers and bee-eaters flit over the waters and the gentle grunt of hippos can be heard. Sitting on a canvas deckchair on the lawn, or gently swaying above it on a hammock, you can often see antelope, elephant and other large mammals come to the waters to drink. It is a magical spot. Tafika is the home of John and Carol Coppinger and their two delightful daughters, Christine and Jenny.
There is a relaxed family atmosphere and you feel instantly at home. The main lodge itself is an open sided thatched area complete with a bar, lounge and dining area. Seated in camp chairs at meal times, delicious home cooked food is served. There are five reed and thatch chalets set under the trees, spaced out across the lawns. There is an additional chalet designed to cater for families, with two bedrooms sharing an en-suite bathroom. Each chalet is spacious and has two double beds, locally made wardrobes and side tables. The en-suite open air bathrooms have a covered toilet, twin wash basins and power shower perfect for star gazing at night. It is not unusual to see birds flitting in and out of the bathroom or even a tiny tree frog perched on the tap.
Tafika is located just outside the Nsefu Sector of the South Luangwa Park in a game management area. As it is a remote lodge, on walks and drives you will see superb game but few if any other vehicles. There is also the chance to go with John on a micro lighting trip to soar above the animals in the early or late light. It is also possible to visit the nearby Mkasanga Village where many of the Tafika staff and guides come from.
Speak to someone who's been there
Start planning your tailor-made trip by calling one of our Zambia specialists on 01993 838 505
Places & hotels on the map
Nestled in riverine forest in an exclusive area of the park, Bilimungwe is small and personal and specialises in walking safaris, but can also accommodate limited game viewing by vehicle.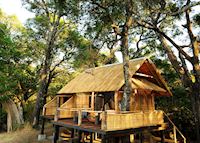 Chamilandu offers comfort, class and beauty in one of the Luangwa Valley's prime remote river locations. The the area is known for good leopard.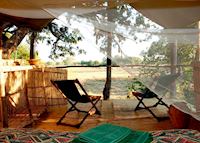 As there are no roads, Chikoko is a true walking camp on the bank of the Chikoko River. It is ideal for the real wildlife enthusiast who wants to explore with some of Africa's most experienced guides.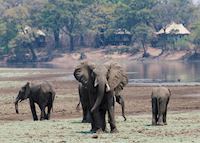 Chindeni is only six kilometre walk from Bilimungwe, so early morning walks between the camps provides an ideal opportunity to enjoy both of these camps. It is also possible to enjoy day and night drives.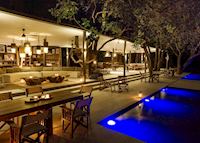 Back in the 1970's Chinzombo Camp was Norman Carr's base during the Green Season (November to May). Now this area on the banks of Luangwa River has been given a new lease of life and Chinzombo is offering a new and unique accommodation in the same pioneering spirit of Norman Carr.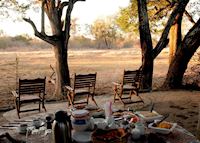 Crocodile Camp is a superb camp in a very wild area. As there are no roads it offers a true walking safari - its a wonderful area to explore on foot as it is very pretty with lagoons, dry river beds and forests.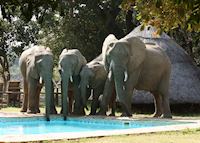 Once a camp known for its overland trucks and backpackers it has now changed direction slightly, offering accommodation for those looking for a more comfortable stay in the Valley.
Kaingo is a peaceful lodge in a prime position in the Luangwa valley. The addition of private outdoor baths and decking complete with comfy chairs in front of each chalet overlooking the river is a lovely touch.
Kakuli is never a quiet camp as over 400 hippo live in the stretch of the Luangwa River in front of camp. The guides and camp staff are superb and it's a wonderfully laid back and friendly camp.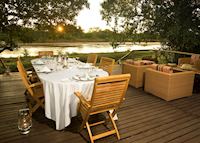 A stay at Kapamba gives you a chance to experience real Africa as you enjoy your dinner under the stars listening to the sounds of the bush after a satisfying day's game viewing.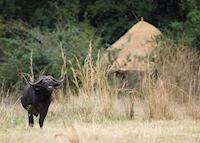 Kuyenda is a wonderful bushcamp situated in a very remote area of the park on the banks of the Manzi River. It is a wonderful walking area and activities are tailored to the client needs.
Hidden deep in the South Luangwa National Park, Lion Camp is a friendly, personal camp with a great sense of style. The views over open grassland and grazing varieties of antelope create a sense of calm which belies the population of local predators, making for great game viewing.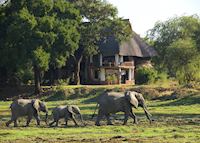 This is one of the 'Houses of Zambia' which have been built to offer guests a superb luxurious and private safari experience. This is the ultimate in tailor-made with your own chef and safari guide to look after you.
Located on the banks of the Luangwa River under an ancient ebony tree lies the Luangwa River Camp. The small size of the lodge means there is a lot of flexibility as regards game viewing activities.
Luwi is a very simple camp. The camp staff, guides and rangers are all very good and there's always a friendly relaxed atmosphere around camp. Its in a very wild location with a hippo pool nearby.
Mchenja is a real treat, boasting the most beautiful position high up on the banks of the Luangwa and the perfect combination of luxury with a real 'bush' feel.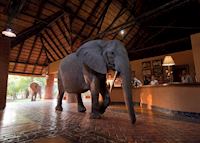 Mfuwe Lodge is a great place to stay as it has every comfort and yet it is still in Luangwa park. We particularly love the hippo pool in front of the lodge. You can sit on your balcony and there's always something to see from the hippos and birds to animals coming to drink from the waters.
Mwamba Bushcamp is a tiny camp beside the seasonal Mwamba River providing an opportunity for those of a more adventurous spirit to explore the Luangwa's heartland.
Nkwali Camp, located on Robin Pope's private land along the river bank and overlooking the South Luangwa National Park, has six open fronted chalets allowing you to fully appreciate the view.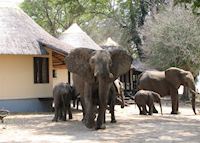 Nsefu Camp is beautiful and stylish. The views from the lawn of the river are lovely and when staying there we often saw elephant come to drink near camp in the early morning. Activities from Nsefu focus on the Nsefu Sector of the park - a particularly rich game area.
Nsolo is an excellent camp which has recently been completely rebuilt after a fire destroyed the old site. Guided walks from the camp, often following the course of the Luwi, are a real treat, and it is a great area for lion, buffalo and zebra.
Robin's House has been beautifully decorated but manages to be totally unpretentious and just feels like a warm family home. The staff are excellent and its a great place for families or groups of friends.
There is no doubt that Tena Tena is a top notch safari camp. The tents are very luxurious and views of the river from camp stunning.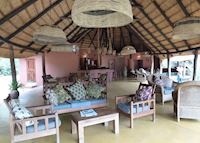 Thornicroft Lodge is situated just outside the main gate to the South Luangwa, on the banks of the Luangwa River.
Located just five minutes away from the main gate into the South Luangwa National Park, Track and Trail is a charming small lodge, offering good quality accommodation, friendly staff and high standards of guiding.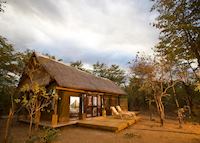 Zungulila is the latest addition to the Bushcamp properties. The tented camp is set on a raised knoll overlooking a plain, with the Kapamba River snaking across one side of the plain into the distance.