Gender Pay Gap Report 2022
Introduction
Here at Audley Travel we're passionate about fairness, equity, inclusion and creating the right opportunities for everyone.
Under the gender pay gap reporting legislation, which was introduced in 2017, as an employer with over 250 employees we are required to report information about our gender pay each year. The figures within the report help us pinpoint where to focus our efforts to close the gap, which is a key element of our inclusion strategy.
We now have our fifth Gender Pay Gap Report which shows we are making progress to close the gap. Whilst there has been a reduction in the bonus pay gap, the results show that men are paid, on average, more than women and that there is an uneven distribution of men and women across grades, with women generally accounting for a higher percentage of staff at the lower quartile.
We realise that changing the gender balance across our workforce is a long-term process and with our continuing commitment to fairness and equity within our workplace, we are confident we can continue to make meaningful change for the better.
Nick Longman
Chief Executive Officer
Definitions
Gender pay is the difference between the average pay of men and women in an organisation. This is different to equal pay which means paying the same to men and women doing comparable work.
Mean pay gap is calculated by adding up the wages of all relevant employees and dividing the figure by the number of employees. The mean gender pay gap is calculated based on the difference between mean male pay and mean female pay.
Median pay gap is the figure that falls in the middle of a range when the wages of all relevant employees are lined up from smallest to largest. The median gap is calculated based on the difference between the employee in the middle of the range of male wages and the middle employee in the range of female wages.
Our results
Audley's gender pay gap metrics are calculated using employee data from 5 April 2022. This date is used as a 'snapshot' of our employee population, consisting of 457 employees of whom 62% were female, 38% were male. The gender pay gap looks at ordinary pay (which includes basic salary, city weighting and any regular allowances), and the bonus pay gap looks at bonus and commission payments for the 12 month period from 6th April 2021 to 5th April 2022.
Our mean gender pay gap is 17.3%, compared to 17.0% in 2021.
Our median gender pay gap is 6.5%, compared to 12.4% in 2021.
Our workforce is divided into 4 equal sized groups based on their hourly rate to show the % of men and women in each band, with A including the lowest paid 25% of employees (the lower quartile) and D covering the highest paid 25% of employees (the upper quartile).
In order for there to be little or no gender pay gap, there would need to be the same ratio of men to women in each quartile band. For example, an organisation with a high ratio of men to women in Band D is likely to have a gender pay gap, as is an organisation with a high ratio of women to men in Band A.
Within Audley, in April 2022, we had a predominance of women in the lower two quartile pay bands (A and B) and almost the same ratio of women (51%) to men (49%) in the highest quartile (D), as shown in the following chart: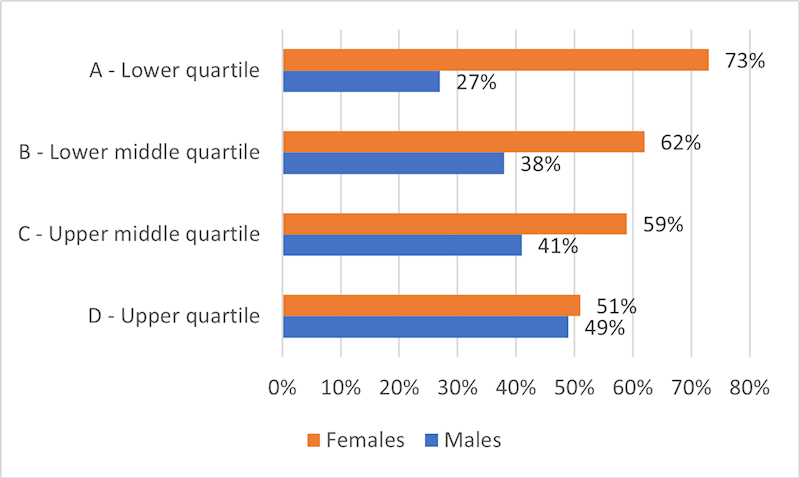 Our mean bonus pay gap is 22.5%, compared to 31.0% in 2021.
Our median bonus pay gap is 11.6%, compared to 17.3% in 2021.
There was a slightly lower percentage of women earning a bonus in 2022 (63% of females received a bonus v 70% of males).
Our progress so far
With recruitment, engagement and the opportunity to progress in the workplace remaining our key focus areas, we continue to put the right plans, initiatives, and actions in place. Steps we have taken so far to help address our gender pay gap include the following:
Hiring & Recruitment
We have established a clear and transparent way of advertising job roles with a reward grading system, salary benchmarking process and salary band visibility for hiring managers to use for each role.
We are delighted to have partnered with Bridge of Hope last year, an organisation which is truly the home of inclusive recruitment, and we are proud to have been their pilot for an inclusivity audit on our recruitment and onboarding process - helping to shine a light on our inclusive hiring blind spots enabling us to attract and onboard an increasingly diverse workforce. This included an analysis of our hiring process, a focus group with recent new starters to share feedback on their experiences, interviews with recent applicants who were either unsuccessful, withdrew from the process or declined an offer, and mystery applications from Bridge of Hope's diverse talent pool.
We have started to implement the recommendations from this audit, one of which includes recently launching a recruitment training e-learning course for hiring managers. The course covers a range of content including best practice and inclusive recruitment, to overcome unconscious bias in recruiting, evaluation and promotion decisions.
Workplace Environment
We have kept workplace flexibility at the forefront of our cultural thinking. We introduced 'Smart Working' for all employees which provides choice and flexibility of where, when and how they work. We are committed to offering flexibility within work to suit personal lives and family needs where possible. We have seen an increased uptake of flexibility options for employees with family or other caring responsibilities. Flexible working in our company covers 1) reduced hours, 2) job shares, 3) early/late start and finish times, and 4) working from home.
We have introduced new policies to support women in the workplace including a Menopause policy, with the aim of supporting employees experiencing menopausal symptoms so they can continue to be successful in their roles and minimise related absenteeism. We are also periodically reviewing and updating all people policies and processes to ensure they are inclusive and non-discriminatory.
We have also invested in an engagement platform with our emphasis on understanding and measuring employee satisfaction. One of the key questions on pay and benefits allows us to immediately surface real time data between the different gender feedback, helping us to predict risks and also highlights opportunities to help us prescribe meaningful action.
Learning & Development and Progression in the Workplace
We believe that everyone at Audley is talented and has both the ability and opportunity to develop to fulfill their career potential and achieve their ambitions.
As part of our Environmental Social Governance (ESG) goal of developing female leadership, and ongoing focus on developing aspiring managers and future leaders, we launched a 'Rising Stars' pilot. This has been designed for those without current line manager responsibilities who are looking to progress in their career and step into management, and for future leaders who have current line manager responsibilities and are looking to challenge themselves in leadership roles in the future. Our pilot group consisted of 80% female on Cohort 1 and 69% on Cohort 2. Based on the success of the programme we are looking to launch the programme across the Globe.
Last year, all employees attended 'OneTeam Inclusivity' sessions which raised awareness on what Diversity Equity and Inclusion means to Audley, including a focus on unconscious bias. We are continuing with this focus aided by our newly formed 'Unify group' consisting of employees from right across the business, concentrating their efforts on Diversity Equity and Inclusion (DEI). One example is their focus on celebrating Women's achievements and putting a spotlight through a series of speaker sessions on Audley's multiple female suppliers who have broken the mould, as well as those who are ambassadors for change, empowerment and growth.
In May 2022, we founded 'Unify', Audley's global diversity, equity and inclusion (DEI) network. Made up of employees from different roles across the company who volunteered to contribute their time, energy and passion to continue the development of our global DEI plans, this group is at the heart of DEI at Audley and are empowered to ensure that as a business we are consciously working towards delivering our DEI objectives.
Our ongoing commitment and next steps
We believe the company's gender pay gap is mostly due to there being a higher proportion of women in the lower quartile roles that offer a lower remuneration package. Our recruitment drive over the last 18 months to support our high client demand, has seen a number of roles being filled by women, particularly in support roles.
With new initiatives we have planned this year including updating policies (flexible working, caring, parental leave), launching a new careers website, further developing our recruitment practices and offering career pathways, we believe this will help to create more balance of men and women in our pay quartiles.
Our 2021 report is available here (published in April 2022)