It all began with living in Italy as a teenager, teaching myself Italian and soaking up the culture. Inspired and curious, I earned my degree in Italian Studies and worked in Italy each summer. I spent my free time curating a little black book of delicious restaurants and off-the-beaten-track experiences. My favorite feeling was coming upon a village, a vista, a vineyard yet 'undiscovered', as if it belonged only to my travel companions and me.
Confident with the western Roman empire, I moved to its eastern counterpart: Istanbul. While there, I frequented the Italian Cultural Institute and often returned to Italy to continue my explorations. These included weekends in Rome, eating at my favorite osteria, recommended by an Italian diplomat and hidden under Roman ruins. I took road trips through Sicily, hiking Mt. Etna and learning about wine. My latest trip with Audley saw me traverse Italy from north to south, refreshing that little black book and making new connections along the way.
Speak to Gudrun

Start planning your tailor-made trip with Gudrun
Q&A with Gudrun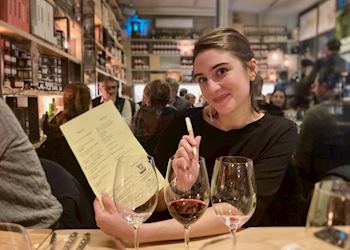 What's the best local dish you've tasted?
Around Tuscany, you will come across Pasta al Cinghiale. Cinghiale means wild boar in Italian and can be seen (if lucky) scampering around the Tuscan countryside. The Italians make a mouth-watering red sauce with the meat and serve it, often, over freshly made pappardelle. The flavor of the egg pasta marries perfectly with the wild boar sauce, which is stewed for hours with tomatoes, red wine and spices. Don't forget to crown it with a heaping spoon full of parmesan before digging in.
What's the one thing you always pack?
If time on the Mediterranean is in my travel plans, I always throw my water shoes into my suitcase. The Mediterranean's beaches boast crystal clear water but a reason for this is because most of them are rocky. Rather than wobbling over the stones in my bare feet, I don my water shoes and sashay into the sparkling water, toes un-stubbed.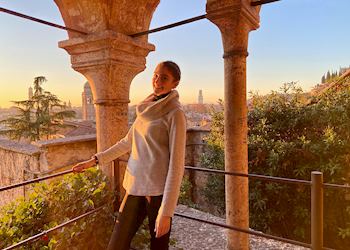 Which book, film or artwork captures Italy the most?
With all the literature and cinema masterpieces to come from Italy, it's not an easy choice. But I would have to say that any film directed by Luca Guadagnino offers sumptuous and, at times, heart-stopping shots of Italy. My favorite of his films is Call Me by Your Name, a coming-of-age love story set in the countryside of Northern Italy. Guadagnino illustrates on the setting as, "quintessentially Italian without being an idea of Italy." The magnificent shots of forests and fields, villas and village centres, strip us of how we may define Italy and allow Italy to define itself. Seen in this different way, Italy seems uncharted, silently waiting to share her secrets.