The best time to visit Germany is May or June. The spring weather is warm during the day and slightly cool at night as the cherry trees bloom and Berlin's festival scene bursts to life. However, you can visit anytime to enjoy some of the country's seasonal pleasures, as the country boasts a year-round mild climate with comfortable summers and cold (but not frigid) winters.
In late September and early October, Munich celebrates Oktoberfest. The festival's popularity means that Bavaria is particularly crowded, so we suggest avoiding this region unless you're visiting to go to the festival.
There's also a special wintry charm to the country during December. You can visit any of the festive Christmas markets in the cities or enjoy the fairy-tale sight of snow-capped castles and mountains in the countryside.
Creating tailor-made tours for over 25 years

Excellent
TrustScore

4.8 | 3206 reviews

Month-by-month guide for traveling in Germany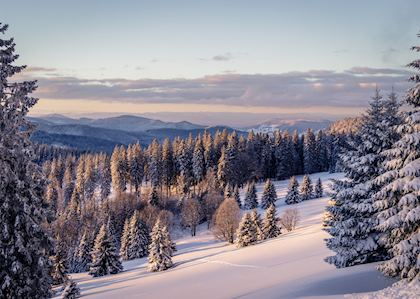 Visiting Germany in January - February
Snow is fairly common, and temperatures drop. The cities are cold but not unbearably so, though Arctic air from the north can bring brief bouts of frigid temperatures. In the mountains, it's a good time for winter sports and playing in the snow.
Events & Festivals
One of the Big Three international film festivals, the Berlin Film Festival features films from around the world.
Cologne's Carnival celebration is a two-week festival with costumes, street parties and concerts, culminating with the Rose Monday parade on Shrove Monday.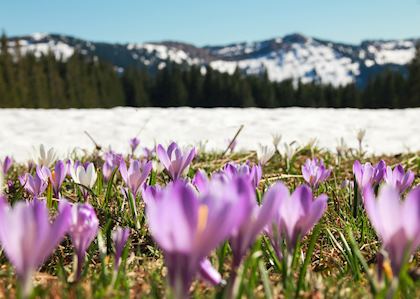 Visiting Germany in March - April
Temperatures can still be cold in March and even into April. The weather is unpredictable, and this is the height of the rainy season. However, you'll find fewer crowds and good value at hotels. Germany's two-week Easter school break can make spots like the Black Forest, Cologne and Bavaria crowded.
Events & Festivals
Cologne's Carnival celebration is a two-week festival with costumes, street parties and concerts, culminating with the Rose Monday parade on Shrove Monday.
Saint Walpurga's feast day is celebrated with bonfires and revelry across the country. The festivities in Heidelberg are particularly enthusiastic.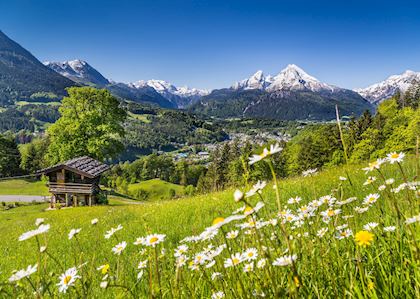 Visiting Germany in May - June
Days are comfortable and nights are slightly cool, the cherry blossoms are in full flower and Berlin's festivals kick off, making this the best time to visit.
Events & Festivals
Hafengeburtstag is Hamburg's weekend-long festival which dates back more than 350 years.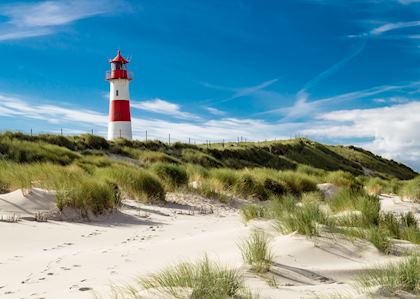 Visiting Germany in July - August
The weather is warm and sunny, and this is a great time to visit if you want to hike, despite occasional rain. However, schools are on break, increasing crowds. Also, river cruise ships stop in ports along the Rhine and Danube, making them very busy.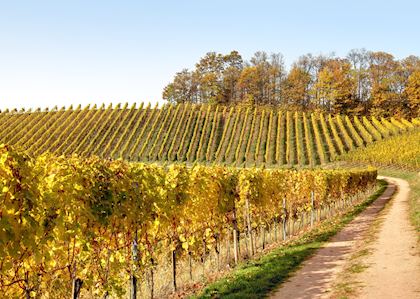 Visiting Germany in September - October
Temperatures range from comfortably cool to slightly chilly during the fall, with highs hovering around 67°F in September and around 47°F in October. Oktoberfest, which happens in late September and early October, draws huge crowds to Munich — book early if you want to attend. If you're not intending to attend the festival, we suggest avoiding the area for this period.
Events & Festivals
Dürkheim Wurstmarkt, the world's biggest wine festival, overtakes the Rhine Valley.
Munich draws vast crowds for its annual beer festival — Oktoberfest.
Unity Day is on October 3 and sees Berlin and other cities around the country commemorate the reunification of Germany with a festival and fireworks.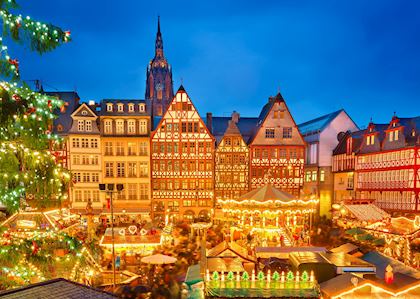 Visiting Germany in November - December
Many hotels shut down in November for renovations between the busy fall season and the beginning of the Christmas market season, making availability much more limited. Winter brings cold but not frigid temperatures, as well as snow and sometimes rain. The cities and towns swing into the Christmas spirit with Christkindlmarkts, considered some of the best in all of Europe. Because of the markets, December can be a very busy time so plan ahead.
Events & Festivals
Festive booths selling drinks, food and gifts pop up in cities and towns across the country.
Germany Climate Guide
Destination
Jan
Feb
Mar
Apr
May
Jun
Jul
Aug
Sep
Oct
Nov
Dec
Berlin

2°C

42mm

3°C

35mm

8°C

37mm

13°C

41mm

19°C

55mm

22°C

72mm

24°C

53mm

23°C

63mm

19°C

45mm

13°C

36mm

7°C

49mm

3°C

53mm

Cologne

4°C

61mm

6°C

51mm

10°C

59mm

14°C

60mm

19°C

67mm

22°C

84mm

23°C

83mm

23°C

81mm

20°C

68mm

15°C

55mm

9°C

72mm

5°C

71mm

Frankfurt

2°C

43mm

5°C

38mm

9°C

47mm

14°C

50mm

19°C

63mm

22°C

71mm

24°C

64mm

23°C

68mm

20°C

48mm

14°C

49mm

8°C

57mm

3°C

52mm

Hamburg

3°C

58mm

4°C

43mm

7°C

48mm

12°C

49mm

17°C

58mm

20°C

68mm

21°C

80mm

22°C

82mm

18°C

65mm

13°C

59mm

8°C

67mm

4°C

68mm

Heidelberg

3°C

46mm

6°C

42mm

10°C

44mm

15°C

48mm

20°C

62mm

23°C

76mm

25°C

65mm

25°C

70mm

21°C

50mm

15°C

50mm

8°C

52mm

4°C

54mm

Munich

2°C

47mm

4°C

44mm

8°C

49mm

13°C

59mm

18°C

92mm

21°C

115mm

23°C

108mm

22°C

104mm

19°C

72mm

14°C

52mm

7°C

56mm

3°C

51mm
Why travel with Audley?
100% tailor-made tours
Fully protected travel
Established for over 25 years
98% of our clients would recommend us Travel advice
Practical tips for traveling to Germany, from social protocols to guidance on money matters, with a link to the latest government travel advice.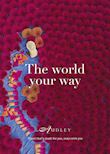 Request our brochure
Covering all seven continents, The world your way shows you how you can see the world with us. It features trip ideas from our specialists alongside hand-picked stays and experiences, and introduces our approach to creating meaningful travel experiences.
Trip ideas and travel guides for exploring Germany