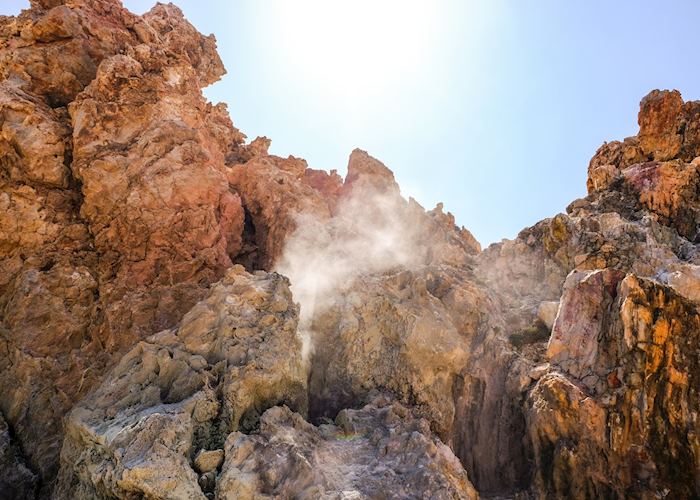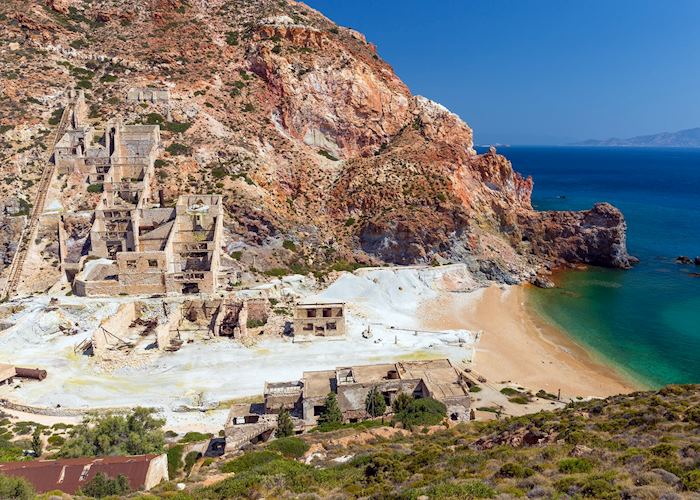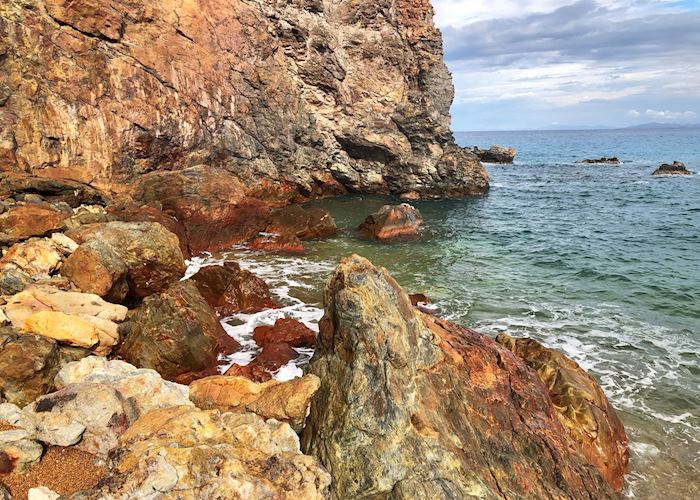 Milos geological tour
Milos is a volcanic island with a range of topographical features, from multi-hued landscapes and dramatic rock formations to curious geological phenomena.
This private, guided tour takes you to the best of the island's geological sites and offers an engaging explanation of how they were formed and the role they have played in the island's history. Mined since Neolithic times, riddled with hot springs, hidden caves and surreal beaches, it's a story of human progress and raw natural power.
You'll be collected from your hotel in the morning by your guide and set off into the central part of the island. Your guide will begin by explaining the earliest history of the island and how some of its most unusual geological features were formed.
Its volcanic nature and valuable mineral deposits shaped the economy on Milos for thousands of years. Obsidian was mined here as early as 15,000 years ago and a visit to the Milos Mining Museum gives you a useful overview of the different regions of the island and the various mineral deposits found in each one.
Next, you'll continue on to Kalamos where the smell of sulphur lingers in the air and small fumaroles spew out streams of hot steam that can be felt with the back of your hand.
You'll pass salt fields and port towns made rich by the trade in mineral deposits and finish up your tour with a visit to the abandoned sulphur mines on the coast at Paliorema. Here, a roughly hewn road leads down a steep cliffside to the waterfront where a ghost town sits on a pebbly beach.
The mine ceased operating suddenly in the 1950s and was abandoned almost overnight, the miners walking away from their homes and equipment, leaving the site almost intact. The old buildings set into the red-orange rocks of the hillside are now empty shells and you can peer through the windows and see the rusted tools, old equipment, and even the miners' beds and lockers.
It's an eerie but beautiful place with the russet-hued hillside juxtaposed with the cerulean waters right beside it. If you wish, there's time for a swim at the beach to cool off, before heading back to your hotel by mid-afternoon.
Speak to someone
who's been there

Start planning your tailor-made trip by contacting one of our Greece specialists
Photos of Milos geological tour