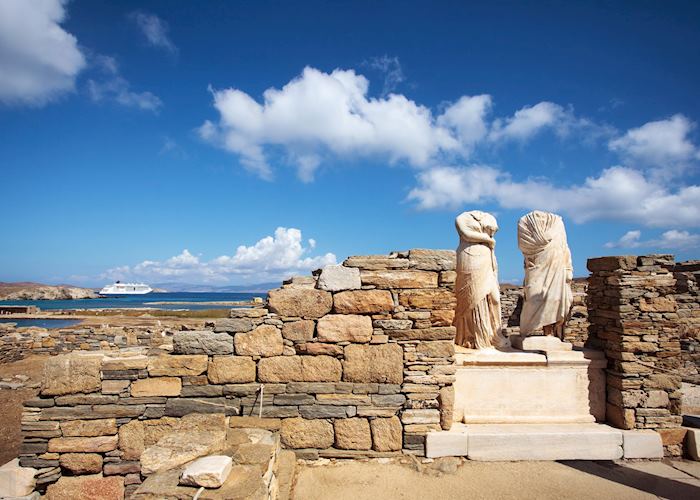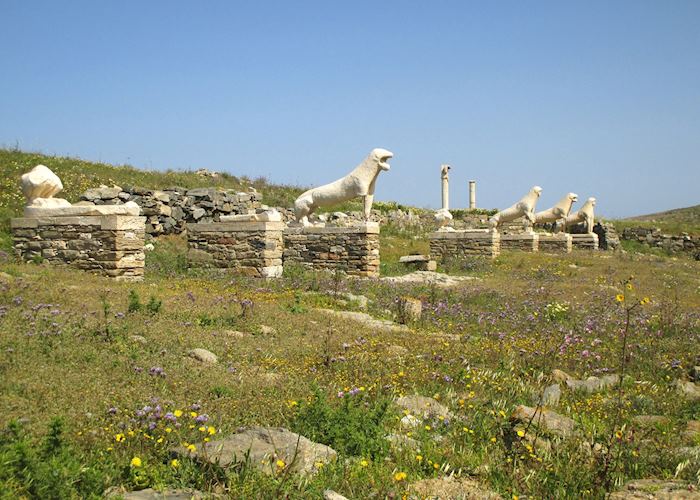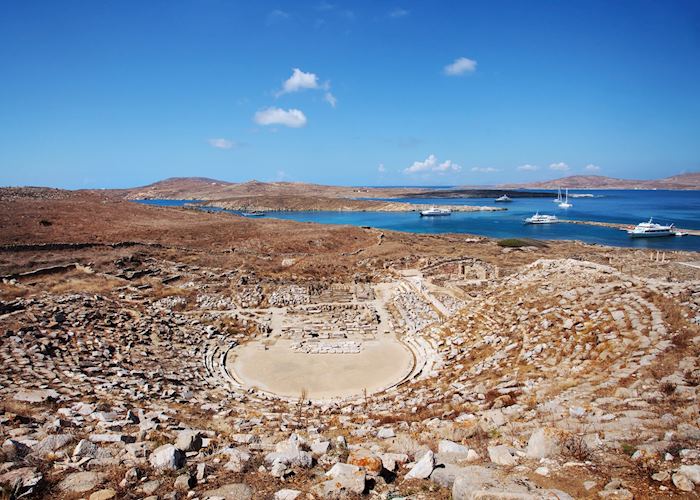 Private tour of the ancient island of Delos
Steeped in Greek mythology and a sacred pilgrimage place, the long-abandoned island of Delos, off the coast of Mykonos, is one of the most important archaeological sites in Greece. Visit with a private guide who can bring its 3,000-year history to life. You'll wander through old streets lined with the crumbling ruins of old shop fronts, and take in market squares that were once hives of activity for traders. Throughout your visit, your guide tells you about the island's religious and commercial significance and about the fortunes of its former inhabitants, looking beyond the ruins alone.
Your driver and guide will pick you up at your hotel in Mykonos and take you to the port, where you'll board your ferry for Delos. The journey to the island's west coast takes about half an hour, and as you approach the shore the extensive, well-preserved ruins pan out before you.
Once on land, your guide will explain how Delos's location, roughly at the central point in the circle of the Cycladic Islands, meant that it grew into one of the most important hubs of trade, culture and religion in the region. They'll also acquaint you with the island's roots in Greek mythology: said to be the birthplace of mythical twins Apollo and Artemis, Delos was also an important place of pilgrimage, with visitors arriving from all across Greece over the course of several centuries.
You're then led around the island's ruins as your guide provides an insight into the culturally and technologically advanced society that thrived here over two millennia ago. There's a lot to see, but your guide will make sure you take in the site's highlights, including the stone lions that have become the symbol of Delos and continue to watch over the city from their platform near the waterfront.
Wandering around the once-grand houses of rich merchants and traders, you'll see intricate mosaics, elaborate plumbing systems and vivid frescos. Your guide can shed light on the lives of the people who occupied the island centuries ago, giving you a greater understanding of life and beliefs in Ancient Greece.
Finally, you'll hear about how Delos eventually waned in importance as trade routes changed in the 1st century AD — the island gradually fell into decline, before becoming a hideout for pirates.
After the tour, you'll sail away from the island by ferry and return to Mykonos Town.
Speak to someone
who's been there

Start planning your tailor-made trip by contacting one of our Greece specialists
Photos of Private tour of the ancient island of Delos