By Ireland specialist Marissa
When you think of Irish food, do you imagine a warm slice of bread, spread thickly with fresh butter that's dotted with foraged herbs? Perhaps you picture a slice of complex cheese, mingling on the palate with a swallow of single pot still whiskey?
In recent decades, Ireland has taken advantage of its natural bounty, fully embracing the farm-to-table movement. You'll find oyster farms that capture the terroir of the Irish Sea, handmade bread, foraged herbs from the countryside and small distilleries restoring the storied whiskey of Ireland's not-so-distant past.
Baking traditional Irish breads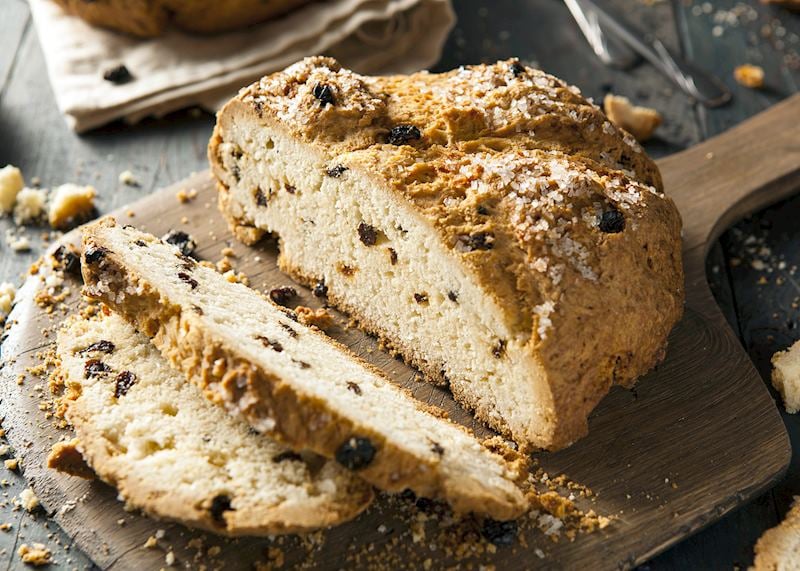 Tracey lives on the shores of Strangford Lough in a thatched-roof cottage with roses clambering up lattice frames. Sunny and rosy-cheeked, she invited me into her warm kitchen and offered me a cup of tea on a blustery spring day. I felt immediately at home. I was visiting her for a private, hands-on lesson on how to bake traditional Irish breads.
Once you have donned your pristine white apron, Tracey points out all the ingredients set up in various bowls and explains their (mostly local) origins. The menu for the day includes three different traditional loaves — soda bread, tray bake and potato bread, known locally as 'fadge'. Under her patient tutelage, you stir up the various doughs and slip them into the oven or onto the hot griddle to cook.
Waiting for the loaves to finish cooking, Tracey sets out an array of condiments for you to try on the bread, including dulse butter. This regional specialty marries the tender richness of Irish butter with the complex and briny umami taste of dried dulse, a dull magenta seaweed. Spread on hot soda bread, the butter melts into rich golden pools that seep into the fine crumb of the bread, leaving flecks of the seaweed on the cut face.
The soda bread was softer and more delicate than any I'd ever tried before. The potato bread, studded with scallions, was a savory marriage of bread and hash browns. But, I kept reaching for the tray bake.
In Ireland, this term encompasses a whole range of baked goods, from brownies to quick breads to bar cookies — almost anything cooked in a rectangular pan. Tracey's recipe was for flapjacks, a term that means pancakes in the US but here means something like a cross between a blondie and a granola bar. The pieces were toothsome with oats, gooey-sweet with golden syrup and meltingly tender, thanks to generous portions of butter.
Oyster farm tour and tasting with Patrice
Surrounded by the North Atlantic and the Irish Sea, Ireland is a land of fishermen and seafood. Dulse butter is just one way that the bounty of the sea makes it into the regional cuisine. Not far from Tracey's house, I met up with an oyster farmer named Patrice.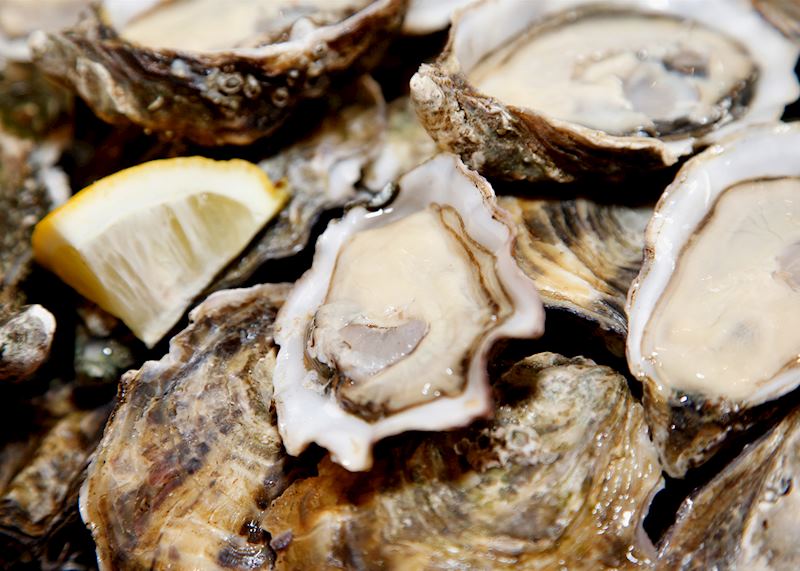 With blunt fingers, broad shoulders and a bristly salt-and-pepper mustache, Patrice looks like a one-time rugby player, which is exactly what he is. He fell in love with Ireland's rocky shores and rich, cold waters during his time playing for an Irish team. His passion for oysters comes through in every word and gesture as he leads you on a tour of his farm.
My visit began with a ride on a well-loved tractor, jolting down to the wide mudflats of low tide at Strangford Lough. The largest sea inlet in the British Isles, this is where the River Quoile empties into the calm Irish Sea. The confluence creates the ideal ecosystem for bivalves, which thrive on the phytoplankton that live in the silty tidal flats.
Wearing a pair of waders, Patrice squelched through the sandy mud, lifting the oyster bags — really more like mesh cages — and shaking them to ensure the catch doesn't grow together in unwieldy clumps. The long process, he explained, starts with tiny seed oysters, barely bigger than a lentil, and ends with full-sized delicacies, which feature on menus of restaurants around the area.
Once you understand how much effort goes into growing the oysters, you adjourn to a stone outbuilding overlooking the wide lough for lunch. The star of the show is, of course, Patrice's own oysters: plump and trembling on the half shell.
The creamy flesh was both briny and sweet with a slightly mineral aftertaste, as clean and bracing as a wind off the ocean. We also had shrimp, mussels, crabs and clams, procured from other local fishermen and farmers, and served with a glass of white wine and fresh French bread.
Farmhouse cheeses and whiskey tasting
As the Irish will be happy to tell you, Irish whiskey was considered vastly superior to its Scottish cousin for much of history. But a long series of misfortunes — including Prohibition in America, the Great Depression and various wars — brought the once-proud industry to its knees. At the nadir in 1975, Ireland had just two distilleries, both owned by the same company.
Happily, the same revival that's lifting the country's cuisine is also restoring Irish whiskey production. I got a first-hand glimpse at the burgeoning industry at the Irish Whiskey Experience in Killarney.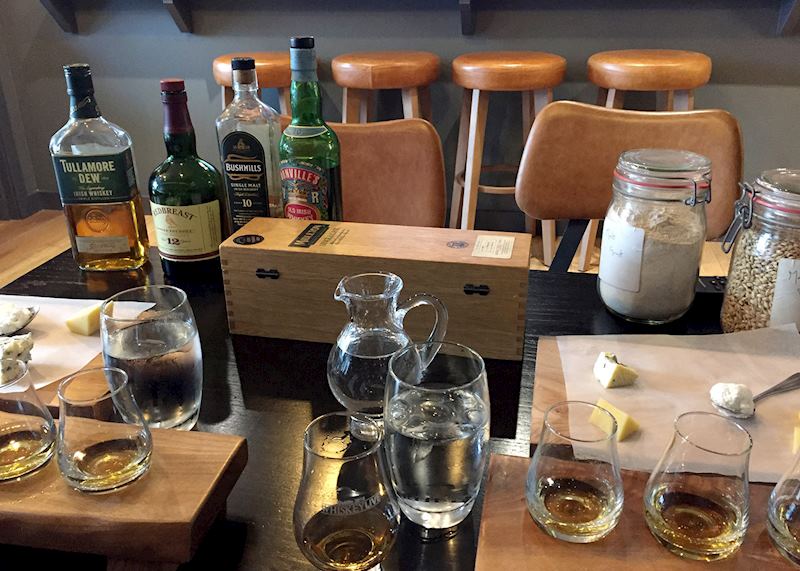 Entering the bar, I was surprised to see that it eschewed the traditional dark wood and low ceiling of a classic pub and was an airy space, filled with blonde-wood furniture. The light flooding in from the windows seemed to illuminate the round-bottomed glasses filled with the amber elixir I'd come to taste.
You start with a movie that explains the long and tumultuous history of Ireland's whiskey industry, narrated by the warm lilt of actor Liam Cunningham. Then your host will literally roll out a barrel and pull off a portion for you so you can learn the technique of whiskey tasting, which varies in many important but subtle ways from wine tasting.
After I had wet my whistle, my host, Cáit, brought out an assortment of small bottles for a little test. Each bottle contained a different smell and I had to identify the source. It began simply enough, with the clean tang of citrus and the floral perfume of vanilla, but moved onto less obvious scents like rich chocolate or the almost-medicinal scent of cloves.
With my olfactory senses primed, I moved onto the tasting. Four whiskeys were brought out on a small wooden board, each placed alongside a different local farmhouse cheese. Cáit instructed us to place the cheese on our tongues and let each spirit roll over it.
Each combination was revelatory in a different way. The warm honey notes of a light whiskey lifted the pungency of the crumbly cheddar-style cheese while the grassy richness of a tender white cheese smoothed out any sharp edges of a darker vintage.
Cheerfully knowledgeable, Cáit answered all my questions and I finished the class with a richer understanding of this rising star of the spirit world. Then, she escorted me from the tasting room into the main bar. There, I goggled at a neon-lit wall sporting ranks of hundreds of bottles of whiskey (and whisky) — the collection remains the most extensive I've seen. I settled onto a bar stool, happy to put my newfound knowledge to work.
Foraging with Oonagh on the Burren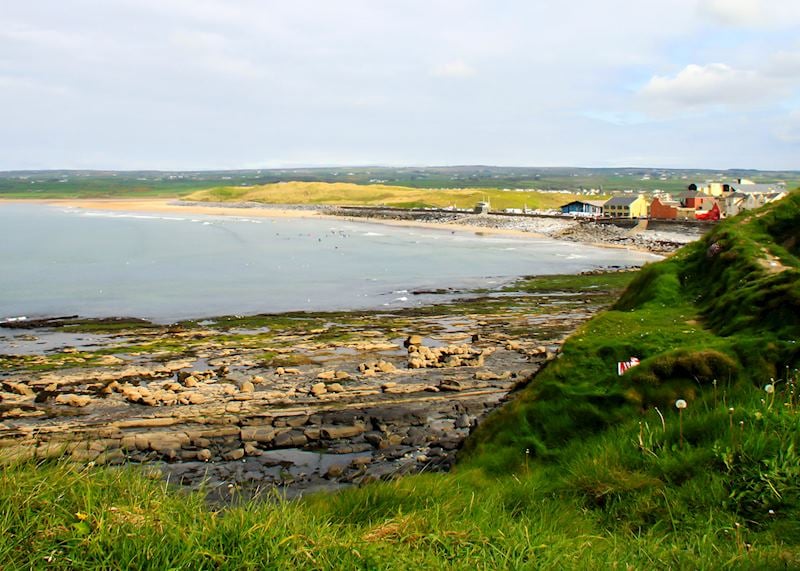 Nothing offered a clearer example of the Irish passion for local food than my foraging walk with Oonagh. A lean woman with hair that seems perpetually wind tossed, Oonagh is a second-generation forager, with a background in organic horticulture.
She met me in Lahinch, a seaside town filled with bright wooden houses facing onto Galway Bay. The road out of town was narrow, with grass growing up the middle and waist-high weeds along the verge. Or at least I assumed they were weeds, a notion that Oonagh quickly dispelled.
Those feathery white flowers were wild garlic, the delicate petals exploding with a sharp, pungent taste. Saw-toothed nettles and lobe-leafed chickweed provided an infusion of vitamins and antioxidants for an early-season salad. Shockingly yellow furze flowers made a pleasant nibble as we strolled along, tasting faintly of coconut and roasted almonds.
Once we'd reached the gray and stony shore, Oonagh shifted from land- to water-based plants. It turned out that dulse is just one of many edible sea vegetables. 'There are more than a dozen edible seaweeds in Galway Bay,' she explained. She shows you how to harvest all of them sustainably.
Frost-sweetened nori, fresh from the water, tasted nothing at all like the dried green sushi wrapper I was used to. I admit I was less fond of the texture of the slick, noodle-like sea spaghetti. Oonagh coaxed me to try fresh dulse, too. It was different from the dried version I'd tried in the butter, darker and peppery with a complicated taste that reminded me of mushrooms.
After our walk, we retired to a beachside picnic that Oonagh had already prepared from foraged ingredients. We ate the mostly raw food with our wind-chilled fingers, just steps from where it was gathered.
Start planning your trip to Ireland

Start thinking about your experience. These itineraries are simply suggestions for how you could enjoy some of the same experiences as our specialists. They're just for inspiration, because your trip will be created around your particular tastes.
View All Tours in Ireland