By Italy specialist Nick
For some reason, most people don't think of Rome when they think about regional Italian food, but that's a shame. Rome's signature dishes are deliciously, deceptively simple, usually with just a small handful of ingredients, letting the quality of the food and the skills of the chef shine through. I think it's an important stop on any culinary tour of Italy.
You'll find excellent food across the city, though I suggest avoiding most trattorias near the big attractions. If a ristorante has an English-only menu posted outside or worse, someone standing at the door to coax passers-by inside, consider walking a few more blocks to try somewhere more authentic.
Eggs, cheese and pork — the four pastas of Rome
Roman pasta is not about subtlety. The city is known for four dishes that all share a pungent, gutsy profile and you'll find them on menus at Michelin-starred gastronomic temples, family-run trattorias and even touristy cafés near the blockbuster sites.
They are some of the city's simplest dishes, relying heavily on the high quality of the ingredients to really shine. Which is why, even if you've had these pastas in cities outside of Italy, you've perhaps never really enjoyed them properly.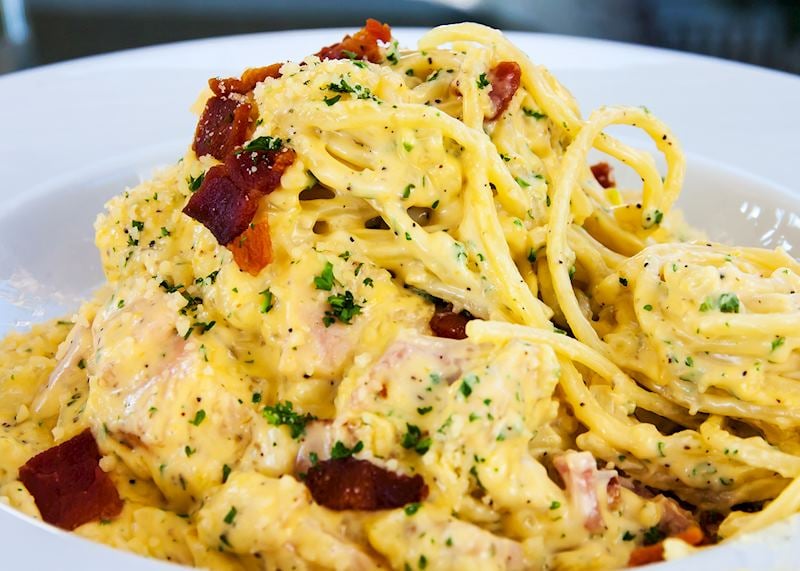 The dish that's best-known around the world is probably carbonara, though the versions that appear outside of Italy are often adulterated with cream, onions or even Parmigiano Reggiano instead of pecorino Romano. Now, I'll admit I happily use parmesan in my homemade version, along with blanched bacon (a Roman chef would gasp in horror). But, the authentic version is made with nothing but eggs, Pecorino Romano, black pepper and guanciale, a cured meat made from pork cheeks.
The starchy water is used to emulsify the yolks and cheese, not to mention the unctuous fat rendered from the guanciale. The sauce coats the long, thin strands of the pasta, making an intensely rich sauce that unfolds slowly on your tongue. First, the big salty hit of the cheese and the hot bite of black pepper, then the complex porky umami and the faint, wheaty chew of the pasta.
Slightly less rich is pasta alla gricia, which is just carbonara without the eggs. I prefer this option when I'm enjoying a proper Italian meal, where pasta is just one course in a long, leisurely evening.
Cacio e pepe is no less rich, but even simpler — the name translates to 'cheese and pepper', which is also the ingredient list. Its simplicity is deceptive, however, and I've never fully mastered the art of creating the glossy, cheesy, peppery sauce. This is usually served on tonnarelli or spaghetti alla chitarra, a noodle that's about twice as thick as regular spaghetti.
Cheese takes the spotlight in cacio e pepe, but it has a decidedly supporting role in bucatini all'Amatriciana, which is also the only one of the four dishes that includes tomatoes. Here, the tomatoes' acidity and sweetness are complemented and supported by guanciale and cheese to create a well-balanced and surprisingly satisfying sauce that's tossed with bucatini — a hefty noodle with a hole down the middle.
If you want to try any of these, I suggest a stop at Da Francesco, just a short walk from Piazza Navona. The no-frills restaurant is full of boisterous locals who come for the traditional Roman cuisine.
Supplì — the finest snack food in the city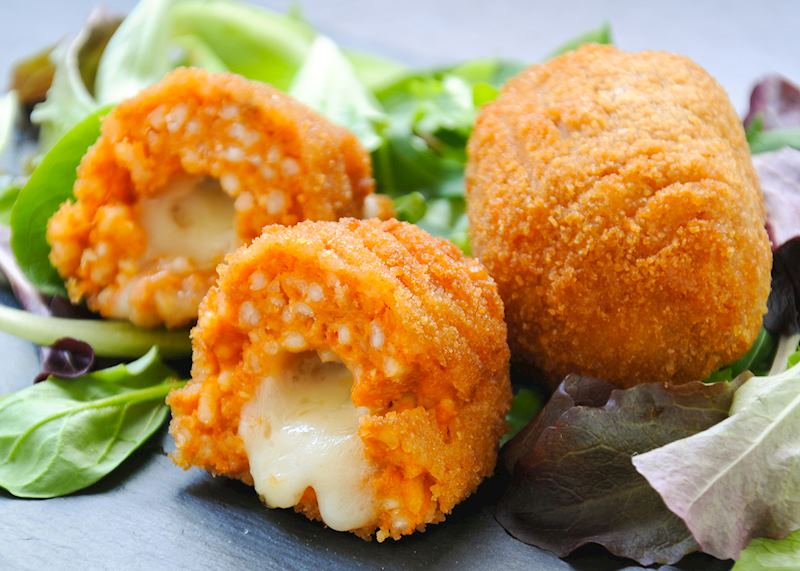 Though restaurants open earlier for the visiting crowds, most Romans eat late — around 9pm. When I first moved there, the wait to eat could seem a bit long to my American sensibilities. That is, until I discovered supplì — Rome's answer to arancini.
These fried rice balls are smaller than their Sicilian cousins, and have a slightly more elongated shape, but they share the same basic construction. They're a ball of ragu-spiked leftover risotto formed around a small nugget of cheese, rolled in breadcrumbs, and dropped into a sizzling pot of oil.
The deeply golden-brown shell is crisp and shatters to reveal the tomato-tinted rice and the melty, oozing heart of mozzarella. Some say that the snack's original name was supplì al telefono — the long string of melted cheese was thought to look like a telephone wire.
You can find excellent supplì at almost every pizzeria and grocer in the city, but there are some dedicated shops where you can choose from a selection and enjoy your evening nibble with a pre-dinner glass of wine. I like Supplizio, a small shop almost hidden behind a snarl of thick ivy just a short walk from Piazza Campo de' Fiori.
A 2,000-year-old legacy — fried artichokes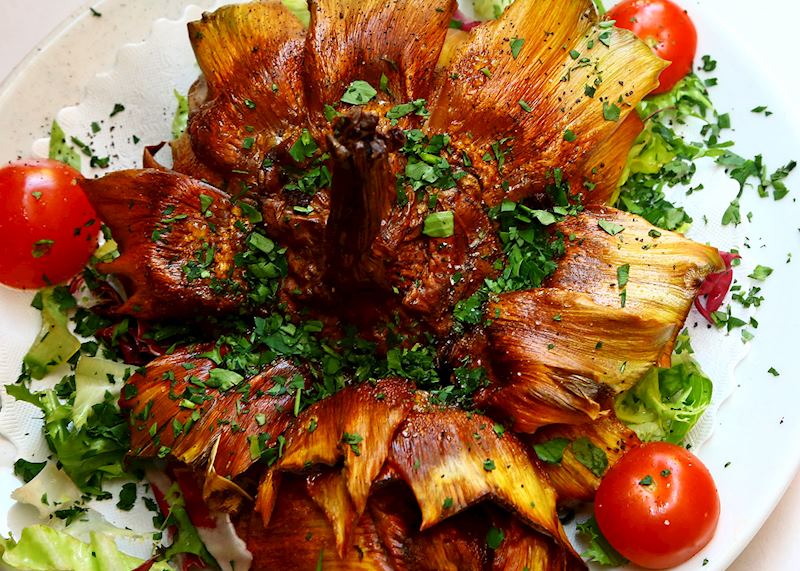 Like all Italians, Romans prefer to eat seasonally, with menus that spotlight fresh ingredients. That's why I like to visit in late winter or early spring, when massive, deep-purple Roman artichokes start appearing in markets across the city. You find them almost any time, but they're definitely best during artichoke season, in late February and early March.
You'll find these prickly members of the thistle family on menus in many guises, but I love the fried versions, which are called carciofi alla giudìa (literally 'Jewish-style artichokes'). As the name indicates, the original recipe is thought to have come from the city's Jewish population, which dates back more than 2,000 years. A walking food tour of Campo de' Fiori and the Jewish Ghetto can give you a glimpse into the long-lived community's effect on Roman culture.
The stiff, waxy outer leaves are stripped off and the edible green heart is cooked twice in hot olive oil — the vigorous bubbling spreads the inner leaves, making the whole thing blossom like a flower. The outer petals turn paper thin and crisp, while the choke itself is meltingly tender, almost creamy, with a springy green taste. Served piping hot and sprinkled liberally with salt, they're a greasy treat that I never miss.
A cut above the rest — Roman pizza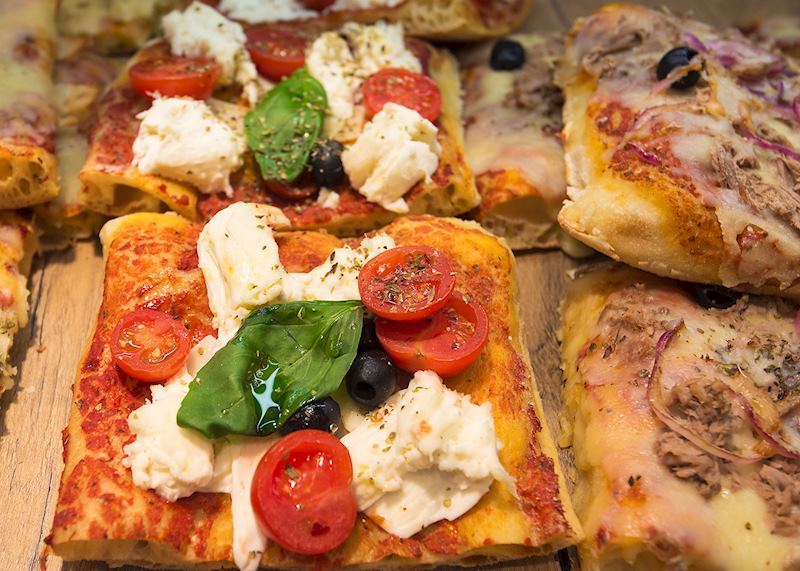 In Rome, pizza is often served al taglio — literally, by the cut. The slow-risen dough is spread out in long rectangular trays and baked in a hot oven that gives it delicate bubbles and an oil-crisped bottom. The contrast between the chewy interior and the crisp, almost crunchy crust is a major part of the dish's appeal.
Toppings here are different from what you'll find elsewhere in Italy. You can see pizza shingled with thinly sliced potatoes, their translucent edges curling and brown, or piled high with greens and artfully draped prosciutto, as well as the usual suspects like bubbling cheese or simple olive oil and salt.
Pop into one of the city's many pizzerias and you'll have to indicate how much you want using your hands. The pizzaiolo will cut it with sheers and charge you by the weight. Have them pop it back into the oven to warm up and eat perched on the edge of a fountain in a nearby plaza — this is a classic Roman street food. If you ask for it 'per caminare' (to walk), the pizzaiolo will cut it in half and fold it together, making a sandwich.
Picking the pizzeria you like best is part of the fun of visiting the city and I feel almost bad offering a suggestion. But, I'd be remiss if I didn't point you to Pizzarium, located just a short walk from the Vatican. Visitors, locals and food-tour groups flock to Chef Gabriele Bonci's shop, munching on their slices at the standing-only tables outside. Also excellent is Dar Poeta in Trastevere.
Drink as the Romans do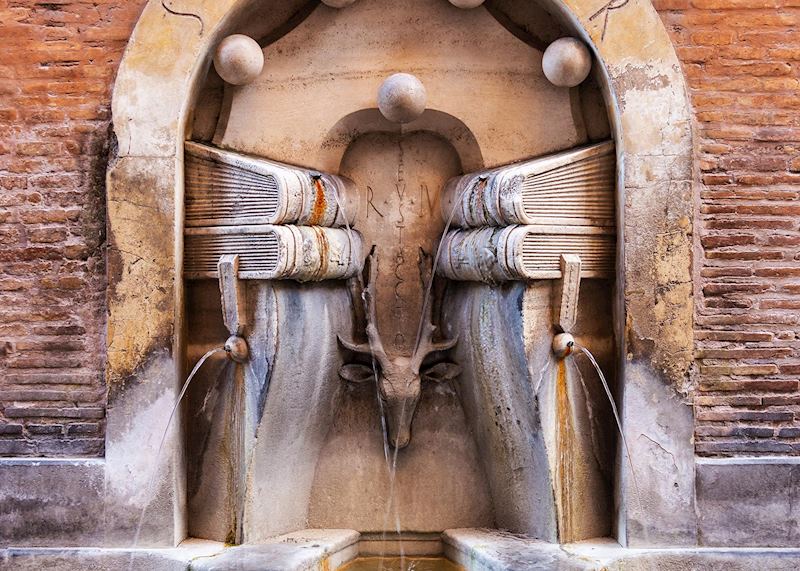 I would never presume to suggest what sort of wine you should drink when you're in Italy — that's a private matter between you and your sommelier. But, don't let the abundance of gorgeous vintages make you overlook Rome's other beverage: water.
In the modern age, when you can just turn on a tap and get clean water, the miracle of Rome's fountains can be easy to overlook. But, for over 2,000 years, city residents have been able to just help themselves to cold, fresh, potable water from the city's ever-flowing fountains. These structures are fed by a massive network of aqueducts, some dating back to the Roman Empire.
Then, the constant spill of the fountains was a bit of ostentatious braggadocio — where other cities had to work hard to get water, Rome was so wealthy it could spill clean water endlessly onto the ground. Today, that water is still flowing, though in 2017 some fountains were shut down for the first time in two millennia due to a drought.
You can refill your water bottle almost anywhere in the city from one of the nasoni. The name, which means big nose, is a play on the large, curved pipes that pour out water constantly. Or, you can look for fontanelle, little fountains in playful shapes like dragons or Rome's founding mother, the She-Wolf. Together, there are more than 2,500 places where you can refill your bottle.
Read more about trips to Italy

Start thinking about your experience. These itineraries are simply suggestions for how you could enjoy some of the same experiences as our specialists. They're just for inspiration, because your trip will be created around your particular tastes.
View All Tours in Italy