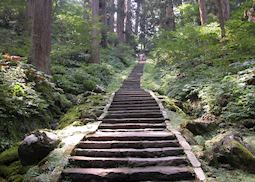 A bit off the beaten path, my favorite destination is Aomori, located in the most northern region of Honshu Island known as Tohoku. Aomori is known for their seafood, apple production, high snowfall, their summer festival and natural beauty.
The four seasons in Aomori are great. Aomori winters are long and snowy but that means great powder snow. Mt. Hakkoda has excellent backcountry skiing. Spring is beautiful and Hirosaki Castle is known for some of the best cherry blossom viewing in Japan. Cherry blossoms bloom in May, much later than the rest of Japan. Summer is my favorite season in Aomori, primarily because of the famous Nebuta festival where the city comes alive with huge lit up paper floats, dancers and lively music. Aomori is great for fall foliage and Oirase Gorge and Lake Towada are beautiful at this time of year.
Aomori City has great hot springs, the largest outdoor Buddha, delicious seafood and a charming character that make this place my favorite in Japan.