The best time to visit Norway in the northern region is in the fall, which brings thinner crowds, cooler weather between 5°C to 10°C, and glorious foliage.
The best time to visit Norway in the southern region is between May and August, when the days are long, the landscapes are green, and the weather is warm, between 16°C and 22°C. This is a popular time to explore the region, so expect to see a few more visitors around. In northern Norway, you can hike under the midnight sun at this time of year.
The two regions have very different climates, so when you visit Norway will likely depend both on what you want to do when you're there and where you want to go.
Starting in late November and running until February or March, the whole country turns into a wintry playground, especially the northern region. If you're comfortable with frigid temperatures, this is an excellent time to visit the Arctic Circle, where you can watch the northern lights and enjoy the deep snow that blankets the landscape.
The best time to visit the fjords is in April, May or June, which are perhaps the most photogenic months, when the fruit orchards on the shoreline explode into pastel bloom. However, this area of the country offers a milder climate and so makes an excellent destination year-round.
Creating tailor-made tours for over 25 years

Excellent
TrustScore

4.7 | 3349 reviews

Month-by-month guide for traveling in Norway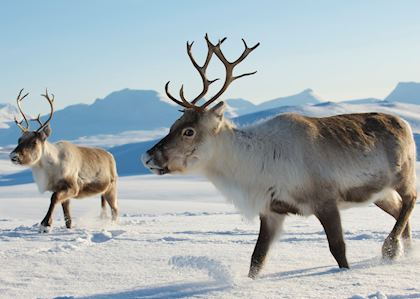 Visiting Norway in December - February
The whole of the country becomes a snowy winter playground during these months, though the deepest snow and coldest weather is found inside the Arctic Circle, where you can often see the northern lights. Temperatures can drop as low as -20°C up in the north, but it's milder (around -2°C) in the fjordlands.
Events & Festivals
The Nobel Peace Prize Award Ceremony draws luminaries from around the world to Oslo in early December.
Norwegians celebrate Saint Lucia Day with festivals of lights and parades on December 13.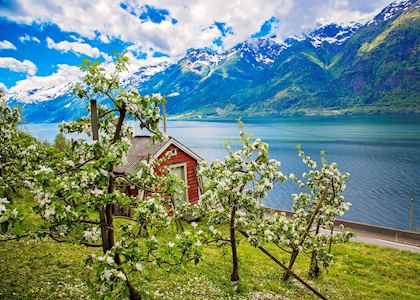 Visiting Norway in March - May
Winter begins to lift and the weather turns milder. The fjordlands burst into bloom as the shoreline orchards of fruit trees blossom. Melting snow fills the rivers and the waterfalls swell as wildflowers unfurl. There are fewer crowds in the cities this time of year, making it a good time to visit museums and other cultural attractions.
Events & Festivals
The Bergen International Festival brings together performers, singers, dancers and other artists for a week-long festival in late May.
Discover Norway's medieval heritage at Oslo Middelalderfestival, also held in late May.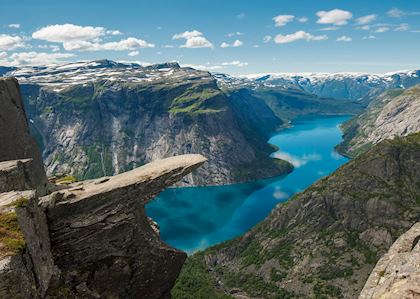 Visiting Norway in June - August
Days get longer, the weather warms and nights get shorter. In the Arctic Circle, there's 24 hours of daylight, and you can hike under the midnight sun. This is when the weather is at its most stable across the country, with generally pleasant temperatures. It's an excellent time to explore the rugged countryside and try to spot wildlife. It's also the most popular season to visit, so be sure to plan well ahead.
Events & Festivals
Bergenfest is a music festival in early June spanning a number of genres, including rock and hip-hop.
The Oslo Jazz Festival and the Oslo Chamber Music Festival both take place in mid-August.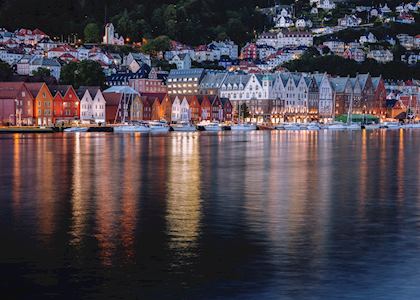 Visiting Norway in September - November
Days shorten, temperatures drop and the air is crisp and cool as the foliage shifts to gold. These are the wettest months, so cities tend to be busier than the countryside — it's wise to plan ahead if you want your choice of hotels. Some of the attractions will take the opportunity to shut down while it's quieter.
Events & Festivals
The Ultima Contemporary Music Festival in Oslo is a long-running event sponsored by the crown prince each September.
Norway Climate Guide
Destination
Jan
Feb
Mar
Apr
May
Jun
Jul
Aug
Sep
Oct
Nov
Dec
Bergen

2°C

222mm

2°C

170mm

5°C

183mm

8°C

122mm

13°C

111mm

15°C

139mm

16°C

156mm

17°C

192mm

13°C

306mm

10°C

304mm

5°C

279mm

3°C

265mm

Oslo

-1°C

49mm

-1°C

36mm

4°C

43mm

9°C

41mm

16°C

50mm

20°C

64mm

22°C

77mm

20°C

89mm

15°C

83mm

10°C

81mm

4°C

74mm

0°C

53mm
Why travel with Audley?
100% tailor-made tours
Fully protected travel
Established for over 25 years
98% of our clients would recommend us Travel advice
Practical tips for traveling to Norway, from social protocols to guidance on money matters, with a link to the latest Government of Canada travel advice.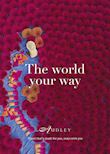 Request our brochure
Covering all seven continents, The world your way shows you how you can see the world with us. It features trip ideas from our specialists alongside hand-picked stays and experiences, and introduces our approach to creating meaningful travel experiences.
Trip ideas and travel guides for exploring Norway