I've been traveling since I was little, but my passion for travel really took off after a high school graduation trip to Japan with my dad. We traveled along the mainland during cherry blossom season hitting many of the highlights including Tokyo's Shibuya Crossing and Kyoto's Gion District. A few years later, I returned to Japan as a solo traveler with a homestay family. This experience truly shaped my love for travel as I learned to build friendships across land/language barriers, and how to fall in love with a country that is not my own. I also have an academic background in travel, completing my MS in Global Tourism & Sustainable Economic Development at the end of 2021.
It turns out, my first trip to Japan would come full circle because it was planned through Audley 7 years before I would begin working here. As with Japan, my first trip to Southeast Asia was with Audley, but this time as a prospective Thailand and Cambodia specialist instead of a leisure traveler. My new experiences with Audley have re-ignited my passion for travel post-Covid and I can't wait to see what travel has to offer next.
Speak to Jacqueline

Start planning your tailor-made trip with Jacqueline
Q&A with Jacqueline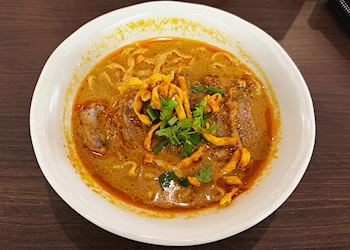 What's the best local dish you've tasted?
My top local dish originates in Northern Thailand — Khao Soi (beef). I'm a huge fan of curry and of noodles, and Khao Soi combines the two perfectly. It has a rich spicy curry broth with noodles and a choice of beef, pork, or chicken. While food in Thailand can be on the spicy side, Khao Soi balances it perfectly with the noodles and beef. The beef also gives the broth an extra layer of taste and becomes very tender when added to the hot curry. I loved it so much that I brought instant Khao Soi boxes home with me — though I know it won't compare to having it cooked fresh in a local northern Thai restaurant.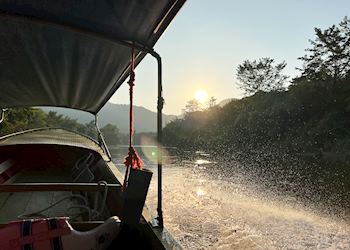 What's your most vivid travel moment?
After a long travel day, I quickly shuffled across a precarious dock to a longtail boat patiently waiting for our four-person group to hop on. We were at the cusp of the boat rides closing for the day as the sun set on the river. After we settled on the boat, we embarked on a 30-minute boat ride on the River Kwai through the jungle of Kanchanaburi. Coming from the suburbs of Massachusetts this was my first experience in the jungle. I'm familiar with the stoic snow-capped mountains in New Hampshire, but the silhouettes of Kanchanaburi's hills are fuzzy from foliage and swallowed in green. As it gets closer to nightfall, fog crawls in covering the tops of the emerald hills making them appear as though they reach endlessly above the jungle. It's both incredible and chilling. Maybe it was the cold of the night setting in, or maybe it was that despite the symphony ringing through the jungle that there wasn't an animal in sight. I've always loved the outdoors, but I've never felt so incredibly humbled by nature than in the jungles of Thailand.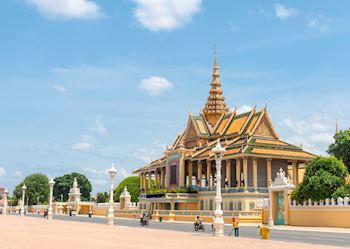 Where would you love to travel next?
I would love to see more of Cambodia next. I spent 3 nights in Siem Reap, and I fell in love with its people, history, and food. I would love to have the opportunity to dive deeper into the Khmer history in Phnom Penh and experience the Cambodian countryside in Koh Kong.