By Thailand specialist Mat
On my latest visit to Thailand, I went armed with my walking boots, ready to test out a range of hikes, walks and treks. My main finding? Across the country's varied landscape of limestone karsts, misted jungle and rural farmscapes, there's something to suit every kind of walker.
I've picked out four of Thailand's best treks below, starting with the easiest and finishing with the most challenging. Each one offers a taste of Thai culture, from elephant encounters to time spent with members of a local community, and many can be tailored to suit you.
Doi Inthanon waterfall trek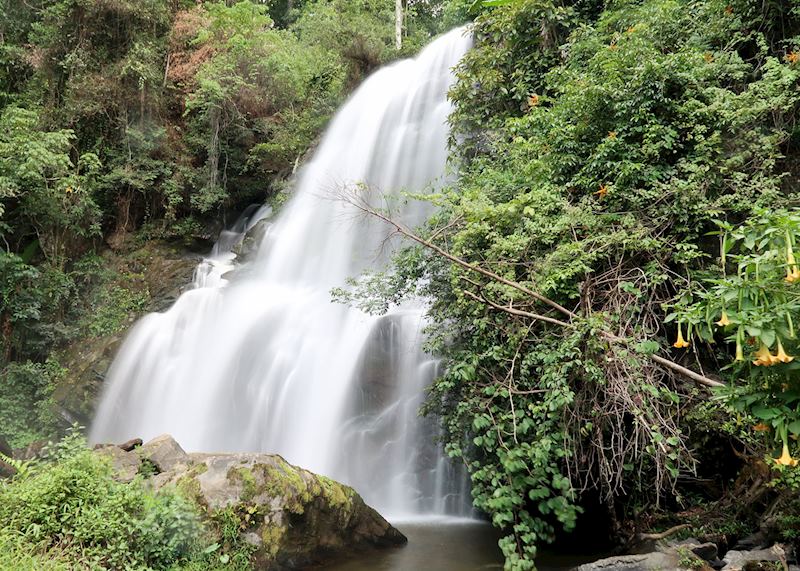 Good for: Families and first timers.
Difficulty: The majority of this well-maintained path is flat, minus a couple of short steep sections. And, here in the highlands, it stays comfortably cool.
Duration: It's about one-and-a-half hours' walk, but with plenty of places to stop to explore en route, expect to take around three hours.
I'll admit that calling this a trek is a bit of a push, but this short, circular route to the Doi Inthanon waterfalls can feel like quite the adventure. If you're a first-time visitor to Thailand and would like to sample the Thai trekking experience, it checks all the boxes. Plus, it's around an hour and a half drive from Chiang Mai, so simple to add into a classic Thailand trip.
You'll begin in Mae Klang Luang village, with the opportunity to sample some local snacks, before heading off into Doi Inthanon National Park. One of the best things about this route is its accessibility, but that's also its downside, so I suggest arriving early before the majority of visitors turn up.
I was guided by an English-speaking local guide plus an even-more-local guide, who rocked up in traditional dress and flip-flops, making me feel a little over-prepared in my hiking boots (although I still recommend them).
Having two guides has become common practice in Thailand. You get the best of both worlds: one professionally trained guide from the wider area who speaks good English, and a guide from the local community who knows every leaf, path and tree. Together, they helped me to understand the history of the region, which has developed from opium plantations into a thriving coffee and fruit district.
You'll pass a panorama of Thai life: plantations, farmers at work, flower fields, vegetable patches and rice terraces. As you reach the waterfalls, there are bamboo bridges and walkways to cross, and a few vine swings for smaller adventurers. The water cascades over four levels, filling a series of pools along the way. And I do mean cascade — the water is too powerful here to swim, but you can have a paddle to cool tired feet.
A locally run restaurant has been set up at the end of the trail. You can relax here over a pad thai before finishing the day with a short drive to Wachirathan Waterfall, one of the biggest in Thailand.
Trekking from Lisu Lodge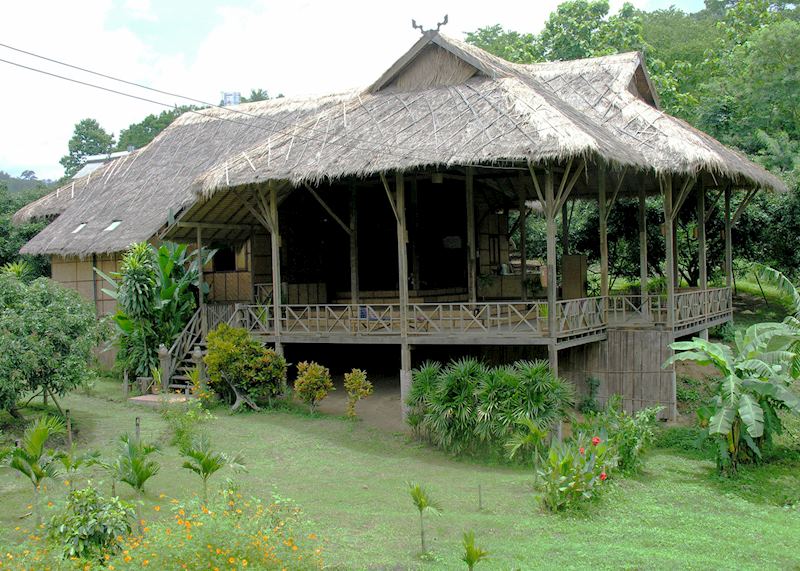 Good for: Families and anyone wanting a comfortable yet off-the-beaten-track experience.
Difficulty: You'll be privately guided so routes can be tailored to you, although some fitness is required.
Duration: The route I tested was their most popular trek, and lasts around three hours.
Situated about an hour and a half drive from Chiang Mai, Lisu Lodge has been built in a quiet, rural community surrounded by organic farms and neat grids of rice and corn. It's a locally run ecolodge built from bamboo, with a ban on plastic and a focus on employing villagers who live nearby. You'll stay in your own comfortable lodge and dine on food sourced from surrounding farms.
Their one-night trekking experience allows you to get out into the surrounding countryside, walk into the local village, see some of the organic gardening techniques up close, and plant a tree (which is funded by your stay, and named after you).
One key difference here is the guiding, which is done purely by the locally trained lodge staff. Their level of English isn't quite what it is in other areas, but they are real local experts, finding edible bark for you to sample and explaining which berries they eat to protect against insect bites. My guide was being shadowed by a younger woman who was finishing her studies and hoping to become a guide too.
The trekking is so off-the-beaten path that there isn't one. Instead, your guide cuts through the undergrowth with a machete. You'll pass bamboo forests, wild banana trees and small farmsteads. I saw the occasional farmer, but as there's no other hotel in the area, you'll pass no other visitors.
Black Lahu Village Trek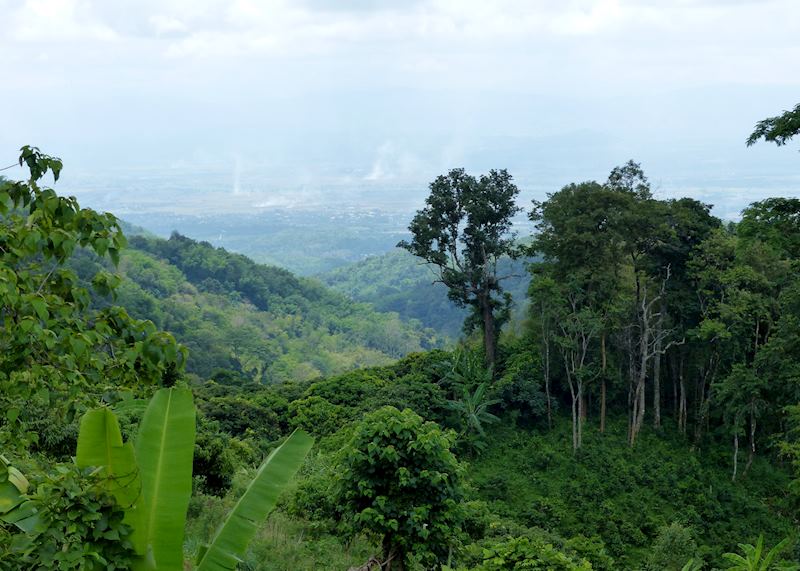 Good for: Those wanting an adventure in a little-visited corner of the country.
Difficulty: This is a steep, mountainous trek in a warmer part of the country, although the route can be adapted on the day if temperatures peak.
Duration: Around four to five hours including time to stop and explore along the way.
As you journey across Thailand, you'll pass a tapestry of scenery from the plane, train or car window. If you're heading up to Pai from the town of Mai Hong Son on a trip through northern Thailand, you can step out of the car and trek through this scenery as part of your journey.
Starting out in the early morning, you'll drive to the halfway point between Pai and Mai Hong Son, the village of Ban Jabo. This, along with many of the surrounding villages, is part of the Black Lahu community, an ethnic people hailing originally from China.
There's also a White Lahu community — both glean their names from the shades of the pigs they farm. After I'd watched hundreds of black piglets scrabble around in the mud, and enjoyed a local coffee, we set off.
Again, for this trek you're accompanied by two guides, including one from the Lahu community. A stick was thrust into my hand and we set out on a steep uphill path surrounded by thick forest.
As you walk, you'll be shown what's edible, from wild bananas to herbs, what's medicinal and which flowers make a really odd buzz when you blow through them. Lunch is cooked over a fire and prepared from a single piece of bamboo — I was shown how to rub the bamboo to make a spark, but only succeeded in blistering my hands.
One of the benefits of being so far north — you're not far from the Myanmar border — is that you're unlikely to see another visitor. But, you'll also be treated to a landscape that's arguably Thailand's most dramatic, with limestone cliffs and steep-sided valleys.
A highlight of the route is a cave set high in a cliff face. Clambering up a series of wooden staircases, you'll find a series of 2,500-year-old teak coffins inside. Only found 20 years ago, analysis has proved that the bones inside are only 1,300 years old, and no one has any idea where they've come from.
At the end of the day you'll finally reach Mai Hong Son, where I strongly suggest you stay at Fern Resort — sliding into its infinity pool at the end of the day was divine.
A multi-day adventure from Pa Kaolam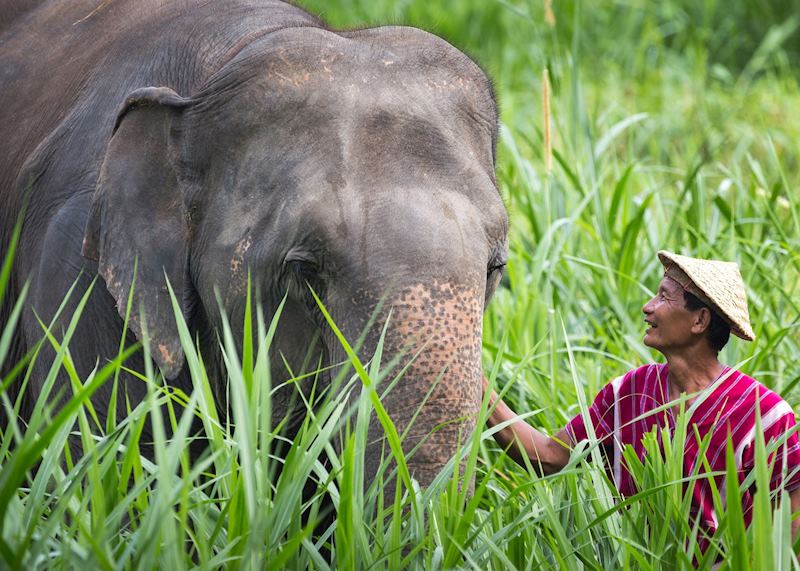 Good for: A genuine homestay experience, adventure and wildlife.
Difficulty: It's hilly, steep terrain in a relatively hot climate, so a good level of fitness is required.
Duration: This is a three-day, two-night experience. The longest trek is around six hours.
Drive a couple of hours north from Chiang Mai and you'll pass dozens of rafting companies, trekking groups and elephant sanctuaries before the road fizzles out. Keep going for around an hour on an off-road track, and you'll eventually come to the Karen town of Pa Kaolam. Here, you can start an adventurous three-day, two-night trekking experience.
You'll arrive in time to finish helping make lunch (their crispy cucumber som tam, a sweet-and-sour salad, is particularly good). After eating your fill, it's then time to walk into the surrounding jungle. The duration of this walk can vary as you're not following a set route. Instead, you're searching for an elephant, with the help of her mahout.
Around Pa Kaolam live a handful of elephants who used to work in the logging industry. Too old to be completely rewilded, their mahouts still care for them as they while away their retirement freely wandering the surrounding jungle. You'll spend the afternoon with a mahout, meeting their elephant and helping to feed it, before walking it down to the river to bathe.
I was surprised that, when we headed back to the village for the evening, the elephant followed us. My mahout grinned and explained that she's free to wander where she likes. So she spent the evening eating bananas while my hosts, a family in the village, fed me a wide variety of local delicacies.
The next morning I was greeted with the squeal of piglets being fed as we left the village, and spent the day passing through tiny bamboo hamlets. My guide was a survival expert and although we didn't have to test his skills too much, he showed me how to cut open bamboo and drink its fluid, as well as pointing out lots of bright caterpillars and noisy cicadas along the way.
You'll then spend another evening in a family home in the village of Mae Manai. A community affair, villagers take it in turns to host hikers. You'll have a simple, private room, with a separate, refreshingly cold shower.
On the final day, it's a six-hour walk through mountainous scenery and forest that occasionally opens out, giving you views across the surrounding landscape.
The countryside begins to change from pine forest to steaming jungle as you head downhill. Keep alert to the smell of sulfur in the air. That's the sign you're coming close to some hot springs. You'll finish the hike with a foot soak, followed by a hefty plate of Thai delicacies.
Read more about trips to Thailand

Start thinking about your experience. These itineraries are simply suggestions for how you could enjoy some of the same experiences as our specialists. They're just for inspiration, because your trip will be created around your particular tastes.
View All Tours in Thailand