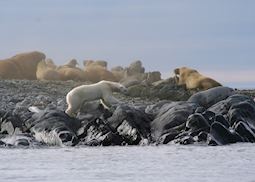 Arctic
Spend time on deck looking out for the elusive polar bear, huge walrus and surfacing whales.

Look for Arctic foxes on the prowl at the bottom of impressive cliff nesting colonies.

Walk through the barren landscape and learn the fascinating history of the whalers and trappers who once sheltered here.

Marvel at icebergs carved into hypnotic shapes by the wind and water.