By Scotland specialist Emily
The Isle of Skye is a destination for people who want to be transported to a realm of stark landscapes and arresting views. The bones of the land are close to the surface, formed from dark igneous rock that has been carved by glaciers into fantastical jags and jetties. Despite the damp weather, most visitors spend their time outdoors, hiking through the countryside.
The Highland scenery — towering black cliffs, unexpected waterfalls, and misty air wreathed in rainbows — feels otherworldly, and it was no surprise to me that legends of fairies persist on Skye, both in the rolling hills of Fairy Glen and the charmed heirlooms of Dunvegan Castle. Even GPS doesn't work well here, adding to the feeling you're truly in a land apart.
What to do in Skye: my recommended highlights
Take a driving tour
A drive through the northern half of the island gave me a feel for the immense variety of landscapes here, including wave-lashed beaches, sweeping glens, jutting crags and glacial lochs. Its complex geology has created a variety of eerie, almost alien rock formations, from tiny to towering. I wasn't surprised to learn that film crews regularly travel here to shoot fantasy movies like The BFG and Stardust.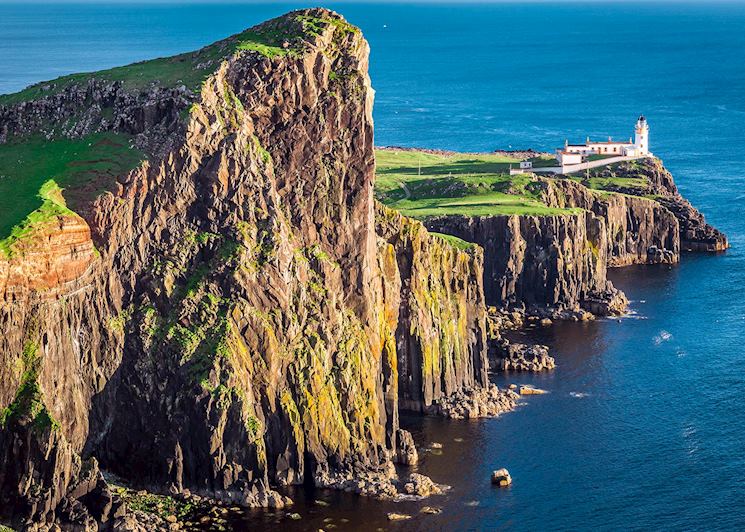 However, driving in Skye can be fraught. The roads are narrow and twisty and locals motor along them at high speed. Navigation systems aren't accurate and the local scenery demands to be admired. This can be a problem if you're suddenly distracted by a photogenic rainbow while driving. That's why I suggest a good driver and guide.
Mine was intimately familiar with the island and always had a plan for dealing with the ever-changing conditions that are part of life on Skye. If one vantage point was blanketed in fog, he knew another just a few minutes down the road. If we encountered a traffic jam, he knew how to get around it. He was also happy to stop at one of the many roadside trailheads and let me explore.
One of those stops was the Neist Point Lighthouse, an Edwardian building that's still in use today. The walk along the long, rocky peninsula to the lighthouse is a pleasant stroll on a clear day, but can be treacherous in bad weather. The waters off the point are a good place to spot whales and basking sharks.
We also stopped by Kilt Rock. A brief walk from the trailhead by the side of the road brought me to the viewpoint on top of a cliff, high above the ocean. The sheer stone face is made of vertical basalt columns, weathered to a ruddy brown, which are said to resemble the pleats of a kilt.
Hiking on Skye
Skye's rich and varied landscape is the main attraction for most visitors and hiking is a popular pastime. I donned my waterproof gear — a must on this misty, muddy island — and headed out for a half-day walk, led by Matthew, our guide.
At his urging, I skipped the Fairy Pools that are so popular on social media. He explained they were often thronged with other hikers and the online images were often altered. Instead, we headed to Glen Canon, also known as the Fairy Glen.
Located near Uig Bay, on the Trotternish Peninsula, Glen Canon lives up to its fanciful nickname. Filled with small grass-covered hummocks, tiny silvery lochs and ridged conical hills, it looks like a Highland ecosystem shrunk to miniature size. Raw stone crags thrust from the rain-spangled moss and the land under the grass rolls along in irregular furrows, making the footing slightly tricky.
My guide regaled me with some of the legends associated with the area, not all of them pleasant. Locals build their houses with doors aligned to invisible fairy roads, to ensure that the sprites don't slow down enough to perform any mischief. And children are told to stay out of the area after dark, lest they be snatched away.
Dunvegan Castle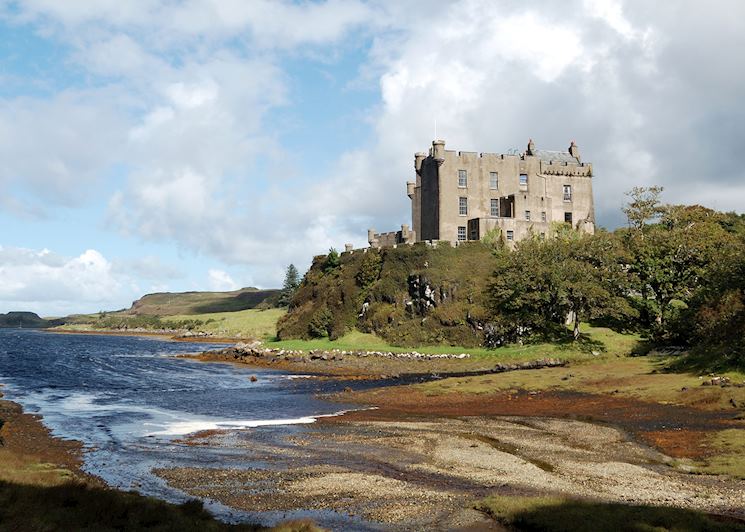 I came to Dunvegan Castle on a small, low boat, the way an invading enemy would have approached it in the past. Today, Dunvegan Loch is home to a colony of common seals and the boat trip took us close to their rookery. They seemed entirely unafraid of us, playing on the rocky shore and arrowing through the water.
The external dun walls of the castle have a unified look, straight and square, thanks to a mid-19th-century restoration. However, the five structures inside the castle reflect 800 years of building styles and technologies. The tour I took illustrated the intertwined history of the castle and of the MacLeod clan, who have continuously lived here since 1200.
Thanks to the family's long residence, the castle has accrued many heirlooms, including Sir Rory Mor's drinking horn, a silver-rimmed ox horn dating from the 16th century. Clan custom demands that each new chief drains the entire horn of wine.
I was drawn to the Fairy Flag. This tattered square of faded silk doesn't seem strong enough to support the number of stories and legends associated with it. Family lore holds that waving the flag three times ensures victory in battle. During World War II, Clan MacLeod pilots carried a picture of the flag in their wallets during the Battle of Britain and not one was lost to the Germans.
Portree, Skye's main town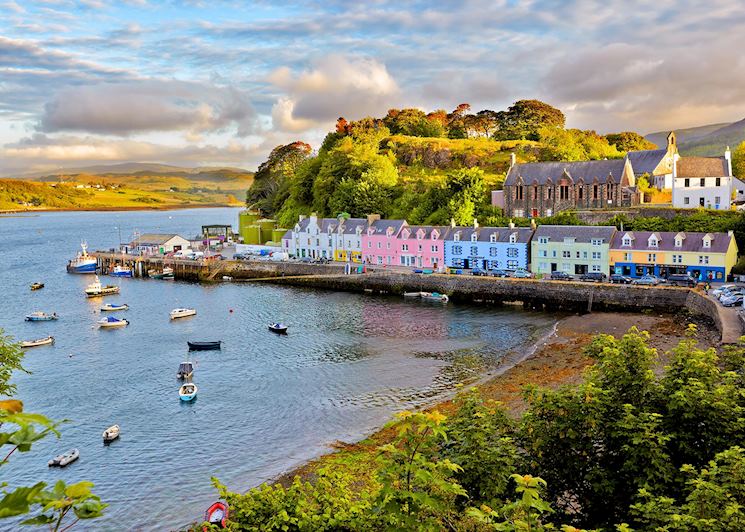 Visitors come to Skye for the natural scenery, not the urban life. Portree, the largest town on the island, is where you go when you need to take a break from the restaurant at your hotel. I suggest No 1 Bosville Terrace Restaurant, which is tucked into a small white-walled cottage and features a seasonal menu.
That doesn't mean there aren't any interesting sights. The seaside townhouses are painted in vivid hues, an unexpected splash in the normally subdued Scottish palate. Even more surprising was the monkey puzzle tree in front of the bright houses, a living fossil of a tree from Chile that looked wildly out of place on the edge of the north Atlantic.
Skye's lesser-known highlights
Fly fishing with a ghillie

Thanks to the fish's local abundance, salmon is ubiquitous on menus in Skye and fishermen come from around the world for the fishing here. There are few experiences more quintessentially Scottish than casting your line into the cold, rushing water to try to catch a salmon as the sun rises over the Snizort River.
My hotel had a local hunting and fishing guide, called a ghillie, to tutor visitors in the art and science of fly fishing. He can provide equipment and a detailed local map for experienced fishermen, with insights into the best spots for the day and the season. For novices like me, who have never touched a rod and reel, he also offered instruction and led me to a good spot on the riverbank.
An important note: In Scotland, salmon fishing in rivers is illegal on Sundays.
The Oyster Shed
Reached by a small dirt track off the main road, the Oyster Shed is where locals go to get their seafood. It's literally a shed, a barebones operation where the boats drop off their daily catch and diners choose from a wide selection of fish, crabs, oysters, and lobsters.
I picked a tray of briny sweet oysters and ate at a picnic table outside, overlooking Loch Harport, with fishing boats reduced to toy size in the distance.
Best places to stay on Skye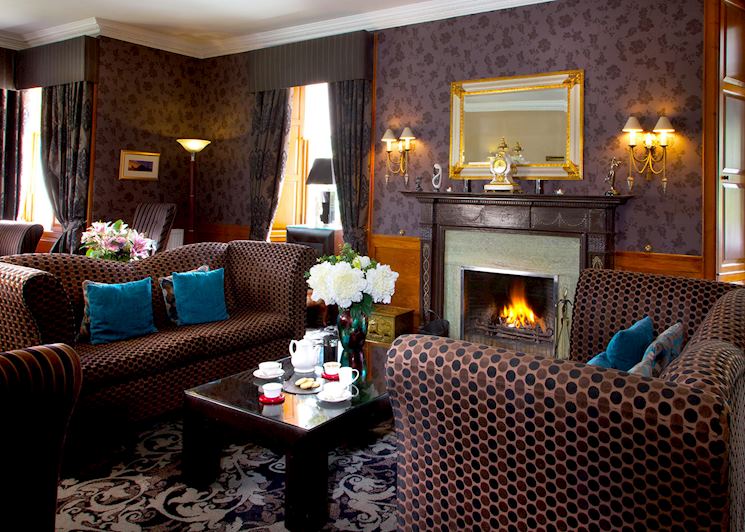 Skeabost Hotel, outside Portree, offers a comfortable welcome at the end of a chilly, damp day of hiking. It's well-positioned if you're exploring the northern half of the island and offers spacious rooms with views of its garden or golf course.
The hotel's two restaurants provide options for casual and fine dining and both boast a well-stocked wine cellar as well as a wide selection of local whiskies and gins.
Farther south, the Duisdale House Hotel in Isleornsay is close to the Skye Bridge, which connects the island to mainland Scotland. Originally a Victorian hunting lodge, the hotel offers views onto the sea and garden to the east or the Sound of Sleat to the west. The fine-dining restaurant is an excellent place to taste Skye's produce, choosing from a menu of local seafood and game.
What to eat and drink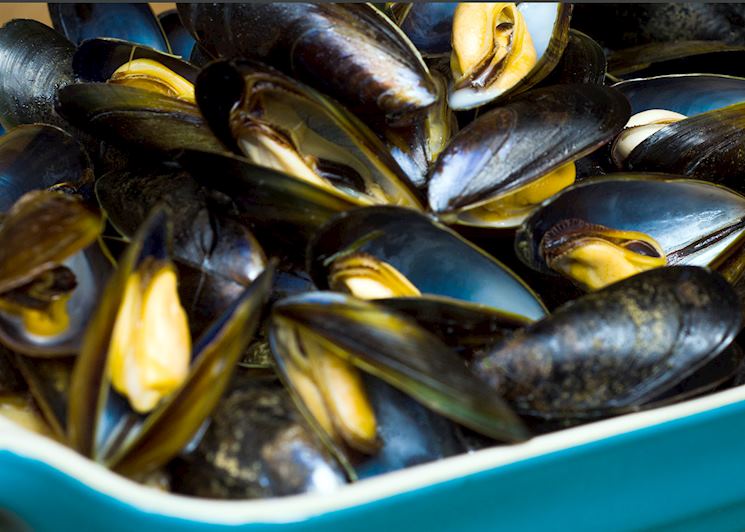 Skye's menus are filled with seafood just pulled from the cold, rich waters of the north Atlantic or one of the island's many rivers and lakes. In addition to salmon (often served smoked), you'll find lots of oysters, mussels, lobsters, and fish, including pollock, pike and trout. I also enjoyed the locally raised beef, and local vegetables and berries. Because most of Skye's food is locally grown, many menus change with the season.
Best time to visit the Isle of Skye
July and August bring slightly better weather but much heavier crowds. They clog up the narrow roads, especially in Portree, and clutter up the hiking trails. Also, midge season is late summer, around August time. (Midges are small biting insects that often travel in thick swarms.)
If you do want to visit during the summer, book very early and be prepared to share the island. I suggest visiting between mid-May and June or in October, when the weather is still nice but the crowds are thinner.
Start planning your trip to the Isle of Skye
Scotland and Ireland

View this tour
Start thinking about your experience. These itineraries are simply suggestions for how you could enjoy some of the same experiences as our specialists. They're just for inspiration, because your trip will be created around your particular tastes.
Further reading