By Uruguay specialist Fiona
Created in 1828 as a buffer zone between Argentina and Brazil, pocket-sized, unassuming Uruguay is easy to overlook. Often passed over for its larger, splashier cousins, the wider world has been slow to take notice — the vast majority of Uruguay's foreign visitors come from South America. Yet, the country offers another perspective on the hybrid continent to which it belongs.
Greater Buenos Aires is home to 18 million people; just 1.3 million call the capital city of Uruguay, Montevideo, home — and the difference this makes is palpable. Uruguay's roads are wide, calm and clear. Montevideo has the feel of a relaxed, arty second city rather than a metropolis. And, it's only a two-hour drive from the capital to reach low-key, chic beach towns. Innovative, experimental design is everywhere. These are some of the reasons I've come to feel a real affection for this unsung country.
Reasons to visit Uruguay
Uruguay has a navigable and characterful capital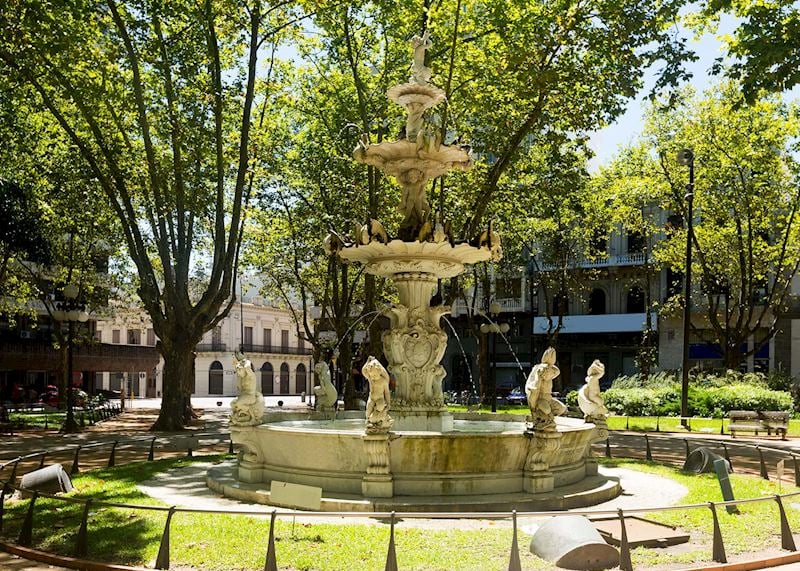 If you arrive into Uruguay by hydrofoil (see Practicalities of visiting Uruguay below), your first glimpse of the country is the UNESCO-protected town of Colonia del Sacramento.
Founded by the Portuguese in the late 1600s, it's a sedate walled town of cobbled streets and palm trees. Its rich Iberian heritage is evident everywhere, from the 17th-century Portuguese fort (complete with wooden drawbridge) to the traditional bullring.
The casco antiguo (old town) is a warren of art galleries and squat little posadas with patios and hidden gardens. I suggest spending a few hours or even a day here, perhaps climbing to the lantern of the gleaming white 19th-century lighthouse for views over the town and coastline.
From Colonia, it's a two-hour drive along the coast to Montevideo, which sits at the mouth of the Río de la Plata (Plate River). In contrast to its slick, ultra-modern airport, the city has an artfully dilapidated look in some areas. In others, it's an architectural smorgasbord.
You'll see Belle Époque, Art Deco and Modernist buildings (plus a neoclassical concert hall, the Teatro Solís) jostling for position alongside grandiose government and administrative headquarters.
It's easy to get your bearings: all roads lead to La Rambla, a 20 km (12 mile) riverfront boulevard beloved by joggers, walkers, cyclists and families. It's also easy to find a good place to eat. Like Argentina, Uruguay has a tradition of excellent lamb dishes, and the city's old port market has several steakhouses.
What really surprised and enchanted me about Montevideo was the number of wild, exotic birds. I saw hummingbirds, and I woke up one morning to find several parrots flying around the courtyard outside my hotel.
Uruguay has some of the best beaches (and beach properties) in South America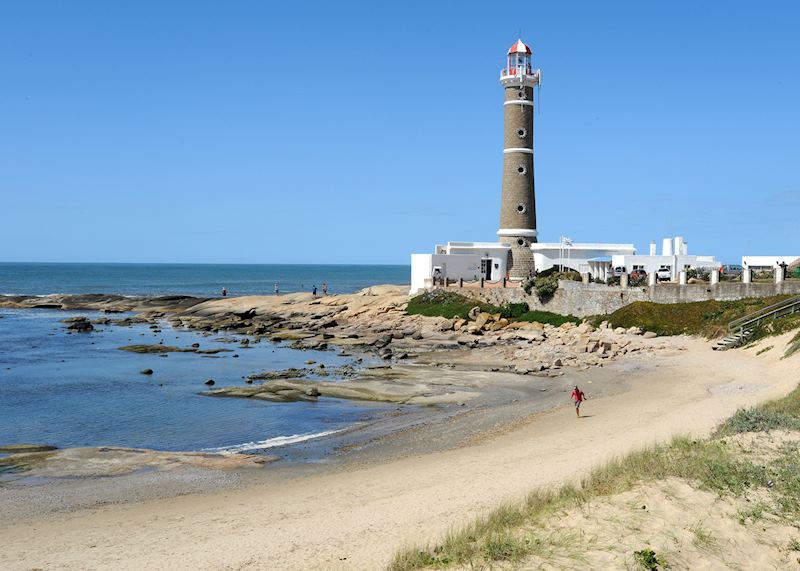 A two-hour drive east from Montevideo, along the Maldonado region's Atlantic coastline, brings you to the best beaches in Uruguay.
Keep on going past the overdeveloped Vegas-like glitz of Punta del Este and carry on for half an hour to reach José Ignacio. Here, it's much quieter. It's a laid-back beach town, formerly a fishing village. It's partly composed of neat, whitewashed bungalows and cottages, but this low-key charm belies its well-heeled connections: this is where many of Uruguay's (and indeed, South America's) wealthiest citizens and personalities have their stylish yet understated summer residences. I like to amble around the sand-strewn streets closest to the beaches, which are full of good bars and cafés.
I'd go as far as to say that if you're looking for the best beach properties in South America — and don't mind paying for them — then José Ignacio is the place. Several chic boutique hotels overlook the beach. I was particularly impressed at the service levels and attention to detail in Bahia Vik, whose beach bungalow rooms are designed in different materials, including adobe and glass.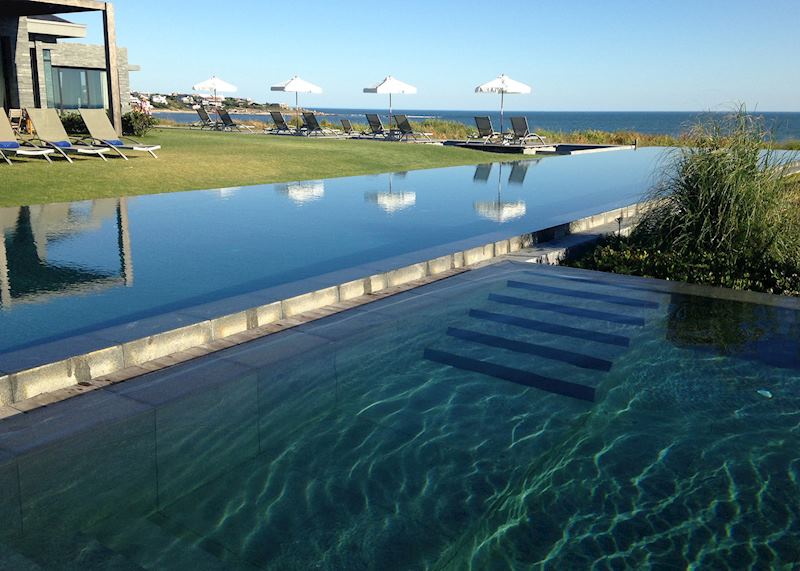 The main beach at José Ignacio is an expanse of soft sand interspersed with grassy dunes. I recommend arriving in early November, when the weather is pleasant but summer (December to February) isn't yet in full swing, and the South American crowds have yet to arrive. While it hasn't the glassy calm of the Caribbean, the water is good for swimming, and there's no seaweed clogging the sand. Water sports such as windsurfing, kayaking and kitesurfing are on offer on most beaches, and all are popular with local people — although not quite as popular as sunbathing.
I'd argue that the beaches only get better the further east you go. They become wider and wilder in feel, but are always clean: litter is scarce and smoking is banned in all public spaces (including streets and hotels, too) in Uruguay — it prides itself on being a very clean country.
If you have time, you could use a specially adapted 4x4 (or venture out on horseback) to reach the placid, off-the-grid hamlet of Cabo Polonio. It's cut off from the rest of the country by forest and sand dunes. Shacks sell freshly caught fish daily, and the beaches are likely to be some of the most deserted you'll come across in South America. Those looking for something more strenuous can try their hand at sandboarding.
Uruguay is in love with contemporary art and interior design
José Ignacio is typical of Uruguay in that architecture, design and art are a priority throughout the town. This is evident even when you walk into hotels and see the attention they devote to local artists, displaying their work prominently.
Properties here constantly surprise me with their artistic details. At Estancia Vik, a ranch inland from José Ignacio, each room has been designed by a different local artist using different mediums. I stayed in one that was decorated with wall mosaics made up of photographs of the property. My bathtub took the form of a beautifully carved wooden boat.
Meanwhile, Montevideo is brimming with art galleries and exhibitions. Ceramics, plastic arts, photography, sculpture, painting and audiovisual media are all given space. Street art is also revered, and some of Uruguay's leading artists have contributed to the city's urban canvases. The capital is awash with vibrant, politically motivated murals, surrealist scenes, and emotive human faces — but also light-hearted, cartoon-like works of whimsy.
You can escape everything on an estancia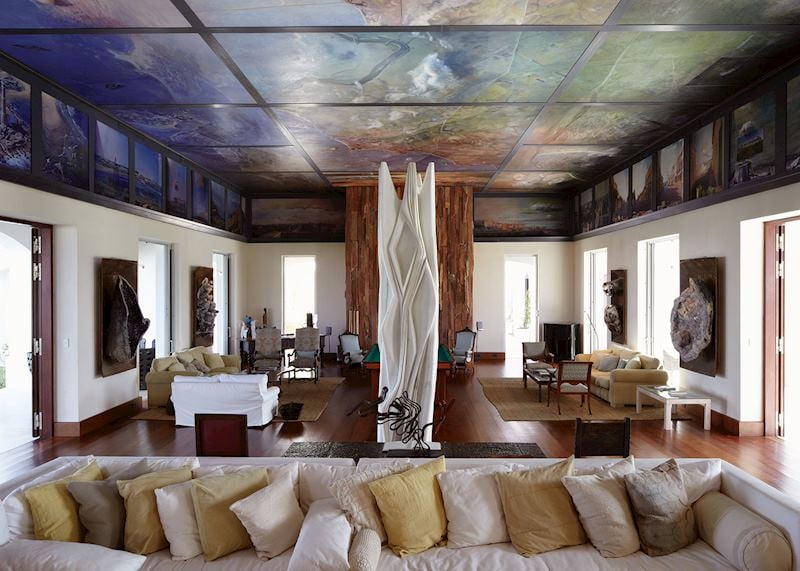 Uruguay's interior is a sweep of grassy plains, wetlands and brackish lagoons, with areas of rolling hills covered in vineyards and olive groves. The best way to experience it is by staying on a gaucho-style ranch.
I recommend staying at Estancia Vik (which I touched on above for its thoughtful placement of art), a 15-minute drive inland from José Ignacio. The moment you step over the estancia's threshold, it feels like you have completely retreated from all of the jubilant chaos often associated with South America — probably thanks to the feng shui principles around which the property is designed.
I spent a couple of days here, horse riding (which anyone can do, at any level) across the open pampas and sampling Tannat — Uruguay's dense, home-grown red wine — from a nearby vineyard. Capybaras occasionally pop up from a patch of wetland, and you may also see wild ostriches and armadillos.
For a more authentic taste of the gaucho lifestyle, you can stay at the rustic homesteads of the Estancia El Charabon (also near José Ignacio) or Finca Piedra (near Montevideo and Colonia). Both are working farms, so be prepared for a more rough-and-ready feel, but there's the chance to take horseback rides with real gaucho guides.
Practicalities of visiting Uruguay
You can enter Uruguay in less than an hour from Buenos Aires. Either catch the 50-minute direct flight from Argentina's capital to Montevideo, or take the one-hour hydrofoil journey across to Colonia del Sacramento.
Driving is straightforward: roads are easy to navigate and mostly empty, and it's far more cost-effective than being driven.
Start planning your trip to Uruguay

Start thinking about your experience. These itineraries are simply suggestions for how you could enjoy some of the same experiences as our specialists. They're just for inspiration, because your trip will be created around your particular tastes.
View All Tours in Uruguay