By Charlie from our Southeast Asia team
It was with great anticipation at the prospect of new experiences that I boarded a flight to Vietnam. It was to be my ninth time back to Vietnam but this time, my mandate was to inquire about, unearth, experience and enthuse on all that is new and innovative in the country.
Vietnam has been a wonderful destination to us at Audley Travel, being the primary destination that our Founder Craig Burkinshaw chose to lead tours to in 1996. Some 17 years later it is contrived to say much has changed, given the scale of growth and economic prosperity enjoyed throughout the region in that time. However, Vietnam has benefited tangibly and more so than some of her neighbors, thanks to relaxed international trading regulations.
Nothing could physically represent this better than the enormous new bridge and highway sponsored by the Japanese, that will create a fast-track road link between Hanoi airport and the city itself. In fact Hanoi airport is due to undergo a major face-lift in coming years too. As one leaves the airport and speeds toward the capital, the vistas are littered with shiny new buildings, bridges, airports, highways and perhaps most tellingly, cars.
A country synonymous with bicycles and mopeds is developing a rabid hunger for the 4-wheeled, brash cousin to the bicycle/moped and the more Vietnamese I spoke to, the more apparent it became that the national aspirations were fixed on 'buying a car'.
While I appreciate that all of the above may be cause for groans and angst from the traveler seeking 'paradise lost', dusty tracks and homestay living, it is in this context that Vietnam's traveling experiences have broadened considerably also. More money, relaxed Government stances on foreign investment and a genuine desire to spread the wealth via sustainable, community-based tourism underpinned much of what I was about to indulge in.
Start planning your trip to Vietnam

Start thinking about your experience. These itineraries are simply suggestions for how you could enjoy some of the same experiences as our specialists. They're just for inspiration, because your trip will be created around your particular tastes.
View All Tours in Vietnam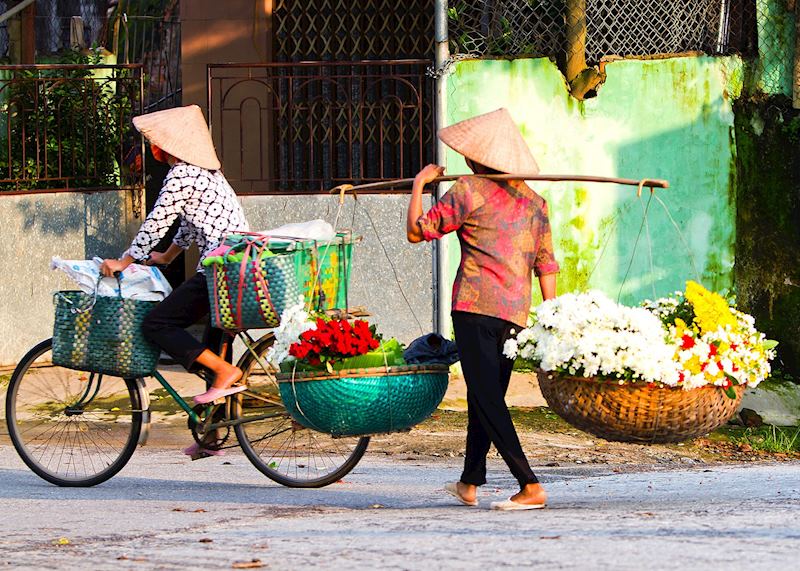 Hoi An, considered the 'jewel' in Vietnam's tourism crown, was to play host to two such new experiences. While Hoi An remains charming and beautiful in a quaint village kind of a way — the pretty fishing village is UNESCO protected — it is very popular and popularity brings its own problems.
However, I discovered a wonderful new hotel named Hoi An Chic — discreetly hidden in a field of rice, off the main road and equidistant from Hoi An's old quarter and the beach. This bijou (17 rooms) boutique property is expertly run, wonderfully comfortable, has a rooftop infinity pool and an enviable location. I would steer clear of the ground floor rooms as privacy would be a problem but our preferred rooms — Grand Chic and the Chic family room are all located on the first floor affording the privacy and enchanting views one would hope for from an Audley recommended property. We are hugely excited about this new hotel and are very confident that it will serve our clients well as they seek more authentic hotel choices away from the madding crowd.
The following day I was to experience a day's farming, as part of a new agritourism project based in the countryside that skirts Hoi An. I was more than happy to participate — on the promise of rice pancakes and a gentle bike ride, we set off into the countryside in search of our small farming community.
One local funeral, two bamboo bridges and a war story later, we turned right down a track and ahead of us were two smiling, toothy farmers, a buffalo and ten acres of paddy fields. Half an acre of which was flooded and devoid of rice.
We were ushered into the farmer's kitchen for a cup of tea and a brief face-pulling session with the small army of children that the farmer's wife cares for, while the other villagers are at work. My guide outlined the mornings activities and no sooner than my cup of tea was finished, I was swiftly adorned with ubiquitous conical hat, farming smock and waders. I was soon to become closely acquainted with that half acre of mud!
The next three hours were a blur of laughter, buffalo plowing, buffalo riding, laughter again, planting and harvesting rice, grain sifting, more laughter, fish trapping (the biggest chuckle coming from the farmers as I kept dropping the slippery little critters — catch and release, no fish were harmed in the making of this activity) rice grinding to produce rice milk and then finally — cooking and eating rice pancakes.
I learned about one of the longest standing farming techniques in the world, gained an understanding of the pitiful wages generated and controlled by the Government for rice farmers (roughly $300 a year), laughed hard and made friends with two strangers and ate the most delicious, well-earned Vietnamese feast. I will certainly never look at a grain of rice in the same way again. One of the most inclusive and enjoyable experiences this traveler has enjoyed anywhere in the world.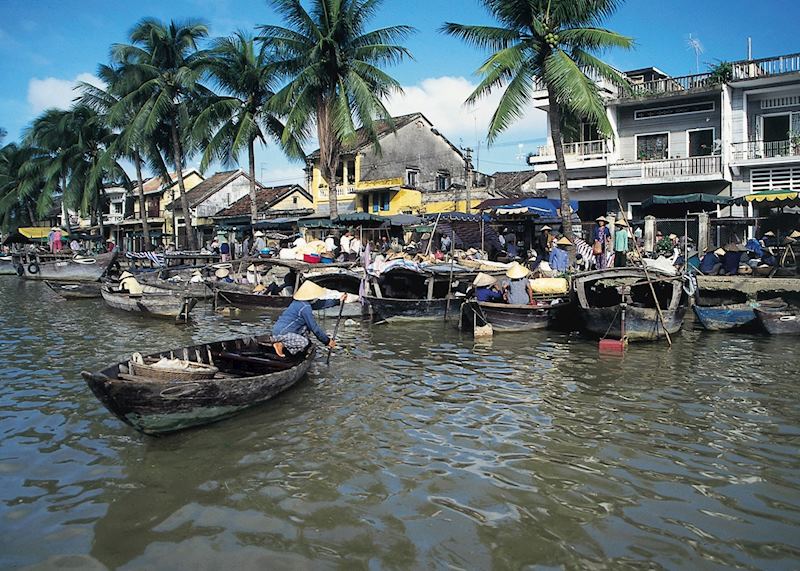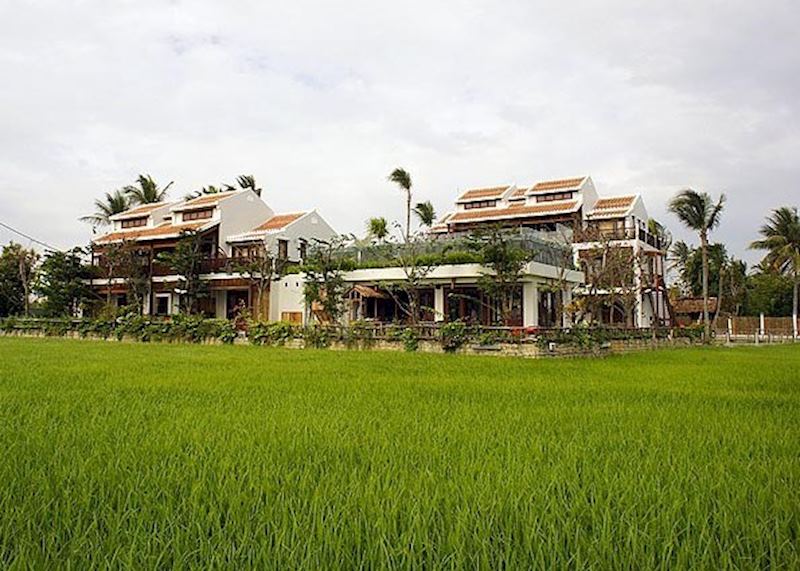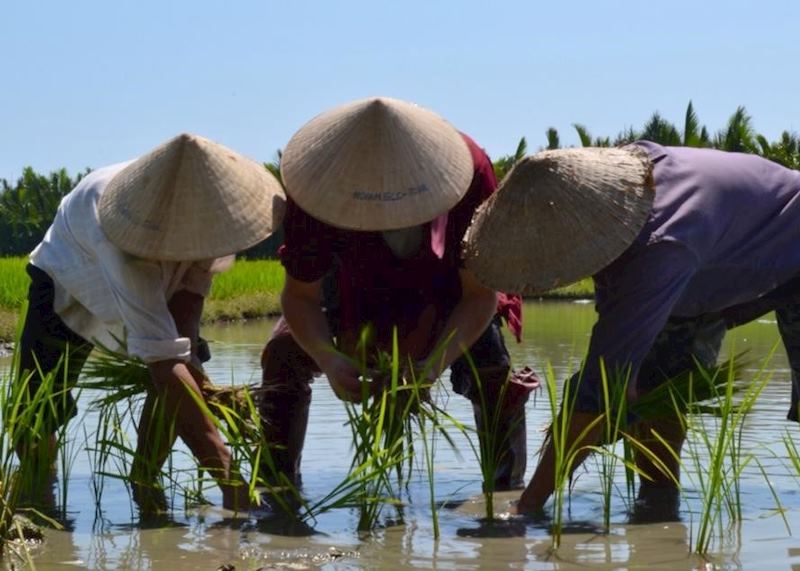 Next I traveled to the new city of Ho Chi Minh City. 'New' in that much of Ho Chi Minh City has been rebuilt since the war and more city expansion plans are afoot on the eastern banks of the Saigon River, that runs through the heart of the city. It's fair to say that the 'secret alleys' trip that I did in Ho Chi Minh City was a more somer experience than the rice growing day in Hoi An, but no less interesting for it. The day started early (for me, standard for Vietnamese) at 6am where I was met by my ever-cheery guide.
After 15 minutes of traffic weaving and narrowing streets we stopped, got out and looked at… nothing. That's because I had been taken to a very local, very hidden, fresh, daily market down a number of alleyways and tight lanes. From the main road and it was almost impossible to notice anything discernibly resembling a market. I have visited a myriad of markets traveling and they can slightly start to lose my interest, but this one was different because I was the only Western, fair skinned, blue-eyed, camera-wielding traveler on the plot. I had in fact become their attraction!
A thousand eyes, hundreds of smiles and the odd hand absorbed my presence and I loved it. Fish being gutted, vegetables being washed, commuters picking up breakfast, housewives engaged in their daily barter, all great scenes in abundance as we muddled our way along the tight alleys.
Having satisfied the shutterbug, and tired of the pinching of my arms, my guide beat a retreat down a high-sided, darkened alley or two until we found a local café.
Sat on small plastic stools, marveling at the locals drinking beer (at 9am!) we sipped on strong, sweet and gluey Vietnamese coffee and plotted the second stage of the morning tour. We were to visit a secret ammunition house that had been covertly used by the Viet Cong during the Vietnam War. The house is not open to the public on a permanent basis, so a call to the curator was made and a time was agreed where he would come and open the house up for us.
We had an hour to kill — more gluey coffee and my fortune told by a friend of the café owner. All manner of exciting adventures were plotted for my future life, including the promise of a beautiful wife with blond hair. I didn't have the heart to tell them (or my wife) that I was already married to a beautiful woman — brunette no less.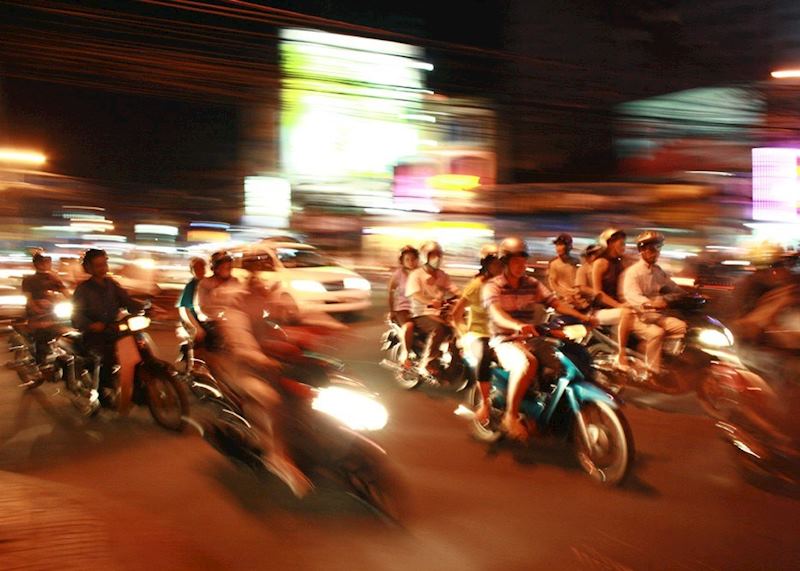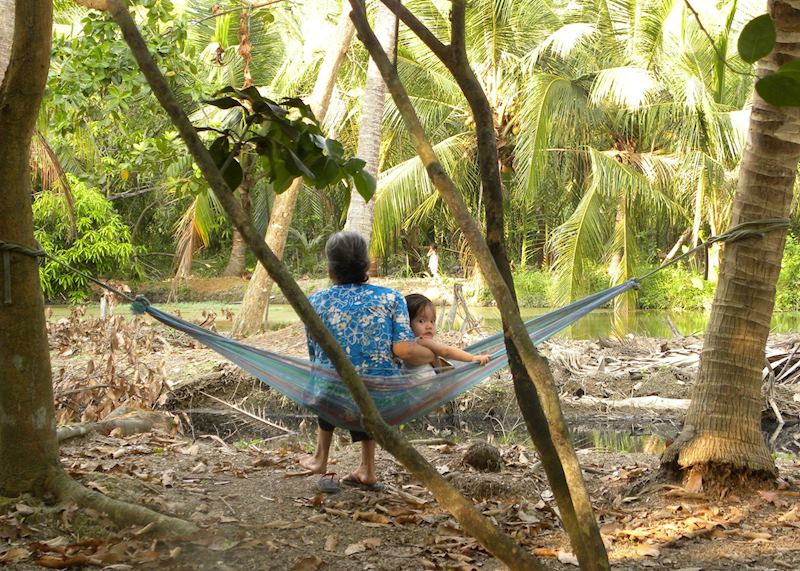 We wandered back through the alleys, at quite a pace after the coffee, back to where we started. I looked a little puzzled at my guide and asked him where the ammunition house was. He told me we were looking at it, but in the melee of the market and stall everywhere, I couldn't see it. Until my guide pointed a grill security screen behind a fruit stall. The grill was riddled with holes, of the type created from machine gun fire. We had found it. Or rather my guide had found it, I was still mumbling to myself about how inconspicuous it was, serving very evidently as an excellent 'secret' ammunition house.
The curator; a former officer serving with the commandos who occupied it, let us into (on the surface of things) what looked like any other Vietnamese home. Skinny, tall and rather bland at first glance. However, as the curator started talking, with my guide translating, the ground floor started to come to life in my mind with images of spies pretending to be a family of tailors. Going about their business.
The house was full of James Bond style gadgets (albeit slightly antiquated now) and tricks of the eye. The red and white tiled floor hid a trap door, to a bunker full of weapons. The weapons are still present, as are the escape tunnels at either end of the bunker, though they have been bricked up.
In the roof there is another secret exit through the roof and on to next door's property, just in case a rooftop, midnight escape was ever called for. Bed bases that had been cut in half and casts dug out to house more weapons, photos of weapons being transported in daylight, disguised in weavers mats and hidden in piles of hay. There are military uniforms, medals, more weapons and stories told of the heroics of this crack commando unit that attacked the Reunification Palace as part of the Tet offensive in 1968.
The market and secret weapons house was fascinating, moving, mysterious and hugely enjoyable — a great way to start a day's excursions in Ho Chi Minh City. Mind how you go with the coffee and fortune-tellers though!
There are a number of similar new opportunities in Vietnam that we will be launching in the coming weeks and months, but if this has whetted your appetite please don't hesitate to contact us and we can chat them through with you. You won't regret it, Vietnam continues to deliver evocative, hugely enjoyable, educational, great value travel experiences 17 years on. But don't just take my word for it, go and see for yourself.
Why not try the things Charlie did?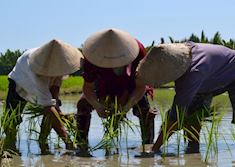 You will be met at your hotel and transferred to the farm. On arrival you will meet the farmers and enjoy tea before donning traditional Vietnamese clothing (a conical hat and overalls) to prepare for getting into the paddy field.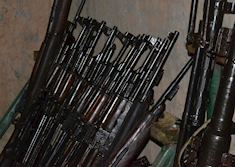 This tour of Ho Chi Minh City's alleys will give you an authentic insight into the daily lives of those that reside and work in this particular district of the city. It finishes at a previously covert location that was used during the war to store weapons.