By Argentina specialist Olivia
You could easily dedicate a fortnight of your time to the Argentine Lake District. A bold claim? Perhaps. 'But Argentina's so big,' I hear you cry, 'and there's so much else to see'.
Well, yes, but what I'm really doing here is urging you not to rush through this wilderness region. It's part of northwest Patagonia, and there's so much to experience in a manageable area. Over two weeks, you can take your time exploring its scenery in any way that appeals to you: hikes of all lengths, scenic drives, mountain biking, kayaking, fishing, and simply drinking in the views.
I've put together my ideal itinerary for the region, but think of it as a 'choose your own adventure' book. You can mix and match areas I touch on here, perhaps combining them with a longer sojourn in Chile. You can also easily reverse my suggested route.
What is the Argentine Lake District?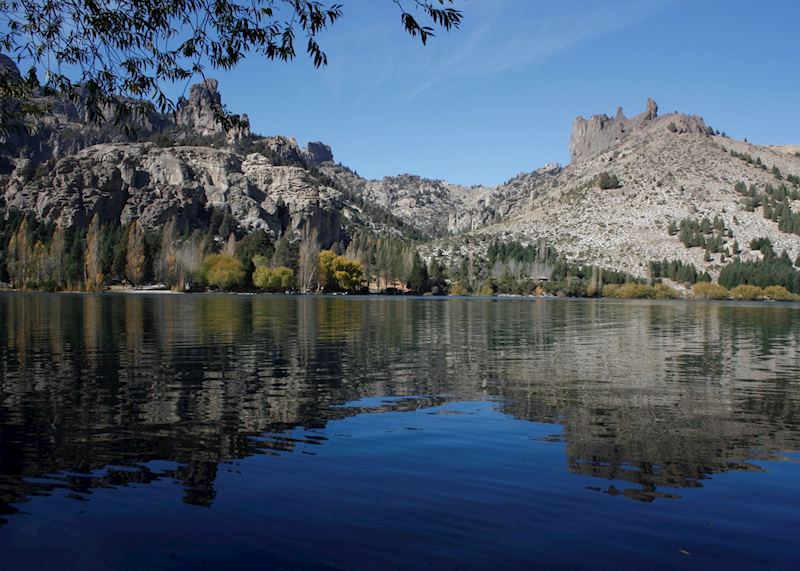 It's a land of glacial lakes with a backdrop of extinct volcanoes, their cones often coated with snow. There are swathes of bushy, barely touched forests that feel untamed and boreal. The air is Alpine-clear; the lakewater a rhapsody of midnight blues.
Just over the border in Chile, the greenery becomes even thicker and lusher, while Argentina has the lion's share of toothy peaks. It reminds me of Colorado, or the European Alps.
There's also an intriguing human dimension to the Lake District. In the mid-19th and early 20th centuries, German and Austrian immigrants settled here, perhaps seeing in the region's emerald pastures, rippling hills, mountains and glassy lakes a reflection of their homeland. Today, their influence lives on in the shape of wooden ski chalet-style architecture, microbreweries and chocolate shops.
Visiting today, you won't find many residents who are born and bred in the Lake District, aside from the indigenous Mapuche people. Many have chosen to move there from Argentina's cities in search of a more outdoorsy lifestyle. I've found locals to be unequivocally welcoming to non-Argentine visitors.
You're best renting a car to explore the Lake District. Roads are paved and well-signposted, and navigation is easy: most towns only have one main road running through them. Places connect up conveniently with each other, and it usually takes between two and three hours to zigzag from one town to another.
Where to go in the Argentine Lake District: my perfect trip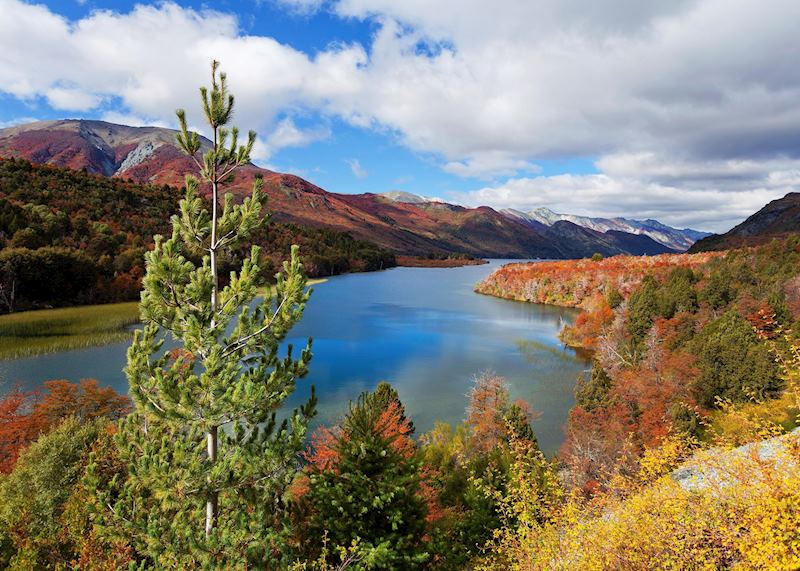 Bariloche and Nahuel Huapi National Park
Four to five nights
A bit sprawling and unkempt in places, San Carlos de Bariloche (to give it its full name) is the Lake District's urban hub and main gateway. You can fly here direct from Buenos Aires. One main road joins up the entire town, and when people describe where they live, they tend to refer to which section of road they're closest to.
While downtown Bariloche is rather unexceptional, its setting isn't.
The town hugs the banks of huge, twisty, island-scattered Nahuel Huapi Lake. It's set against a backdrop of mountains, including glacier-streaked Cerro Tronador. The lake is subject to mood swings: placid and dreamily blue one day, angry and wave-whipped the next. Around it lie temperate rainforests full of alerce trees, a type of hardy Andean conifer.
You use the town as your base for activities in the surrounding national park ― hiking, mountain biking and adventure sports of all kinds. There are some good short hikes to local glaciers, but what I'd really recommend is kayaking.
You can rent a kayak from several spots in town. What's great is that you can use them to explore the bosky lake islands, which are open to everyone: there are no restrictions. Here, people take care of nature, and are trusted to take care of it. So, you're free to go ashore and explore.
There are also two doable scenic drives, Circuito Largo and Circuito Chico. The latter takes you onto a peninsula and passes a 100-year-old grand dame of a hotel, Villa Llao Llao. You can also stop at a brewery, Cervercería Patagonia, which has a biergarten overlooking Lake Moreno ― a smaller body of water adjacent to Lake Nahuel Huapi.
Where to stay
Llao Llao Resort, which has its own golf course, is by far the best of the bunch.
If you can't get a room there, there's Aldebarán Hotel & Spa, which has only eight rooms and a home-from-home feel, or El Casco Art Hotel. Its art collector owner enlivens the rooms with original works by Argentine painters and sculptors.
Villa La Angostura

One or two nights
Drive north from Bariloche, following Lake Nahuel Huapi's shoreline, to Villa La Angostura ('town of narrowness' in Spanish). It's like a smaller version of Bariloche, but has a more Germanic feel.
It's one of the more off-the-beaten-track towns in the Lake District, and very compact. I find it's an ideal place to do little else but take a breather, stroll around, and enjoy the lake views. My insider tip is to call in at a chocolate shop, Mamuschka: the very best of the town's crop.
Where to stay
Hostería Las Balsas has all the elegance you'd expect of a Relais & Chateaux property, and a spa with views over the lake.
Futangue Park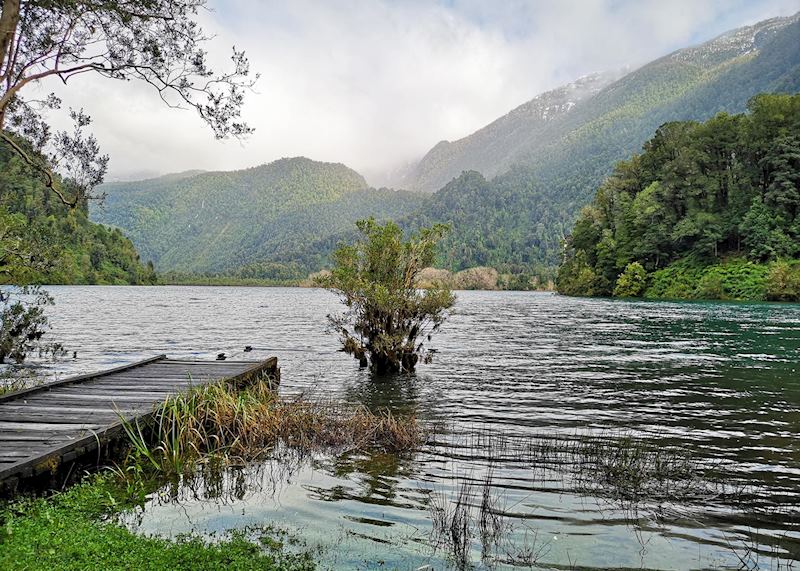 Four nights
From Villa La Angostura, you drive west for four hours, crossing the Chilean border over desolate, high Andean passes. Then, when you descend, it's like you've entered some botanical haven: you're among misty, zinging green Valdivian rainforest ― a type of temperate rainforest. Trees wear heavy mantles of moss and drip with moisture.
This is Futangue Park, once a family-owned private reserve and now accessible via a day fee ― or free if you stay in Futangue Lodge (see below), which I recommend you do. The lodge sits in the heart of the park and its expert guides will help you explore your surroundings on foot, by kayak or on horseback. There's also excellent fly-fishing.
There's a lot to see on the valley floor. You might like to go in search of the park's many species of temperate forest mushrooms, which thrive here, sometimes barnacled in their hundreds on tree trunks.
One tour I'd recommend is heading out with a guide to spot endangered Darwin small frogs. They survive in this area partly thanks to the lodge's conservation efforts.
Treading carefully, your guide will point out these minuscule amphibians, which look for all the world like fallen leaves. The males carry the eggs in their cheeks during their gestation period, before birthing the tadpoles through their mouths.
You can also take on more demanding hikes. Once you get above the treeline, you're treated to a mountainscape punctured with volcanoes, and can even see into Argentina. One of the best is Cerro Mayo, which gives you a 360-degree panorama of the whole park.
Where to stay
The aforementioned Futangue Lodge, a chic wilderness retreat. Its interiors use natural, sustainable materials and Mapuche textiles, it serves farm-to-table food, and it has a roomy spa. It's by far the best place to stay on this whole itinerary, so spend several days here, settling in and enjoying the park.
San Martín de los Andes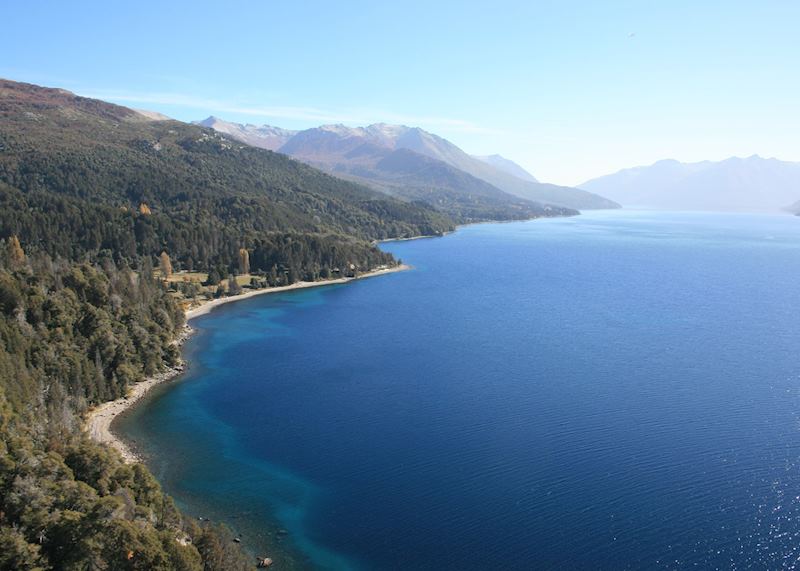 Three nights
From Futangue you backtrack into Argentina, joining up with Ruta 40 to head north, which is part of a scenic drive called the Route of the Seven Lakes.
Argentina's answer to Route 66, Ruta 40 is an epic road that bisects the country. (If this prospect intrigues you, read our guide to road-tripping Argentina's wild northwest on Ruta 40.)
Che Guevara famously motorbiked the road, so even in the otherwise serene Lake District, you're likely to be sharing the tarmac with a few aspiring, modern-day Guevaras and their motorcycles.
On paper, this drive would only take you a few hours, but make sure to add two to three hours onto your journey time, as you'll probably want to pull over and admire said seven lakes. Beyond their mirror-like surfaces (one is even called 'Looking-glass Lake'), you can see volcanoes which look like a child might have drawn them, they're so perfectly conical. They're often smothered in snow.
The route is also dotted with simple, roadside shops where you can pick up empanadas or alfajores (dulce de leche shortbread biscuits) for a snack.
The town of San Martín de los Andes is considered to be more exclusive and upmarket than Bariloche, though you wouldn't necessarily know that at first glance. It has the same no-frills rusticity and is much smaller ― barely ten blocks by ten blocks.
It's protected from increasing in size, both by the mountain ranges hemming it in, but also by town planning. It overlooks Lake Lácar and is, like Bariloche, a handy starting point for many good hikes and scenic drives.
It's also incredibly safe: one of the few places in Argentina where you could comfortably leave your car unlocked.

Hiking-wise, I suggest trying the Mirador Bandurrías route. It takes you onto a peninsula jutting into the lake, giving you views of the town in one direction and the Andes in another.
There's also a great drive along Ruta 48, a road which traipses the banks of Lake Lácar, taking you to some rocky and sandy lake beaches. It culminates in a 30-minute forest boardwalk trail to a noisy 30 m (98 ft) high waterfall, Cascada Chachín, which appears out of nowhere through the trees.
Back in town, make a beeline for Casa de Te Arryán, a teahouse serving up pastries and lake views.
Where to stay
You could include an estancia (ranch) experience in your Lake District tour by staying in Tipiliuke Lodge, a working estancia.
For more on the appeal of estancias, here are five reasons to stay in an estancia on your trip to Argentina.
Best time to visit Argentina's Lake District
I particularly like going when the wildflowers are in bloom in the spring ― September to November. Or, choose autumn (March to April) when the forests' foliage takes on a rich palette of shades.
Read more about trips to Argentina

Start thinking about your experience. These itineraries are simply suggestions for how you could enjoy some of the same experiences as our specialists. They're just for inspiration, because your trip will be created around your particular tastes.
View All Tours in Argentina