Have you always felt drawn to the South Pacific, with its promise of castaway, palm-dotted islands and footprint-free sand? To make the most of visiting, you need to find the island that fits, as each has its own distinct personality. Here our South Pacific specialists explain the individual appeal of Fiji, the Cook Islands, French Polynesia and Samoa. For example, French Polynesia has the lion's share of high-sheen resorts, whereas part of Samoa's allure is its lack of development.
The South Pacific combines well with a trip to New Zealand or Australia: speak to your specialist, who'll talk you through flight options and the best time to visit these destinations.
French Polynesia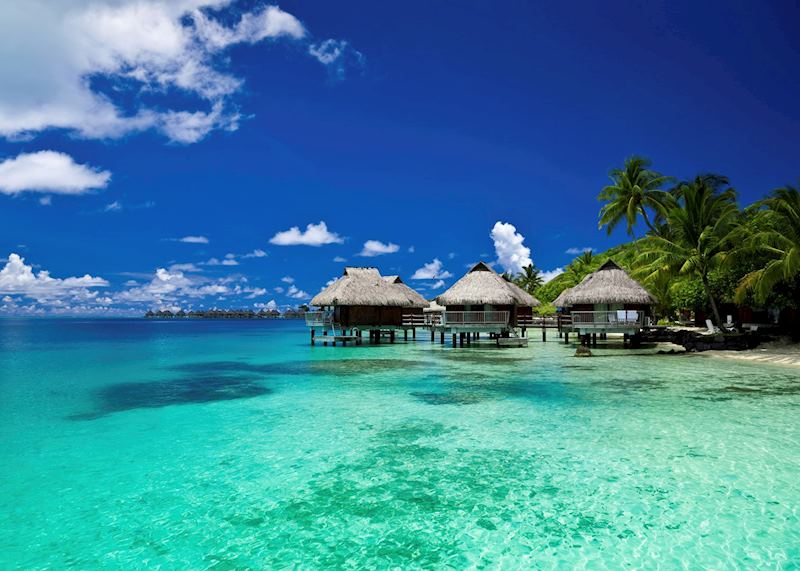 By Leon
Out of all the South Pacific islands Audley offers, French Polynesia is probably the most unabashedly photogenic. It starts while you're still in the air: as you fly to different islands in the archipelago, you pass over swirls of motus (sandy reef islets) interspersed with shallow lagoons and deeper sea, a rhapsody in blue.
Then, you touch down on a strip of tarmac that's adjacent to rows of palms and unblemished, sugary sand. You'll often take a speedboat over to your resort, skimming over water the shade of jade, with the clarity of glass. You simply start drinking in this country's beauty immediately, unhampered by any filters or photo-doctoring. It's truly better than in all the pictures.
It's the costliest of the South Pacific islands, and there are reasons for this. One is its remoteness: there are only a couple of flight connections a day; this isn't a place you just pass through.
Secondly, there's the nature of the resorts: they're intimate, snuggled among unspoiled vegetation. There's oodles of space on the beaches: you'll never have to worry about finding a secluded spot. Some overwater bungalows (such as those of the InterContinental Resort and Thalasso Spa) have entirely unobstructed views. Resorts are equally shielded from noise pollution: they're a retreat in every sense.

What I also love about French Polynesia is that it's so much more than its beaches. On a trip to Bora Bora, you can take 4x4 tours of the verdant, mountain-spiked interior of the island, investigating overgrown bunkers from World War II and the eerie, mossy stone heads of abandoned maraes — sacred sites once used by the indigenous Maohi. On Moorea, you can hike to waterfalls.
In the Tuamotus, a smaller sub-archipelago, you'll find some of the world's best deep-passage diving through lagoons, where you stand a chance of seeing hammerheads and manta rays.
And, if you want a real contrast to the polished resorts of mainstream French Polynesia, you could take an adventure cruise to the utterly remote Marquesas Islands. Here, you can explore untouched volcanic landscapes and mystery-enveloped tiki sites, learn about local crafts and visit the grave of Paul Gauguin.
The Cook Islands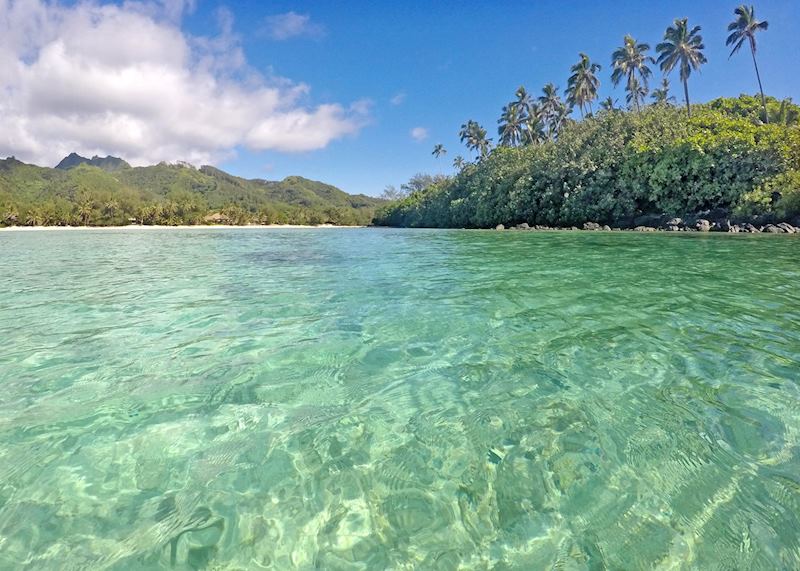 By Catrin
The Cooks dance to their own relaxed tune. If it feels as though everyone knows everyone — well, they do.
The gentleman who takes you on a lagoon cruise by day might well star in a cultural performance come evening, and everyone goes by the name of 'Auntie' or 'Uncle'. 'We see ourselves as having roles, rather than jobs,' explained Auntie Nan, my guide. 'It's about everyone in the community coming together to make things happen.'
Adding to the mood of the Cooks is the fact that there are no high-rises: nothing higher than a palm tree, local laws stipulate. Nor will you find chain restaurants, and there are no blockbuster resorts.
Places to stay are perhaps slightly less swish than other resorts in the South Pacific — you won't, for example, find overwater bungalows. Instead, you'll likely stay in private villas set back from the beach, which I actually prefer. It does mean you won't get the rhythmic whooshing of the water beneath you, but what's soothing for some can be an irritant for others…

The islands are much less developed than French Polynesia. When you're out exploring, you'll see chickens wandering around between smallholdings, and headstones in residents' gardens. The idea in the Cooks is to keep your family close, burying them on your private land.
Classic trips focus on the main, rainforested island of Rarotonga with a side-trip to Aitutaki, a smaller island with a lagoon and barrier reef.
There's a lot to do. May to October is kitesurfing season, while humpback whales can be spotted off the Cooks' coast from July to October. You can easily e-bike around the whole of Rarotonga (there's only one main road) and snorkel right off the beach.
The underwater pleasures are even greater in the crystalline lagoon waters of Aitutaki: here you can see an even bigger array of neon-bright tropical fish. Just make sure to wear snorkeling socks so you don't injure the many sea cucumbers who congregate on the seabed.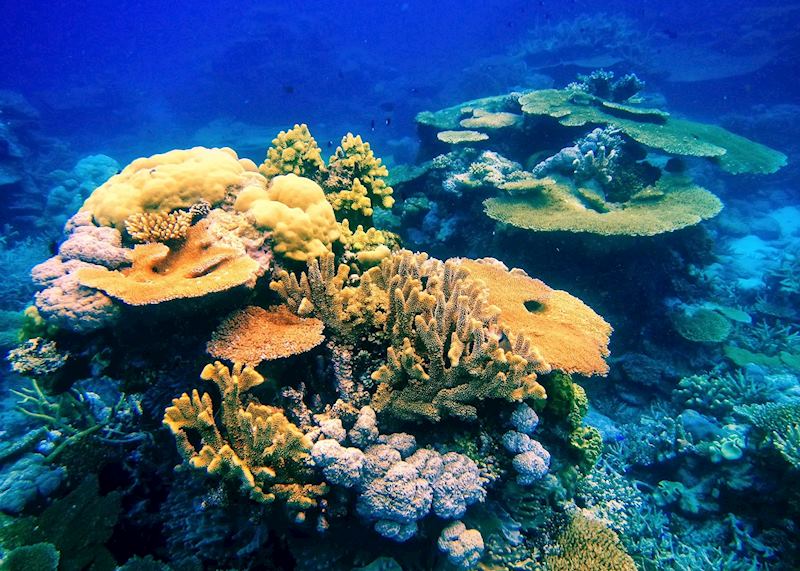 By Peter
While French Polynesia has a palpable American influence, as well as a Gallic one, Fiji is a joyous mélange of cultures: Australian, New Zealander, Indian and European, along with a strong indigenous legacy.
There's something especially wonderful about the way Fijians interact with you, and this filters down to the service you'll receive: it's sunny and unpretentious. Fijians are quick to laugh and have a joke with you, and quick to make friends. Some hotels even have a 'buddy' system where they'll pair you with a member of the hotel staff who'll look after you throughout your stay.
The key to getting the most out of any trip to Fiji is to base yourself in at least two places. Yes, it's easy to slink away to a private island resort and hole up there for the entirety of your stay, but you might miss out on other experiences.
The hiking, for example, is rewarding on Viti Levu, the main island. Trails can be fairly untamed ― go with a guide to avoid getting lost in mangroves.
Samoa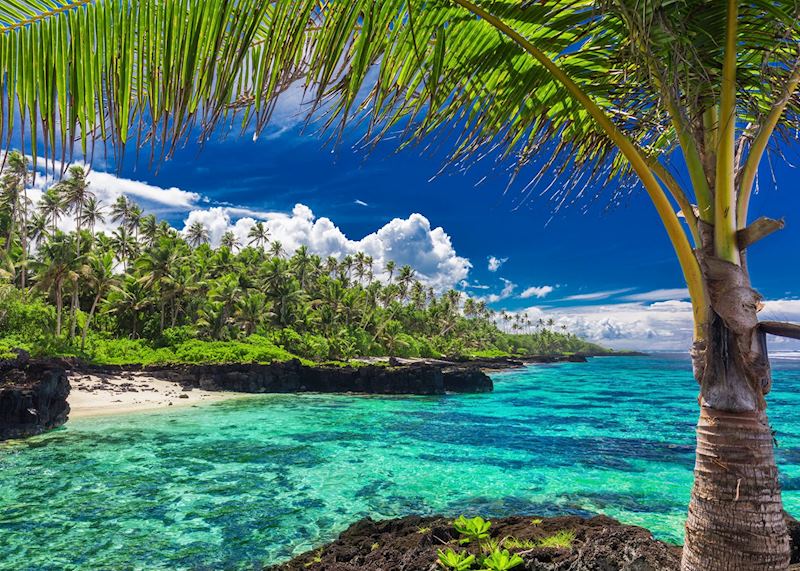 By Joe
You can't help but come back with stories from Samoa. It's the kind of place where you'll get talking to someone and be invited back to their house for an impromptu meal ― or to try out the swimming hole in their garden, in my case.
Of the four islands featured here, Samoa is the least developed and its travel industry is in its infancy. As such, it requires a different kind of travel mentality. You need to be prepared for everything being a bit up in the air and be happy to drive yourself around ― sometimes dodging the occasional sheep or pig.
Bear in mind, too, that your maps might have a very different idea of what constitutes a viable road (I've had to backtrack a few times when driving). You also need to be prepared to explore independently, rather than take part in lots of prearranged activities and tours (although I'll always do my best to set these up for you ― where they exist).
But, don't let any of this put you off ― there's so much to love about Samoa, plus it works well in conjunction with Fiji.

Though there are several good beachside hotels, if you get out in the car, you'll come across beaches with no one else on them. You can also drive to see the gaping hole of the To Sua Ocean Trench with its cyan waters, caves and rockpools. On the island of Savai'i (accessed by rickety ferry), you can walk among the blowholes of the lava-tube-riddled rocks of Alofa'aga, and swim in a lagoon popular with turtles.
On the cultural side, attend a church service: the gospel-infused singing is a harmonic feast, and churches are the pride of every manicured Samoan village.
Also, make time to visit Robert Louis Stevenson's house, now a museum containing relics from his time on the island. Stevenson learned the Samoan language and led prayers in it. When he died, locals carried his body, and he was given a burial worthy of a chief. You can hike to his grave, which has views over the jungle leading down to the sea.
Read more about trips to the South Pacific

Start thinking about your experience. These itineraries are simply suggestions for how you could enjoy some of the same experiences as our specialists. They're just for inspiration, because your trip will be created around your particular tastes.
Further reading