The modern faces of China but strongly influenced by Europe, Shanghai and Hong Kong act as gateways to the Far East, allowing you to experience Chinese culture in more familiar surroundings.
People tend to visit one or the other, either as a way of easing themselves into the shift in culture at the start of the trip, or to wind down afterwards. China specialists Susan and Kara compare the two, outlining the best things to do in each, from food tours and market visits to participating in everyday life in parks and on undeveloped islands.
Things to do in Shanghai
By Susan
While Hong Kong is an international city with a Chinese edge, I see Shanghai as the opposite. It retains a Chinese feel along its busy lanes, where you can try local delicacies in open-fronted restaurants as people cycle by and traders sell their wares. Yet the broad, tree-lined streets, cafés and boutiques, and regal villas of the city's French Concession remind you of its colonial past, and the much-photographed skyline catapults you into the 21st century.
The Bund and Pudong skyline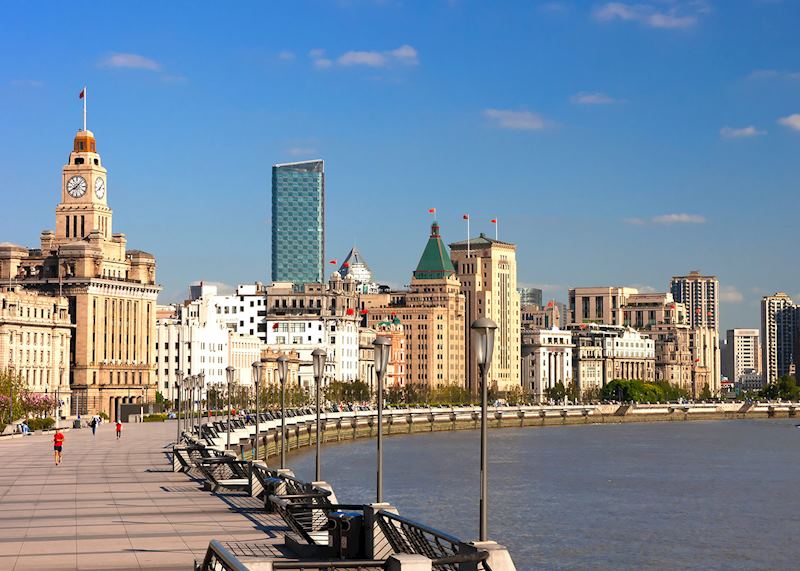 If you do one thing in Shanghai, take a stroll along the Bund. A waterfront area on the bend of the Huangpu River, it's lined with dozens of old banks and trading houses set up by the British, French and Americans (among others) in the 1930s.
The architecture here is, predictably, very different to other Chinese cities, showcasing Gothic, Baroque and Art Deco styles. You can take an architectural tour of the Bund with a local guide, who'll point out the different features of each building and tell you about its history.
Many of these buildings now house high-end restaurants, shops and bars with some of the best views in the city — I'd say The Peninsula Hotel's Sir Elly's Terrace (a trendy rooftop bar) offers the best vista. Here, as you sip cocktails, your eyes are drawn across the river to the striking Pudong skyline. As if lining up for a family portrait, the shiny rabble of skyscrapers juts into the sky at various heights, a symbol of China's booming economy.
It's well worth seeing the skyline in the day, when sunlight bounces off the glass exteriors, but there's nothing quite like seeing it lit up at night. I took an evening boat ride along the river. The towering buildings reflected neon oranges, reds and purples across the water, and a haze of light hung over the city. It was my last evening in Shanghai, after two years living there, yet it still felt like I was seeing the glowing skyline for the first time.
Guided walking tours in Shanghai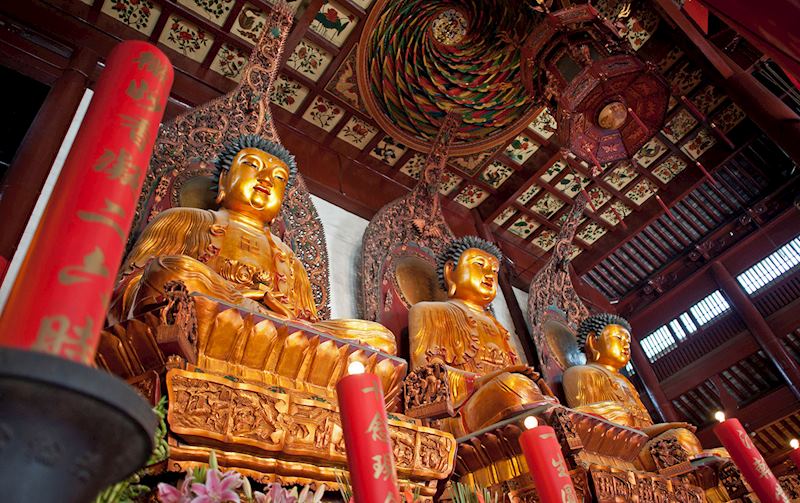 Central Shanghai is compact and very easy to explore alone. All signs are in English as well as Chinese, and stations are announced in English on the metro. However, to get your bearings and learn more about the city, I suggest taking a private tour with a local guide.
We can arrange several different interest-based walking tours, from exploring the city's Jewish Quarter to visiting the Jade Buddha Temple, where you can see practicing Buddhist monks and a 2 m (6.5 ft) tall jewel-encrusted Buddha.
One that I like includes a stroll through leafy Fuxing Park in the French Concession. Many older Shanghai residents gather here for downtime, playing mah-jong, group dancing, and practicing t'ai chi.
You're then taken through the French Concession itself, exploring the wide avenues and historic buildings. The area was established by the French in 1849 and handed back to China during World War II. Your guide will point out some of the original buildings that still stand, including the Lyceum Theatre, The Cloisters residential building, and the former Garde Municipale headquarters.
The final part of the tour is given over to trying some local street food at a small market popular with Shanghai residents, finishing with a dim sum lunch in one of the nearby restaurants.
Classical gardens of Suzhou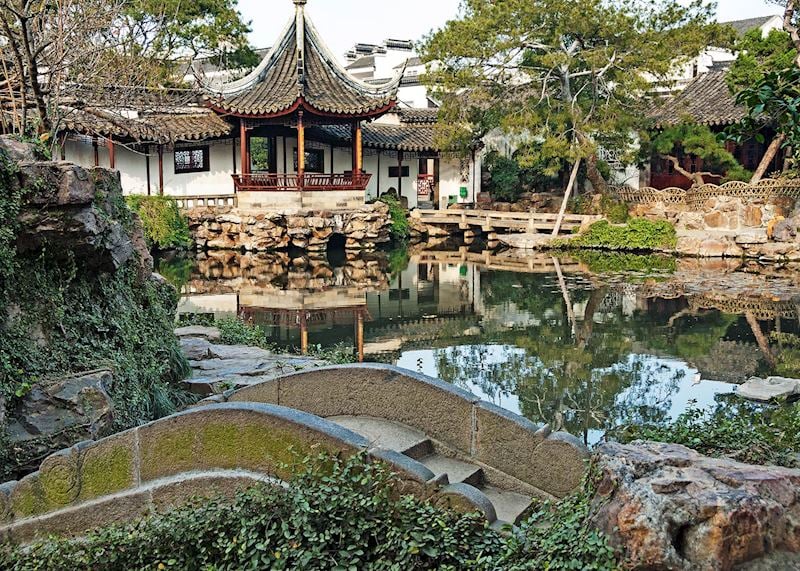 Formerly a prosperous trading town, Suzhou was once dotted with more than 200 private gardens, earning it the nickname of 'the Garden City'. Today, 69 remain, with eight designated as UNESCO World Heritage Sites.
A half-hour train journey from Shanghai, you can spend a day visiting some of Suzhou's finest, and enticingly named, gardens with a private guide, including the Humble Administrator's Garden, Master of the Nets Garden, and the Garden of Harmony. Each is naturally landscaped with koi ponds, traditional bridges, sculptures and rockeries.
In Shanghai itself, the Yu Garden's design took inspiration from Suzhou. I used to visit regularly as, despite seeing a fair few visitors, it can't help but transport you to the China of old. Established by the Ming dynasty during the 16th century, it features traditionally styled halls, pavilions and towers hidden among the foliage.
Food experiences in Shanghai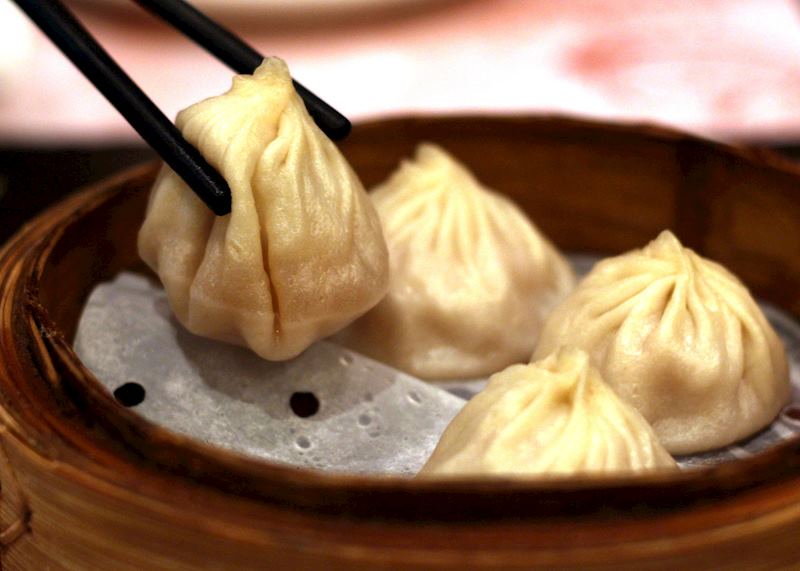 The food in Shanghai tends to be sweeter than elsewhere in China, and more similar to the Western style of Chinese cuisine. It's well-known for its freshwater fish and shellfish dishes, including steamed crab and fish marinated in spices. Soy sauce is used everywhere, and steamed pork dumplings are served in every street-food market.
At the other end of the spectrum, Shanghai's connection with France has resulted in many high-end French or Chinese-French fusion restaurants, many of which have Michelin stars.
Lost Plate food tour
To find the best and most authentic places to eat, I recommend joining an evening food tour with a local guide. Heading out on foot in a small group (no more than ten), you're led through local streets as your guide tells you about Shanghai's history and how the city has been influenced by its food.
You stop at four small, family-run eateries. Among the 12 delicacies you might try are xiao long bao (steamed soup dumplings), which you can watch being prepared in front of you, pork-stuffed snails, and crispy fried shrimps. As we ate, the history and folklore of each dish was explained to us.
You're also welcomed into a local home where you can try some home-cooked family recipes, some of which you're unlikely to find anywhere else. I had delicious hong shao rou (red braised pork belly), which was the best dish of the tour. Your final stop is to enjoy a pint of craft beer in a local pub.
Yi Long Court, The Peninsula Hotel
One of just a handful of restaurants that have earned two Michelin stars in Shanghai, Yi Long Court serves classic Chinese and Cantonese dishes. Its Art Deco interiors resemble the home of a prosperous 1920s Shanghai resident, and the large draped windows look out over the Huangpu River and Pudong skyline.
I couldn't fault the signature dim sum menu, which included steamed dumplings filled with fresh scallops, and deep-fried spring rolls with salmon. I was also tempted by the grouper, barbecued pork, and crab meat and roe soup.
Hotels in Shanghai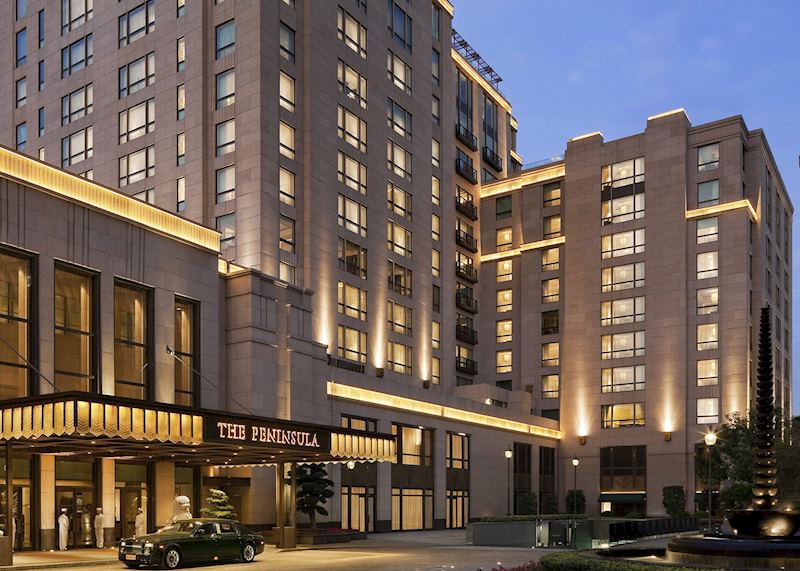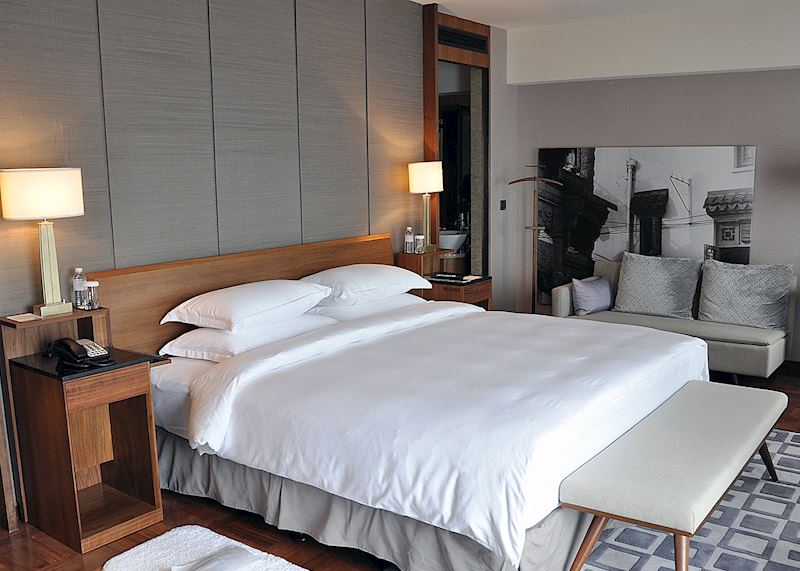 The Peninsula Hotel has one of the best locations on the Bund. Many of its rooms and suites directly face Pudong's skyline, and their plush cream interiors, decorated in an Art Deco style, reflect the 1920s opulence of the French Concession. In addition to enjoying fine dining in Yi Long Court and signature cocktail on Sir Elly's Terrace, you can indulge in a treatment at the hotel's spa, which includes an indoor heated pool.
Les Suites Orient also offers some of the best views in Shanghai, but without the usual price tag. Its soundproofed rooms and suites look out over Pudong, the Bund, the Huangpu River or the Yu Garden. It's within easy distance of all the city's attractions, including People's Park, where on a Sunday you might see the weekly wedding market taking place. Parents of unwed young adults sit in a row with photographs of their offspring and mingle with other parents in the hope of finding a match.
Best time to visit Shanghai
For the most comfortable temperatures, visit from April to May or late-September to October. Humidity is lower than during the summer months, and rain is less likely. I'd avoid the first few days of May and the first week of October, which are national breaks.
Things to do in Hong Kong
By Kara
I think of Hong Kong as a blueprint for cities of the future, where people from all walks of life merge in a hubbub of bright lights and frenetic markets. It's this non-stop energy that keeps me going back.
The city's history as a former British territory makes it very accessible to Westerners; I'd argue even more so than Shanghai. Yet its Asian roots are ever tangible, whether you're browsing Kowloon's markets or visiting one of the territory's 260 islands to experience a more rural way of life.
Private tour of Hong Kong Island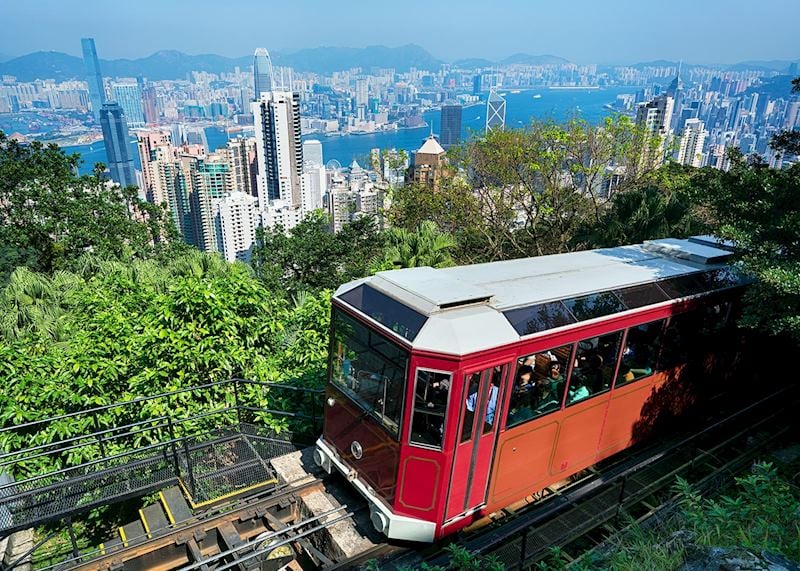 Hong Kong is even easier to get around than Shanghai — it has an excellent transport system, all signed in English, and everything is relatively close together. But, while it's not daunting to explore independently, being accompanied by a private guide gives you some context behind what you're seeing.
You visit the Man Mo Temple, built in 1847 by wealthy merchants as a tribute to the God of Literature (Man) and God of War (Mo). Bright reds and golds dominate, and incense coils hang above you, filling the room with fragrant smoke. My guide explained the meaning in the temple's details, such as the two 19th-century chairs that would have been used to 'carry' the gods during religious processions.
The highlight of my tour was taking the world's steepest funicular up to the top of Victoria Peak, which rises 554 m (1,817 ft) above the city. While the journey lasts just seven minutes, the views change with each second as Hong Kong's skyscrapers seem to shrink and more of the harbor comes into view. At the top is a restaurant (I suggest lunch or a glass of wine here if you plan to revisit), and you'll have plenty of time to take photographs.
Once you've descended, your next stop is the traditional fishing village of Aberdeen on the island's southwest coast. Tanka people traditionally lived on junks in this region; while most now live onshore, some still inhabit a floating village in Aberdeen Harbour.
As an add-on, you can take a trip on a sampan (a traditional flat-bottomed wooden boat) for an insight into life on the water. You'll stop for lunch at Jumbo Floating Restaurant in the harbor, which serves Cantonese-style seafood, dim sum and barbecued meats.
The tour ends with some shopping in Stanley Market, where souvenirs and silks are sold alongside Chinese artwork and modern clothing.
Cheung Chau Island visit

One thing I particularly like about visiting Hong Kong is the chance to visit areas still relatively untouched by modern development. Scattered off the coastline are lots of small islands you can visit where a more rural way of life resumes.
I visited Cheung Chau, an hour's ferry ride away, with a local guide. Leaving Victoria Harbour is an experience in itself, as you see Hong Kong's entire skyline and the hills beyond from a different perspective.
Once on the island, I felt like I'd arrived in Southeast Asia. Small wooden fishing boats cluster together in the harbor, and forested hills slope gently into butterscotch beaches. It's pleasant enough just to stroll around as your guide recounts the history and way of life on the island. Mine was local to Cheung Chau and introduced me to his brother, who owned a windsurfing school on the island. It was here that Hong Kong's only Olympic gold medalist, Lee Lai-shan, first began windsurfing, winning her medal in 1996.
Your guide can plan the day according to your interests. To explore farther afield, you could hire a bicycle or follow walking trails through the forest to quiet beaches.
Explore Macau's Portuguese heritage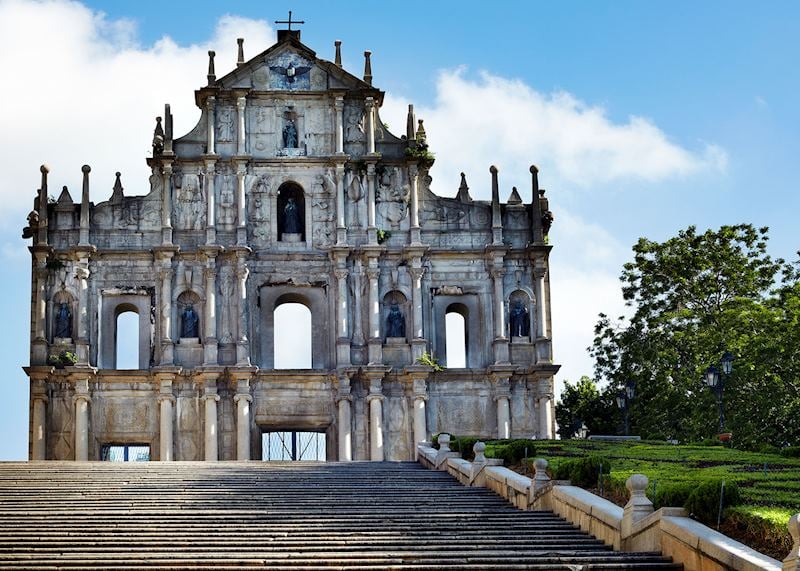 An hour's ferry ride from Hong Kong, Macau was a Portuguese colony for more than 400 years and feels very different to Hong Kong. You can visit with a private guide to learn more about the merging of Asian and European cultures. Entering and leaving Macau (and Hong Kong) requires you to pass through border controls, but it's well worth it once you arrive into the Historic Centre of Macau.
A designated UNESCO World Heritage Site thanks to its mix of Chinese and Portuguese architecture, the heart of Macau has numerous historic buildings you can still see today, including A-Ma Temple. Dating from 1488, it's dedicated to the goddess of seafarers and fishermen, Matsu (who is said to give Macau's name its origin).
You can also visit the 19th-century Na Tcha Temple, which demonstrates traditional Chinese architecture. In front are the contrasting Ruins of Saint Paul's — the intricately carved stone façade of a 17th-century Portuguese college and Catholic church.
Your guide will also show you around the 17th-century Fortaleza do Monte (Mount Fortress), used as Macau's main military defense to protect the Jesuits against pirates and, later, to stop Dutch invasion.
While in Macau, I definitely recommend trying some of the Portuguese food served in many of its restaurants. I had a delicious Portuguese seafood rice dish, not dissimilar to paella, followed by a Portuguese egg tart, warm from the oven.
Dragon's Back guided hike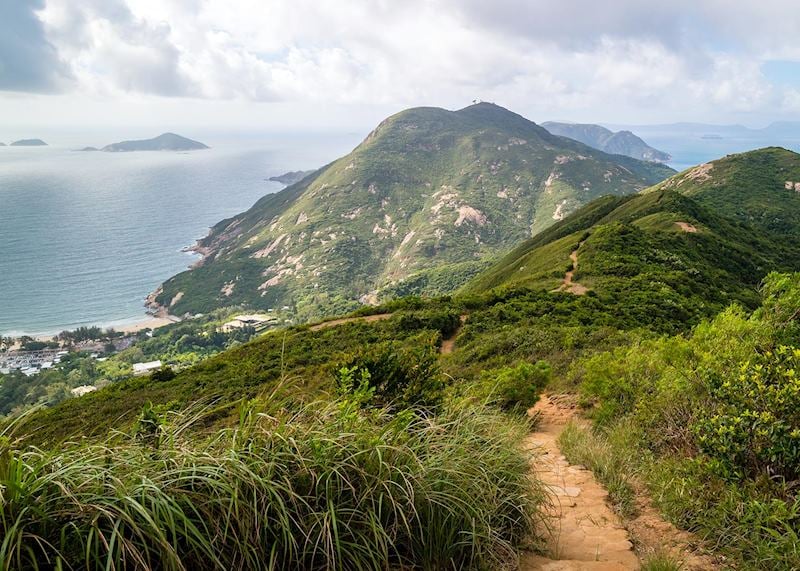 Following a ridge along Hong Kong Island's southeast coast, the Dragon's Back trail shows you a completely different side to Hong Kong's busy urban area, giving you far-reaching vistas over tree-clad hills, sandy beaches and the sea.
Following the trail with a local guide takes away the worry of navigating it for yourself, and you'll hear more about Hong Kong's history and everyday life.
You first walk through Shau Kei Wan wet market, where local people come to buy fresh fruit, vegetables, fish and meat, among the cries of stallholders selling their wares. Your guide then leads you along the shady path, winding through woodland and bamboo groves filled with birdsong.
You finally emerge onto open hillsides speckled with wildflowers such as azaleas and rose myrtle. The greenery that surrounds the ridge makes a welcome change from the glass and concrete of the city. You can take in views of Tai Tam Harbour, the white sands of Big Wave Bay, and the Ninepin Islands in the distance.
Restaurants with views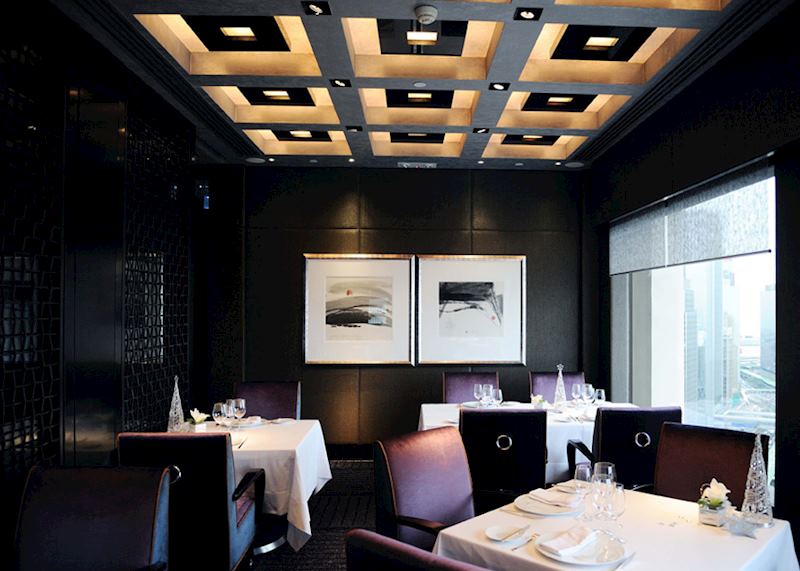 Hong Kong isn't short of high-end restaurants serving cuisine from all over the world. Many of them make the most of the city's position between jungle-clad hills and the South China Sea, and of its sparkling skyline.
Aqua, One Peking, Kowloon
I recommend eating here at least once during your stay. Taking up the 29th and 30th floors of the One Peking building in Kowloon, it's actually two restaurants in one, serving both Italian and Japanese dishes for brunch, lunch and dinner.
Choose from fresh sushi platters, bento boxes and udon noodle dishes, or opt for handmade pasta stuffed with lobster, braised Mediterranean octopus and creamy tiramisu.
Despite the beautifully presented food, I couldn't peel my eyes away from the view through the full-length windows. In the day, you can make out each skyscraper across the glistening harbor, while at night the sky is ablaze with kaleidoscopic light radiating from the buildings.
Pierre, Mandarin Oriental
The Mandarin Oriental's two-Michelin-starred Pierre restaurant spreads across the 25th floor, giving you floor-to-ceiling views of Hong Kong's skyline and Victoria Harbour. Owned by prestigious French chef Pierre Gagnaire, it serves traditional French dishes with a modern twist for lunch and dinner.
Ingredients on its à la carte and six- and four-course tasting menus change with the seasons. In the autumn, you might be faced with a choice of line-caught sea bass, roasted lamb with herb crust, or Wagyu beef. Try the tarte tatin with Calvados apple ice cream for afters.
Hotels in Hong Kong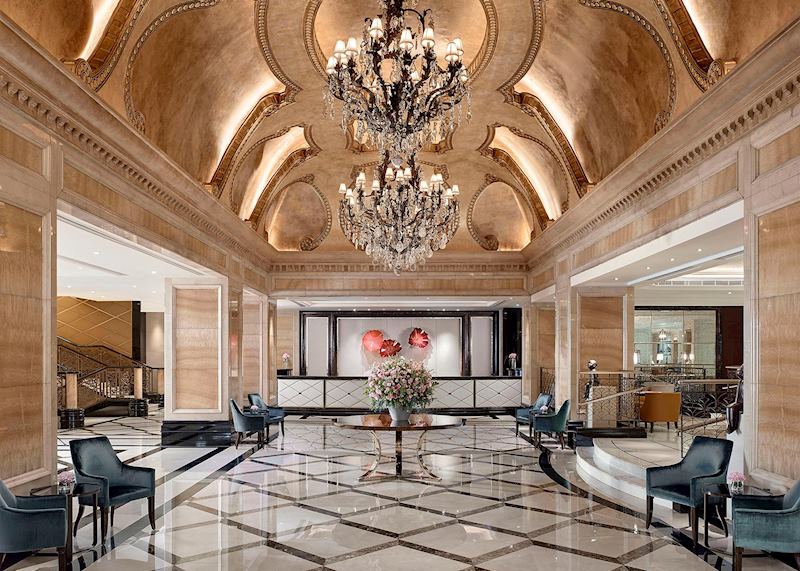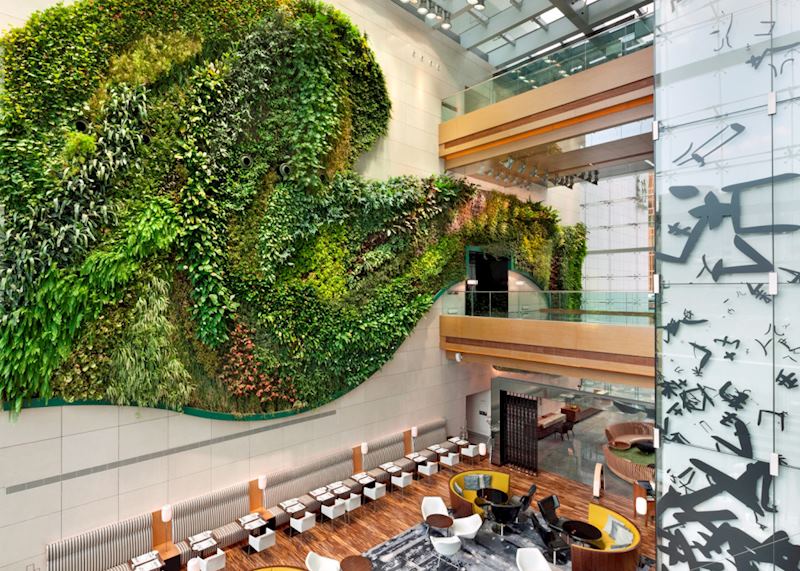 The Langham offers plush luxury for a reasonable price in the heart of Kowloon's entertainment area. On the rooftop, you can take a dip in the pool or enjoy a massage with views over the city. Rooms have an elegant European feel, and the Cantonese restaurant, T'ang Court, has three Michelin stars.
In the same area but with a slightly more boutique feel is Hotel ICON, a stylish property filled with local artwork. I was impressed by the living plants that cover the wall in its lobby. The hotel is owned by Hong Kong Polytechnic University, and many of its staff are students in training from the School of Hotel and Tourism Management.
Start planning your trip to China

Start thinking about your experience. These itineraries are simply suggestions for how you could enjoy some of the same experiences as our specialists. They're just for inspiration, because your trip will be created around your particular tastes.
View All Tours in China