Forget everything you know about Chinese food, and start again — there's much more to China's cuisine than our Westernized impressions. It makes sense that a country as big and diverse as China has a food culture to match. Wherever you are, there's something new to try, from spicy Sichuan hot pots in Chengdu to possibly the world's first type of burger in Xian.
Eating is only part of the journey, though. We can arrange for you to take part in cooking lessons and food tours, where you can learn the skills, stories and traditions behind Chinese cooking.
China's regional cuisines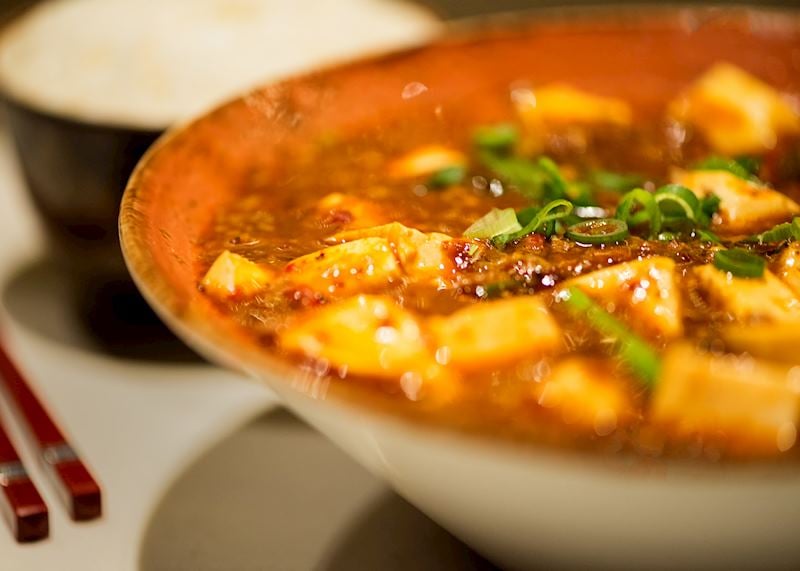 While in major cities like Beijing and Shanghai you can try delicacies from all over China, they generally taste better when eaten in the region they originate from. There are countless local delicacies and cookery styles across China, but broadly they can be divided geographically into the following:
The north
Here, cooler temperatures and Mongolian influences mean heavier, warming dishes are popular. Lamb and mutton are common ingredients, and wheat-based delicacies like noodles, dumplings, flatbreads and pancakes are staples. More salty than spicy, dishes are usually simply seasoned with garlic and vinegar.
The south
The south's Cantonese cuisine is probably the most familiar to Westerners. Most early Chinese immigrants to the West hailed from Guangdong province and Hong Kong, bringing with them the varied dishes and tastes that the south is known for, including sweet and sour sauce.
Rice is a staple thanks to the humid climate providing ideal growing conditions, but otherwise delicacies can include a wide range of ingredients. Most dishes are stir fried or steamed, with dim sum a signature dish of Hong Kong.
The west
Dishes in the west pack a punch, with chilies, Sichuan peppers, ginger and garlic heavily used to season stir-fried pork, poultry, mushrooms and vegetables. In Guiyang you'll find incredibly spicy chicken delicacies, while Sichuan province is best known for its hot pots, a food tradition that dates back more than 1,000 years.
The east
Delicate and refined, the cuisine in this area uses sugar, vinegar and wines to create sweet and subtle tones. You'll find a lot of fish and shellfish dishes here, endowed by the Lower Yangtze River and the East China Sea, as well as a good range of vegetarian options, mostly wok cooked.
Popular Chinese dishes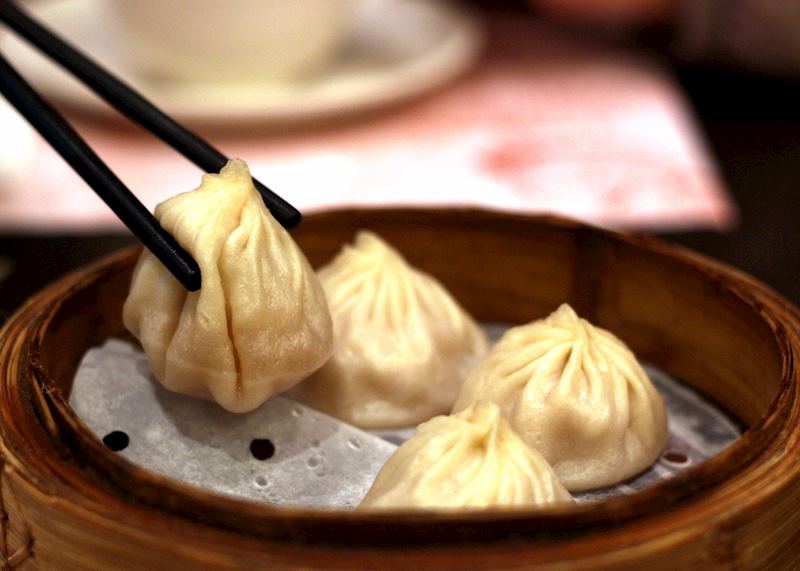 Chosen by Anthony
Dumplings
A popular snack throughout China, dumplings fall into two main types. Baozi, round in shape and fairly large, are usually filled with meat, vegetables or sweet bean paste and steamed in bamboo baskets. Jiaozi are smaller, moon-shaped parcels made from a thin pastry and stuffed with minced meat and chopped vegetables. They come steamed, boiled or fried.
In Shanghai you'll also come across xiao long bao (soup dumplings) — medium-sized and filled with minced pork, crabmeat and fat, which melts into a broth during cooking. Steamed in a bamboo basket, they're best eaten in a bowl with a spoon or chopsticks as the hot broth can easily spill out once the dough is pierced.
I also like the spicy wontons found in Chengdu, known as long chao shou. Ravioli-like in appearance, they're stuffed with pork and vegetables and served in a light but spicy soup containing plenty of chili, garlic and vinegar.
Peking duck
Served to emperors from as far back as the Ming dynasty (1368–1644), Peking duck is a Beijing staple, and you'll find many restaurants in the city dedicated to the dish. In most, the chef or waiting staff will ceremoniously carve the duck at your table.
The skin is dipped in sugar and garlic then the meat is placed with spring onions and a sweet bean or hoisin sauce in steamed pancakes, which are folded and eaten by hand. Expect a side dish of cucumber sticks.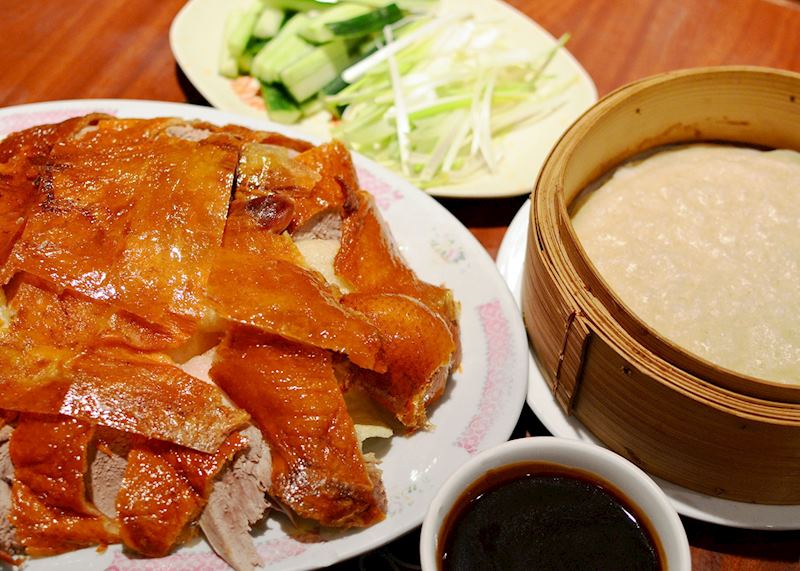 Sichuan hot pot
Ordering a Sichuan hot pot, I always find, turns dining into a fun, social affair as everyone shares from the same pot, which is heated in the middle of your table. The broth inside is usually spicy thanks to the addition of Sichuan peppers and chili, though some are separated so that half of the hotpot is spicy and half is mild.
You place raw meats, vegetables, mushrooms and fish into the broth to cook for a few minutes before filling your plate. Small, local restaurants in Chengdu and Chongqing are the best places to try this delicacy; look for the busiest restaurants, which should indicate the highest-quality food.
Roujiamo (Xian/Chinese burger)
This well-loved street-food delicacy originated in Shaanxi province and is the Chinese equivalent of a hamburger or kebab. The provincial capital, Xian, is the best place to try one.
An authentic roujiamo comprises leavened pitta bread (or 'mo') baked in a traditional clay oven and stuffed with hand-shredded pork or lamb and bell pepper. The meat will have been braised for hours in a generously spiced and seasoned soup.
Tofu
One of the biggest surprises of Chinese food for me was the use of tofu. Unlike the meat substitute it is in the West, tofu here is much more celebrated and often the focus of a dish. It comes in all shapes, sizes and consistencies and can be cooked in numerous ways.
Of the tofu-based meals, I enjoyed mapo tofu, a spicy dish where silky tofu is brought to life with chili oil. Also worth trying is dry pot tofu, a variation of the Sichuan hot pot that uses slightly tougher tofu and is usually spicy unless you ask for 'wei la' (mild spice). Then there's doufu nao, primarily a breakfast dish in northern China where very smooth tofu is served in a light soup made from peanut butter, soy sauce and coriander.
Food experiences in China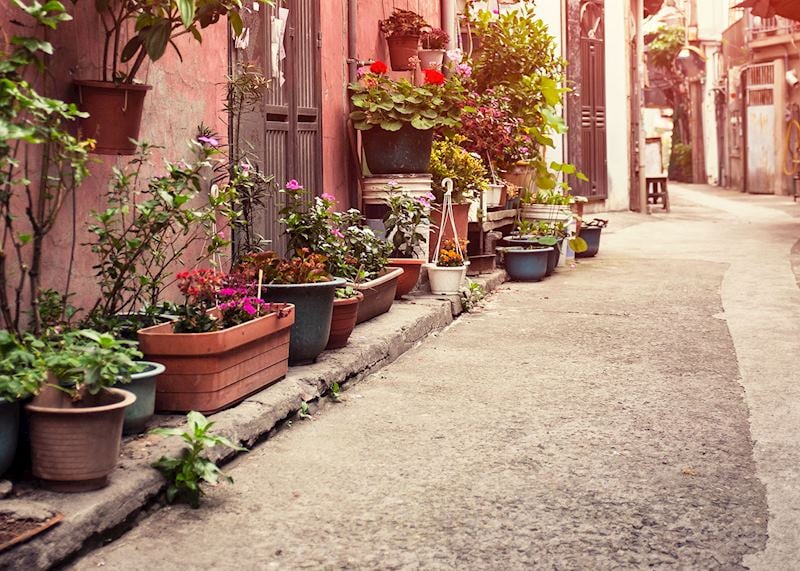 By Duncan
Cookery workshop in Beijing's hutongs
The Beijinger Kitchen is housed in a traditional courtyard property dating back around 300 years in Beijing's hutong district, which comprises a maze of winding alleyways and adjoining courtyard homes where locals have lived since the medieval Yuan dynasty. I joined an intimate class run by the kitchen's owner and a local professional chef, who taught us Chinese cooking techniques and explained about food culture in China.
Our workshop began with a visit to a small local market, where, shopping alongside Beijing residents, we picked out raw ingredients to use in our lesson.
We then entered the kitchen and gathered around the workstation, where our chef demonstrated how to prepare our ingredients, talking us through chopping techniques, the art of seasoning and cooking methods.
Next, it was our turn to have a go as we learned how to make five different dishes: kung pao chicken, sweet and sour pork, shiitake mushrooms with vegetables, dumplings, and a cucumber salad. (The workshop can be tailored to your interests, if you'd like to make a particular dish.)
It took me a while to master the technique of shaping and folding the dough to form passable dumplings, but once cooked they tasted just as good as those sold on the street.
Lost Plate food tour of Xian by tuk-tuk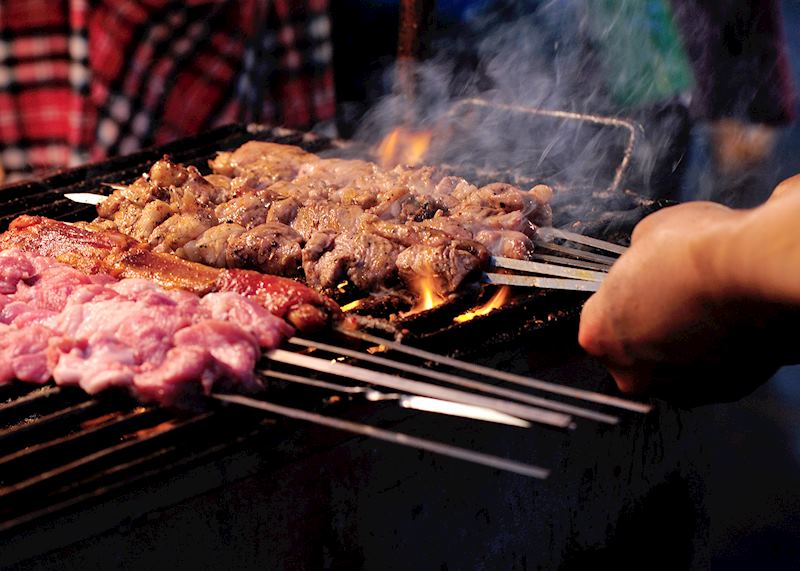 I particularly like this food tour as it focuses on authentic, family-run eateries where recipes have been passed down the generations and you can eat alongside local residents.
Riding on a tuk-tuk between stops is an added bonus, as you cover 5 km (3 miles) of Xian's narrow side streets and alleys, breaking off to visit restaurants and street-food stalls that are otherwise difficult to find.
Heading out in the early evening in a group of no more than ten, you visit five eateries in the city's Muslim Quarter. You get to try at least one or two dishes at each, from dumplings and handmade noodles to skewered meat barbecued over open flames. You can also watch as skilled local cooks prepare the roujiamo burgers Xian is renowned for.
Throughout the tour, your local guide tells you about each of the delicacies and can answer any questions you have about Chinese culture. Your final stop, close to Xian's historic city walls, is a microbrewery where you can sample different craft beers and enjoy a pint of your choice.
Cooking class in a traditional farmhouse in Yangshuo's countryside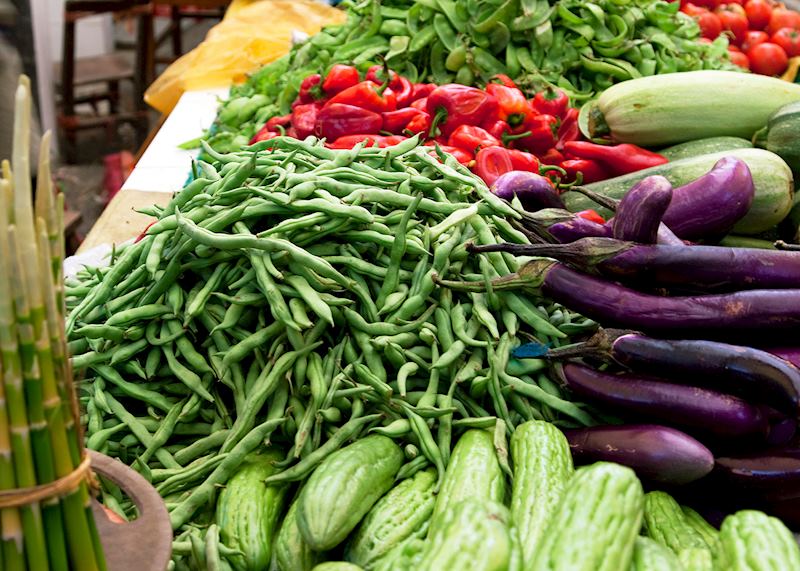 In the rural areas of China, villages and small towns have their own cooking traditions, techniques and recipes that have come down through the ages. I ventured to Yangshuo, set on the banks of the Li River and surrounded by great limestone karsts, to learn more about the food of Guangxi province.
After meeting our guide, our small group visited a local market that seemed to sell every ingredient you could ever need. Passing hunks of meat hung above market stalls and piles of vegetables grown in the surrounding farmland, we gathered ingredients for later as we took in the sights, sounds and smells of the market. Meanwhile, our guide told us about the area's local produce and traditional customs.
After the market, you're driven to the Yangshuo Cooking School, set in a farmhouse just outside town. Here, your cooking teacher guides you through making five local dishes. I made chicken with cashew nuts, beer fish, eggplant with soy and oyster sauce, steamed stuffed vegetables, and green vegetables with garlic.
The class takes a very hands-on approach, and at the end we ate our creations together while discussing more about the local culture. As an added bonus, we were given the recipes to take home — I've since made a few of the dishes for my family.
Touring Hong Kong's food markets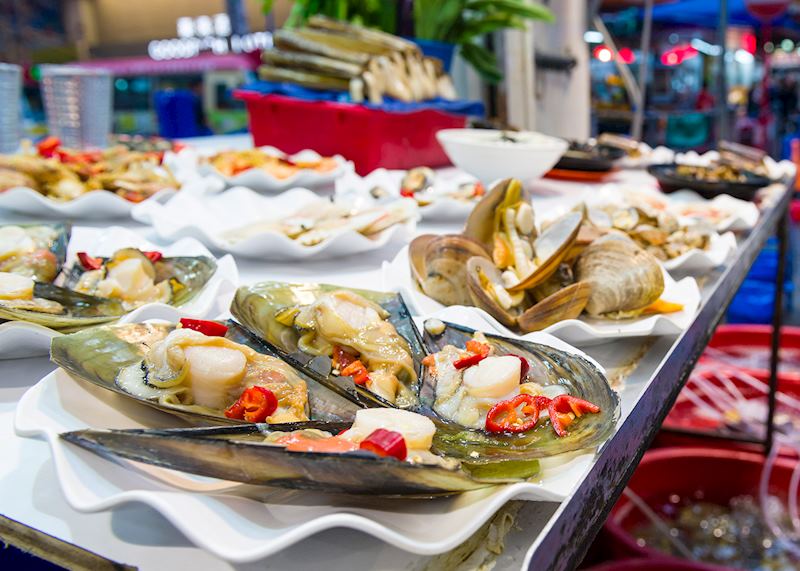 The markets of Kowloon in Hong Kong show a more traditional Chinese side to this modern, international city. While they range from jade and flower markets to those selling caged birds and goldfish, some of the most atmospheric are where local residents come to buy food.
You can join a local guide to tour around them, as I did. Entering Kowloon City Market was an assault on the senses as masses of people brushed past us from all directions and the smells of various foods combined in the air. Strolling around the meat section, we not only passed the more typical meats, such as pork and chicken hanging up in rows, but also dried geckos, squid and seahorses. These are ground or chopped up for use in traditional Chinese medicines, as my guide explained.
Moving on to the wet fish section next door, the pungent smell of fish hit us and we joined the throng of people looking for the freshest fish and seafood. Tanks filled with wriggling eels and live freshwater crabs sat alongside icy shelves of silver-scaled fish and pink shrimp, and stallholders wearing rubber gloves and aprons called out their best price.
Start planning your trip to China

Start thinking about your experience. These itineraries are simply suggestions for how you could enjoy some of the same experiences as our specialists. They're just for inspiration, because your trip will be created around your particular tastes.
View All Tours in China