Known as the home of the giant panda due to the excellent reputation of its research and breeding base, Chengdu is well worth exploring in its own right. The capital of Sichuan Province, it has held onto its ancient roots despite becoming increasingly modern. Temples and monasteries, leafy parks and traditional teahouses reflect the laid-back attitude of its residents, who can often be seen playing mahjong while sipping jasmine tea.
Food is a highlight here, and trying the spicy Sichuan hotpot is almost a rite of passage. Within reach of the city are Mount Emei and the Leshan Giant Buddha, where you can learn more about the region's Buddhist beliefs. Huanglongxi, another nearby town, paints an accurate picture of ancient China.
I soon discovered that Chengdu has more to offer than just pandas. It's a vibrant city where modern buildings rise above traditional parks, and the food is some of the best in China.
China specialist Adam
Things to see and do in Chengdu
See giant pandas at the Chengdu Research Base of Giant Panda Breeding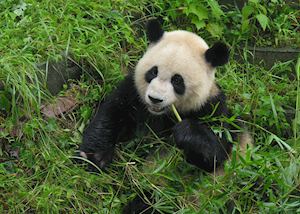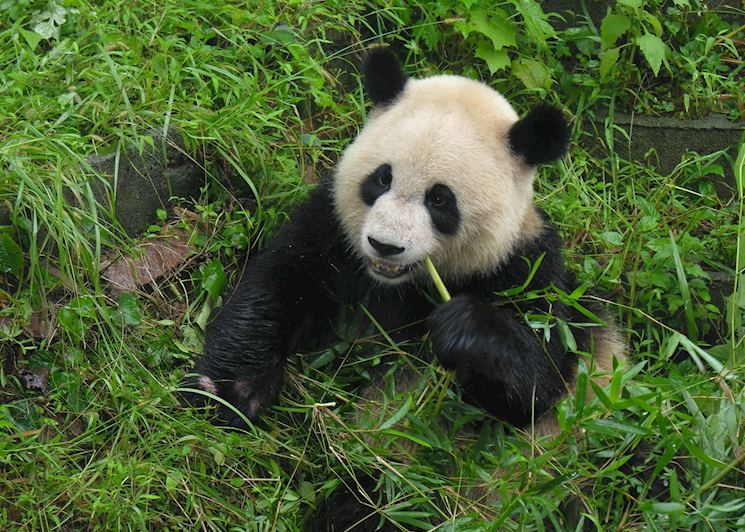 There's no better place in the whole of China to see giant pandas up close than at this breeding and research base. Situated 10 km (6.2 miles) north of Chengdu, the base strives to conserve the species and its dwindling habitat.
Bamboo forest, man-made dens, rocks, caves and rivers help to recreate the bamboo forests of Sichuan's northern mountain ranges, where giant pandas would naturally roam. The base's hard work and dedication have played a key role in removing giant pandas from the endangered species list.
It's best to visit early in the morning (between 8am and 10am), when the pandas are fed and at their most playful. You can watch them clumsily making their way around the playground, eating bamboo and interacting with each other. Observe new mothers feeding their young in the nursery room, and learn more about the base's work and research through exhibits and films.
Stroll around Chengdu Bamboo Park (Wangjianglou Park)
Situated along the south bank of the Jinjiang River in eastern Chengdu, this peaceful park features pretty walkways shaded by arched bamboo trees, and historic relics dedicated to the Tang dynasty female poet Xue Tao.
Strolling through the park's bamboo groves, you experience a quieter side to the city. You'll also find over 200 species of bamboo from across Asia growing here. Afterwards, relax with a jasmine tea in a traditional teahouse on the riverbank — you may find yourself sitting next to local people immersed in a game of mahjong.
The park's most striking feature is the Chongli or Wangjiang Pavilion. Built in 1889 in memory of Xue Tao, the four-tiered wooden tower rises 39 m (128 ft) and overlooks the river.
Try Sichuan hotpot and other local delicacies
The Sichuan Province is renowned for its spicy cuisine, which often uses chilies and Sichuan peppers. Chengdu itself has been deemed a UNESCO City of Gastronomy for the diversity of its cuisine, which can be sweet, sour, bitter, spicy or salty.
During your visit to Chengdu, we recommend dining in local restaurants to sample the region's key dishes, including kung pao chicken (a spicy stir-fry featuring chicken, peanuts, vegetables, chilies and Sichuan peppercorns) and, most famous of all, the Sichuan hotpot. This meal is usually a social affair as strips of meat and vegetables are cooked in a large pot of (often spicy) broth in the middle of the table and diners take turns to help themselves.
We can arrange cooking courses if you'd like an introduction on how to cook Sichuan dishes. Experienced chefs will show you the ingredients and techniques used in two or three dishes before you have a go at creating them yourself.
Admire the Leshan Giant Buddha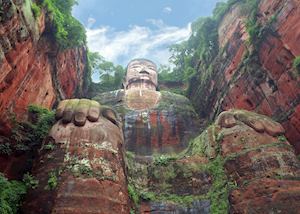 A two-hour drive from Chengdu, just outside the city of Leshan, you can set eyes on one of the largest Buddhas in the world. Carved into a cliff face overlooking the confluence of the Dadu, Min and Qingyi Rivers, the Leshan Giant Buddha rises 71 m (233 ft).
The carving depicts Maitreya Buddha, who Buddhists believe will appear on Earth in the future to teach the Dharma religion after it has been forgotten. It was built between 713 and 803 under the instruction of a Chinese monk, Hai Tong, who hoped the Buddha's presence would bring safety to ships crossing the rivers.
As a visitor, you can walk up the steps alongside the carving, or take photographs from a boat at the Buddha's toes. Standing beside the carving, the scale of it is staggering — ten people could fit onto its big toe alone.
Take a cable car up sacred Mount Emei
At 3,099 m (10,167 ft), Mount Emei is the highest of the four Sacred Mountains of China, which have attracted Buddhist pilgrims for centuries. China's first Buddhist temple was built on Mount Emei in the 1st century, and there are 76 Buddhist monasteries dating from the Ming and Qing dynasties dotted across the mountain.
Emei town is a two-hour drive south of Chengdu, so you can take a long day trip or choose to stay overnight. An hour and a half bus ride, passing through forests of lush firs, takes you from the town to the Golden Summit cable car path. Once there, you have a short 3 km (1.9 mile) walk to the cable cars.
As the cable car ascends the mountain, you may have views over the trees and craggy cliffs, or find yourself floating through low-hanging clouds. At the summit, gaze over the sea of clouds stretching out below before exploring the temples, monasteries and stalls selling traditional Chinese medicines.
Explore the ancient town of Huanglongxi
Around a 40-minute drive southwest of Chengdu, the historic town of Huanglongxi dates back to around 1,700 years ago. Its cobbled alleys and Qing dynasty architecture provide a glimpse into China's past, and have helped the town become a popular filming location for movies and TV shows.
Visiting Huanglongxi with a private guide, you'll hear about its history and see some of the main buildings and attractions. These include Zhenjiang, Chaoyin and Gulong Temples, civilian residences dating to the Ming and Qing dynasties and well-preserved paved-stone streets harking back to as early as the 14th century. You can also take a boat ride through the town along the Huanglong River, passing stilted houses and ancient trees.
Best time to visit Chengdu
As with most places in China, the best time to visit Chengdu is in April and October due to the low amount of rainfall and comfortable temperatures. What's more, smog levels tend to be low during this time of year, allowing for the best views of the Giant Buddha in Leshan and the Emei Mountains.
Festivals, events and seasonal reasons to visit
Festival periods in China are generally very crowded and travel isn't recommended during these times, but if you don't mind braving the crowds they can be an exciting experience.
The Xinjin Dragon Boat Festival is held on 9th June each year on the Min River. Locals race each other in traditional dragon boats as the crowd beats gongs and drums to cheer them on.
Held on the 15th day of the first month of the lunar year (usually late January or February), the Chengdu Lantern Festival marks the end of the Lunar New Year celebrations and is one of the biggest and most exciting events in the country. The Sichuanese have celebrated this in the same way since 711, with beautiful painted lanterns illuminating the People's Park during the night.
Speak to someone
who's been there

Start planning your tailor-made trip to Chengdu by contacting one of our China specialists
Places & hotels on the map
Our expert guides to exploring Chengdu
Written by our specialists from their own experiences of visiting Chengdu, these guides will help you make the most of your time there. We share both our practical recommendations and the best ways to appreciate Chengdu at its best.
Accommodation choices for Chengdu
We've selected a range of accommodation options for when you visit Chengdu. Our choices usually come recommended for their character, facilities and service or location. Our specialists always aim to suggest properties that match your preferences.

Ideas for experiencing Chengdu
Our specialists seek out authentic ways to get to know the places that could feature in your trip. These activities reflect some of the experiences they've most enjoyed while visiting Chengdu, and which use the best local guides.
Panda Research Base

Panda Research Base

Panda Research Base

The Giant Panda Breeding Research Base, situated in the north of Chengdu, provides an excellent opportunity to get as close as possible to China's "ambassador" animal.

Chengdu Lost Plate Food Tour

Chengdu Lost Plate Food Tour

Chengdu Lost Plate Food Tour

Chengdu's food scene brings together a lively mélange of Sichuan dishes, from Sichuan stuffed pancakes to traditional hot pots. Sample it all on a tuk-tuk food tour, dining at secret places around the city, led by a local bilingual guide.