Strewn with the high-rises you find in any modern city, yet girded by stately Ming-era walls, the city formerly known as Chang'An was once the heart of China's empire and the endpoint of the Silk Route. Today, despite encroaching globalization (Xian seems to have a thing for swish shopping malls), something of its past prestige remains. The city's central rectangle is fenced in by orderly ramparts dating back to 1370. They're punctuated here and there by watchtowers, and illuminated dramatically at nightfall. Within the walls, you'll find wide-open squares with flowerbeds, parks, and the imposing, triple-storied Ming Bell and Drum Towers.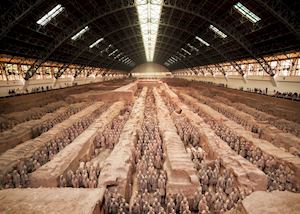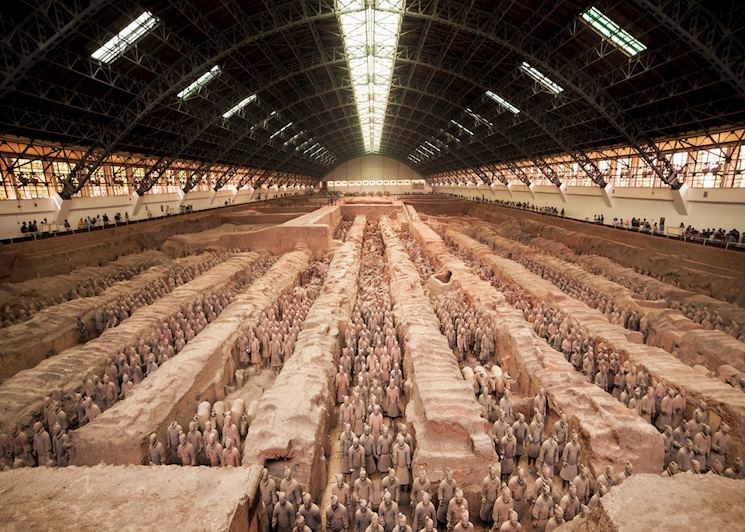 Once it had fallen from grace as the seat of the Chinese Empire, Xian became a relative backwater. Then, in 1974, some local farmers discovered an extraordinary underground cache: a life-size militia of hundreds of clay warriors (all a uniform shade of brown: their original bright paintwork fades on contact with air). The Terracotta Army, as it's now known, was created at the behest of Emperor Qin Shi Huang to accompany him in the afterlife. It's situated in its own dedicated museum complex about an hour's drive out of the city.
The hundreds of warriors on display are arranged in vast pits, although you can view several statues up close, giving you a greater sense of their detailed craftsmanship.
Four statues are also exhibited at the more centrally located Shaanxi History Museum — itself a treasure chest of ancient Chang'An pottery, tiling, bronzes and murals.
Just north of Xian's Drum Tower, you enter a bazaar-like area redolent with spices, sesame and cooking oils, and known as the Muslim Quarter. The traditional home of the city's Hui minority, it comes to life at dusk when the brightly lit, pedestrian-only streets spill over with visitors, revelers and residents in search of street food.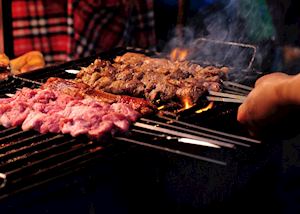 Steaming stalls line the paths: you'll see (and smell) everything from lamb kebabs and cold noodles to skewers of luscious red haw fruit lollipops, squid, fresh smoothies and urns of mutton soup. You can explore the lanes by tuk-tuk on a guided street-food tour.
The heart of this quarter is occupied, not surprisingly, by the Grand Mosque. A hybrid of Chinese and Islamic design, even its minaret recalls a pagoda. Then, to the south of the city, just outside the walls, lies Big Wild Goose Pagoda. This Tang-dynasty creation rises above a large, airy plaza and a Buddhist monastery. Traditionally, its star student was permitted to ascend the pagoda, a climb symbolic of his soon-to-be-soaring career.
Today, tiny bells adorn the structure: their tinkling allegedly wards off evil spirits and malevolent thoughts. Though the monastery around the pagoda can get busy with domestic and foreign tourists alike, it's possible to steal off and find a quiet spot all to yourself amid groves of bamboo, plum blossom and stone Buddha statues.
Outside Xian stretches a landscape of tablelands and the Loess Plateau. Farmers have sculpted sections of it into terraces for growing rapeseed and other crops. You can take a private 4x4 tour of the countryside, stopping off at abandoned cave homes, farming villages emblazoned with Communist propaganda murals, and craft workshops.
Best time to visit Xian
Xian is at its best during China's temperate spring months (March to May) and in September. July and August sees the city swell with crowds of domestic visitors, and the first week of October (Golden Week, a public holiday) is also a busy period. Avoid these times if you're looking for a quieter experience.
Speak to someone
who's been there
Start planning your tailor-made trip to Xian by contacting one of our China specialists
Places & hotels on the map
Our expert guides to exploring Xian
Written by our specialists from their own experiences of visiting Xian, these guides will help you make the most of your time there. We share both our practical recommendations and the best ways to appreciate Xian at its best.
Our guide to exploring the Terracotta Army of Xian

Our guide to exploring the Terracotta Army of Xian

Our guide to exploring the Terracotta Army of Xian

Make the most out of visiting China's Terracotta Army: we explain what to look for when exploring this archaeological site that predates Christianity.

A guide to Chinese food (and where to find it)

A guide to Chinese food (and where to find it)

A guide to Chinese food (and where to find it)

There's more to Chinese food than Western takeaways let on. Each region of China has its own distinct cuisine, from the west's hot and spicy delicacies to the hearty dishes of the north. China specialists Anthony and Duncan discuss the best ways to experience food in China.

Yangtze River cruises in China: a need-to-know guide

Yangtze River cruises in China: a need-to-know guide

Yangtze River cruises in China: a need-to-know guide

China can be overwhelming, so Audley specialist Heather suggests exploring it from a calmer perspective on a cruise of its greatest river, the Yangtze. She reveals the key sights, and what life's like on board your Yangtze cruise ship.
Accommodation choices for Xian
We've selected a range of accommodation options for when you visit Xian. Our choices usually come recommended for their character, facilities and service or location. Our specialists always aim to suggest properties that match your preferences.
Ideas for experiencing Xian
Our specialists seek out authentic ways to get to know the places that could feature in your trip. These activities reflect some of the experiences they've most enjoyed while visiting Xian, and which use the best local guides.
Terracotta Army Excursion

Terracotta Army Excursion

Terracotta Army Excursion

Leaving the city, visitors drive to the area where the army was first discovered in 1974. What was finally unearthed proved to be one of the 20th century's greatest archaeological finds, and ranks with the Great Wall and the Forbidden City as one of China's most potent images.