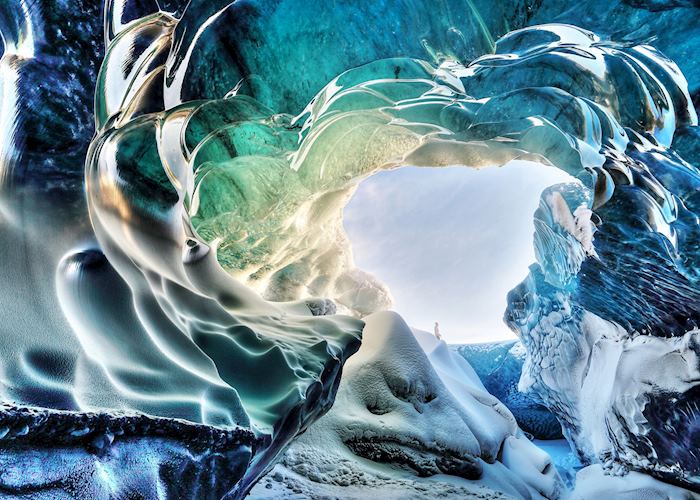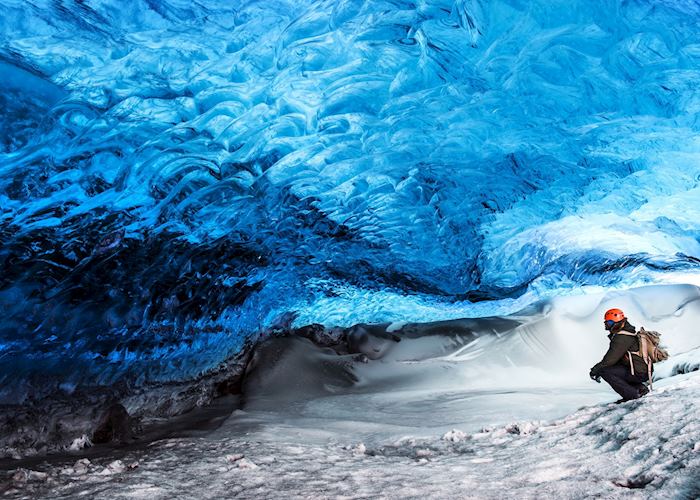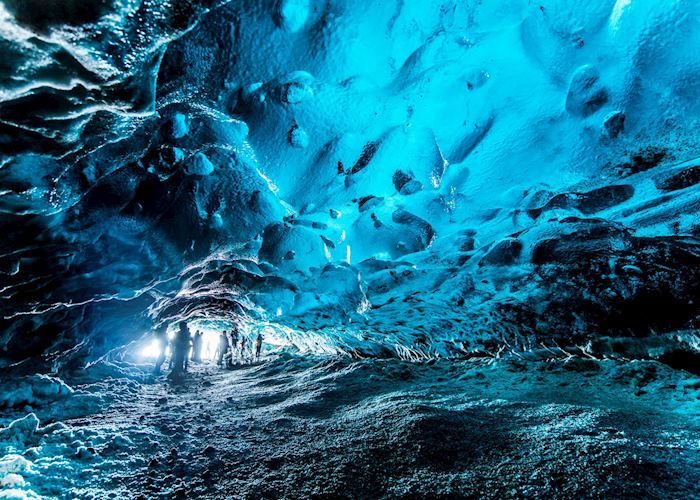 Small group ice cave tour
Hidden under Kötlujökull, an outlet from the Mýrdalsjökull glacier, are a series of ice caves sculpted by glacial waters over centuries. The access point is far from the nearest town and down rough tracks, and the caves themselves can be dangerous, so access with a guide is essential.
Inside the caves, the blue, white and black ice walls are enthralling, carved into undulating contours over the course of 800 years. Water drips in the silence and as your guide describes the geological events that have caused such wonders, you can take some dramatic photographs.
This small-group tour leaves from the little coastal town of Vík where you'll meet your guide. You'll set off out of town in a specially modified 4x4, heading off-road across tracks that cross though lava fields formed by the active Katla volcano, which sits below the ice cap.
The journey from Vík takes approximately 35 minutes. En route to the cave, your guide will tell you about the volcano's history and past eruptions and explain how the ice cap above it was formed.
You'll drive through a series of unusual landscapes, including black lava fields set against a backdrop of snow-capped mountains. You'll then reach the Katla ice cave, one of the only ice caves in the country that's accessible year-round.
You can easily see the cave entrance, set between towers of moulded ice compacted into layers along with deep-black stripes of volcanic ash. Once you get out of the vehicle, you'll be provided with crampons and helmets and given a brief safety talk. Then, you'll climb up a rough track and some wooden steps to enter the cave between walls of black, white and blue ice.
Once inside, it takes a little time for your eyes to adjust to the light, but you'll soon see a cave that's hundreds of years old, where the trickling and dripping of water is the only sound.
You'll spend about an hour with your guide exploring the cave, examining the gently undulating contours of its walls, taking photographs and learning about its formation.
After passing small creeks and natural ice sculptures, you'll exit the mouth of the cave and explore the glacier from the outside. Here, you can see water, volcanic ash and ice deposited by the glacier, and search for smaller ice caves that demonstrate how larger caves develop over time.
After you've had time to explore and take photographs on the glacier, you and your group will return to Vík.
Speak to someone
who's been there

Start planning your tailor-made trip by contacting one of our Iceland specialists
Photos of Small group ice cave tour