Botswana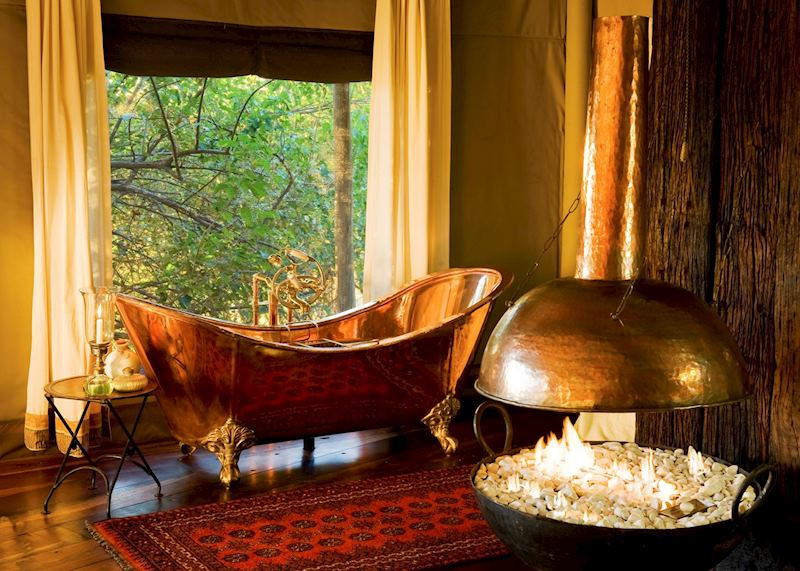 By Alex
Botswana is the frontrunner when it comes to luxurious safari experiences. The country has a low-volume, high-quality ethos, meaning fewer, smaller camps that offer a more personal experience and a lower environmental impact.
One of the best, in my experience, is Zarafa Camp in the private Selinda Concession of the northern Okavango Delta. You can arrive by helicopter for that extra touch of class.
The camp has just four large tented rooms, each with a private plunge pool overlooking the Zibadianja Lagoon. Wood, brass and copper fittings evoke the early days of African exploration, and open, netted sides allow the smells, sounds and light breezes of the bush to enter your open-plan bedroom.
You can sit out on your private deck as you wait for wildlife to come into view. Herds of elephant often wander up to cool off, bee-eaters and fish eagles zip and soar over the water, and you might hear the distant roar of lion.
I was wowed by the food here, considering it's in the middle of a wilderness area. You're treated to three-course dinners of grilled meats, fresh vegetables and salads, all served around the candlelit communal dining table.
Zarafa is one of the only camps in Africa to provide top-of-the-range cameras and binoculars for you to take on the twice-daily private game drives. And, as well as being nature experts, the guides are trained in helping you make the most of photography opportunities. You can also head out with them on bush walks for a more detailed look at the ecosystem.
South Africa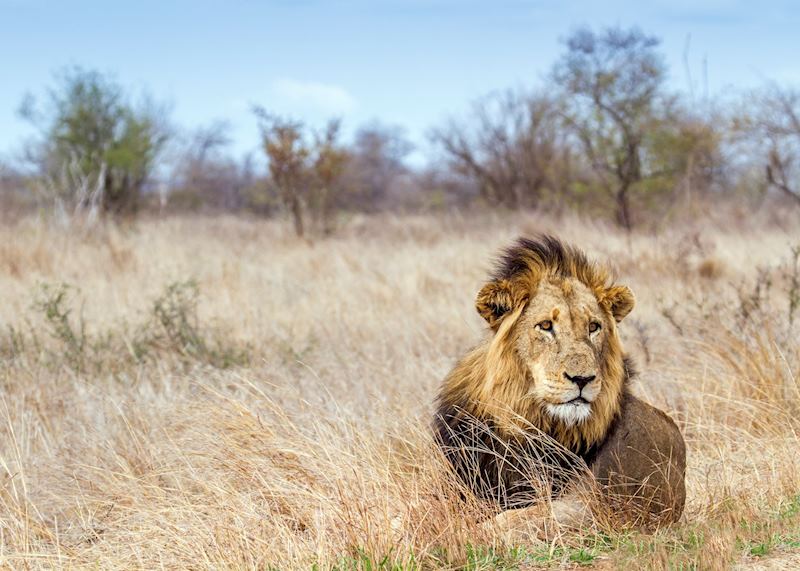 By Arista
For a luxury safari in South Africa, the Sabi Sands Game Reserve private reserve offers a quieter, more exclusive alternative to the bordering Kruger. Wildlife is free to roam between the two, so you have just as much chance of seeing the Big Five, along with wild dog, giraffe, cheetah and many other animals, but without the crowds.
There are also fewer camps and lodges in Sabi Sands Game Reserve, and they're all of a high quality. I like Dulini Safari Lodge in the north of the reserve. It offers six stone-and-thatch cottages, each with a plunge pool overlooking a dry riverbed, where you often see elephant digging for water. You have your own well-stocked bar, and a private butler should you prefer to dine in your room.
Ebony and leadwood trees shade the main lodge, which contains a library and lounge. You can indulge in a massage on the veranda, overlooking the surrounding wilderness.
Meals are shared in the boma, an alfresco dining area, beside the open fire pit. Expect grilled red meats and chicken, fresh fish, couscous and salads, platters of fresh fruit and eggs cooked to order. There's also an extensive wine cellar.
What really stood out during my stay was the knowledge and infectious enthusiasm of the guides. I've been a regular safari-goer for 11 years, but I've never met guides as expert in their craft as Dinamosi and tracker Isaac.
What surprised me wasn't their knowledge of the bush, which was encyclopedic after 15 years of guiding. It was their excitement at each new animal we encountered, even though they tread these paths almost every day. 'Oh wow, look at this big guy,' Dinamosi exclaimed when we came across a huge buffalo bull lying in the grass. 'What a specimen!' Isaac agreed, and they exchanged grins. It's an enthusiasm you can't help but share.
Zambia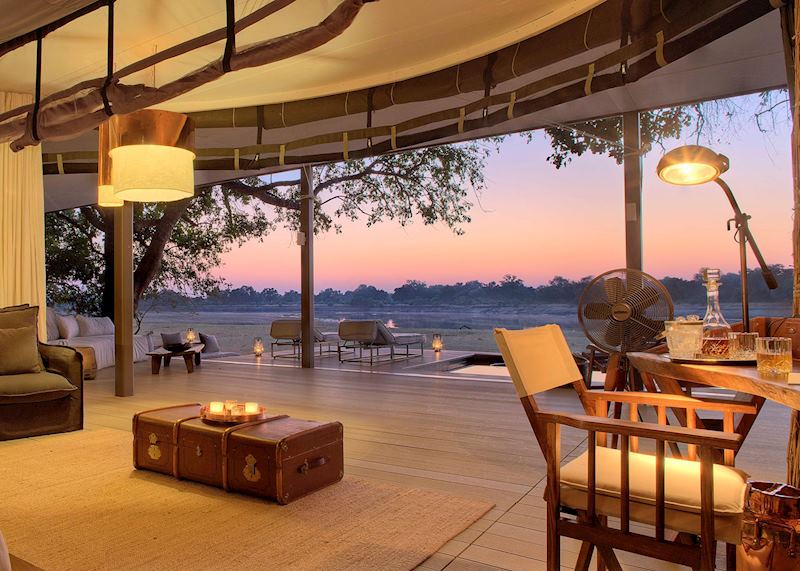 By Louise
The wild, untamed nature of Zambia, along with relatively few visitors, makes it an excellent destination for a luxury safari. And, you could pair a safari in South Luangwa with a visit to Victoria Falls without leaving the country.
I recommend staying in one of Chinzombo Camp's six large, modern villas set beside the Luangwa River. You can relax by your own plunge pool or by the main infinity pool, and head out on drives and boat safaris in search of game. The area is particularly known for its leopards, but you're also likely to see elephant, lion and a wide range of birdlife.
You can read more about luxury safaris in Zambia in our guide.
Zimbabwe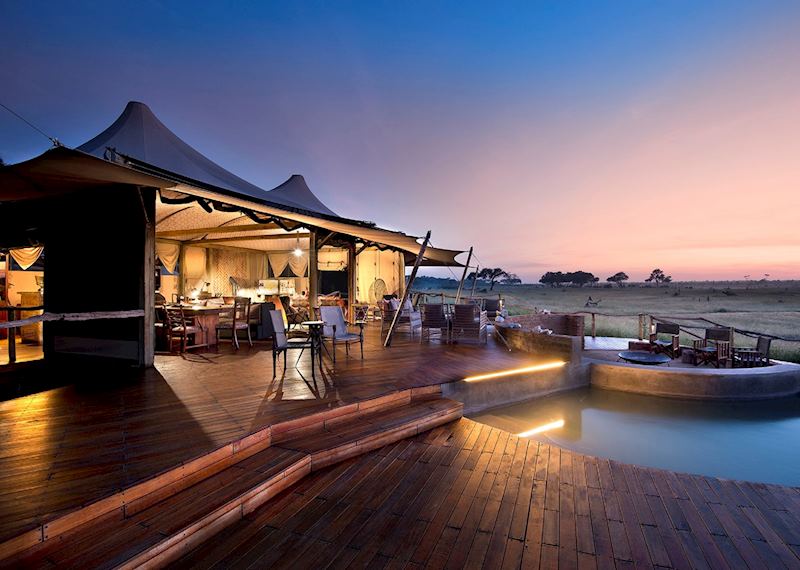 By Roseanna
Zimbabwe might not be the most luxurious of safari destinations… yet. But, on the horizon is a great deal of investment in the country's safari offerings. New camps and lodges are set to spring up and raise the bar when it comes to facilities and service.
That's not to say this level of quality isn't already available. In Hwange National Park you can stay at Somalisa Camp, set on an acacia-strewn island within a seasonal floodplain. Traditional in style with its seven canvas tents and raised wooden decking, it has been finished to a high standard. Glass wood-burners are fitted in the rooms, copper bathtubs hide behind red-brick walls and rugs are made from African textiles.
The main camp overlooks a natural waterhole. Soaking in the wraparound pool, you can watch elephant come and go — there's even a dedicated 'elephant pool' where they can drink just below the deck.
Zimbabwe claims some of the best-trained guides on the continent, with a particular focus on walking safaris. As you explore the bush on foot, your guide will open your eyes to the intricacies of its flora and fauna. You might learn how to identify animal tracks (and dung), hear how termite mounds are made, discover the different uses of trees and plants, or focus on birdwatching.
Luxury extensions to your safari
Beach stay in Mozambique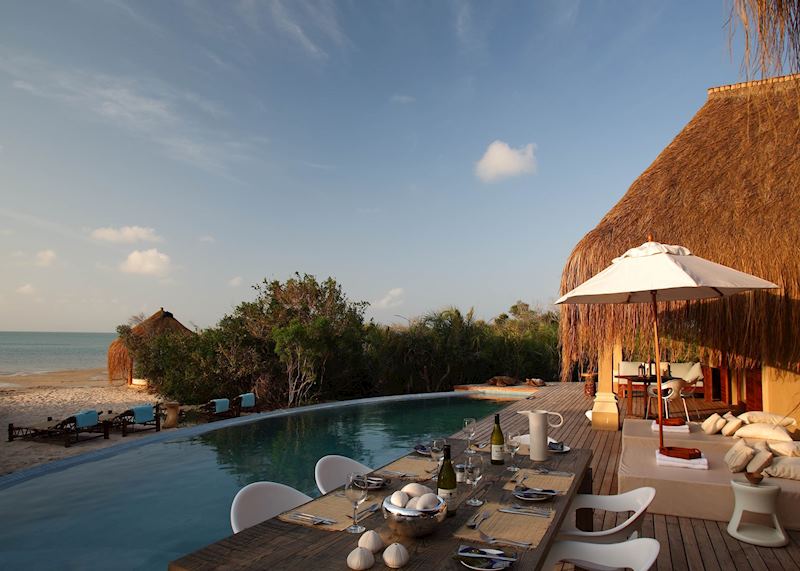 By Anthony
A safari followed by a beach stay is a tried and tested combination. Mozambique is arguably the most luxurious option, and it's easy to reach from anywhere in southern Africa (usually via Johannesburg).
Many of Mozambique's lodges reside on small islands that you can only reach by boat or helicopter. I stayed at Azura Benguerra, set on a tiny island in the Bazaruto Archipelago. Picture soft white sands, clear turquoise waters plied by traditional dhow sailing boats, and palms swaying in the breeze.
The property's 20 thatched villas open straight onto the beach. They have their own pool and a deck where you can lie in the sun or the shade listening to the ocean. You also have a private butler, who can arrange anything from in-room massages to water activities.
Because this stretch of beach is quite tidal, you're taken out by speedboat to snorkel or dive in the surrounding marine reserve. You could also hop between some of the archipelago's other islands, pausing for a picnic lunch, or go horse riding. In the evening, enjoy a sunset dhow cruise or a private candlelit dinner on the beach.
Victoria Falls, Zambia and Zimbabwe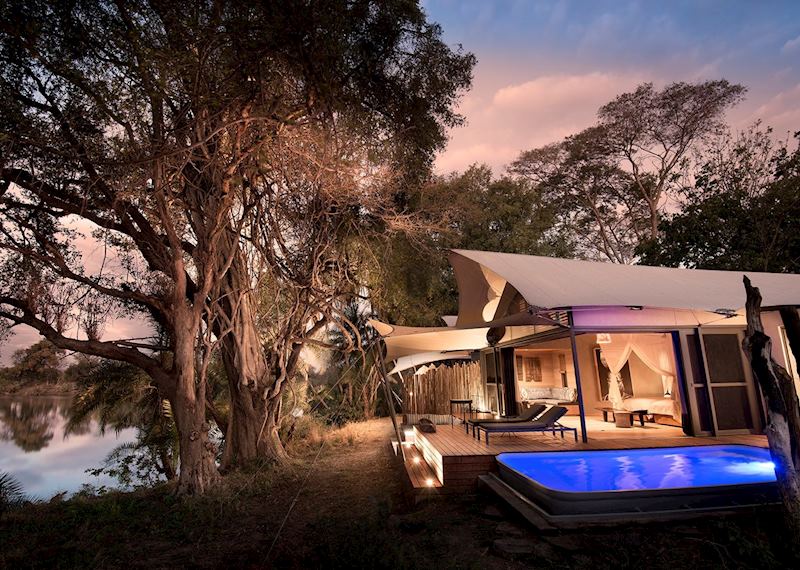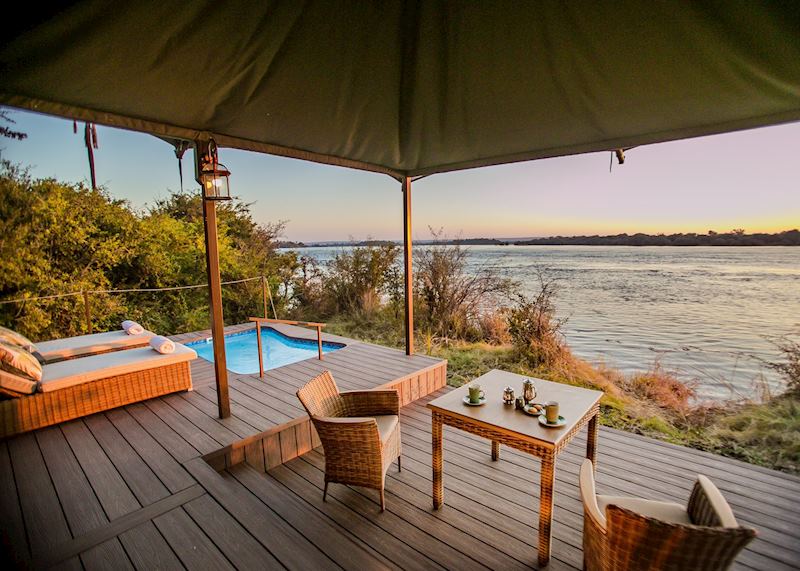 It's easy to combine a safari in Zambia or Zimbabwe with a visit to Victoria Falls.
On the Zambia side, rather than staying in Livingstone you could base yourself at Thorntree River Lodge, right on the banks of the Zambezi in Mosi-oa-Tunya National Park. The 12-room lodge has a contemporary design but retains a traditional feel thanks to its canvas roofs. From the deck, you can take a dip in the pool while looking out over the river.
Over on the Zimbabwe side, just outside the main town of Victoria Falls, Old Drift Lodge offers a similar experience. The lodge is set along the riverbanks within Zambezi National Park, and you arrive by speedboat. Its 14 canvas rooms each has a private plunge pool, and you can gaze over the river while soaking in the roll-top bathtub.
From both lodges, as well as visiting the falls, you can take leisurely sunset cruises along the river, looking out for hippo, crocodiles and birdlife. Game drives through the parks give you a chance to see rhino, elephant, giraffe, zebra and antelope.
Sossusvlei's dunes, Namibia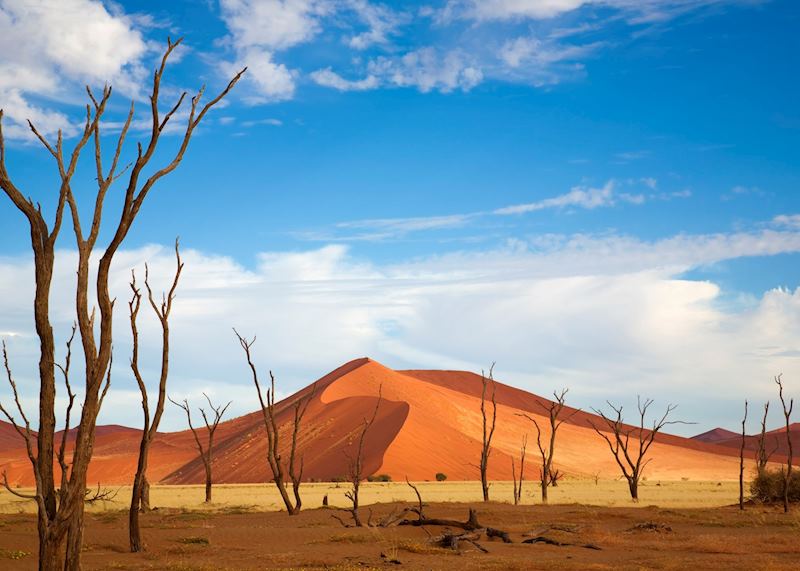 Before or after a safari in Namibia's Etosha National Park and arid Damaraland, I highly recommend spending a few days exploring the burnt-orange dunes and stark salt pans of Sossusvlei, in the Namib-Naukluft National Park.
The landscape here is unlike anywhere else in Namibia. For a start, it's home to some of the highest dunes in the world, which you can explore on foot, by quad bike or on horseback. The shimmering white-clay salt pans and wizened petrified trees, contrasted with the (hopefully) clear blue sky, make for excellent photographs.
Base yourself at Little Kulala, a modern lodge with 11 stone-built rooms surrounded by windswept sand dunes. A private gate leads into the park, allowing you to get there early and pick a good spot for watching the sun rise over the desert (followed by a champagne breakfast). On calm, clear nights, you can sleep up on the roof, with nothing but mosquito nets separating you from the star-scattered sky.