The ground tremors beneath your feet and the air fills with grunts and clouds of dust as thousands of wildebeest move en masse, plunging into the Mara River before snaking up the other side. Seeing a river crossing can be as exhilarating as it gets on safari, but I've found it's just one fraction of the overall experience of witnessing the Great Migration. There's the sheer volume of wildebeest and zebra dotted as far as the eye can see across the plains. The vulnerable young calves grazing beside their mothers. And the hungry predators watching every move. Here, safari specialist Arista shares her advice for some of the most commonly asked questions about the Great Migration, and how to catch it in all its glory.
Speak to an Audley safari specialist

Start planning your tailor-made trip by contacting one of our safari specialists
Our recommended great migration itinerary ideas
Our itinerary ideas can be as tailored as you'd like around your particular interests. These selected suggestions will give you some inspiration, but treat them just as a starting point because for your own trip will be created uniquely for you.
By Arista
What is the Great Migration?
Throughout each year, some 2.5 million wildebeest, zebra and various species of antelope follow the rains in a clockwise direction. They move between the grasslands of Kenya's Masai Mara National Reserve and the sprawling plains of Tanzania's Serengeti National Park, plotting a course determined by the amount of fresh grass available.
Because the Serengeti is one of the world's oldest ecosystems, it's possible the Great Migration has been happening for millennia. The herds settle in the southern Serengeti between January and March to give birth and feed on the fertile plains before moving northwards.
The herds don't all move together — groups split off, leave at different times or go to different areas within the Serengeti. Some might even stay behind if there's enough grass to sustain them. It means you can go at almost any time of year and still see signs of the migration.
What might I see?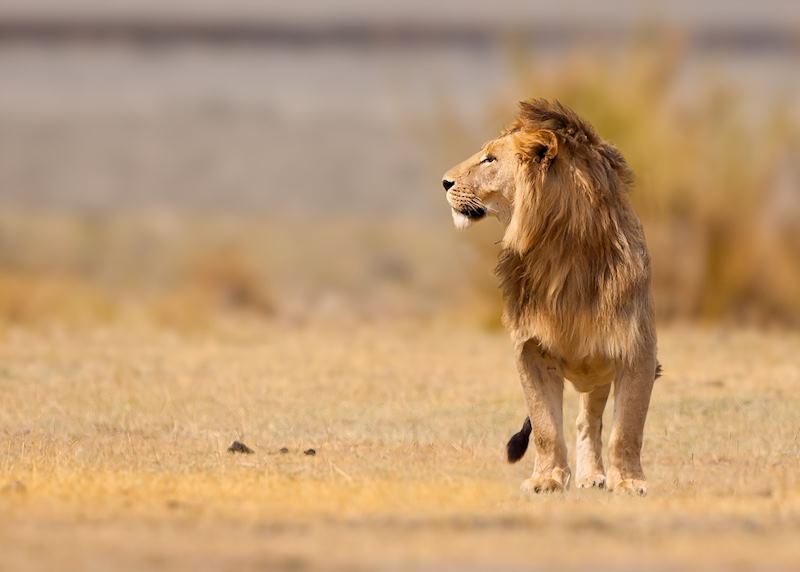 Nowhere else can you observe so many wildebeest in one place. It's true that seeing them chomping away on the plains isn't always the most exciting wildlife encounter. But, take half an hour's game drive and you see thousands of them spread across the landscape — it's then that the scale of the spectacle begins to dawn on you. You might also see them on the move, snaking across the open plains, pausing to graze, and then continuing their journey.
Visiting the southern Serengeti at the start of the year, you'll encounter the herds with their young. Around 80,000 calves are born each year but, with hungry predators around, not all of them make it.
Watching a lion pride working together to catch their dinner can be bittersweet — just remember that enough of the young survive to maintain the migratory herds in their millions.
What about river crossings?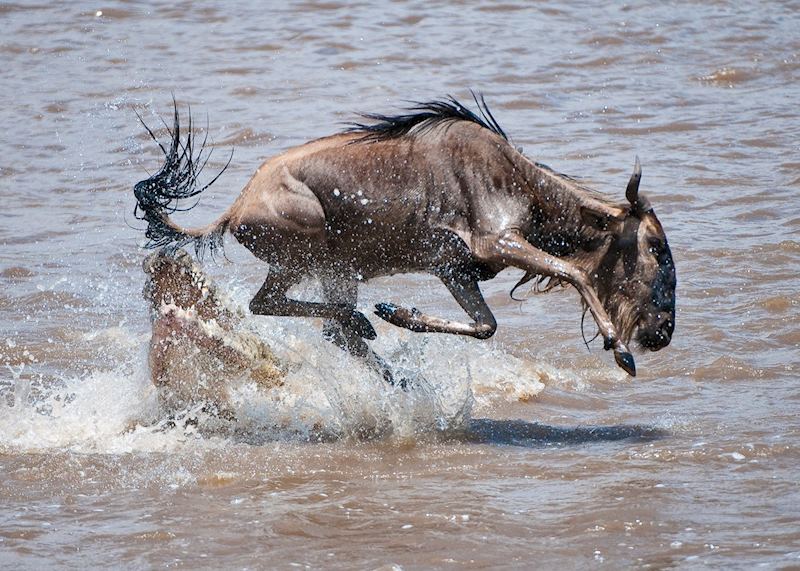 Many people dream of witnessing a river crossing. These occur roughly between mid-July and late-October, when the herds are forced to cross the Mara River between Kenya and Tanzania on their search for food.
It's a tense and confusing time — both for the animals and the observers. The river is awash with crocodiles lying in wait, and its often dangerously steep banks make it difficult for the animals to get out on the other side.
The wildebeest tend to gather in trepidation along the bank, waiting for the front runners to make a move. Sometimes, the move is involuntary as the wildebeest at the back move forwards, pushing those at the front into the river. Other times, it will look like the herd is going to cross, but then the animals change their mind and retreat.
When and if they finally do cross, there's an intense commotion. Dust is kicked up, grunts and alarm calls ring in the air, and you can hear splashing and thrashing as the wildebeest scramble through the water as quickly as possible. The crossing can completely exhaust them — much to the advantage of any predators waiting on the other side.
How likely am I to see a river crossing, and what advice can you give?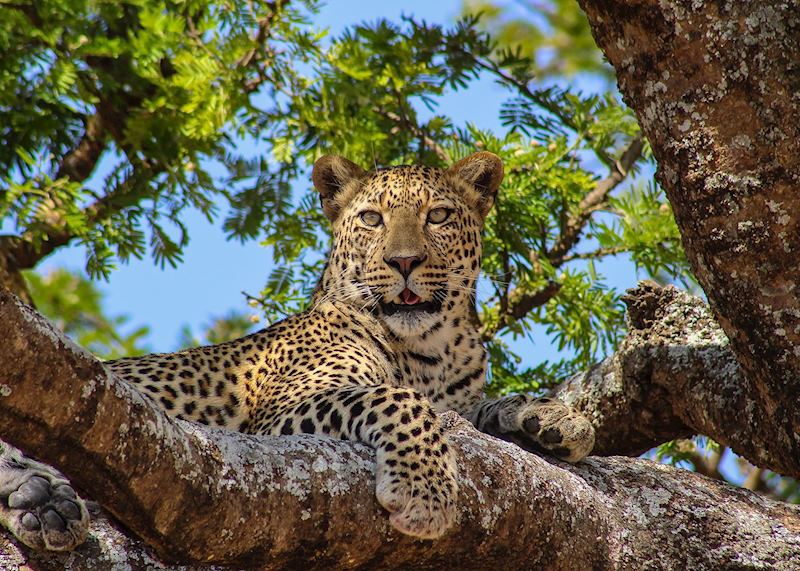 I have to stress that river crossings are incredibly unpredictable. Even if you travel during the right months, there's still only a 20-30% chance that you'll witness one, so it's important to set your expectations accordingly. It's also worth noting that this is a very popular time of year for visitors, and you're likely to be joined by other vehicles.
Guides are good at picking up on signs that animals are about to cross, and will communicate with each other to give you a heads-up on any potential activity.
But, the reality is that waiting for a river crossing usually requires bags of patience that doesn't always go rewarded. On one game drive, I'd been sitting for some time watching a herd that looked poised to cross. Then, something spooked them and they turned back. Even if they don't cross, though, you can still observe how they interact as a group.
There's so much more wildlife to see beside river crossings, it's not worth spending your whole time waiting for one. But, if you are set on trying to see a crossing, I recommend recruiting a private vehicle and guide to focus on your interests alone.
Where should I stay to make the most of the migration?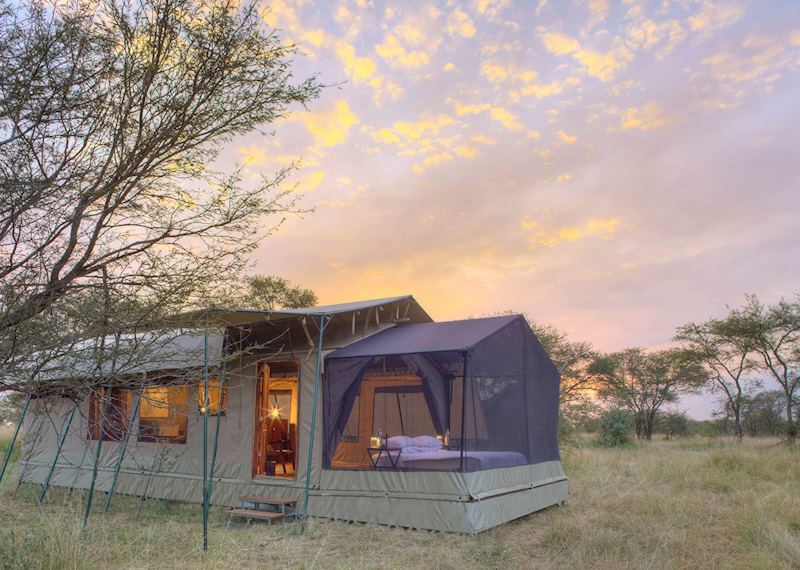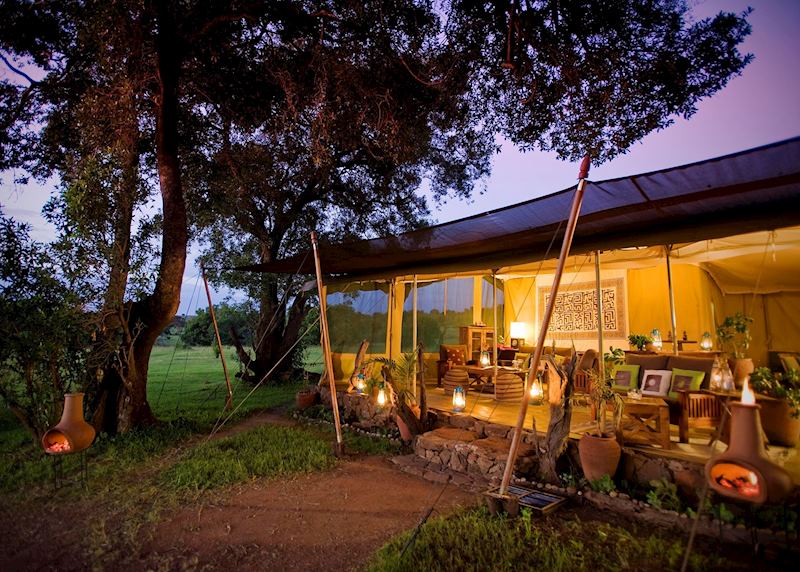 In Tanzania, I recommend staying in a mobile tented camp. These move around throughout the year, leaving no trace behind as they follow the migration and keeping pace with the heart of the action.
I like Olakira Mobile Camp, whose nine guest tents shift between two locations. From December to March, you stay in the southern Serengeti, close to wildebeest and zebra with their young (and the predators that follow). Then, from June to November, the camp moves north, sitting close to the Mara River.
In Kenya's Masai Mara, most camps are within easy reach of the Mara River. I'd stay in one of the private conservancies, where land is owned by the local Maasai. You'll see fewer vehicles here — you can only take game drives in a conservancy if you're staying in its camps. But, you can still venture into the main reserve, and wildlife is free to roam throughout.
A good option is Kicheche Mara Camp, in the Mara North Conservancy. The Mara River is an hour's game drive away, and the stream in front of camp attracts a variety of wildlife, which you can watch from your deck. You can also look out over the surrounding plains, which are swamped with grazing wildebeest and zebra between June and October.
When's the best time to see the Great Migration?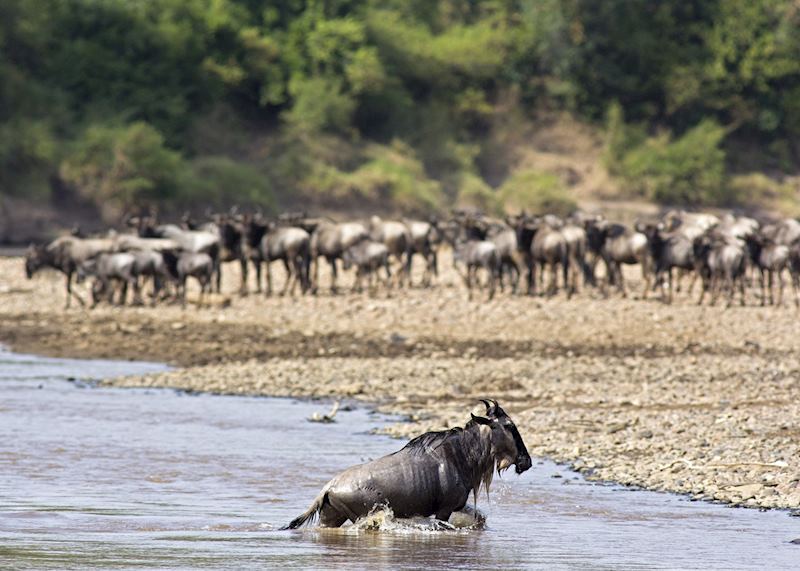 The migration never stops, so you'll always see something whichever time of year you travel. I like visiting outside the busiest months of July to October, when there are far fewer vehicles but there's still so much to see besides the herds.
In the Serengeti's vast open plains, you can often spot cheetah scanning the horizon from the tops of termite mounds. Game drives give you a chance to see other wildlife such as elephant, rhino, leopard and wild dog.
Great Migration calendar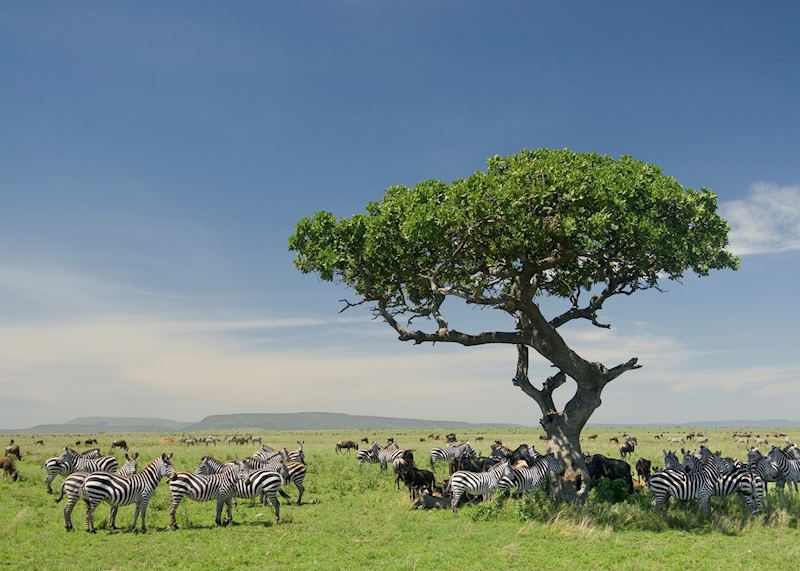 January to March: The herds give birth to their young in the southern plains of the Serengeti. Visit at this time and you'll see masses of them grazing with their calves. You're also likely to encounter predators such as lion, leopard, cheetah, hyena and wild dog, as they make the most of the rich pickings.
April to May: This is the only time I tend to avoid, due to the long rains. Herds are making their way north along the Serengeti's western corridor, so if you don't mind the wet weather you can still see large numbers on the move.
June: Rain is still a possibility at this time of year, as the herds continue north. You might see river crossings on a smaller scale along the banks of the Serengeti's Grumeti River.
July to October: This is the busiest time of year to visit, when the herds are crossing back and forth between the northern Serengeti and the Masai Mara. It offers your best chance to see river crossings, though they're never guaranteed. You also have a good chance of seeing predators stalking the weakest herd members.
November and December: Depending on the rains, the herds begin to wander south once more, having depleted the grasses in the Masai Mara. You'll see them on the move in the central Serengeti and the Ngorongoro Conservation Area.
What's your best Great Migration moment?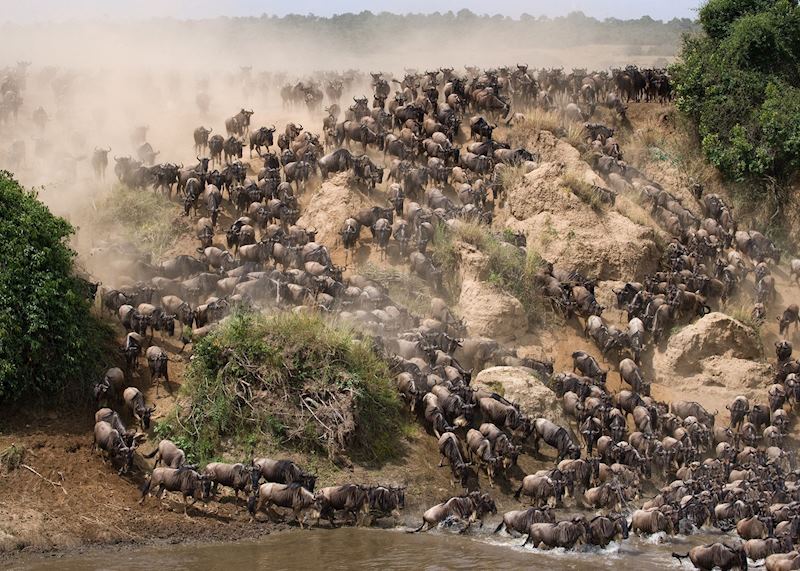 I've seen a river crossing and can vouch for the incredible energy that creates, but my most memorable experience happened in the southern Serengeti during December. I was staying in a mobile tented camp surrounded by plains scattered with wildebeest newly arrived from the north.
One evening, I was getting ready for bed in my tent when I felt the ground begin to shake, as if a minor earthquake had hit. Accompanying this was a low rumble that seemed to get louder by the second, and I could smell dust in the air.
Then my ears picked up on another sound — sharp, panicked grunts. I didn't dare leave my tent (it was pitch black outside anyway), but it sounded like hundreds of wildebeest were running right through camp.
It was only when I heard lion roars echoing in the distance that I put two and two together: a pursuing pride had chased the herd right past our tents. The roars seemed to go on all night. I've never felt so close to nature.