By Italy specialist Taylor
Tuscany is a region of green rolling hills, wineries with cypress trees lining the driveway, the terracotta rooftops of Siena, and Florence's Uffizi and Accademia galleries.
As I've come to know it better, I've found ways to experience Tuscany beyond the obvious sights. Not all art in Florence is found in grand galleries. You can get a feel of Tuscan architecture and ambiance in smaller, less frequented towns such as Lucca. You can also get to know Tuscany's countryside and its food heritage by going truffle hunting with a trained dog.
What to do in Florence

Once an independent city state, Tuscany's capital still retains its medieval street plan of sinuous, narrow alleys. Palazzos (palaces), churches and art museums house masterpieces from Florence's Renaissance zenith. Across the River Arno and at the fringes of the central area are livelier, modern residential districts, many of which have been revived and gentrified.
If you're planning on visiting the Uffizi or Accademia, the city's biggest galleries, go with a guide. They can help you negotiate the crowds and show you the main highlights — notably Michelangelo's David, said to be anatomically perfect.
But Florence has more art venues than you think. Many of the city's churches are worth visiting for their paintings. I'd also recommend a trip to some smaller art museums, especially the Bargello.
See eclectic sculptures in the Bargello Museum

Tucked away down a side street, this museum's notched roofline seems to mimic the larger, showier Palazzo Vecchio nearby. A formidable-looking building, it was once the headquarters of Florence's chief of police (bargello) under the Medicis, the political dynasty who ruled the Florentine Republic from the mid 1400s to 1737. The Bargello's collections now mainly revolve around statues and sculptures transferred here from the Uffizi in the 19th century.
Stepping off the street into the Bargello's open courtyard is a bit like entering a sanctuary: it's instantly quieter. It's unlikely you'll need to wait in line to enter this museum. Inside, you can explore the collections at your own pace with an audio guide.
Pieces by Michelangelo are exhibited here, including Brutus. Made in 1538, it's the only bust the artist ever created. It's a great example of an artist responding to current affairs and the political climate of the time: Michelangelo is thought to be drawing a comparison between Julius Caesar's notorious assassin and his patrons, the Medicis. Lorenzino de' Medici had assassinated his cousin Alessandro de' Medici (Florence's then ruler) in 1537, claiming it was for the public good.
You'll also discover Florence's 'other' Davids, almost life-size bronze statues by Donatello, plus the earliest known portrait of Dante. You'll find the piece that originally won Ghiberti the commission for the sculpted bronze doors of Florence's Duomo's baptistery. It's a bronze relief depicting the biblical story of Abraham sacrificing Isaac, now sitting side by side with Brunelleschi's rejected entry. Ghiberti's version was judged to be more lyrical.
Explore the statues of Orsanmichele

This rectangular edifice of brick and stone is easy to pass by without understanding its significance. It's a curious building that was erected on the site of the kitchen garden (orto) of the San Michele Monastery (which no longer exists). It was first used as a grain market, then a church. It's difficult to tell its religious significance from the outside, but inside you'll find a tabernacle with stained glass in jewel-like shades. There's also a painting of the Madonna by Daddi that's believed to have performed miracles, including saving worshipers from plague.
Most striking are the sculptures standing in the niches around the building (the originals are kept on Orsanmichele's second floor). They each represent a patron saint of the city's different arti (craft guilds). The guilds sought to outdo one another and commission more ambitious statues, from Ghiberti's life-size John the Baptist for the cloth importers to Donatello's poised St George for the arms makers. They're a monument to the feverish commerce and one-upmanship in the 13th-century heyday of the arti.
What to do in Siena
Our expert tips for visiting the Leaning Tower of Pisa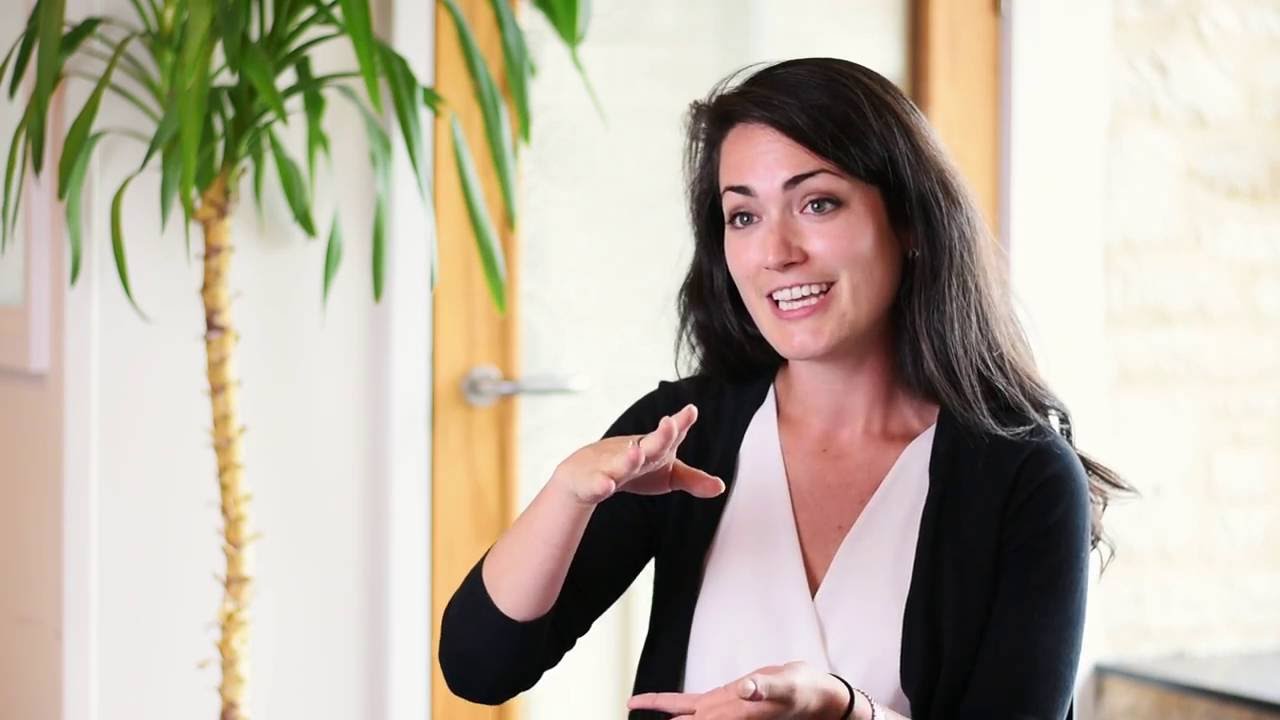 Highlights of Tuscany
See the highlights of Tuscany.
Lose yourself in Lucca

A 30-minute journey north of Pisa by car brings you to the town of Lucca, rising out of a plateau. It's encircled by intact ramparts originally built by the Romans in 2 BC; you're still able to walk on them today.
A guide is useful for helping you get your bearings, but I think Lucca is best experienced by just wandering around, following your whims. It's a compact maze of Gothic palazzos and cobbled, medieval-era alleyways opening out unexpectedly into piazzas. The most striking one, the Piazza dell'Anfiteatro, is a circular shape, built on the remains of a Roman auditorium. You'll stumble constantly upon churches or small squares full of locals enjoying aperitivi (pre-dinner drinks).
One church, San Michele in Foro, particularly intrigued me for one novelty inside. A statue of the Archangel Michael crowns the top of a tall Romanesque façade, and my guide pointed out some steps leading up to it. They were used to operate the mechanism that made Michael's wings 'flap'.
In addition to being a destination in its own right, Lucca is a good place to stay when you're exploring the area. It's a little over an hour drive to various points of interest around the region: the villages of the Cinque Terre, the Garfagnana Valley and the Grotta del Vento (Cave of the Wind), or the city of Pontremoli.
Ancient stelae and Baroque palaces in Pontremoli

Tucked into green hills at the junction of the Magra and Verde rivers, Pontremoli was once a vital hub of trade in Tuscany as well as a waypoint for pilgrims. Its strategic position and successful merchants left the town with a legacy of stone-paved roads, piazzas and palaces, and an 11th-century castle.
The castle is a low Gothic hulk that sits, brooding, at the top of a hill. Once it was pivotal in the defense of all of Tuscany, but now it houses a collection of pre-Etruscan stelae, standing stones that depict stylized human figures and are thought to be more than 5,000 years old.
The city is also home to several Baroque palaces, which are privately held and not usually open to the public. On a recent visit, I took a private tour of these palazzos. My guide unlocked the door to one of the palaces with a huge, old-fashioned metal key and ushered me into the hushed interior. It was a singular experience to walk alone up the grand staircases and under crystal chandeliers. Without crowds, I could linger as long as I liked to admire the frescoes painted on the walls in the empty high-ceilinged rooms.
At the foot of the castle, you can eat lunch prepared by a couple devoted to the Slow Food movement. Sitting amid a garden full of fragrant herbs, vegetables and young grapevines, I ate a locally grown meal of pesto and pasta. I also got to try chestnut bread that they cooked on a wide metal pan over an open fire. Resembling a giant, dense pancake, it had an earthy nutty taste and was served on green chestnut leaves.
Climb an old fortress in San Gimignano

Ringed by a wall, the small hilltop town of San Gimignano announces its presence through a number of brick and stone towers rising above a patchwork of fields, olive groves and vineyards. It's a view that has barely altered since the 12th century, when pilgrims would stop off there en route to Rome. At that time, the towers were status symbols, signifying a family's wealth. They also served a security purpose, acting as a sort of medieval panic room if the town ever came under attack.
Today, San Gimignano is a well-preserved enclave to amble around for an afternoon: you'll come across piazzas with crumbling stone wells, gourmet food shops, and gelaterías. Most visitors ascend the 218 steps of the one tower open to the public, the Torre Grossa. My advice is to bypass this long, hot hike and walk behind the town's Duomo up to the area known as the Rocca de Montestaffoli.
Here, you enter a quiet green space with a scattering of flower beds. You're up on a raised ridge, in the skeleton of a fortress that once belonged to a bishop. If you climb the 30 or so steps of one of the fort's ruined towers, you'll get what for me is the best view over San Gimignano: walls draped in banks of wisteria and the Torre Grossa in the foreground, with the vine-covered hillsides of the surrounding countryside beyond.
What to eat in Tuscany
For me, at least, Tuscany's cuisine is one of its primary attractions. The rich land and bountiful sun together produce some of the most prized produce in all of Europe, including olive oil, truffles, pasta and cheese. Local culinary tradition usually prepares the food very simply (but meticulously), letting that quality shine through.
A good example is the bistecca alla fiorentina (beefsteak Florentine). At first blush, it seems like just a simple T-bone steak cooked over a wood fire. But details matter in Tuscany and a local chef can speak at length about the preparation. First there's choosing the right cut. How many fingers thick? And where exactly on the loin should it come from? Of course, it must be from a Chianina (a specific local breed) but should it be a heifer or a calf? And then there's the issue of the fire. Which hardwood is best? How much ash should be on the logs?
It all seemed a bit excessive, until I took my first bite. Then I appreciated all the attention to detail.
Go truffle hunting and enjoy a gourmet lunch

An hour's car ride from Florence, the deciduous woodland near the village of Palaia offers particularly rich pickings. Some of the region's best black truffles grow here, under a mass of bracken, foliage and tangled undergrowth. In Italy, you can hunt for truffles anywhere as long as it doesn't involve passing through a gate into private property.
You can go for walks in these woods with a local truffle expert, Lucca, and his dog, Bilba. She's been specially trained to sniff out truffles in the earth.
On my visit, I was unsure at first whether we'd strike lucky. But a little way into the trees, Bilba started running in circles. Suddenly, she began to dig. Lucca pulled her away just in time before her claws damaged the gnarly black truffle she was unearthing. He explained that pigs were once used to hunt out truffles, but they inevitably ate them, so dogs had taken their place.
I eventually came back with five black truffles — not a bad haul. However, the rare white truffles — the real gold dust — remained elusive on this occasion.
After your truffle hunt, you'll return to the village to explore the Savini family's showroom, located on the same site as their small-scale factory. Here, they make all kinds of delicacies, fine foods and condiments using truffles, including truffle oils, honeys, pestos and salts. As soon as you enter the buildings, the pungent, wet-earth scent of truffles rushes into your nose.
The Savini have been harvesting truffles in this area since the 1920s. In their showroom, you can see photographs and press clippings documenting how their business has grown over the years, as well as a photo of the most expensive truffle ever found.
Lunch, as you might expect, is entirely truffle-themed. It's held in a dining room just off the showroom. Truffles are shaved into or used in every course, from antipasti of truffle-cured salami to delicate nut-and-truffle ice-cream served for dessert.
Cheesemaking outside Pienza
Green and growing in the summer, and misty and golden in the autumn, Val d'Orcia seems to embody the agricultural spirit of Tuscany. The soil here is particularly rich, supporting a swathe of working farms growing everything from sunflowers to wheat. The region around the village of Pienza is known particularly for its excellent cheese, especially Pecorino di Pienza.
This is not the salty, nutty, bold Pecorino Romano that is so familiar around the world, but a milder local version made from sheep's milk using traditional methods and recipes. To get a glimpse into the nuances of the process, I suggest attending a cheesemaking demonstration at Podere il Casale.
For the past three decades, Ulisse and Sandra have worked the land here, raising sheep and making traditional cheese. You'll get a hands-on tour, from making the curds to pressing the final cheese, which is soft and pale.
As the cheese sets, you'll tour other areas of the farm and even get to meet the flock. Afterwards, you'll sit down to dine on lunch of vegetables, homemade pasta, and the cheese you just watched being made, as well as an extensive cheeseboard.
Best places to stay in Tuscany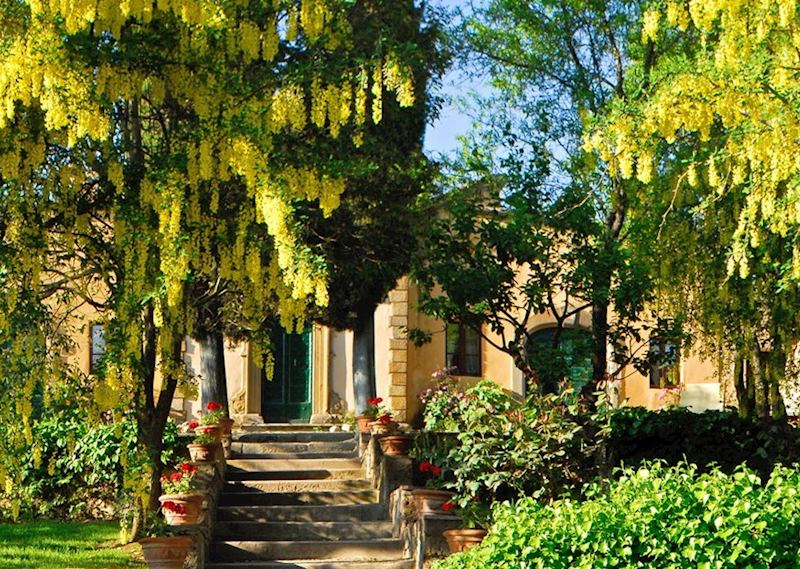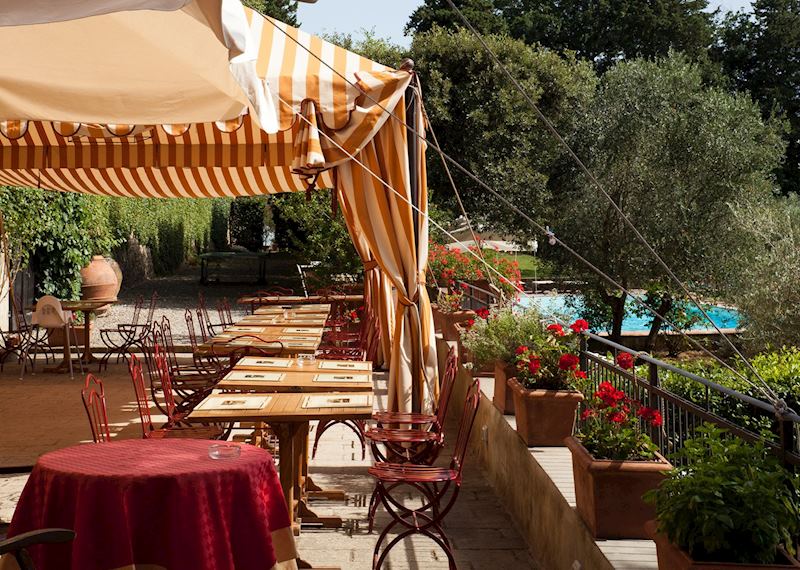 Florence makes a great base for exploring Tuscany, but it's also possible to stay in the countryside. My pick would be Il Falconiere, an elegant boutique hotel that began as a Michelin-star restaurant set in a 17th-century villa nestled among lemon trees. In addition to the ristorante, the hotel also boasts a small cooking school, a renowned vineyard and a luxe spa. The traditional Tuscan rooms overlook the gentle, sun-gilded hills and the nearby town of Cortona.
I also like Villa Il Poggiale. This warren-like hotel, formerly the home of a Tuscan nobleman, has great views across the surrounding vineyards.
Offering more flexibility and variety than staying at a vineyard, Siena also makes a convenient base for exploring Tuscany's wine country. From there, you can dip in and out of different vineyards across the nearby Chianti and Brunello di Montalcino regions and still have the option of returning to the city's many restaurants in the evening. It's also only an hour's drive from San Gimignano.
In the city, I'm particularly fond of staying at the Grand Hotel Continental, set in a converted 17th-century palazzo. The high ceilings and large windows give it an airy charm and it's located just steps from the central Piazza del Campo.
Best time to visit Tuscany
July, August and even early September can be unpleasantly hot in Tuscany, and the sights are often crowded with visitors. I suggest avoiding those months, especially August, when the whole of Italy seems to decamp to the coast and many restaurants are closed.
April and May offer comfortably warm temperatures and sunny skies, as well as fewer visitors, making them excellent months to visit. Things begin to open in March, when the weather is less certain but often sunny and there are even fewer visitors.
The heat and crowds begin to wane in late September and throughout October, when you can enjoy clear skies and warm temperatures. Harvest festivals abound during this time, as well.
November to March sees mixed weather and low numbers of visitors. Many of the hotels and sights close down, but it's a good time to visit if you're planning to enjoy indoor attractions like museums and galleries, and you can often get excellent prices at the hotels.
Start planning your trip to Tuscany

Start thinking about your experience. These itineraries are simply suggestions for how you could enjoy some of the same experiences as our specialists. They're just for inspiration, because your trip will be created around your particular tastes.
View All Tours in Tuscany
Further reading