By Japan specialist Katherine
Japan is a land of complete contrasts, and herein lies its appeal. It's a country where ultra-modern technology and deeply rooted traditions sit side by side. Here, Harijuku girls dressed in their Lolita-style lace trimmed outfits showcase their fashion on the streets of Tokyo, while the elusive Geisha scurry around the cobbled alleyways in Kyoto.
If you're looking to experience everything Japan has to offer in style, there are plenty of ways to add a little luxury to your trip — from a private Geisha experience to staying in a ryokan (inn) with your own hot spring bath.
Hiring a private guide for a specific interest

Using a guide isn't something I'd recommend throughout the whole of your trip to Japan as the country is a lot more accessible than first-time visitors often assume. Having said that, if you've a particular interest, having a guide on hand is an invaluable source of knowledge.
In Kyoto, I met up with a guide called Duncan and his wife, Izumi. Duncan has been guiding in the city for over 15 years and specializes in Geisha culture.
I spent an evening with him in the Gion district, the area where Geisha live and work, keen to catch a glimpse of these gracious ladies. As we ambled along quiet cobbled alleyways, Duncan explained the culture — and misconceptions — that surround the Geisha, down to what the delicate clips in their hair represent.

When I first caught sight of a Geisha I couldn't believe it. I'd spent a number of years in Japan studying, but was based in Tokyo where Geisha culture is almost non-existent. She was a Maiko, an apprentice Geisha, and she teetered along in her beautiful, but restrictive, kimono. She didn't make eye contact and continued about her daily routine.
Izumi is a specialist in textiles, and can take you to textile museums and needlework shops, where you can watch artisans practicing their skills.
Enjoy a private Geisha experience

Geisha are very well respected in Japan, and to hire one to serve and entertain you for the evening is considered a very exclusive thing to do.
Those who choose to become a Geisha dedicate their whole lives to this practice, attending school to learn how to dress in kimonos and apply their distinctive makeup, as well as gain skills in fine arts such as singing, dancing and playing traditional instruments.
As part of a private Geisha experience you're likely to be joined by a Maiko and Geiko (fully-fledged Geisha) who will perform these entertainments for you. It's common for such events to take place in restaurants that have strong ties with the Geisha community, where your Geisha will also serve your meal and drinks in her graceful and charming manner.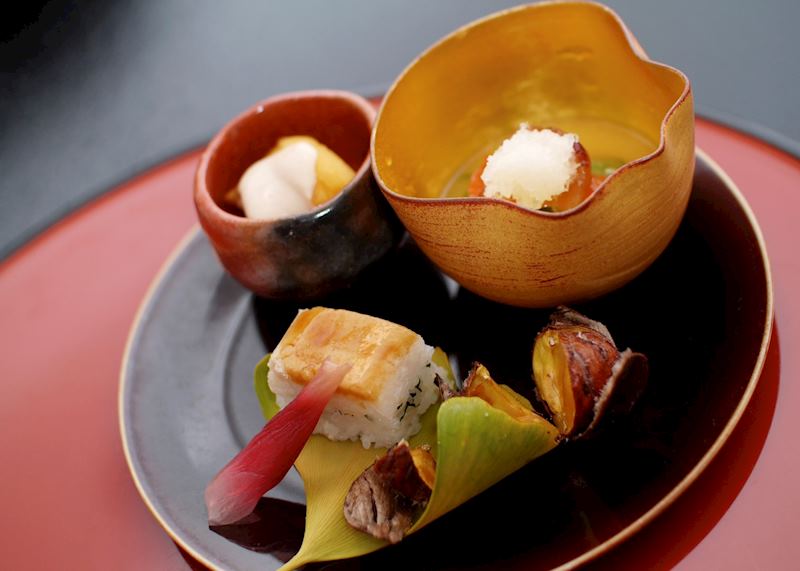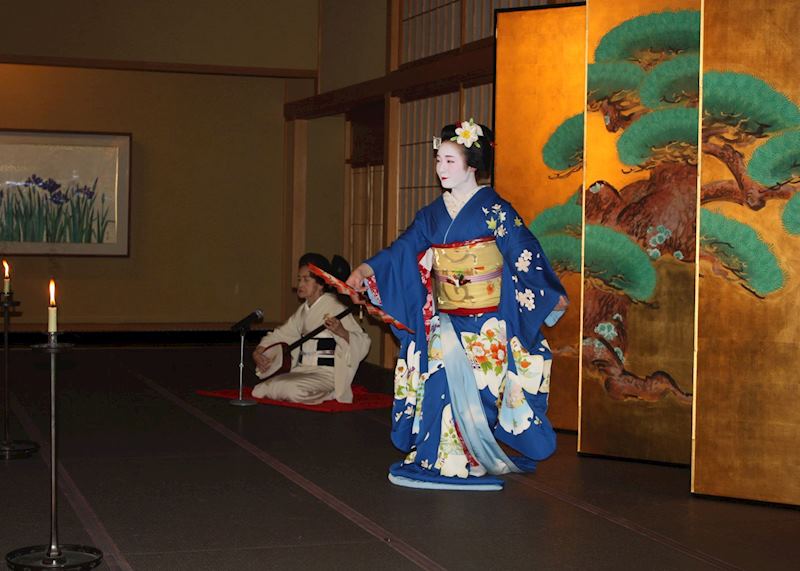 The Gion District has a great selection of restaurants to choose from, including a number of Michelin starred establishments. Food is usually kaiseki style — a multi course dinner of numerous fresh and delicately presented dishes often based on the seasons.
Courses can include cooked or raw fish dishes, a meat dish, a miso soup, as well as rice decorated with a momji (Japanese acer) leaf if your visit is in the autumn. In the spring, you may well see delicate cherry blossom leaves adorning your plate.
Take a helicopter flight over Tokyo

To see Tokyo's sprawling skyline at night with its flashing neon lights and high rises is a thrilling experience from the air on a 30-minute helicopter flight. You'll travel down the Sumida River and toward Rainbow Bridge, which crosses Tokyo Bay. At night, the bridge is lit up in technicolor.
Luxury accommodation in Japan
Staying in a ryokan

One way to combine Japanese heritage with a little luxury is to spend a few nights in a ryokan. This is a traditional inn, where the flooring is made of tatami (rice straw or bamboo and soft rush) matting, you sleep on futons and dine in your room from a small table on the floor. It is more comfortable than you might expect, and the service you receive is second to none.
The Hakone Ginyu in Hakone National Park is one of my favorite examples of a Japanese ryokan. The area is renowned for hot springs, which purportedly have healing properties, and a popular pastime in Japan is to bathe in the communal baths (onsens) fed by the thermal waters.
Men and women normally bathe in separate pools, but in Hakone Ginyu each room has its own private onsen. If your room is on the first floor, you'll be able to enjoy views of the surrounding mountains from your spa.
Dinner will be taken in your room by a kimono-clad maid who will serve you throughout your stay.
The national park itself is just one and a half hours by train from Tokyo and on a clear day you may be lucky enough to catch a glimpse of the resident Mount Fuji, although she is notoriously shy and often shrouded in cloud.
Luxury hotels in and around Kyoto

An exclusive place to stay just outside Kyoto, and something of a hidden gem, is Hoshinoya Ryokan in Arashiyama. You travel along the Oi River by traditional Japanese boat and dock on a small wooden jetty, where attentive staff greet you with a bow.
When I visited it was the height of summer and I was handed a cooling drink of shaved ice and plum syrup as I stepped onto the dock. I followed a low humming sound to a pretty courtyard, where a man sat playing an instrument that resembled a pestle and mortar, swirling the 'pestle' around a bowl to create this enchanting sound.
This spacious retreat is just ten minutes away from Kyoto, and I would recommend spending a night here after a few days in the heart of the city. Arashiyama itself is known for its bamboo groves, which are pleasant to wander around.
In Kyoto, the Kanra Hotel provides a lovely mix of contemporary and traditional décor. Each room is amply sized in a city known for lack of space, and is fitted with a large cedar wood bath.
Luxury places to stay in Tokyo

Japan's capital is home to an endless selection of hotels, but my favorite is the Mandarin Oriental, a chain synonymous with luxury. The complex starts part-way up a very tall building, with each room providing fantastic views over the Tokyo cityscape. Despite having lived in Tokyo for a number of years, it wasn't until I stayed at the Mandarin Oriental that I was able to view it from this angle, through my floor to ceiling window.
The hotel also houses a number of fine dining options, including the Tapas Molecular Bar. This restaurant is as much about the theatrics as the food, and you can expect dishes created using liquid nitrogen.
Practicalities of booking a luxury trip to Japan
I've seen an almost unprecedented interest in Japan travel with both domestic and international tourists over the last couple of years. As such, you'll need to book well in advance.
The Hakone Ginyu needs to be booked at least six months in advance, and a number of Japan's most popular restaurants will offer specific booking windows, normally three, six or nine months in advance.
Start planning your luxury trip to Japan

Start thinking about your experience. These itineraries are simply suggestions for how you could enjoy some of the same experiences as our specialists. They're just for inspiration, because your trip will be created around your particular tastes.
View All Tours in Japan