The small, landlocked country of Laos is best visited between October and April, when the weather's warm and dry throughout.
River travel is best between November and January, when high water levels make passage easy along Laos' main waterway, the Mekong River. Visiting the Bolaven Plateau is also pleasant at this time of year.
Laos' geography plays a major part in shaping its climate, and cool temperatures can still be found in the highlands, which lie mainly in northern, eastern and central regions. The 'green season' falls between late May and October, when the rains return to the country. However, showers are usually short and sharp, having little impact on your exploration. At this time of year the country comes to life, with waterfalls beginning to flow once more and the lush scenery attracting a variety of wildlife.
Creating tailor-made tours for over 25 years

Excellent
TrustScore

4.7 | 3435 reviews

Month-by-month guide for traveling in Laos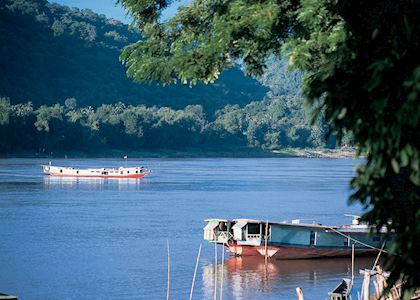 Visiting Laos in January
It's dry throughout the country in January, with comfortably warm temperatures, although it can get quite cold in the north of the country. It's therefore best to wrap up during river travel, early mornings and late evenings. River levels should be high, making this a good time to explore the country's waterways.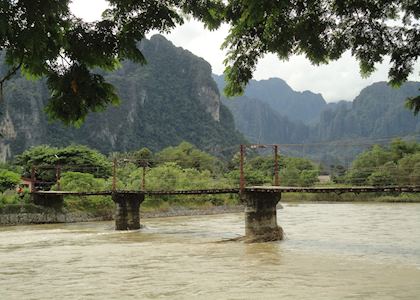 Visiting Laos in February
It remains dry throughout the country, with temperatures only rising a little and the north still getting quite cold during the early part of the month. River levels should still be good; however, damming by the Chinese has impacted water levels in recent years.
Events & Festivals
Boun Ma Kha Bu Saar/Full Moon Festival (February): This festival celebrates a speech given by Buddha. You can observe chanting and parades of worshipers bearing candles at local temples.
Wat Phou Festival: Taking part in processions, recitals, boat races and dances, Buddhists attend this three-day festival from across the province of Champasak.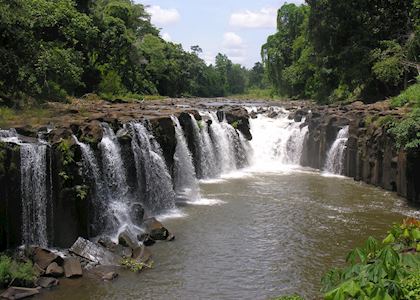 Visiting Laos in March
The dry season continues, with temperatures rising throughout the country to over 30°C in places; although cooler conditions can still be found in the highlands. Travel in the central and southern regions can be a little uncomfortable, and a top tip would be to combine southern Laos with the Bolaven Plateau, where the higher altitude gives respite from the hot climate. River levels will be getting low at this time of year, making river travel in the north difficult and somewhat unpleasant due to the haze created by the slash and burn season, which is in full swing.
Events & Festivals
Boun Koun Khao (March): An agricultural festival celebrated in rural villages and local temples at harvest time — a great opportunity to observe rural customs and traditions.
Boun Pha Vet (late March): Held over three days and three nights, this is a religious festival celebrating the penultimate incarnation of Buddha, with the story recited in temples across the country.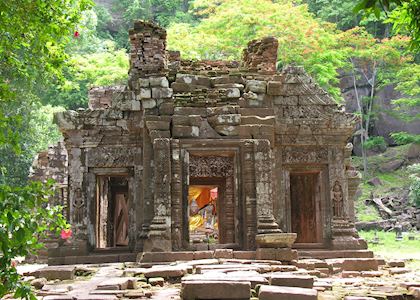 Visiting Laos in April
This is the last month of the dry season, although there is a slim chance of rain toward the end of the month. River levels will be at an annual low, meaning river travel may be difficult in some parts of the country. Temperatures will be at their highest throughout the country, reaching 36°C in the south, so travel may be uncomfortable. Slash and burn will also continue to impact the surroundings and smoke and haze will normally be seen in the major towns and countryside.
Events & Festivals
Boun Pi Mai/Lao New Year (April): A great time to visit as celebrations are held country-wide for several days. Be prepared to get wet as people are doused with scented water in the street as a cleansing ritual!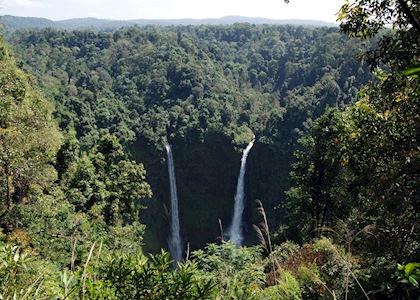 Visiting Laos in May
There is a chance of dry weather during the first half of the month; however, rain is expected and will almost certainly arrive by the latter stages. River levels will again remain low and the recent damming has made this worse. Slash and burn may continue in some parts of the country until the rains arrive. Hot and humid throughout.
Events & Festivals
Boun Bang Fai/Rocket Festival (May or June): A festival to mark the sixth month of the lunar calendar, used as a call for rain and a celebration of fertility. Home-made fireworks are launched by locals and entered into competitions.
Boun Visakhaboucha (May/the sixth full moon of the lunar calendar): Candlelight processions can be observed at temples as the birth, enlightenment and death of Buddha is commemorated.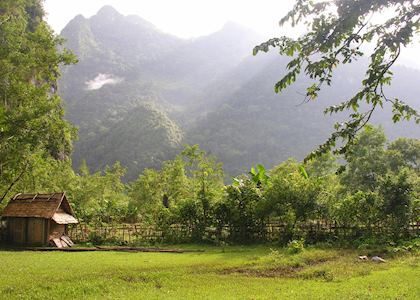 Visiting Laos in June
Rain will start to fall throughout most of the country; with the north seeing the least. The rain tends to be short-lived and plenty of sunshine can still be expected away from the south of the country. Temperatures hover around the high 80°Fs.
Events & Festivals
Boun Bang Fai/Rocket Festival (May or June): A festival to mark the sixth month of the lunar calendar, used as a call for rain and a celebration of fertility. Home-made fireworks are launched by locals and entered into competitions.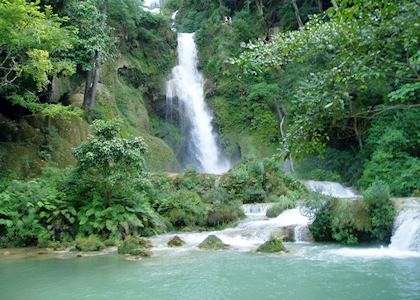 Visiting Laos in July
The wet season is now in full swing and temperatures continue to average around 86°F. It is not uncommon for temperatures to drop a little; with cooler temperatures found in the south (specifically the Bolaven Plateau). As it becomes wetter, lush green foliage begins to swathe the landscape in central Laos, while in the south, cascading waterfalls can be admired once more.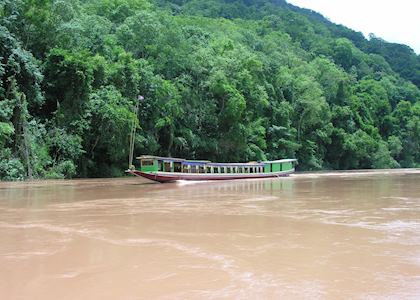 Visiting Laos in August
Rainfall reaches its peak in August as showers become longer and more intense, and little of the country will remain dry. River levels begin to fill up in time for the dry season approaching, and Laos' beautiful landscapes return. During this time, travel to remote areas can be somewhat difficult. Temperatures drop to the 20°Cs throughout the country.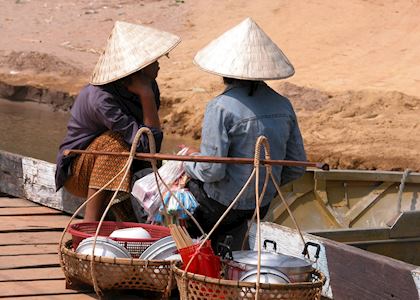 Visiting Laos in September
Rainfall continues to peak all over the country, and travel to remote areas can still be troublesome. However, toward the end of the month the sun will start to make an appearance, and combined with the waterfalls and leafy landscape helps to make this one of the most attractive times to visit for those seeking stunning natural scenery.
Events & Festivals
Boun Khao Padabdin/Rice and Boat Racing Festival: To commemorate the dead, locals make food offerings to monks and deceased relatives. Hand-made boats are then raced on the Mekong River in homage to water divinities and the Nagas. You can experience this festival in Luang Prabang.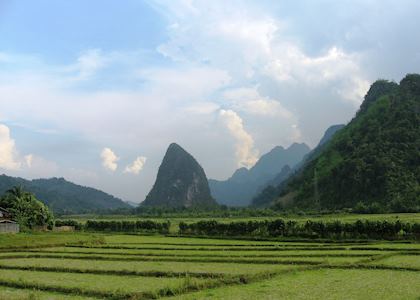 Visiting Laos in October
The drier weather returns, but some rain may still make an appearance. On the whole, temperatures are cooler at this time of year but not uncomfortable, hovering around the high 20°Cs to low 20°Cs. This is an excellent time to visit as you will beat the crowds yet still enjoy fair weather and the fresh green landscapes created by the wet season.
Events & Festivals
Boun Ok Phansa/Boat Racing Festival (ten days leading up to October's full moon): Celebrated at the end of the rainy season, elaborate boats are raced along the Mekong River and various festivities take place on the riverbank in honor of the Naga king. Enjoy this festival in Vientiane.
Naga Rocket Festival — Bolikhamxay Province (October): Held on the last night of the Lao Buddhist Lent, small multi-colored fireballs can be seen on the water where the Nam Ngum and Mekong River meet in Bolikhamxay.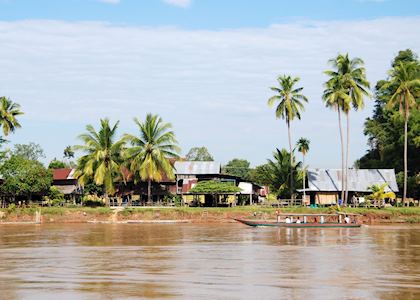 Visiting Laos in November
Dry conditions are seen throughout the country, and this is the peak season for river travel, with river levels at their highest. Temperatures will be comfortable at around the high 20°Cs to low 20°Cs, and flora and fauna are in abundance.
Events & Festivals
That Luang Festival and Trade Fair in Vientiane (November): A three-day religious festival where tens of thousands of monks and pilgrims gather at the That Luang or Grand Stupa, which is an important symbol of Laos, bearing wax candles.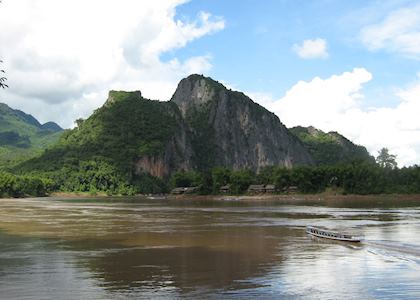 Visiting Laos in December
December offers a similar outlook to November, with dry, warm weather and ideal river cruising conditions. Toward the end of the month temperatures can drop in the northern parts of the country.
Laos Climate Guide
Destination
Jan
Feb
Mar
Apr
May
Jun
Jul
Aug
Sep
Oct
Nov
Dec
Champasak

31°C

0mm

34°C

8mm

34°C

28mm

35°C

67mm

33°C

241mm

31°C

222mm

30°C

546mm

30°C

464mm

30°C

391mm

31°C

110mm

31°C

22mm

30°C

4mm

Luang Prabang

27°C

15mm

31°C

20mm

33°C

34mm

34°C

100mm

34°C

162mm

33°C

176mm

31°C

253mm

31°C

312mm

32°C

178mm

31°C

79mm

29°C

28mm

27°C

14mm

Nong Khiaw

25°C

8mm

28°C

27mm

30°C

35mm

32°C

96mm

32°C

174mm

31°C

232mm

30°C

350mm

30°C

365mm

30°C

141mm

29°C

61mm

27°C

23mm

25°C

16mm

Vang Vieng

28°C

9mm

30°C

19mm

32°C

51mm

34°C

166mm

33°C

348mm

32°C

444mm

31°C

815mm

31°C

663mm

31°C

483mm

31°C

116mm

29°C

44mm

27°C

22mm

Vientiane

28°C

6mm

30°C

16mm

33°C

32mm

34°C

83mm

32°C

236mm

31°C

265mm

31°C

255mm

30°C

339mm

30°C

306mm

30°C

83mm

30°C

11mm

28°C

3mm
Why travel with Audley?
100% tailor-made tours
Fully protected travel
Established for over 25 years
98% of our clients would recommend us Travel advice
Practical tips for traveling to Laos, from social protocols to guidance on money matters, with a link to the latest Government of Canada travel advice.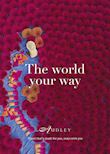 Request our brochure
Covering all seven continents, The world your way shows you how you can see the world with us. It features trip ideas from our specialists alongside hand-picked stays and experiences, and introduces our approach to creating meaningful travel experiences.
Trip ideas and travel guides for exploring Laos