Realistically the only aspect of travel to New Zealand which is not family-friendly is the long flight, but even this can be broken up with interesting stopovers. Once you have arrived, you will find New Zealand an ideal destination for a family vacation.
With a huge variety of experiences available year-round, there is always something to keep younger travelers entertained, whether this be wildlife spotting, 4x4 trips, walking, kayaking, Māori cultural shows, aquariums and interactive museums or boat trips. There is also a wonderful variety of family-friendly accommodations with excellent facilities available.
Clean and safe, New Zealand is also a stress-free destination. Apart from a few pesky sandflies there are no creatures to worry about and no malaria. Endless stretches of pristine beach and countryside allow you to spend as much time outdoors as you like enjoying the sea or mountain air.
The food is excellent and restaurants cater very well to children, and the general Kiwi way of life means kids are welcome to join in with almost any activity.
Recommended family accommodations in New Zealand
To help you survive the long flight to New Zealand with your sanity intact, I recommend booking an extra seat for infants, even if you're planning to have them on your lap.
Don't hesitate to break your journey. For example, I like stopping in Singapore for a night and staying in a hotel with a pool.
Don't overcomplicate your itinerary. Many people see New Zealand in a series of two- or three-night stops, whizzing around, trying to take in as much of the country as possible. However, with children, I recommend staying in one place for longer and cutting down on your driving time.
Don't feel the need to tick off both islands. I've found the North Island is particularly well suited to children, plus you have access to beaches no matter where you are.
New Zealand lends itself to activity-packed trips, but make sure to build in downtime: your family will thank you for it.
In my experience, guided tours lasting longer than 45 minutes are better for older children, whereas younger ones tend to get restless.
If you're driving, choose a spacious rental car — not necessarily a 4x4, but one that's big enough to carry all your suitcases while giving your family lots of room.
Family activity ideas in New Zealand
Auckland and the Bay of Islands, North Island

New Zealand's largest city is surprisingly child-friendly. My children loved ascending the Sky Tower, the silvery needle that lords it over Auckland's cityscape, and standing on its glass platforms looking down at the hubbub below.
I also recommend taking the 25-minute ferry to Rangitoto Island, a small landmass punctured by a symmetrical volcanic cone. You can take easy, scenic walks through its lava fields and native pohutukawa forest.
The Bay of Islands, three-and-a-half-hours' drive north of Auckland, is a hub for water sports, which can be adapted to children of differing ages. My children also loved the Māori cultural performance at the Waitangi Treaty Grounds: they were entranced by the passionate haka and the use of spears.
The Coromandel Peninsula, North Island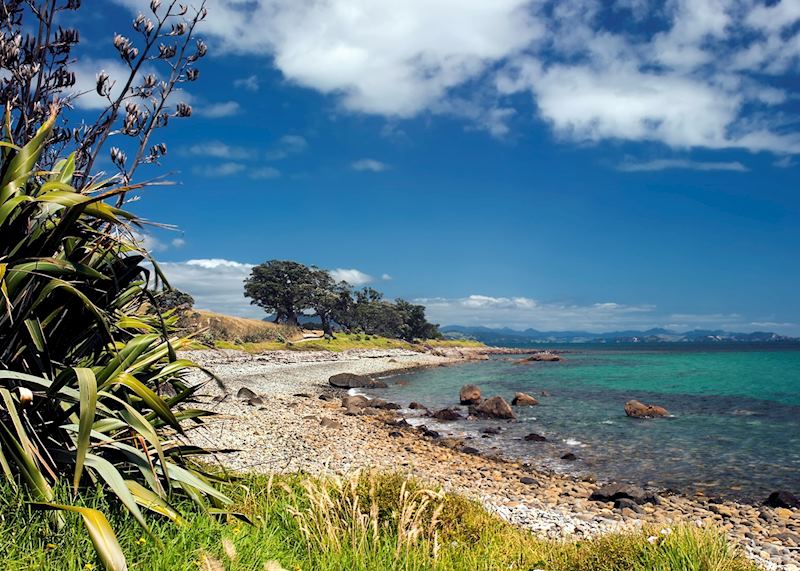 A densely forested, beach-rimmed haven that feels blissfully cut off from the rest of New Zealand, (despite being only a three-hour drive from Auckland) the Coromandel is ideal for children who love a bit of sea and sand.
Yes, there are the landmark beaches of Cathedral Cove, with its immense hollow rock formation, and Hot Water Beach, where you have the novelty of burrowing a spade into the sand and digging out your own thermal bath. But, stray a little farther along the coastline and you'll find plenty of tucked-away beaches that are much quieter.
Rotorua and Lake Taupo, North Island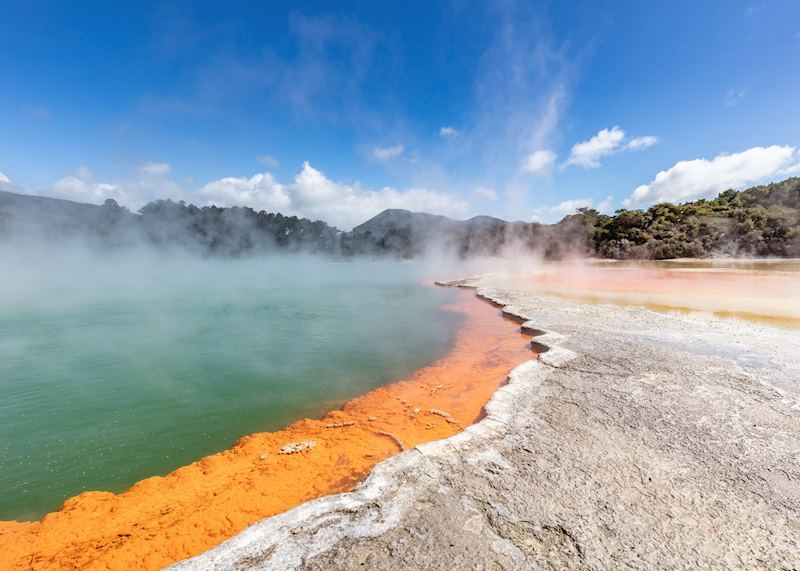 Belching and squelching mud pools in surreally bright hues of green and blue, geysers and fumaroles billowing and frothing… children are often enthralled by the spectacle of Rotorua's geothermal curiosities.
I'd take them to experience it all at Waimangu Volcanic Valley, where you can explore via a series of boardwalks. Try walking to Inferno Crater Lake, which is ringed with a champagne shade of silica terracing. Its water is sometimes such a neon turquoise you can't help but blink on seeing it.
Another regional highlight is Rotorua's Rainbow Springs Nature Park. Aside from the chance to see New Zealand's headline animal in the kiwi sanctuary, there's also a child-pleasing flume ride, the Big Splash. Older children can go behind the scenes of the sanctuary to watch the creatures being weighed and measured.
Lake Taupo, an hour's drive south of Rotorua, has something called the Spa Thermal Park. A series of naturally heated bathing pools, it makes for a pleasant morning or afternoon.
The best section for families is the safe Otumuheke Stream. It has been set up with changing rooms and boardwalks leading down to natural rock pools. Dipping in these pools is like wading in a luxuriantly warm bath, and you can even stand under a small waterfall. The stream's water, which runs into the Waikato River, is bottle-green and crystal clear.
As you wade farther out, the water meets the snowmelt coming from Tongariro National Park: the sudden change in temperature is a bit of a shock, but somehow invigorating.
From the park, you can also walk a short trail to view the white torrent of nearby Huka Falls.
Tongariro National Park, North Island
Lake Taupo is about a 90-minute drive from Tongariro National Park, the volcano-spiked heart of North Island.
The park's cindery cones host a much-loved walking trail, the Tongariro Alpine Crossing, but at six hours' walking time (minimum) and with plenty of shingly, steep ascents and descents, it's too much for most children. The park is criss-crossed with plenty of more manageable walks, though, all of which are well signposted.
We liked the short track leading to rocky Tawhai Falls, which starred as the 'Forbidden Pool' in a scene from Peter Jackson's The Lord of the Rings: The Two Towers. Sadly, when we visited, there was no Gollum warbling away to himself as he caught a fish.
Wellington, North Island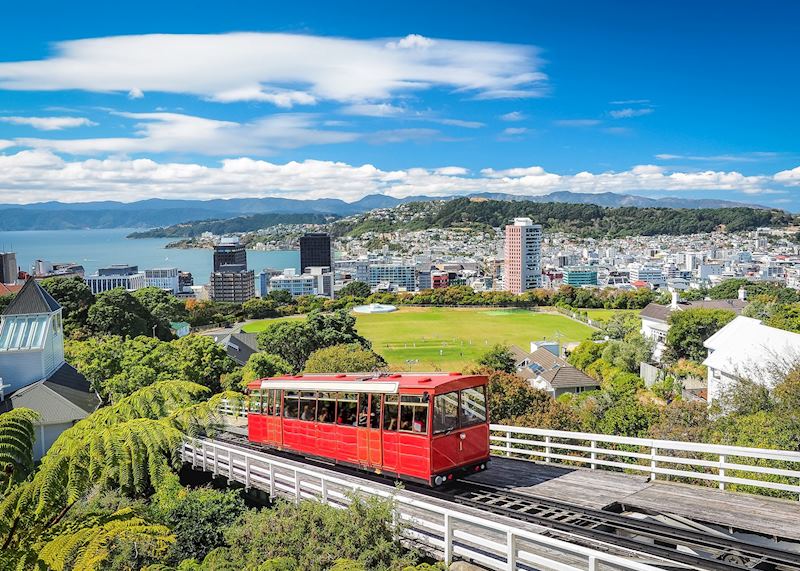 There's one main reason families should call in to New Zealand's capital, and that's to visit the country's national museum, Te Papa Tongarewa. It's a multi-story, waterfront structure that celebrates and documents all the different aspects of New Zealand's culture and national history.
There's a glow-worm grotto, an earthquake simulator, a preserved colossal squid (the biggest ever caught), a treehouse and a Māori meeting house. It's an airy museum that very much encourages a hands-on approach, and there's lots of indoor and outdoor space for children to run around in.
Older children might enjoy going behind the scenes of the museum's Māori archives to get a close-up view of real Māori cloaks and weaponry. You can find out more about this tour in our guide to experiencing New Zealand through Māori eyes.
Abel Tasman National Park, South Island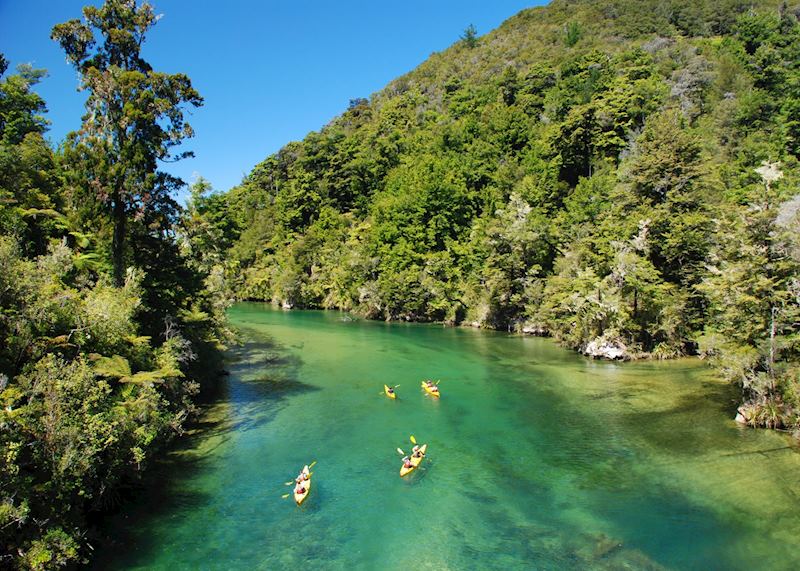 Granite cliffs, limestone hills, forests of nikau palms and rata trees and huge, elephantine ferns… the Abel Tasman is a wilderness, but it's also quite a manageable one. It's New Zealand's smallest national park, and easily accessible from Nelson.
There are several short walking tracks leading over the soft, dun-shaded beaches, with routes leading to coves and waterfalls. There's also good sea kayaking here: keep an eye out for fur seals.
Boats, of any kind…

If your children are anything like mine, they love a boat trip. If you're in the South Island and planning to see Milford Sound, don't hesitate to try the three-hour cruise of the sound. There's enough that keeps children's attention: you'll see sea lions lolling on rocks and have close-up views of the waterfalls that plummet down the walls of New Zealand's best-known fjord.
At Aoraki/Mount Cook, you can also take a boat trip to the snout of the Tasman glacier, navigating icebergs as you go.
Jet boating is available in several places in New Zealand, and it provides a great adrenaline-fuelled activity for children aged seven and up. In the South Island, the Dart River jet boat is one of the best. It takes you from Queenstown across shallow braided rivers to the settlement of Glenorchy. You can opt to return via funyak (an inflatable, easy-to-paddle kayak).
In the North Island, you can jet-boat between Taupo and Rotorua to see silica terraces.
Cycling
Bicycle rental is available almost everywhere in New Zealand. There are lots of good family cycling options around Queenstown — I'm thinking particularly of the path that wraps around S-shaped Lake Wakatipu. In the Coromandel Peninsula, there's the Hauraki Rail Trail, a very flat route taking you through a gorge, gold mining towns, and wetlands.
Where to stay in New Zealand with your family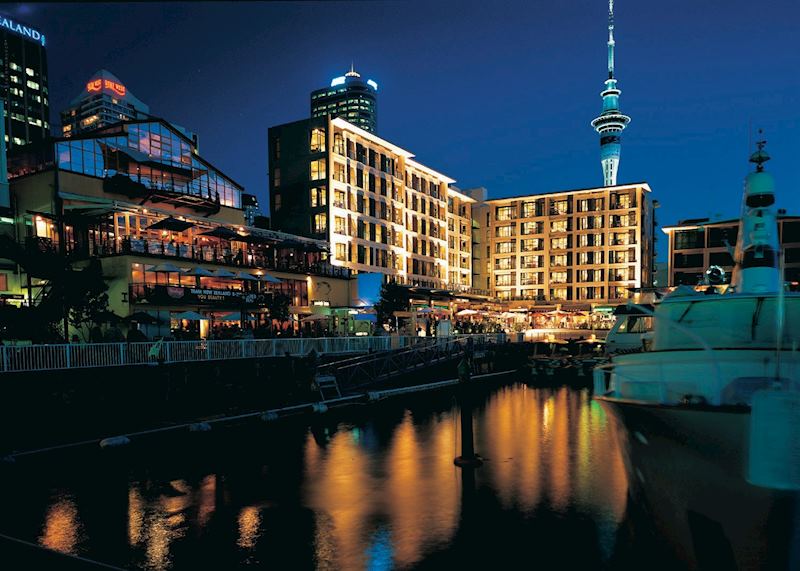 Apartment hotels are the best choice for families because they give children a space to play in and generally let off steam (I recommend packing a few toys for young children as well, as they can tend to get homesick). Once they're in bed, that living area is ideal for parents. There are options all over New Zealand, from the Rees in Queenstown to the Sebel Suites in Auckland.
Alternatively, you could try staying in a campervan. They're handy in that you don't have to unpack constantly, but you're also relying on the weather: you want to be able to sit outdoors once the children are in bed. December is the optimum time to rent one, as you'll have warmer temperatures.
You can find out more about the whys and wherefores of this style of travel in my all-you-need-to-know guide to campervanning in New Zealand.
Best time to visit New Zealand with your family
It's busy, and it doesn't always fully overlap with school breaks. But, New Zealand's Christmas period brings with it the warmest, sunniest weather: ideal if you're a family planning on lots of beach time or outdoor activities.
New Zealand family vacation ideas

Start thinking about your experience. These itineraries are simply suggestions for how you could enjoy some of the same experiences as our specialists. They're just for inspiration, because your trip will be created around your particular tastes.
View All Tours in New Zealand