New Zealand's star shows no signs of being on the wane. More visitors than ever are heading to Aotearoa ('Land of the Long White Cloud') to experience its natural and cultural marvels, from Milford Sound to Māori heritage. However, more visitors equals more crowds.
For a more leisurely and intimate vacation in New Zealand, consider the alternatives to the headline activities and destinations. We've made a point of seeking out elusive, more private experiences, whether it's taking on an oft-overlooked walking track, embarking on one-on-one tours with private guides and experts, or simply choosing to focus your time in a region or town that receives far less footfall.
It's possible to incorporate all the ideas our specialists have suggested below into a three-week trip.
Kiwi-spotting, part 1: Rotorua, North Island
By Holly
While hopeful of seeing a kiwi, most visitors to New Zealand are also realistic about their chances of observing one in the wild (which is virtually zero on the mainland: they're endangered).
It's possible to see kiwi in nature parks and zoos throughout the country, but more authentic experiences do exist. I'm a fan of the night tours at Wellington's Zealandia, a predator-free wildlife sanctuary that has nurtured a particular species called little spotted kiwis.
You can go behind the protective glass when you take a private tour of the kiwi hatchery at Rotorua's Rainbow Springs Nature Park. This one-on-one experience allows you to stand next to conservation professionals working at close quarters, weighing and measuring the birds and their eggs. The luckiest visitors see a kiwi chick hatch.
Behind the scenes at Te Papa, Wellington, North Island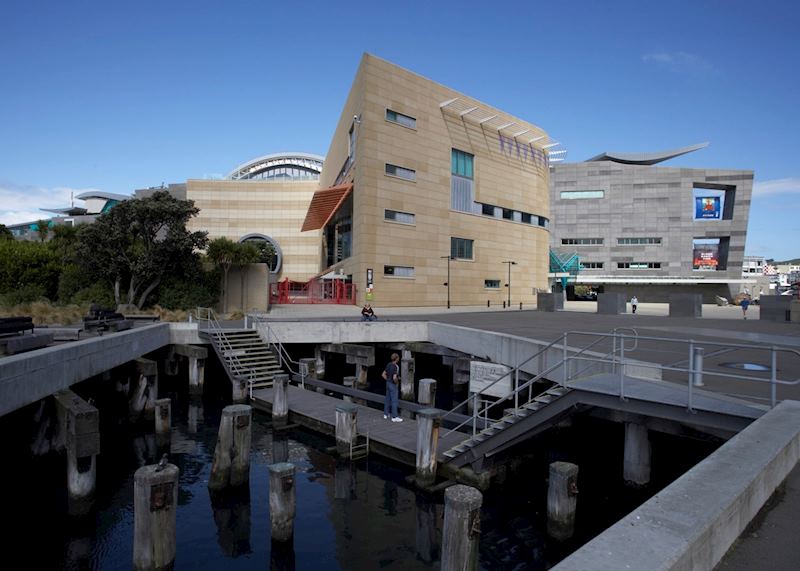 By James
The national museum, Te Papa Tongarewa (approximately meaning 'Our container of treasures' in Māori) is a slightly futuristic-looking conglomeration of stone, steel and multi-hued panels. It sits in pride of place on Wellington's waterfront.
Spread over its six levels are interactive exhibitions celebrating and explaining New Zealand's history, geology, nature, and both Māori and Pakeha (European) cultures. You could spend days on exhibits such as the earthquake simulator, or the colossal squid suspended eerily in an inky 6 m (20 ft) long tank. But if you really want to delve into New Zealand's secret archives, I recommend taking a backstage tour: around 95% of Te Papa's collections are not on display, including the most sacred Māori relics.
Lisa, the Māori collections manager, took me behind the public galleries into a vast room filled with what looked like row after row of filing cabinets. The air suddenly felt much cooler: 'to protect all the wood,' she explained. Then she began pulling items out of cabinets and holding them out for me to examine.
I saw the raggedy Union Jack that flew at the signing of the Treaty of Waitangi in 1840 then several types of kakahu (chiefs' cloaks) and a taiaha, a chief's spear with a carved wooden handle. Lisa demonstrated how this weapon would have been commonly used in hand-to-hand combat, the ring of feathers around the handle soaking up the blood. I also saw a mere pounamu, a thrusting weapon made out of polished, flecked greenstone (jade).
Exploring the Marlborough Sounds, South Island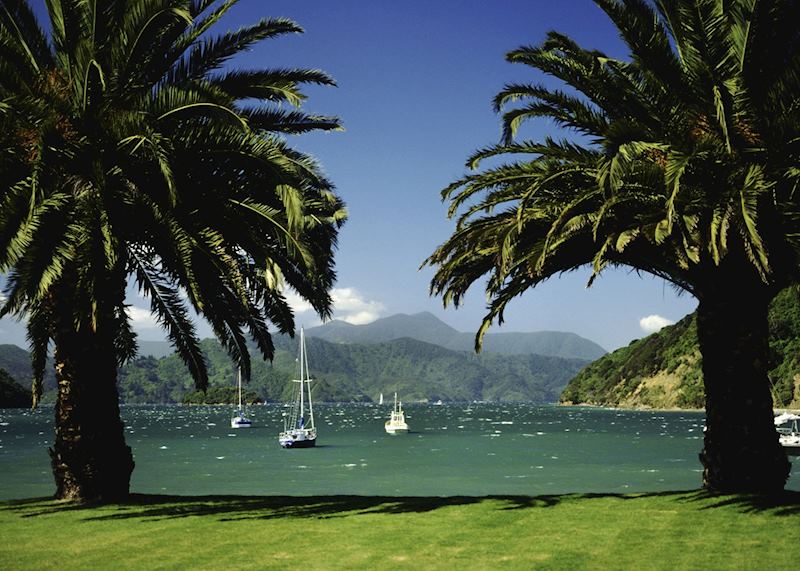 By Lindsay
The northern tip of New Zealand's South Island splinters into shards of land surrounded by sea: the Marlborough Sounds are valleys flooded by the ocean thousands of years ago. They were once home to a handful of 19th-century whaling stations, and a few farming and fishing villages still cling to the fringes of the mainland or the outlying islands.
Today, it's their pristine land and waterscapes that receive the most attention. The straits are broken up by ridgelines and hillocks, thickly carpeted in native bush that grows all the way down to the water's edge. The twisting coastline conceals sheltered bays and inlets, sometimes petering out into wave-lashed promontories and spits.
Yet, for all their scenic appeal, for some reason the Marlborough Sounds don't get quite the influx of visitors as you'd expect; many overlook them altogether. And this despite easy ferry access from Wellington and their proximity to Blenheim's vineyards (plus the fact they have the best weather in New Zealand).
Marlborough Sounds on foot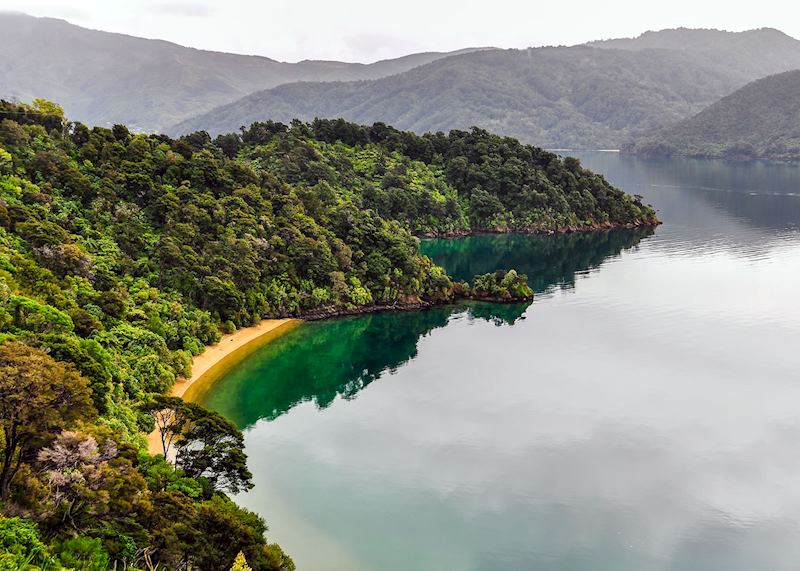 I used to live in Picton, one of the main towns serving the sounds, and I can tell you there's more to explore here than first meets the eye.
For a start, there's the walking (or tramping, in New Zealand parlance). Picton itself has a couple of good walking tracks: I particularly like the Hilltop Walk, which gives you views over the town and marina, and the Snout Track, which takes you all the way to the end of a headland.
For something more dramatic, there's the Queen Charlotte Track, a three-to-five-day walk from Ship Cove, one of the farthest points of land out in the sounds, to Anakiwa, a bay closer to Picton.
The track straddles a ridgeline looking across the gently rippling waterways of both Queen Charlotte and Kenepuru Sounds. Sometimes it dives into ferny bush, and emerges onto sandy beaches or bluffs.
Marlborough Sounds by car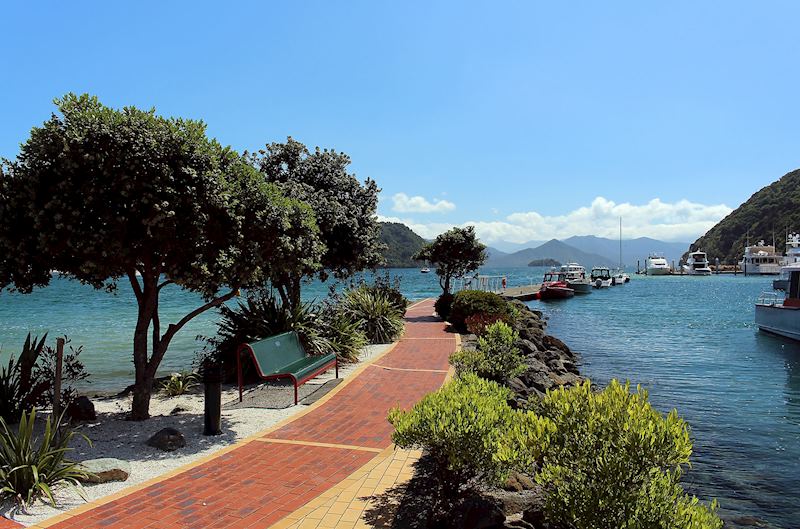 A more accessible alternative to the track is to drive Queen Charlotte Drive. This is a backroad that takes a sinuous, hilly course between Picton and the understated little fishing town of Havelock. It has many stops where you can pull over and drink in the sight of Pelorus Sound stretching out toward the horizon, flanked by green valley sides.
Marlborough Sounds from the water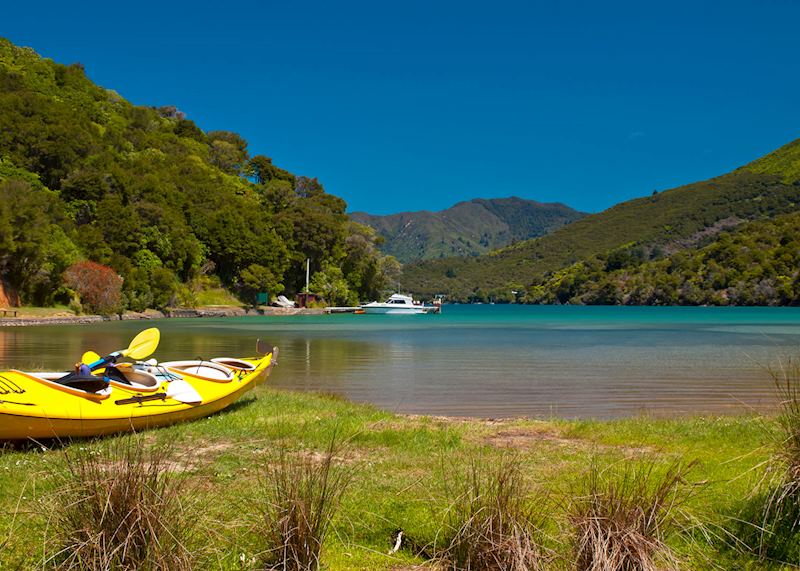 Marlborough Sounds are also, unsurprisingly, an ideal place for water-based activities, whether it's sea kayaking or boat trips.
You can take part in seafood-themed boat trips, which involve visiting New Zealand king salmon and oyster farms, and learning about farming techniques and how mussels and oysters are grown using suspension culture. You'll then get the chance to taste both of these products, washing them down with a crisp sauvignon blanc from local Marlborough wineries.
As an alternative to basing yourself in the gateway town of Picton or Havelock, you can also stay out in the sounds. My first choice would be the Bay of Many Coves, a chic retreat nestled in an out-of-the-way bay, with eco-friendly wooden buildings that meld into the surrounding bush.
A sense of seclusion is palpable as soon as you arrive, and there's a whiff of the Italian Lakes in the air as your host stands on a pier to greet you, and your bags are whisked away as you disembark the water taxi. Indeed, that's the only way of reaching the property — make sure to look out for dusky, bottlenose, and common dolphins en route.
Wanaka and Arrowtown, South Island
By Matt
Queenstown, the lakeside settlement looking onto The Remarkables mountain range (so-called because it runs directly north to south) is one of the main gateways to the South Island. It draws visitors like a magnet, especially a youthful crowd intent on sampling its array of adrenaline activities.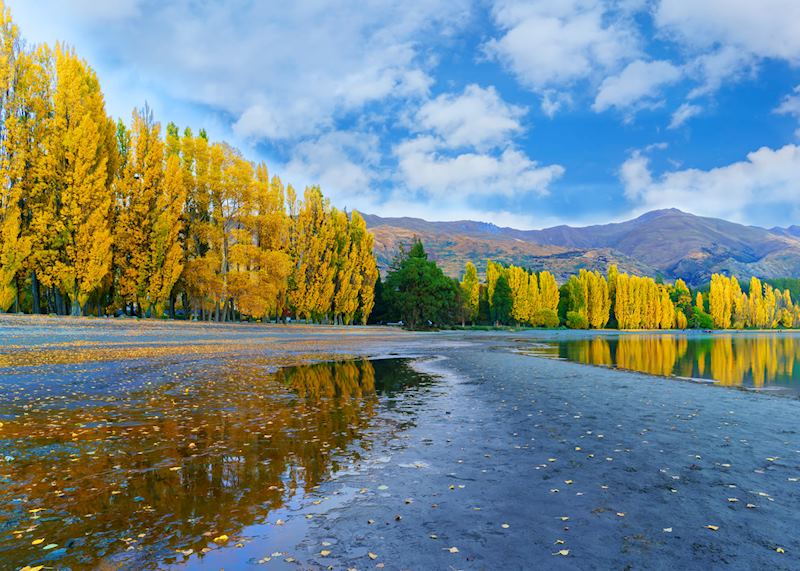 I'd opt, instead, to stay in Wanaka, a town about a half-hour drive away. It enjoys a similar setting, sitting on the shores of a placid lake with a mountain backdrop, but it retains a laid-back feel despite its proximity to boisterous Queenstown.
The access to alpine vistas is also just as good. You can climb Mount Roy, a solitary peak that rises proudly opposite Lake Wanaka. Its ridgeline offers a teasing glimpse of the often snow-clad Mount Aspiring.
Then, if you're planning to drive from Wanaka to the west coast via the Haast Pass — a mountain pass that forms a great cleft in the Southern Alps — you could stop to walk the 30-minute Blue Pool Track. It brings you out on rope bridges that hover over pools of glacial water the most neon shade of cyan you're ever likely to see. I also prefer Arrowtown, a former gold-rush settlement, to Queenstown. It's only a 25-minute drive or so from Queenstown Airport, and is especially appealing from March to May, when the leaves of the deciduous trees lining the main street turn a burnished gold.
In the daytime, the place is often abuzz with visitors exploring the Wild-West-style clapboard shopfronts and 19th-century miners' cottages of Buckingham Street. But come evening, calm descends. It's the kind of place where, on chillier evenings, you can smell woodsmoke.
I also recommend venturing just outside Arrowtown to the Gibbston Valley, where you can stay at elegantly understated properties in the middle of vineyards. I particularly like Kinross Cottages, which sits among pinot vines (and acts as the cellar door for five local wineries). They have a welcoming restaurant serving fresh, seasonal dishes and providing copious opportunities to sample the local drop.
Overnight cruise on Doubtful Sound, Fiordland National Park, South Island
By James
Imagine the best bits of Milford Sound without the ever-present hum of scenic aircraft flights and the constant relay of cruise ships. Doubtful Sound, more remote and harder to reach, has the same magisterial scenery without the hordes of visitors.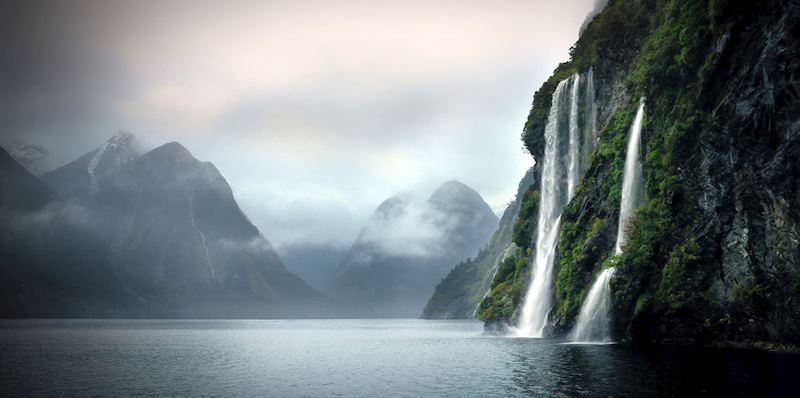 Think arrow-headed peaks, their every inch covered in thick podocarp rainforest, layers of humus, moss, and totara, rimu and miro trees. The peaks rise vertiginously out of deep cobalt-blue fjords, with white-water cascades pouring down their sides. The occasional pod of bottlenose dolphins porpoise their way through the waters. The best way to experience it all, in my book, is by taking an overnight cruise on a very small vessel (mine held only eight people, including the skipper, Jason, and the cook, Kirsten, who doubles up as the dinnertime pianist).
Don't expect airs and graces: cabins are modest and you all eat together. The food, however, is really high-end (our meals included venison and an afternoon cheeseboard).
Jason will let you clamber up into the wheelhouse, where he'll show you the depth gauges whose readings change drastically depending on your position in the fjord. Getting to Doubtful Sound involves crossing Lake Manapouri, a glacially formed body of water overlooked by the Cathedral Mountain range and dotted with 30-odd small islands. Then you travel by 4x4 over the Wilmot Pass, a road hewn through the bush and originally built as an access track for the Manapouri hydro-power station that sits at Deep Cove.
It's from this road that you first glimpse the sound, more precisely the glistening Malaspina Reach stretching out amid sheer-sided peaks toward the Tasman Sea. Sometimes, fresh snowfall speckles the peaks.
We boarded our vessel and cruised down the reach. Jason passed around rods and we stopped to fish, hauling up meaty blue cod (later eaten in crispy batter for dinner) and pulling up crayfish pots to reveal monster-sized specimens (needless to say, they also became dinner).
We went on to pass a colony of fur seals on the Shelter Islands, the rocks close to where the sound meets the sea. It was here, when we'd stopped to kayak in a small bay, the rain started. But, with waterproofs on, it really didn't matter. In fact, when you're visiting this area of New Zealand, rain brings a particularly important pay-off. Doubtful Sound only has three permanent cascades, the rest depend on heavy rainfall. When I visited, the bare rock walls were awash with columns of water gushing down their sides and splattering the boat with spray. In other parts, the rain had caused landslips, leading to tree avalanches that appeared like scars on the otherwise densely green sides of the peaks.
Kiwi-spotting, part 2: Stewart Island
By Holly
If you have set your heart on seeing kiwis (not to mention other rare native birds) in their natural habitat, and are happy to travel beyond the mainland, think about venturing out to Stewart Island.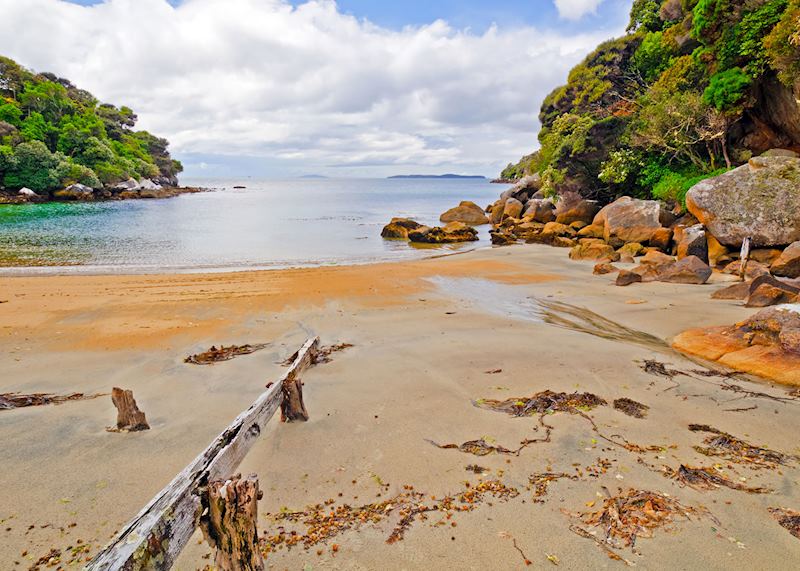 This Singapore-sized corner of New Zealand is so far-flung, few visitors ever make it there. Marooned 32 km (20 miles) from the South Island by the stormy Foveaux Strait, it's an unspoiled, hilly wilderness of mostly predator-free bushland dense with tufty crown ferns. Isolated sandy coves mottle the coastline. A few hundred Māori and Europeans have eked out a living on Stewart Island over the years, mostly through fishing and aquaculture. But happily, it's rare avifauna such as tui, saddlebacks and wekas, as well as pelagic species like sooty shearwaters, that are really flourishing here. And, just a 20-minute light aircraft flight from Invercargill, this natural sanctuary isn't quite as inaccessible as you might think.
To be in with a good chance of seeing a kiwi (there are 22,000 breeding pairs on Stewart Island, where they're not deemed as endangered), you need to take a guided walk at dusk.
As you pad through the forest, you might hear a blood-curdling, high-pitched cry — a male kiwi's mating call. Or a rumbling, guttural sound (the female version, in a bizarre reversal of gender-stereotypes). You're aiming to reach a beach at low tide, when kiwis emerge from the forest or dunes to eat the kelp strewn across the sand. Huddled in bushes just off the beach, I used an infrared torch to get my first sighting of a tokoeka kiwi snuffling around on the sand. It was so much bigger than the fluffy little blob I'd seen at Zealandia. Despite the birds' reputed timidity, I have to say I'd be pretty alarmed if that creature came running at me — male kiwis are known to charge.
As a side note, visiting Stewart Island also offers a glimpse into a tiny, crime-free, close-knit community. The road network — all 12 km (7.5 miles) of it — runs out quickly. The largest built-up area, Oban, is the size of a hamlet, and once you're out in the island's interior, there's little development; you have to go without coffee shops and toilets.
The post office doubles up as the airport, and the newsagents — all the inhabitants' newspapers are stashed in their personal pigeonholes. There are no house numbers: dwellings have names such as 'Jenny and Mike's Place'.
Start planning your trip to New Zealand

Start thinking about your experience. These itineraries are simply suggestions for how you could enjoy some of the same experiences as our specialists. They're just for inspiration, because your trip will be created around your particular tastes.
View All Tours in New Zealand