By New Zealand specialist Grace
New Zealand has a great range of boutique hotels, as well as B&Bs with excellent hosts, but sometimes you're in the mood for something even more personal. This is where staying in a private home comes in.
There are now villas, lodges and apartments scattered throughout New Zealand, all decked out with luxury furnishings and available to rent for short-term stays. Below, I've picked out seven of the best. They're located in the Bay of Islands, Queenstown and the beaches north of Auckland: all regions where one or two nights isn't really enough to experience all the area has to offer.
This family trip idea for New Zealand gives you a taster of an itinerary that involves slightly extended stays in just a few key places, but think of this as a loose suggestion. You could have a fulfilling trip by adopting a slow-travel ethos, and only focusing on just three or four main hubs.
Reasons to stay in a luxury private home in New Zealand
You're embracing slow travel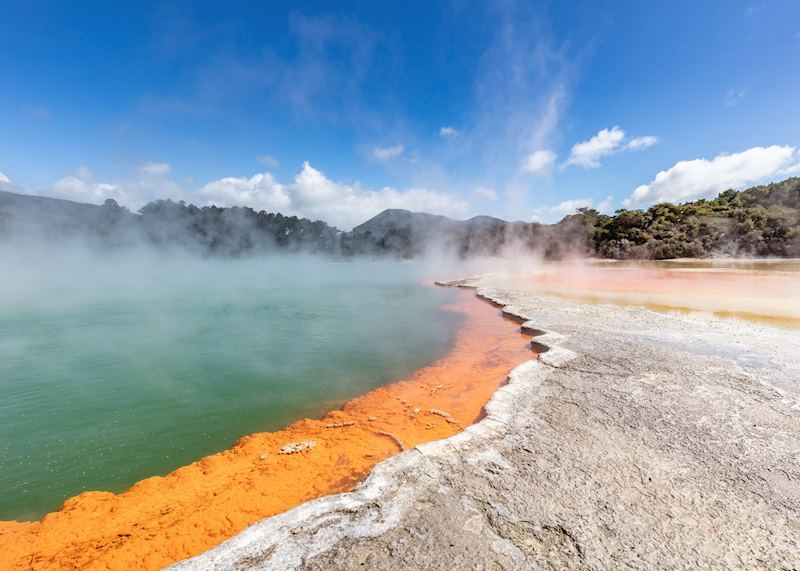 New Zealand trips often involve hopping from place to place, only staying for one or two nights. It's easy to fall into this pattern: there's so much to see, and it's a long way to go.
I'd also argue that New Zealand is ripe for slow travel — the art of slowing down and spending longer in one place, thoroughly exploring an area and trying out lots of different activities. The Bay of Islands and Queenstown work particularly well in this respect, as does Rotorua. And, if you're staying longer, you might want something a little more personal than a hotel or B&B — which is where these luxury homes come in.
Staying in one of these properties — be it an apartment or a villa — doesn't just give you that home-from-home ambiance and the ability to self-cater.
There's also the novel sensation of stepping into the life of a local, and getting a sense of what it might be like to live in a place, not just pass through it. For example, you might buy your daily provisions from a local market and, if you have a car, you can easily access out-of-the-way places that most whistle-stop tourists miss.
You're part of a group
If you're visiting New Zealand with several friends, or as a multi-generational family, these homes are ideal. There's usually no single master suite, so everyone is treated to premium views and en suite bathrooms, plus all homes have indoor and outdoor communal areas.

You love a room with a view
These homes were built with views in mind. They usually look across water, whether that's the Pacific Ocean, the Bay of Islands or Queenstown's Lake Wakatipu — which also gives them a very calm, soothing feel.

You like minimalist, contemporary decor
Interiors are always fresh, modern and unfussy, making use of lots of clean lines — and this makes these homes very relaxing spaces, in my book. Many incorporate local materials or textures — for example, Forty Two in Queenstown (see below) has a fireplace built with stones sourced from a nearby river.

You like some independence…
Of course, staying in a private home gives you the opportunity to cook. I don't know about you, but after a few days of constantly eating out when abroad, I think there's something nice about staying put and dining in, perhaps enjoying a film or watching the sunset, a glass of something chilled in hand. Nor do you have to do the actual cooking (more on that, shortly).
All properties, even those in central Queenstown, have convenient off-street parking. Others are in very secluded locations, meaning that they can only be accessed by car — so they'll especially suit you if you like exploring under your own steam.

My top New Zealand homes, by region
My pick for the Auckland region: Muriwai Estate
Sleeps 14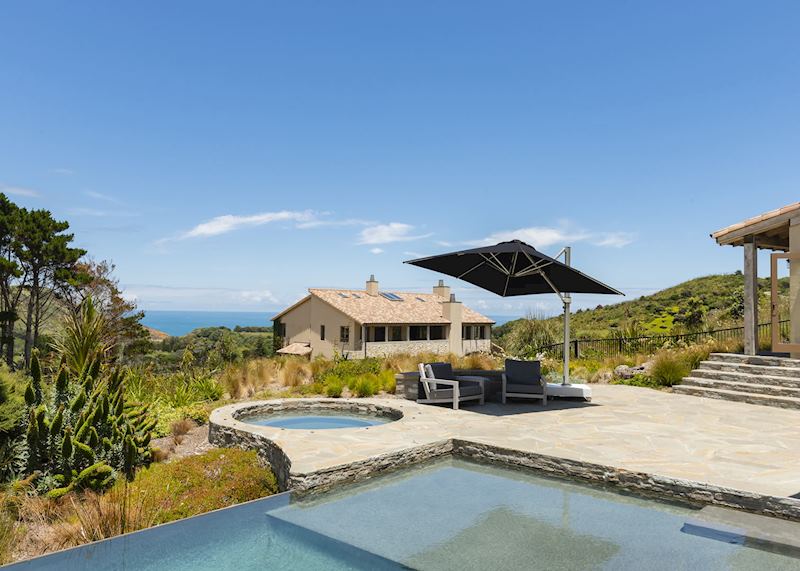 I like Auckland, but sometimes you want to escape its busyness.
Despite being only 40 minutes from Auckland's airport, this ocean-view property has a seductively secluded setting: it's hugged on all sides by hummocky, grassy hills leading down to a wild-looking, black-sand beach. A short drive brings you to a colony of Australasian gannets who've set up home on the cliffs just outside the small township of Muriwai.
Inside, Muriwai Estate has a Mediterranean-Tuscan style, with lots of open space for entertaining and being sociable, as well as lots of nooks in which to hide away with a book. It makes a good base for exploring the West Coast beaches and the nearby Waitakere Ranges, an expanse of native rainforest, bushland and waterfalls.
Or, see this property as a place to relax and recuperate for a few days before flying home, spending time drinking in the ocean views from the private spa and saltwater pools.
Runner-up: Te Arai Lodge (sleeps eight). Located 90 minutes from Auckland near the giant sand dunes of Mangawhai Heads, this is a good place to stop en route to (or as a substitute for) the Bay of Islands.
Highlights include alfresco dining (with produce grown in the property's vegetable garden), a luxuriously long lap pool, a hot tub and a yoga studio.
My pick for Queenstown: Forty Two
Sleeps six-eight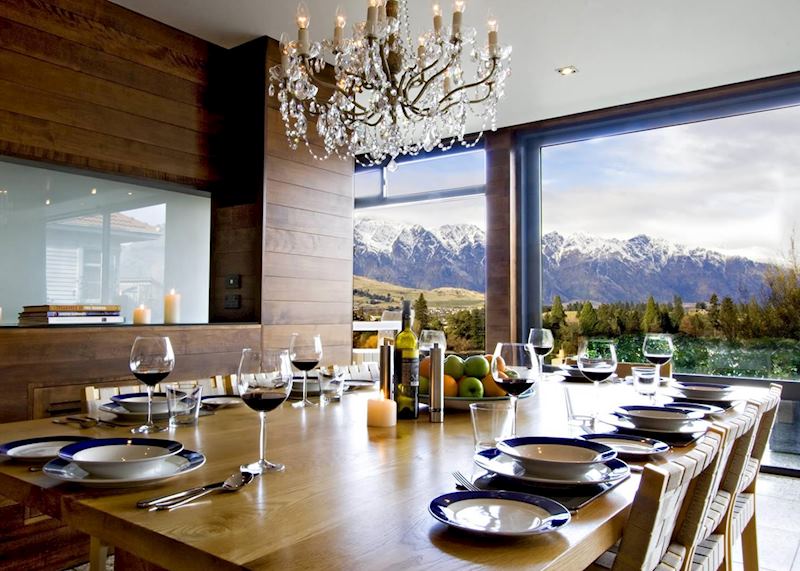 What I like about this place is that you're bang in the middle of town, only a short walk from Queenstown's lakefront and amenities (not to mention its notable brunch spots). But you'd never know it.
Instead, you feel completely immersed in the landscapes: Lake Wakatipu, the Remarkables mountain range and the green bulk of Cecil Peak command your attention whenever you're in this apartment, thanks to its huge floor-to-ceiling windows.
The whole apartment is flooded with light. There's even a freestanding bathtub (handily looking out toward the mountains). And, if you're here over the colder months, you can make good use of the log fire, thick woollen rugs and discrete outdoor hot tub.
Queenstown is one of the best places in New Zealand to linger in: there's so much to do, from jet boating on the braided Dart River to a cruise on Milford Sound and visiting filming locations for Peter Jackson's The Lord of the Rings.
I like to get down to Glenorchy, a petite settlement right at the northernmost point of Lake Wakatipu, and the start of some excellent walking tracks. For example, from Glenorchy you can walk a portion (or the entirety) of the Routeburn Track — one of New Zealand's officially designated 'Great Walks'. You'll take in waterfalls, silver beech forest, alpine meadows and mountain saddles.
Runner-up:
Kohanga Luxury Lakeside Villa (sleeps eight) is a little out of town, and feels more tucked-away, although central Queenstown is easily accessible via a lakeside footpath or a few minutes' drive. I like its private lakefront access, large open-plan kitchen and pizza oven.
My pick for the Bay of Islands: Tahapuke
Sleeps six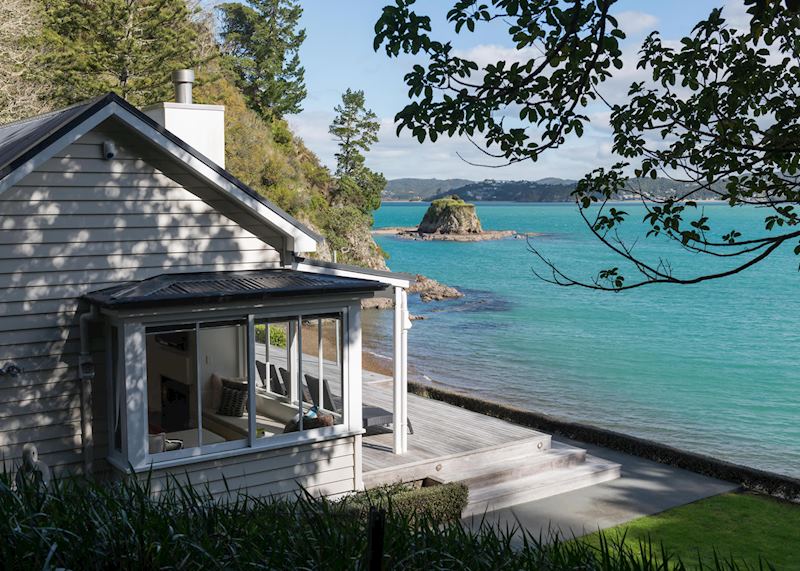 If you value privacy combined with convenience, this home is a good choice. Although it's only a five-minute walk from central Russell, Tahapuke's vantage point means that no other houses are in view. A beach house, it's surrounded by native bush which tumbles down to a slither of beach, while two Māori pa sites watch over the house from above.
As befits a beachfront property, the decor is all light and bright. I like how there's a terrace facing right onto the water, with a big dining table. You can borrow kayaks for exploring your pocket of the bay and even paddle out to Tahapuke's private island, a rock which sticks up out of the aquamarine water like a big grassy toupéed cork.
Russell is a good jumping-off point for sailing trips around the Bay of Islands. I like one that's run by a couple called Fran and Ian. They'll take you around the Bay of Islands' rocky outcrops on a 12 m (42 ft) yacht, stopping off for swims, short hikes and cheese platter picnics.
It's also possible to travel easily across to the Kauri Coast (a two-hour drive), where you can explore Waipoua Forest — a sacred sylvan space for local Māori, as it contains some of the largest remaining kauri trees in the world. New Zealand specialist James talks about why you might like to visit the forest with a Māori elder in our guide to experiencing New Zealand through Māori eyes.
Runner-up: The Homestead (sleeps eight) is located just outside Kerikeri, one of the larger towns in the Bay of Islands region, and is home to a sailing family, whose hobby has been reflected in the decor and atmosphere of the place.
Huddled in its own private cove, the house comes with the use of kayaks, paddleboards, fishing rods and dinghies.
Read more about trips to New Zealand

Start thinking about your experience. These itineraries are simply suggestions for how you could enjoy some of the same experiences as our specialists. They're just for inspiration, because your trip will be created around your particular tastes.
View All Tours in New Zealand