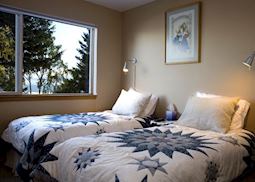 Nestled on the edge of Kachemak Bay and Homer Spit in Alaska is the quaint Bay Avenue B&B.
Owned by the characterful Lori and Mark, who make you feel a part of the family, the B&B offers you the perfect combination of homeliness and tranquillity. As with the majority of properties in Alaska, the B&B is simple yet comfortable and anyone on a visit to Alaska is going there for the location, which this property is perfect for. I was fortunate enough to see a moose wandering through the garden and an eagle flying past the window during my short one night stop.
Bay Avenue encompasses all Alaska is about, it's somewhere you'll hear stories, eat hearty breakfasts and is a good base for all of the adventures that await you on your doorstep. It is somewhere to experience the true Alaska.