One of the highlights of a visit to South Africa is time spent in the beautiful Cape Winelands region.
In 2009 South Africa celebrated its 350th year of winemaking with a range of wines that now almost outsell French wines in the U.S. A visit to this area is a fabulous opportunity to taste and enjoy some of South Africa's award-winning wines.
As well as being home to hundreds of wine estates, the Winelands is also renowned for its stunning scenery, charming Cape Dutch architecture and some of the finest restaurants and gastronomic experiences in South Africa.
The Winelands are a loose geographic region encompassing the principal wine production areas of Paarl, Stellenbosch and Franschhoek.
In addition to indulging yourself with good food, great wine and beautiful scenery, these places offer local sights, monuments, and various activities to keep you and your family occupied.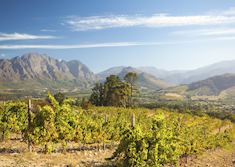 Renowned for its wine estates, Cape Dutch buildings, and mountain scenery, Franschhoek is one of the oldest towns in South Africa. You can explore its history and wine-making heritage, as well as tasting some of the wines for yourself on guided tours.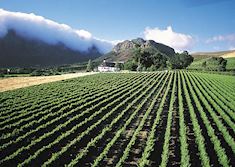 Paarl is the spiritual home of the Afrikaans language. It is of course home to beautiful vineyards, as well as a quaint historic town center.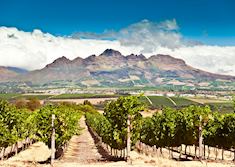 A visit to Stellenbosch, in the heart of the Cape Winelands, will no doubt revolve around sampling the region's wines and freshly farmed food. But, you can also explore a long history in the town, which is the oldest European settlement in South Africa after Cape Town.
When to go to the Winelands
The Winelands can be visited throughout the year, but from June to August the weather is cold and wintery, often with gray clouds and rain. That's not to say you can't visit at this time, as many of the hotels have cozy log fires and you can still enjoy the wine tasting!
The peak season is from October to February, when you can expect fine weather but also higher prices, especially over Christmas.
Start planning your trip to South Africa's Winelands

Start thinking about your experience. These itineraries are simply suggestions for how you could enjoy some of the same experiences as our specialists. They're just for inspiration, because your trip will be created around your particular tastes.
View All Tours in South Africa
Wine estates we recommend in Franschhoek
Boschendal — A fascinating and historical place and there are great picnics you can buy to enjoy in the grounds.
Haute Cabriere — The perfect place to enjoy a glass of sparkling wine and a lovely view.
Le Petite Ferme — This estate, located just outside Franschhoek, and perched on the hillside, offers stunning views from here and it has an excellent restaurant for lunch.
Other attractions in and around Franschhoek
Franschhoek is perhaps the most beautiful wine valley in the world.
There are more award-winning restaurants concentrated here than anywhere else in South Africa.
Franschhoek's French heritage of more than 300 years is evident in the wine and food tradition. The magnificent Huguenot Museum and monument are worth a visit.
You can taste the wines of the valley from more than 40 extraordinary wine cellars.
Franschhoek has some charming guesthouses and hotels offering lovely accommodation options for all budgets.
Wine estates we recommend in Paarl
Fairview — Arguably the most visited wine estate in the Winelands, with good reason. It has cheese and wine of notable quality, and is renowned for its "Goats do Roam".
Seidelberg — This pretty estate established back in 1692 offers the unusual extra attraction of a glass-blowing studio where you can watch the craftsmen at work. There is also a deli, a restaurant with lovely shady terraces and beautiful views.
Nederburg — Nederburg is one of Paarl's greatest crowd-drawers. This famous winery (established in 1791) is as renowned for its award-winning wines as well as its hospitality. It is also the most decorated winery, with more prizes than any other in the country.
Other attractions in and around Paarl
Keep the children entertained in and around town by visiting the crocodile farm, snake park or glass-blowing studio.
Leave your car and explore the Paarl Valley by hot-air balloon, on horseback, by bike or on foot via one of the many walking trails.
Take in the rich flora and fauna, which so impressed Charles Darwin when he visited Paarl in 1836.
Stroll along Main Road and view the superb examples of Cape Dutch, Victorian, Edwardian and Art Deco architecture.
Visit nearby Drakenstein Prison, where Nelson Mandela spent his last years of captivity and started his walk to freedom.
Wine estates we recommend in Stellenbosch
Delaire — This estate has amazing views, amazing food and great art.
Kanonkop — Small and family owned, the estate won IWSC South African Producer of the Year in 2013. You can buy a very nice bottle of Cabernet Sauvignon, after a tasting session here.
Spier — Spier is always fun for a family with children as there is so much going on. There is a cheetah sanctuary and "Eagle Encounters" as well as many hosted events.
Other attractions in and around Stellenbosch
Home to plenty of cosmopolitan eateries, it is one of South Africa's tastiest food capitals.
Stellenbosch is considered to be one of the safest towns in South Africa and is an ideal base from which to explore the region.
In addition to visiting wine estates, other attractions include Tygerberg Zoo, Butterfly World, Drakenstein Lion Park and Le Bonheur Crocodile Farm.
Admire the architecture of Stellenbosch; houses built in the Cape Dutch style are unique to the Cape and unquestionably beautiful.
Eat at some of the finest restaurants, among beautiful countryside — described by wine guru Jancis Robinson as "the most dramatically beautiful in the world."