The Andes are the longest continental mountain range in the world, spanning 4,300 miles from north to south, providing a dramatic backdrop to some of South America's most diverse terrains. From Ecuador's volcanoes and Peru and Bolivia's ancient civilisations to the trekking haven of Patagonia, there is an Andean experience to suit every interest.
We recommend:
Peru
Truly, a country of icons — from the Inca citadel of Machu Picchu to Lake Titicaca and the Amazon rainforest, Peru is top of most travellers' lists for a first visit to South America.
Chile
Snaking along the foothills of the Andes, Chile is home to many unique experiences: exploring the world's driest desert, sampling some of its finest wine and lacing up for some of the most spectacular trekking in Patagonia.
Argentina
Argentina's sparkling blue glaciers and picture-postcard Lake District towns combine with winetasting and trekking. A trip to the mighty Iguaçu Falls adds a further dimension to this country of incredible contrasts.
Ecuador
Colourful markets, colonial cities and avenues of volcanoes meet the Amazon and one of the world's most outstanding wildlife experiences: the Galapagos Islands.
Colombia
With rolling coffee plantations in the Andean foothills, jungle-fringed beaches and vibrant colonial towns, it's no wonder that Colombia is becoming the 'one to watch' on lists of hot new destinations.
Landscapes
In a nutshell
No other mountain range offers such a diversity of landscapes as the Andes — from mighty glaciers to arid deserts, misty coffee plantations to sparkling-white salt flats. In fact, it feels almost as if superlatives were invented to showcase this spectacular region! Where else would you find the world's highest active volcano, driest desert, highest navigable lake and highest capital city?
What's new?
Now politically stable, Colombia was previously South America's best-kept secret is now opening more and more to visitors wanting to enjoy its beautiful variety of landscapes. It has everything from rolling coffee plantations and stunning Andean scenery to pretty colonial villages and jungle-fringed coastlines.
Preferred experience
For me, nowhere in South America boasts more spectacular and unusual scenery than the Bolivian Altiplano. With a mixture of multi-coloured mountain lagoons, pink flamingos, snow-capped volcanoes and the famous Uyuni Salt Flats, you can sometimes feel as though you are on a different planet. There are very few places you can drive over a vast sea of salt and a volcanic lava field in one day.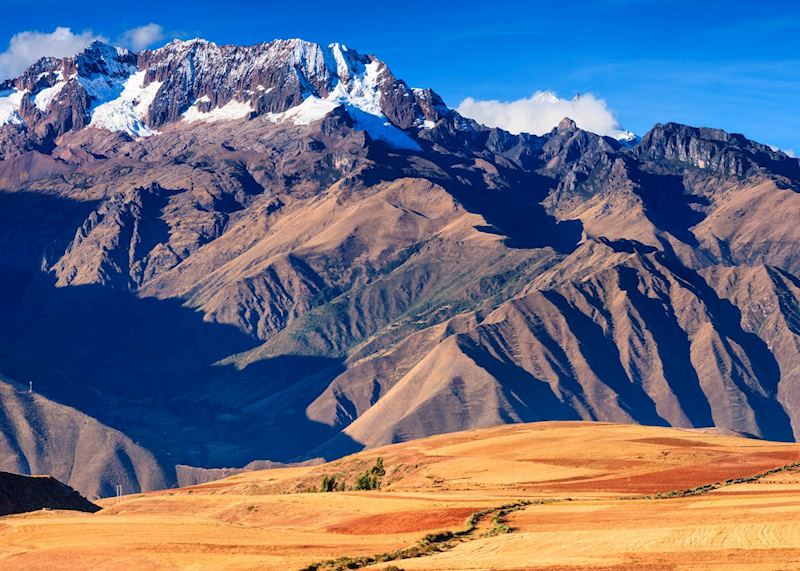 Ancient civilisations
In a nutshell
Although a visit to Peru's iconic Inca citadel of Machu Picchu and the surrounding sites in the Sacred Valley are close to the top of anyone's list when visiting South America, there are myriad ancient civilisations whose heritage can be found in the Andes.
Chile's Northern Altiplano is home to fascinating geoglyphs and cave paintings from pre-Conquest cultures, while the pre-Columbian ruins of Tiahuanaco in Bolivia are thought to have once been part of a spectacular imperial city whose power in its time could have even rivalled the Inca Empire.
What's new
Exciting discoveries uncovering Peru's pre-Inca civilisations are being made all the time in the north of the country. With improving roads and hotels in the Chachapoyas region, the vast fortress of Kuelap offers a fascinating alternative to Machu Picchu. Think five times its size with around ten visitors per day and you have a decent assessment!
Nearby is the world's third-highest waterfall, Gocta, as well as impressive tombs carved into the mountainside at Revash and over 200 mummies at Leymebamba museum. The northern cities of Trujillo and Chiclayo serve as the base for a more in-depth exploration of the region. Close by is the mighty adobe city of Chan Chan and the Royal Tombs of Sipan, which has been lauded as one of the most important archaeological finds in all of the Americas.
Preferred experience
There is nothing like the fusion of cultures and civilisations to be found in Peru's proud former Inca capital, Cuzco. The conquering Spanish were so impressed by the sumptuous Inca Temple of the Sun at Korikancha that they used its stone foundations to underpin a baroque church. I love returning to the city to explore the pretty squares and handicraft markets, and coming across a mighty Inca wall where you least expect it.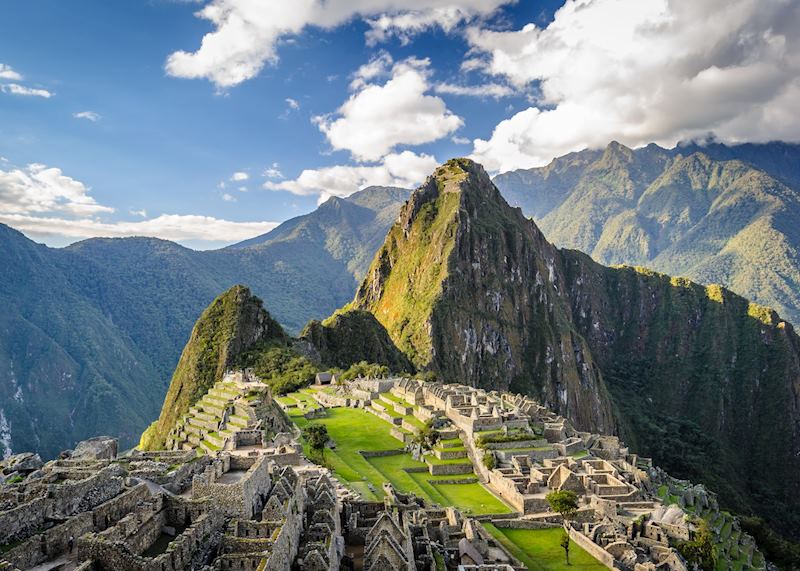 Trekking
In a nutshell
Trekking is one of the best ways to immerse yourself in the spectacular Andes. There are treks to suit every ability, from gentle day-walks to challenging 12-day hikes. The most famous is the Inca Trail to Machu Picchu, but Peru offers a variety of hikes, some visiting lesser-known Inca sites.
Further south, Patagonia offers some of the world's most magnificent walking, whether it is treks to the base of the Chile's Torres del Paine towers or perhaps hiking deserted trails in Mount Fitzroy National Park in Argentina.
What's new?
Treks around the Torres del Paine massif in southern Chile were once the preserve of backpackers, independent trekkers or those with deep pockets who could afford a fully private trek. However, there are now a range of small-group treks in the area. Options range from five to ten-day walks, departing on set dates; you can hike with like-minded people and benefit from experienced guides and porters.
Preferred experience
Having completed a variety of exceptional treks across South America, the most memorable has to be the Mountain Lodges Trek to Machu Picchu. Nowhere else have I been able to end a hard day's hike by returning to a lodge for a glass of wine in an outdoor Jacuzzi, gazing up at the mountainous backdrop.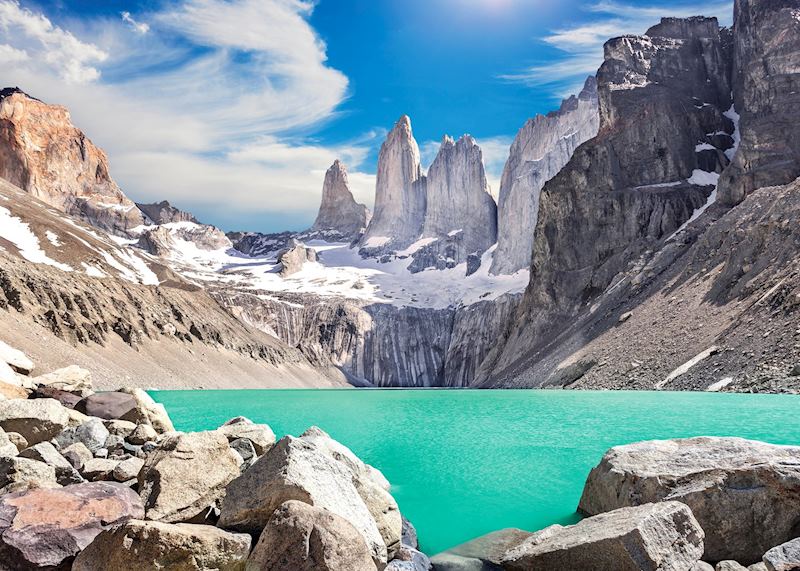 Glaciers
In a nutshell
Covering nearly 17,000 square kilometres, the southern Patagonian ice-field is the world's third largest reserve of fresh water and feeds some of the region's best-known glaciers. One of our most-liked is the Grey Glacier in Torres del Paine, where an afternoon's navigation across the lake will take you past impossibly blue icebergs bobbing in the water. The 5 km-long, 60 m-high Perito Moreno is the most impressive and is visited from El Calafate.
Step away from the main routes, though, and you can see some equally soul in sight such as the Balmaceda, Amala and El Brujo glaciers (El Brujo pictured above); these can only be accessed on longer boat trips.
What's new?
Not entirely new but certainly not that well known is the Skorpios III, which you can board for three-night cruises from Puerto Natales up to the Amala and El Brujo glaciers. The boat sails through stunning fjords to areas that only this vessel can access. Therefore, you can get up-close to impressive glaciers with only a handful of other travellers.
Preferred experience
What better way to experience spectacular Perito Moreno glacier than donning a pair of crampons and trekking its icy exterior?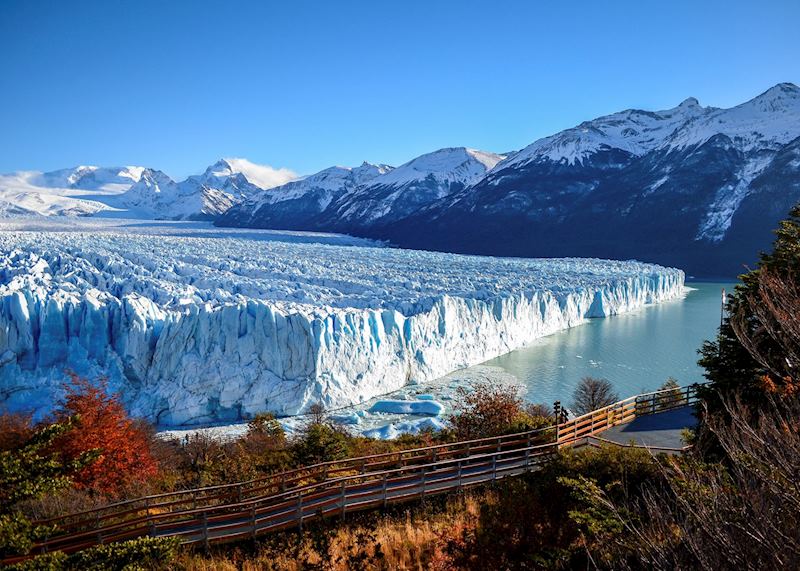 Wine
In a nutshell
Owing to rich soils fed by glacier melt and a temperate climate, the foothills of the Andes provide some of the best wine-growing conditions in the world and are the perfect place to combine a trip of a lifetime with a quality tipple or two.
Mendoza in Argentina is known as the 'land of sunshine and wine'. Further north, Cafayate and nearby towns have an array of charming vineyards.
In Chile, the Maipo, Colchagua and Casablanca Valleys offer some of the world's best tipples.
In both the Chilean and Argentinian wine regions, you can either take a day trip to a vineyard or, for an extra treat, base yourself at one of the many beautiful wine lodges to spend a little longer admiring the scenery and enjoying the produce too. What's new?
What's new?
A sparkling new addition to the boutique wine lodge scene, Viña Vik in Chile's Millahue Valley is already winning accolades for its low-key luxury, enviable setting amid rolling valleys and, of course, its wine. The lodge is only a two-hour drive south of Chile's capital, Santiago, so is a great extension to even a short trip to the country.
Preferred experience
Mendoza offers one of the most dramatic landscapes: vines stretch into the distance flanked by desert, while the foothills of the Andes rise to snow-capped peaks. The lodges in the area often serve tasting lunches, each course accompanied by a glass of wine, allowing time to soak up the wonderful views.