By Audley specialist Michael
Out of all my time in the Galapagos, one moment stands out for me. We were crossing open waters and I was lying on my back on the boat's top deck, making a video of the frigatebirds flying above. Suddenly, one swooped down low, just inches from my face, making me jump. It was a reminder that the wildlife is uninhibited here; even on board a boat, surrounded by ocean, you're not in your own world.
Expedition cruises are, for me, the best way to experience the Galapagos archipelago — although other options exist if you prefer to be based on terra firma. In this article, I cover the questions you need to ask yourself when considering your cruise options.
What is your preferred vessel size?
Small, medium or large?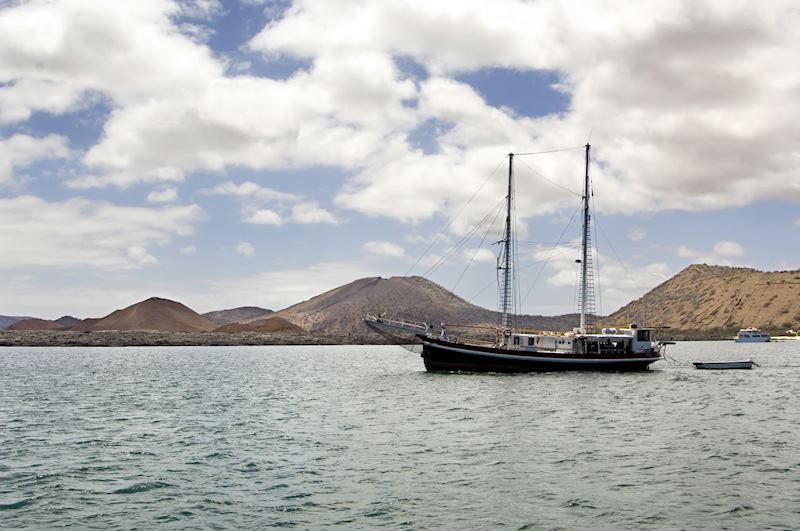 Small vessels carry 12 to 20 passengers, medium 24 to 48, and large 90 to 100 at most.
Small vessels are ideal when you want to meet like-minded people, as over the course of your cruise you'll inevitably become a close-knit bunch. If you're a solo visitor (as I have been), they're a good option, as everyone sits communally at mealtimes.
Medium vessels offer a good compromise between the intimacy of a smaller vessel and the anonymity of a larger one. You have more opportunities to find a quiet spot on deck and have time to yourself. They're also a good mid-ground if you're a little less confident about sea travel, as they offer more stability in the water.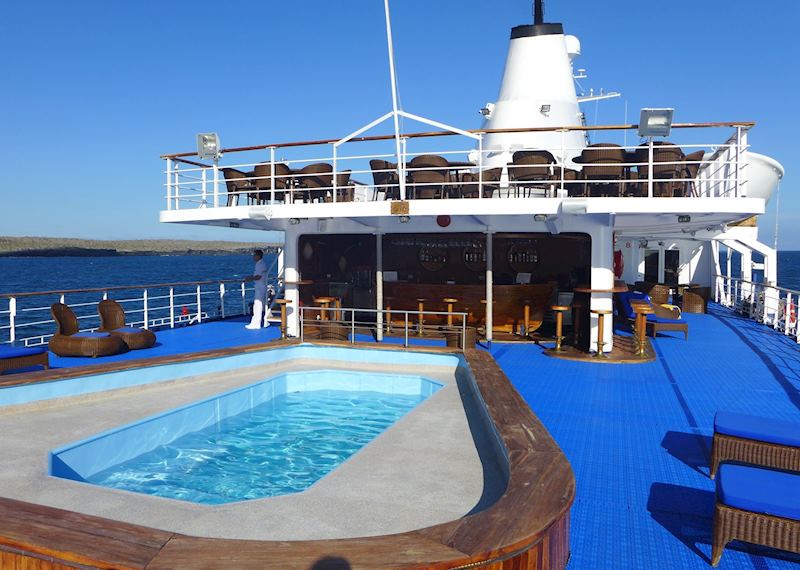 As you'll see from the number of passengers, a 'large' vessel in the Galapagos is hardly gargantuan. They can be a good choice for families, as you're more likely to encounter family groups. Many have built-in stability ballasts, so seasickness is less likely to be a problem. Large vessels typically offer more amenities and activities on board as well.
It's worth knowing, too, that a larger vessel doesn't inhibit access to any islands — most islands are uninhabited and don't have docks. All vessels, regardless of size, will moor offshore, and you'll journey to the islands in Panga boats.
I'd rather be land-based
It's possible to explore the Galapagos without staying on a boat. You can base yourself in one of the main towns (most likely Puerto Ayora on Santa Cruz) and take day trips to different islands. Alternatively, you can island-hop, dividing your stay over two or three islands. Bear in mind you'll still need to travel by speedboat to explore most sites.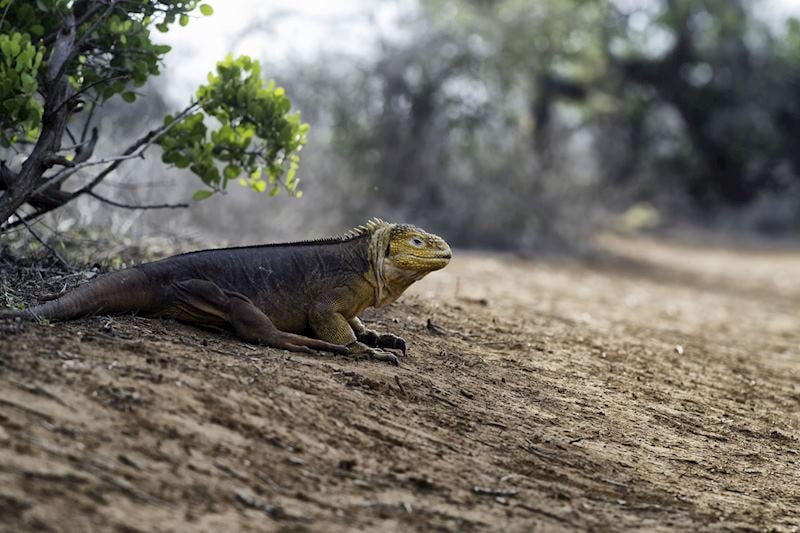 How long do you want to go for?
Vessels have set routes, allocated by the Galapagos National Park authorities several years in advance, and cruises can last from 4 to 15 days. Our specialists are able to explain the many routing options. A seven-night cruise is a good option, as it ensures you'll see a wide variety of wildlife and geology across a handful of different islands without seeing the same species too often.
When do you want to go?
In September the Humboldt Current sweeps through the Galapagos from the south, bringing with it cooler water temperatures. This can make the ocean choppier at this time of year, so larger vessels can provide more stability.
Are there any specific species you wish to see?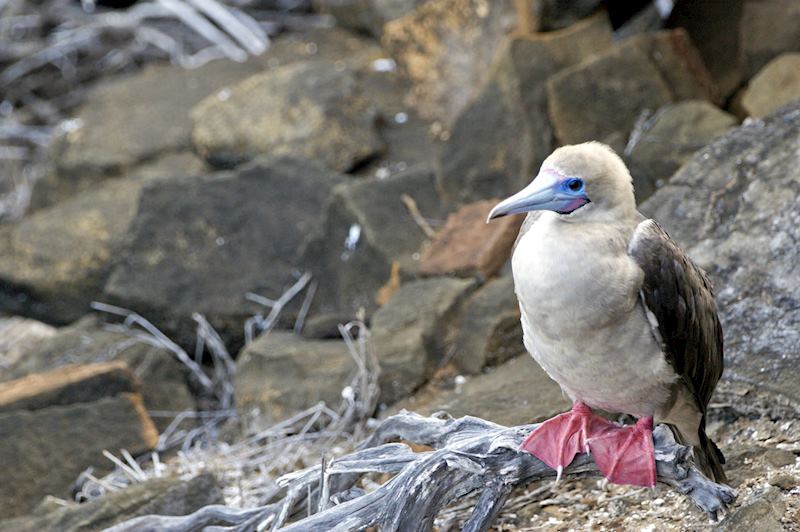 Most wildlife can be seen all year round, and at a variety of sites — marine iguanas, for example, inhabit several different islands. One notable exception is the waved albatross, found only on the island of Española in the south of the archipelago from April to December. If you're a birdwatcher, consider including a visit to the northerly island of Genovesa — home to a variety of avifauna, including red-footed and masked boobies.
Some practicalities of Galapagos expedition cruises
The Galapagos is a highly protected national park, and as such there are many rules governing how visitors can access sites: there's no flexibility once you're exploring in situ. Be prepared to stick to paths set by the guide and follow his or her instructions.
As part of the national park regulations, all boats must have a scheduled stop at a town. This is usually combined with a visit to one of the Galapagos giant tortoise breeding stations, which I recommend you visit. They're your best chance of seeing one of the creatures, and you'll get a sense of the history and science behind these projects. The giant tortoises are habituated into the wild once they're old enough to survive on their own.
Galapagos cruises can be challenging for anyone with serious mobility constraints. Outside the main towns, you're walking over rocky, uneven, constantly changing terrain: a smooth, sandy beach can soon turn into a track over sharp lava. You'll also need to be able to step over any wildlife lying in the way, and be able to step into and out of Panga boats.
At the same time, the Galapagos isn't a destination reserved for the super-fit. There are no route marches or lengthy hikes, and you just need to be sure on your feet.
No matter which cabin in which vessel you choose, you'll always hear anchor and engine noise to some extent — light sleepers should bring earplugs. Likewise, while there are certain seasons that typically offer calmer seas, it's always a good idea to be prepared for unexpectedly rough seas with seasickness pills, bracelets or patches.
Start planning your cruise in the Galapagos Islands
Ecuador, Galapagos Islands, Costa Rica

Ecuador, Galapagos Islands
Start thinking about your experience. These itineraries are simply suggestions for how you could enjoy some of the same experiences as our specialists. They're just for inspiration, because your trip will be created around your particular tastes.
View All Tours in The Galapagos Islands