Australia has been at the forefront of a food revolution in recent years, as well as being a top destination for wine connoisseurs. New South Wales has been riding particularly high, so here our specialists share food and drink-themed experiences that allow you to explore the best offerings on the state's menu — everything from fish barbecues on subtropical islands to e-bike rides between the Hunter Valley's vineyards.
For each experience, they've also chosen the best place to stay nearby, whether for comfort, privacy, location, or all of the above.
Food-themed walking tour of Sydney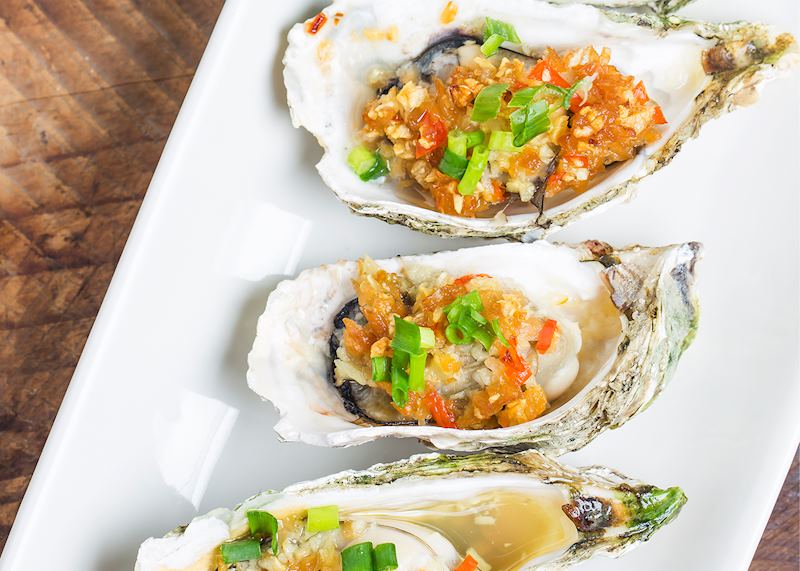 By Ellie
I've been lucky to spend many a happy evening exploring the latest and greatest on Sydney's food scene. But, can you still get a sense of its heady delights, even if you're only passing through?
Absolutely, and the best way to do that is on a privately guided food-themed walking tour. You might start at Bennelong — a restaurant sheltered under the city's least shy-and-retiring building, the Sydney Opera House. I love how you can watch its chefs do their thing before tucking into dishes from its à la carte menu. You might opt for mouth-wateringly succulent Sydney rock oysters and red-claw yabbies (a type of freshwater crayfish endemic to Australia). Think of this as your evening's entrée.
A short stroll through the Royal Botanic Gardens then brings you to the well-heeled Potts Point district. Weaving through boutique cafés and towering townhouses, you'll wind up at Bistro Rex in time for your main course. The menu is full of delicate French tastes and fine Australian produce — I recommend the steak-frites.
Next, you'll pass through the buzzing entertainment hub that is Kings Cross and into the Darlinghurst locality for dessert at Gelato Messina. Its ice creams range from blood orange to macadamia to pandan and coconut, which is a nod to the many Asian influences in Sydney's cuisine. Conclude your evening with a nightcap in one of Darlinghurst's many cocktail bars.
Where to stay in Sydney
Reminiscent of a grand 19th-century home, The Langham Sydney has beautifully appointed rooms and suites. Intimate in size for a city hotel, its location in the Rocks district means you're only steps from a variety of cafés, restaurants, bars and market stalls, while also being close to Sydney Harbour.
Hunter Valley wine tasting and e-bikes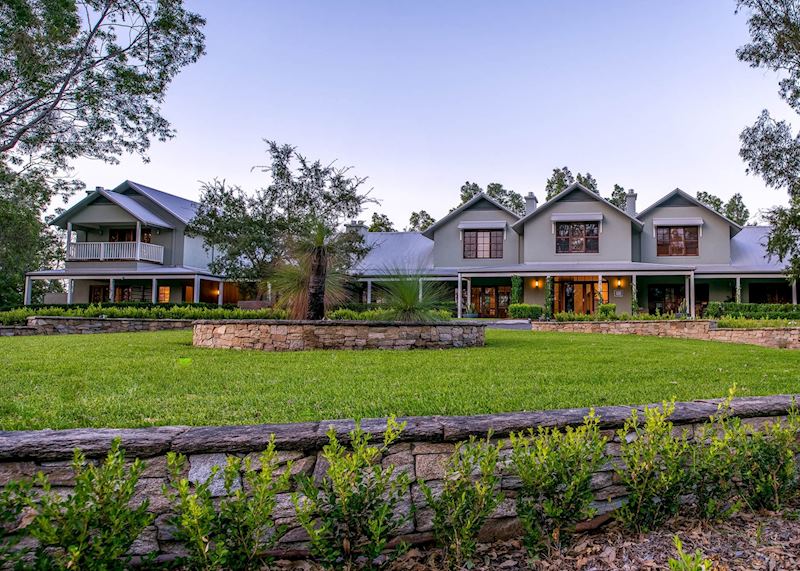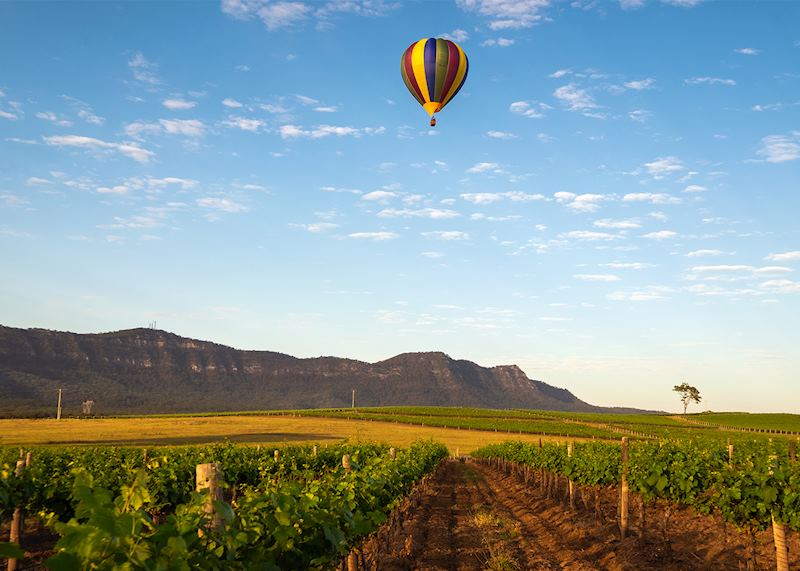 By Pippa
Rimmed by the Brokenback mountain range, the Hunter Valley is a patchwork quilt of neatly planted fields cultivating plump sémillon, shiraz and Chardonnay grapes. It's Australia's oldest wine region, where venerable vines originally brought over from France still thrive today, and it's only a two-hour drive from Sydney.
Wine is clearly the order of the day here — there are over 150 wineries — although the region's food is also widely praised. To sample the best of both, I suggest taking a privately guided tour.
Your guide will tailor the tour to your palate, so it's impossible to say for sure which wineries you'll visit. On the itinerary will be everything from old-school, big-name family wineries like Tyrrell's, to more boutique offerings.
All your wines are paired with a cheese, chocolate or charcuterie board, and you'll be given a gourmet grazing-box lunch.
You could also rent an e-bike on your own, calling into a handful of wineries closest to wherever you're staying — just make sure to book ahead at whichever wineries interest you. The valley's roads provide great views, but it can be surprisingly hilly — hence, e-bikes. Keep your eyes peeled for kangaroos popping up from between the vineyards.
Where to stay in the Hunter Valley
Spicers Vineyards Estate is set on a private vineyard with a backdrop of mountains. There are just 12 luxurious suites, so the whole place feels peaceful and intimate. After a day of wine tasting, you can relax in the spa and dine on gourmet cuisine overlooking the vines.
Big-game fishing and barbecue on Lord Howe Island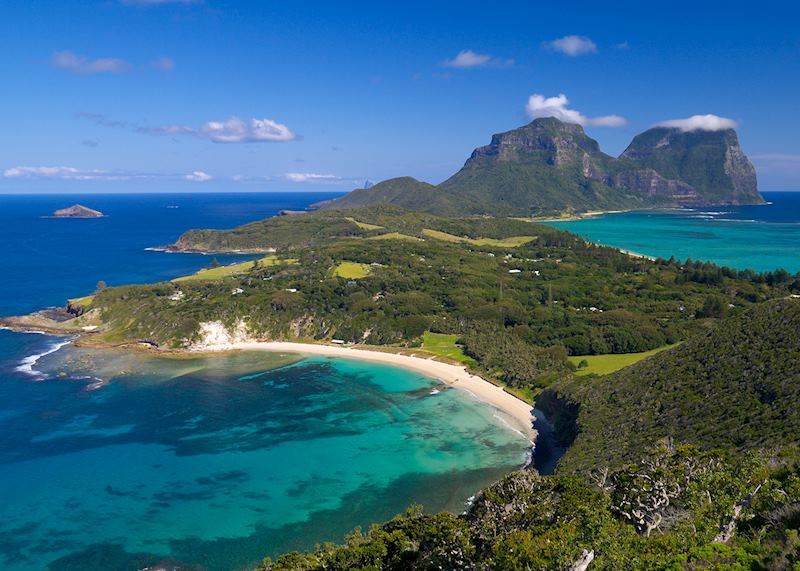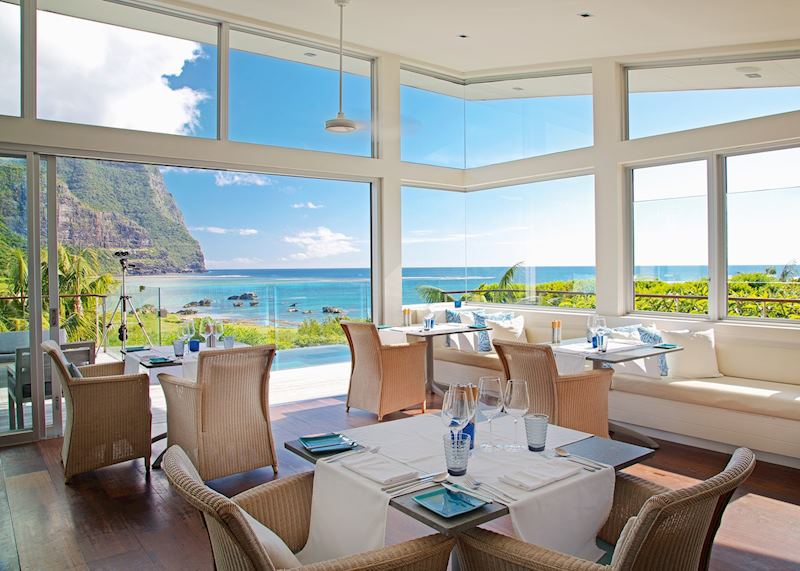 By Billy
A two-hour flight from Sydney brings you to the UNESCO World Heritage Island of Lord Howe. Inland, it's all mist forests and Kentia palms, while its waters and aquamarine lagoons are teeming with over 500 species of exotic fish. What's more, only 400 visitors are permitted to visit the island at any one time, so you'll never have to fight for a spot on the sand.
So far, so scenic, but Lord Howe Island is also regarded as one of the world's best fishing spots. The place to stay on Lord Howe Island for anglers, and food lovers, is Capella Lodge. It offers a private or shared guided fishing trip that sees you head out to sea in a small boat and cast a line to tempt big-game fish. All your kit is provided, so you can have a go at catching wahoo, yellowfin tuna or Lord Howe kingfish.
That evening, Capella Lodge's chef will cook up your catch in a beach barbecue for you to enjoy as the stars come out.
Other things to do on Lord Howe Island
Snorkeling, snorkeling and more snorkeling in Lord Howe Island's warm seas. It's the most southerly lying coral reef in the world, and its protected marine life is thriving. Head to North Bay, where shy lionfish and Lord Howe Island coralfish skulk inside a wreck.
Wine, waterfalls and wildlife in the Southern Highlands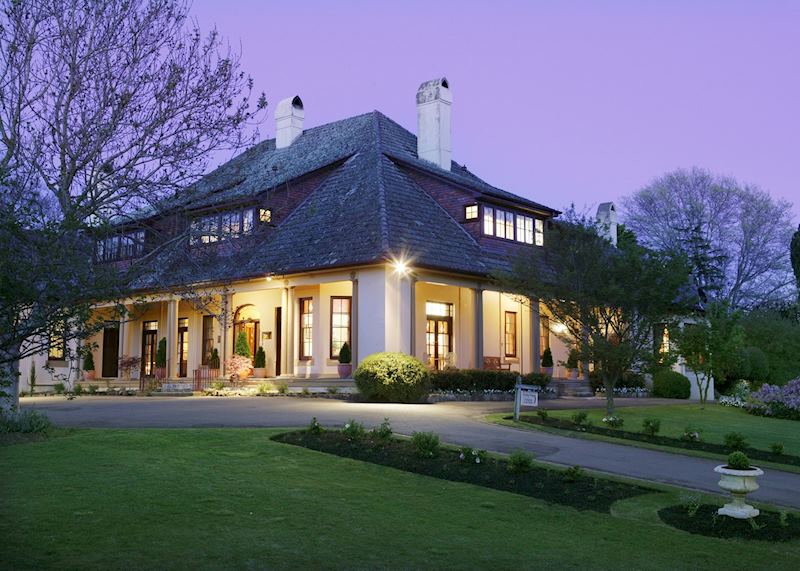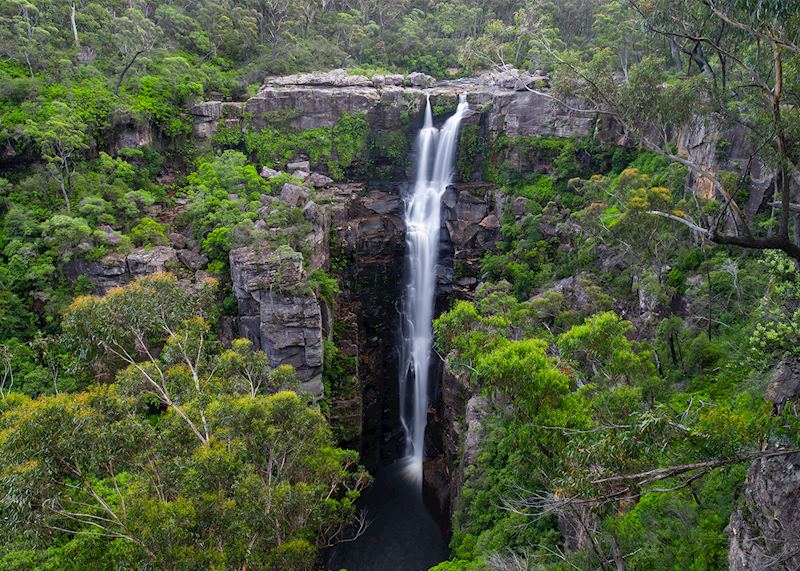 By Christine
Just an hour and a half's drive southwest of Sydney, the landscape changes to a rolling belt of green hills, the air cools and you come across well-presented country towns, pockets of forest, and fields striped with vineyards. The Southern Highlands is where savvy Sydneysiders head for their dose of peaceful countryside, and it's where you'll find some of the best cool-climate wines in Australia.
I suggest spending a day with a local guide, who'll plan everything around your interests. You could visit a vineyard for an intimate pinot masterclass, learning how the climate influences the taste. You might also meet a local winemaker and sheep farmer, who'll let you enjoy a tasting from the back of his ute (pick-up truck).
Lunch could be at a family-owned homestead, where you can tour the farm before sitting down to a home-cooked meal, prepared using ingredients from the grounds. And, for a spot of adventure, you could take a short hike through forest to see Carrington Falls' 50-m (164-ft) veil of water plunging into the Kangaroo River.
Look out for wildlife in this region, too — it's possible to see kangaroos, wallabies, wombats, koalas and a variety of birdlife (we can arrange a separate tour focused on wildlife if you're spending longer here).
Where to stay in the Southern Highlands
It's easy to visit the Southern Highlands as a day trip from Sydney. But, if you'd like to spend more time here, I recommend Peppers Manor House, a stylish 1920s countryside retreat with just 43 rooms and a restaurant focused on serving fresh farm-to-table dishes from the local area.
Stay at a gourmet hideaway in Bouddi National Park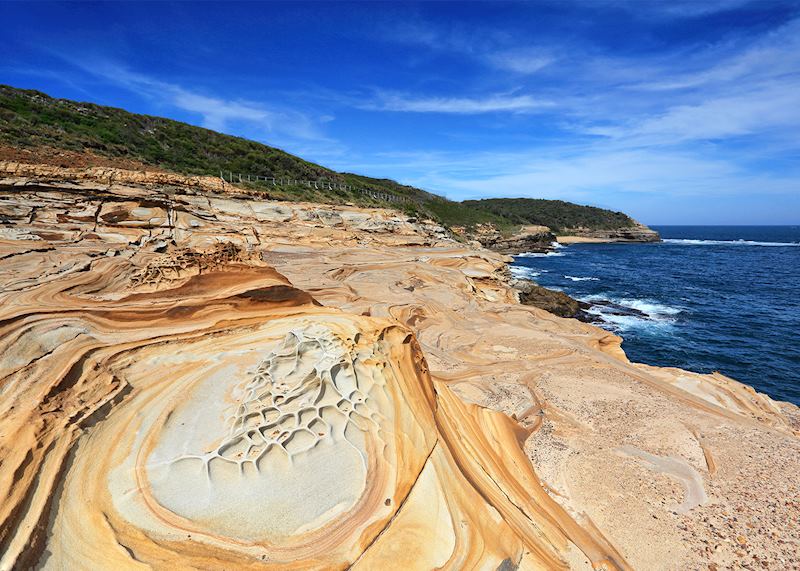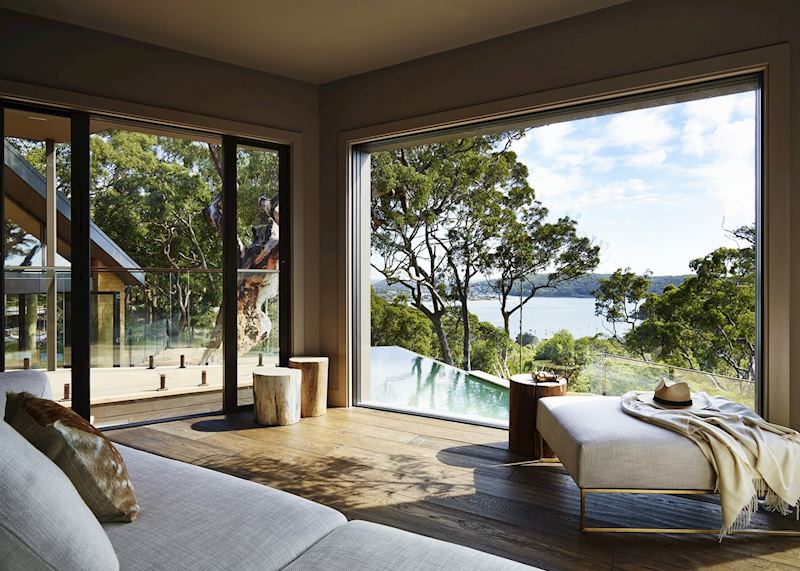 By Ellie
Set between the leafy eucalypts and red gums of Bouddi National Park, Pretty Beach House is a luxury lodge that caters well to food lovers.
It enjoys a remote location, marooned in bushland on New South Wales's Central Coast, a two-hour drive or short seaplane flight from Sydney. So, your time here is all about relaxing and enjoying the property's elegant all-inclusive dining, while drinking in the views over the gentle swells of Broken Bay.
I love how you can enjoy each of your meals in a different setting around the property. Choose from a dining room overlooking the bay, eating outside in the immaculate gardens, or even at a candlelit table in the wine cellar. Food is all locally sourced and sometimes has an Italian twist, but you've also got the option of a wood-fired poolside pizza oven if you fancy something a little more low-key.
You might like to opt for a picnic basket laden with freshly baked breads, fruit and fig tarts. Then, clamber down one of the property's many walking trails to enjoy your stash in peace in a nearby cove.
Other things to do in Bouddi National Park
Take a guided bush walk to see Aboriginal rock art. You don't have to travel very far — some of these 2,000-year-old rock paintings are found right on the doorstep of Pretty Beach House. Study the art and try to spot drawings of fish, whales and shields, all marked onto sandstone canvases.
Taste your way around Byron Bay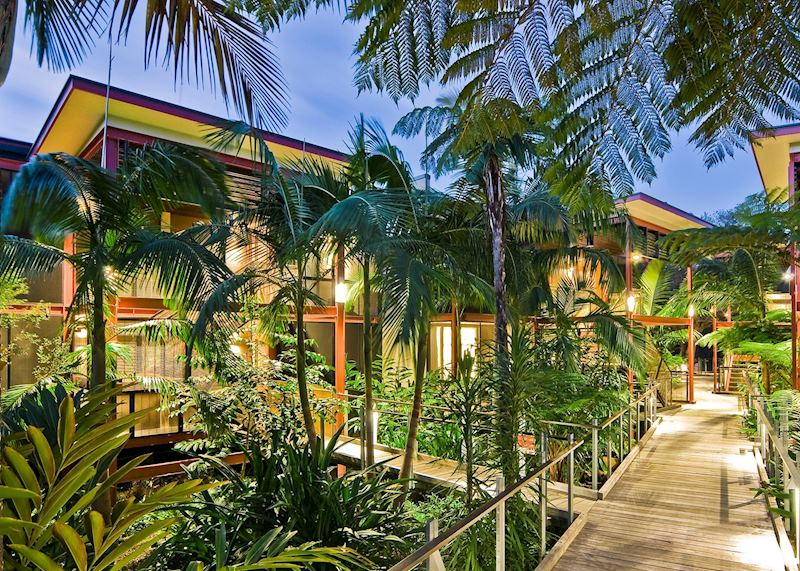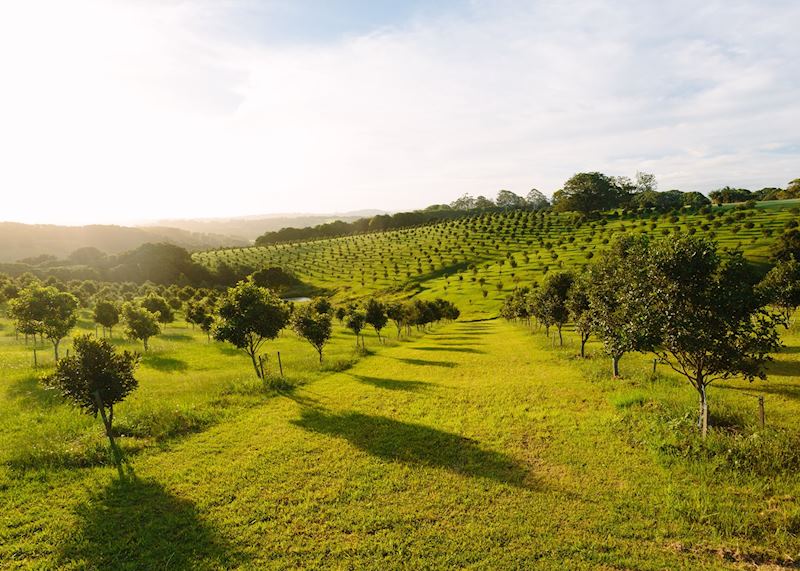 By Nina
Most people think Byron Bay is all about its languid surf beaches, but the town has been making waves with its food and drink scene too. Nature is partly to thank for this. The emerald volcanic hills inland of coastal Byron (known as the hinterland) are blessed with a rich soil; pretty much everything grows here. But the region has a pioneer spirit, too; for years now, small-crop farms have been working closely with local restaurants.
The best way to experience this gourmet scene is to try a hinterland guided tour, tailored to your tastes. After an indulgent breakfast, you might head to a macadamia farm, or even a gin distillery.
My guide took me to one that made its own version of London dry gin. The distillery also grows its own botanicals — pre-tasting, you can walk the grounds, exploring pockets of the luxuriant 'Big Scrub' rainforest that once dominated this part of Australia. It's steadily being regenerated.
The pinnacle might be a meal at Harvest, a Hatted (Michelin-starred) restaurant in the village of Newrybar. The real fun is discovering ingredients recommended by Harvest's dedicated forager, from strangely soapy lemon myrtle to pea flowers. The latter turned my gin cocktail a mesmeric shade of lapis lazuli.
Where to stay in Byron Bay
Byron at Byron sits within rainforest, just five minutes away from Byron Bay. It has a slick contemporary design with plenty of large windows to let the outside in. A boardwalk leads you through the trees, which ring with the songs of exotic birds, while chefs at the Forest restaurant use local produce to create dishes with a distinctly Australian twist.
Read more about trips to Australia

Start thinking about your experience. These itineraries are simply suggestions for how you could enjoy some of the same experiences as our specialists. They're just for inspiration, because your trip will be created around your particular tastes.
View All Tours in Australia