By Audley specialist Lee
A trip through Western Australia allows you to seamlessly blend delectable food, vibrant wines, and abundant wildlife experiences. You can take in views of the vermillion-hued outback meeting the shores of startling blue seas, hike along the rocky coastal paths, and venture among ancient forests where 400-year-old trees soar above.
You can wake up to views of dolphins in Monkey Mia or the untouched fringing reef in Ningaloo Marine Park — all washed down with a glass of sumptuous Australian wine. I've summarised some of my top experiences below, which could be included in a trip through Western Australia.
Get out on the water in Perth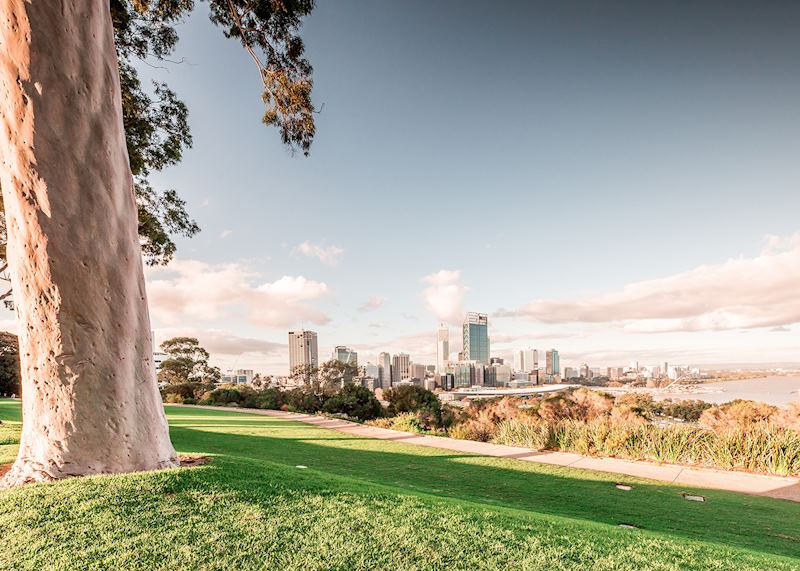 At the convergence of the Indian Ocean and the Swan River, the city of Perth perches on Australia's sun-soaked western shore. This laidback, nature-rich city makes a worthy alternative to Melbourne or Sydney, especially after the thorough renovation of the Perth waterfront. Check in at the new harbour-side Quay Perth Hotel, stroll along the waterfront promenades, and have a bite at the Island at Elizabeth Quay restaurant, where you can sample beers brewed in-house while taking in river views.
With multiple wineries dotting the Perth Hills and experimental new restaurants cropping up in town, Perth is making a name for itself as a wine and foodie haven. I can arrange for you to have a delicious day out walking through the city on a foodie tour. Or I can book you a seat on a Swan River wine-tasting cruise where you can sip earthy cabernet and berry-rich shiraz while you glide on the waterway that cuts through the city of Perth.
Nature is never far away here. The outskirts of Perth are surrounded by the Mundaring Forest and Dwellingup State Forest, where you might see emus, kangaroos, and rare birds like the red-tailed black cockatoo. But even in the city centre, you can be treated to the sight of parrots fluttering overhead and aquatic birds such as black swans and Australian wood ducks splashing in the water. Perth is also home to one of the largest city parks in the world, the Kings Park and Botanic Garden, which blends manicured gardens with wild bushlands.
Swim with whale sharks in Ningaloo Marine Park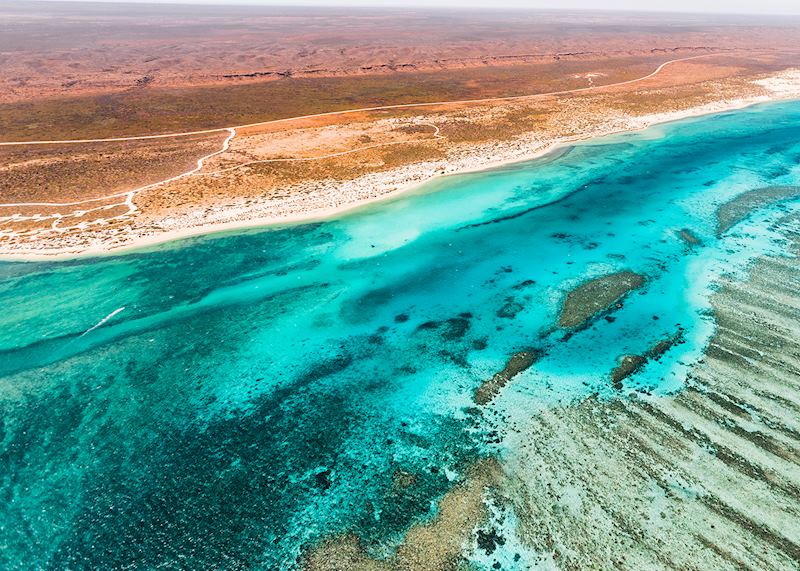 A flight from Perth to the remote town on Exmouth will put you within close distance to the wonders of Ningaloo Marine Park. Here, red sands of the outback meet chalk white beaches and the turquoise waters beyond. The expansive Ningaloo Reef, one of the largest fringing reefs in the world, unfolds from the sandy shore, edging its way out to sea.
A healthy colony of more than 250 species of hard and soft coral are visible from the water's edge. Ningaloo Marine Park teems with fish, turtles, and manta rays, making for amazing snorkeling over the shallow reef. Stay at Sal Salis, a luxury lodge on the edge of Cape Range National Park. Here, glamping tents set in coastal scrub open up the beach, providing front-row views of the reef.
March to July is the best time to visit to swim with whale sharks. The massive shadows of these enormous fish, which easily grow to 7 metres (23-feet) long, are easy to spot from a boat floating above. The boat's captain will let you know when it's time to jump in, and you can glide alongside these gentle giants, watching out for their strong tails. From August, humpback whales join the marine parade, and you can seek them out on a boat tour or venture on a snorkel trip to spy them from under the water.
Beyond the quokkas on Rottnest Island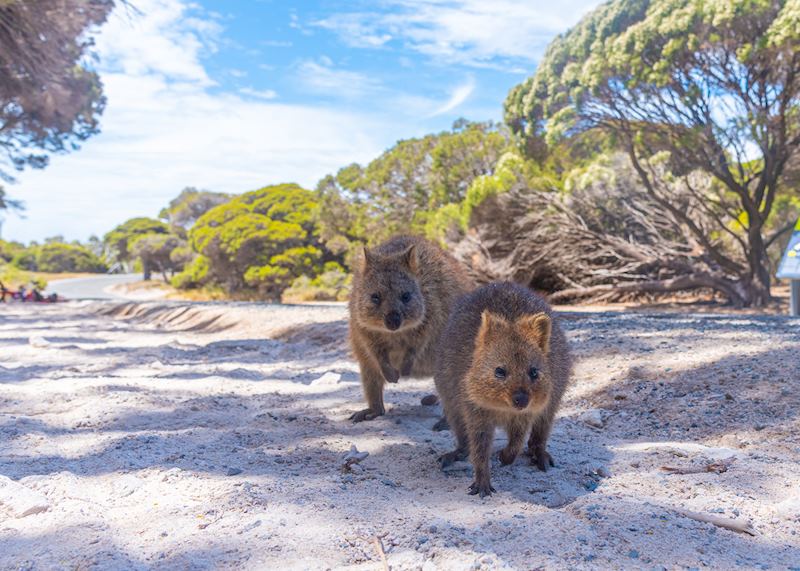 A ferry from Perth takes you out to sandy, low-slung Rottnest Island. This compact island has a thriving population of quokkas — tiny marsupials that are big on personality. The quokkas that live near the island's main settlement are known for stealing snacks, but rent a bike and cycle out onto the island and you can have a more authentic nature experience. You'll see them in their element, dashing through the dense tea trees that erupt with white flowers in spring and summer.
No cars are allowed on Rottnest, other than the island's dedicated shuttle buses, making for a peaceful atmosphere. Rottnest is crisscrossed with a range of walking trails, some that arch along the headlands for elevated views of the island and the cobalt waters that meet the shore. I recommend renting an electric bike to cover more ground and have the freedom to be able to pop into little bays along the way.
The precocious quokkas might be the main attraction here, and spotting their furry faces is certainly exciting, but there's more to discover. Snorkel along the rocky shore, swimming among giant schools of black bream and rainbow-hued wrasse that congregate over purple brain coral, while deeper waters off the island's north shore mean a chance to encounter octopus and stingrays.
Spotting dolphins in Monkey Mia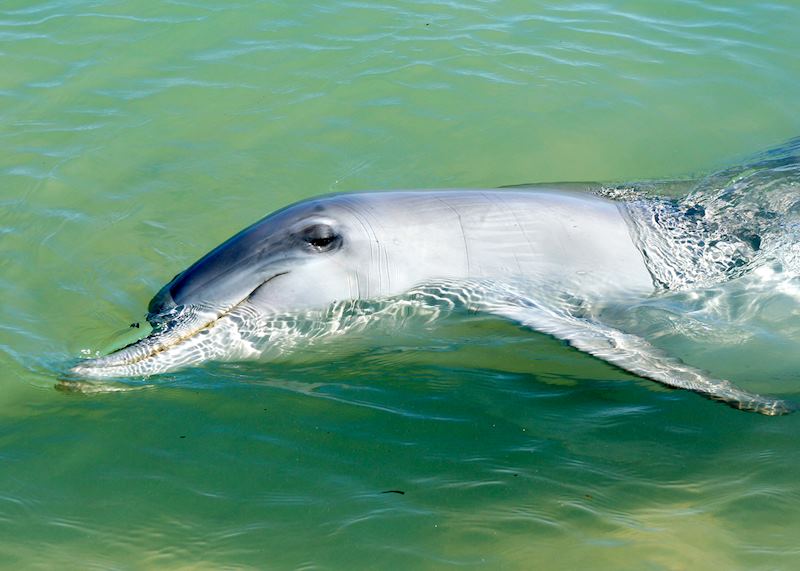 The Monkey Mia Reserve might be found in Shark Bay, but it's the wild dolphin population that lures visitors here. Highly protected, you aren't allowed to swim with or touch the wild dolphins, but you can get an up-close view when the long-beaked Indo-Pacific bottlenose dolphins creep up to the shores of Monkey Mia Beach — which happens a few times every day.
It's a learned behaviour that began back in the 1960s when dolphins were fed here by local fishermen. Since then, generations of dolphins have come to be hand-fed fish, but nowadays the process is controlled by the park rangers who monitor the dolphins and how much they eat, to limit impact on their natural hunting habits. Observing the dolphins from a safe distance while standing ankle-deep in the water, you might notice the scars they carry on their backs from run-ins with sharks.
I can reserve you a spot on a sea safari boat tour, where you have a chance to spot the "Big Five" of the ocean in this area, from sharks to slow-moving dugongs as well as rays, turtles, and dolphins. There's plenty of wildlife to see on land as well – the area is crawling with emus. A 20-minute drive from Monkey Mia takes you to Francois Peron National Park, where you can go out with an indigenous tour guide named Capes on a four-wheel drive through the park's red landscapes — he knows exactly where the kangaroos are grazing.
A taste of nature in Margaret River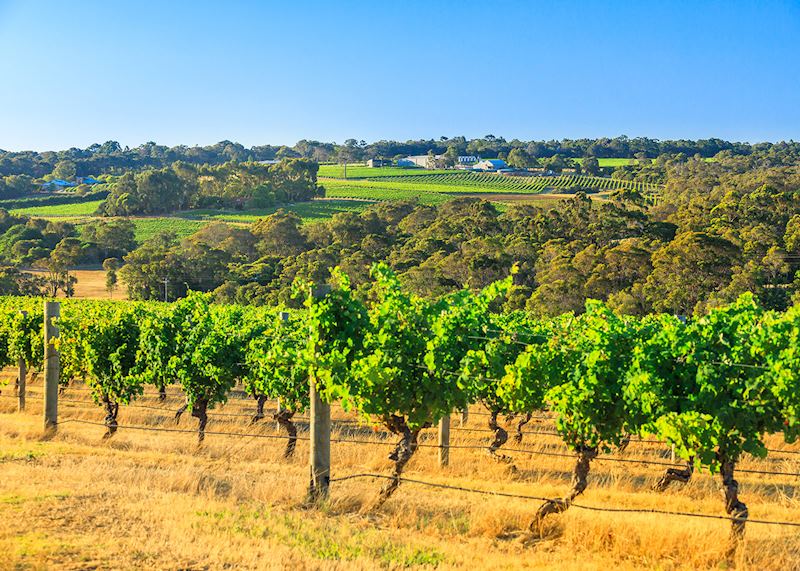 A three-hour drive south of Perth, Margaret River is a small town of wineries, craft breweries, and wide beaches. The region is deservedly regarded for its wine, which you can experience with a visit to the Voyager Estate winery. Here, you can learn about its innovative sustainability practices and enjoy a seven-course lunch and wine pairing. And, while Margaret River is best known for its wine and cuisine, there's abundant wildlife to see — kangaroos and emus have been known to pay a visit to some of the region's wineries.
To see their more natural environment, lace up your hiking boots to take in the variety of landscapes found along this stretch of coast – from steep cliffs and rock formations to the woodlands of the Boranup Karri Forests – found on the 123-kilometre (76-mile) Cape to Cape Walk Track. For avid walkers, the trek can be completed as a multi-day journey, but there are many shorter routes to be found along the way for all levels, including those that are well-groomed for wheelchairs. The Ellensbrook Homestead trek, for instance, will lead you along paved paths and boardwalks to reach the Meekadarabee Falls. Adorned in ferns, moss, and surrounded by wildflowers in the spring, arriving here feels as if you're entering a magical fairy garden.
In Hamelin Bay at the south of the Cape, stone-grey stingrays gather in the water and can be spotted from shore. To get a loftier lay of the land, head to Pemberton where you can take a treetop walk, climbing onto platforms strung between the giant, 400-year old red tingle trees.
When I was there, I saw king parrots grazing on the forest floor. What's striking is that the parrots didn't seem worried by the presence of humans. This is what makes wildlife viewing so special in Western Australia – the animals seem unafraid and you can get up close while still respecting their natural habitats.