By Matt from our Brazil team
Brazil might not be the most obvious destination for a family vacation to South America. Compared with, say, Peru, it's less user-friendly, less set up for family travel, and the distances are gargantuan. But, for more intrepid families, the riches are there for the taking. Rio de Janeiro heaves with family-friendly hotels and interactive activities geared up for children, while the Pantanal offers once-in-a-lifetime wildlife watching. As a beach-loving family, you're also spoiled for choice. Then, for a close encounter with one of the natural wonders of the world, spend a couple of days at Iguaçu Falls.
It's possible to see a lot of Brazil in only two to two-and-a-half weeks: this trip idea provides a useful template for planning your tour, as it follows roughly the outline I've given above. But, if the thought of a lot of internal flights is intimidating for your family, you can also experience the best of Brazil in a more condensed trip.
Rio de Janeiro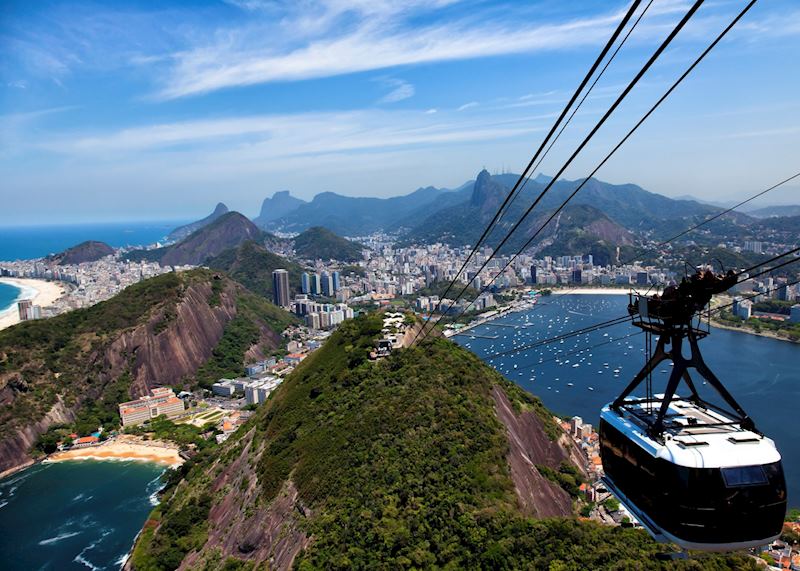 Yes, it's well worth your while visiting Christ the Redeemer and zipping up Sugarloaf Mountain by cable car to look back on the metropolis lying resplendent in its lagoon setting. But, these icons are only part of a much bigger picture. In truth, Rio is a city with much wider appeal for families.
You could take in a match at the legendary Maracanã, or, for a less ear-splitting sporting spectacle, simply wander the beaches of Copacabana, Ipanema or Leblon. You'll find football skills a-plenty on show here, including Brazil's homegrown beach sport, footvolley. You might also see locals refining their capoeira: a swinging, impossibly sinuous martial-art-come-dance-form.
Other whole-family experiences include cooking classes and guided bicycle rides, both of which can tailor to children. A more unusual option, for artistically minded older children, is to take a graffiti-themed walking tour.
Focusing around Olympic Boulevard in the city's gritty-but-safe port district, your guide (a friend of some of Rio's most prominent street artists) shares the secrets behind the tags and symbols you'll see around the city, such as rats and angels. Angels represent the hoi polloi, and rats the powers-that-be.
It might surprise you, too, to know that even Rio's famed nightlife is accessible for older children. You can attend samba and bossa nova dance performances in the party-loving Lapa district. Although they might lack the rawness and spontaneity of the real deal danced in Rio's nightspots, they make for an entertaining evening.
Where to stay for families in Rio
Aim to base yourselves in a beach-facing hotel, as they almost all have good rooftop pools. Some are ritzier and trendier than others, but most are very welcoming to families. The Belmond Copacabana Palace is a solid choice, with a generous pool and the option of connecting rooms.
The Pantanal for families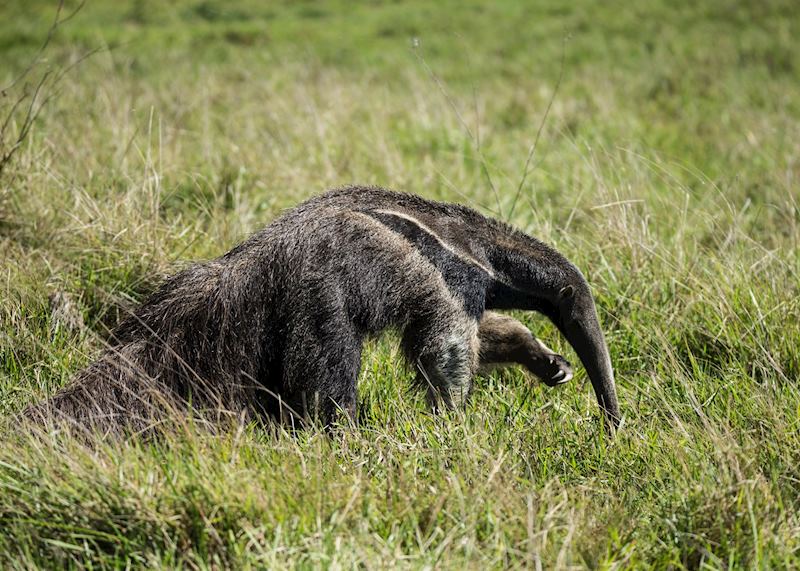 Flying above the Pantanal in wet season, it looks like some strange, flooded planet. Splotches of green form spongy islets amid glistening lakes and pools, and this waterlogged mosaic extends in every direction, with no discernible sign of human habitation.
The Pantanal, the world's largest tropical wetland, is a vast high plain of savannah and dry forest that floods seasonally. It generally makes for better wildlife watching than Brazil's more famous biome, the Amazon. This isn't just because of its scale (it's roughly the equivalent, in surface area, to Washington State, or twice the size of Portugal), but because of its plain-like openness. Fauna is simply easier to spot here than in the thickset rainforest.
You'll stay in lodges, which have the advantage of keeping all the family together. I suggest Caiman Lodge as it has very few rooms and a large level of creature comforts (including more food than you can possibly eat) given its remote location. Getting there involves a three-and-a-half-hour flight from Rio, and then a 45-minute charter or a four-hour road transfer. There are some bugs to contend with, as well as the humidity — but if you can get past this, the rewards are immense.
Guides take you out on various trips each day with a view to spotting wildlife. As well as safari-style game drives, you can explore on horseback, by boat, on foot, or even via activities such as piranha fishing (not as gruesome as it sounds).
You'll also go on night safaris, which I highly recommend: I've seen ocelots and giant anteaters this way. Plus, the Pantanal has the starriest skies I've seen in all South America, with the Milky Way stretching from horizon to horizon.
The Pantanal might seem uninhabited, but it has a thriving human culture, too. While staying at Caiman Lodge, you can sometimes take part in stable visits, during which genuine pantaneiros (Pantanal cowboys) will teach you how to lasso, among other rancher skills.
A mountain escape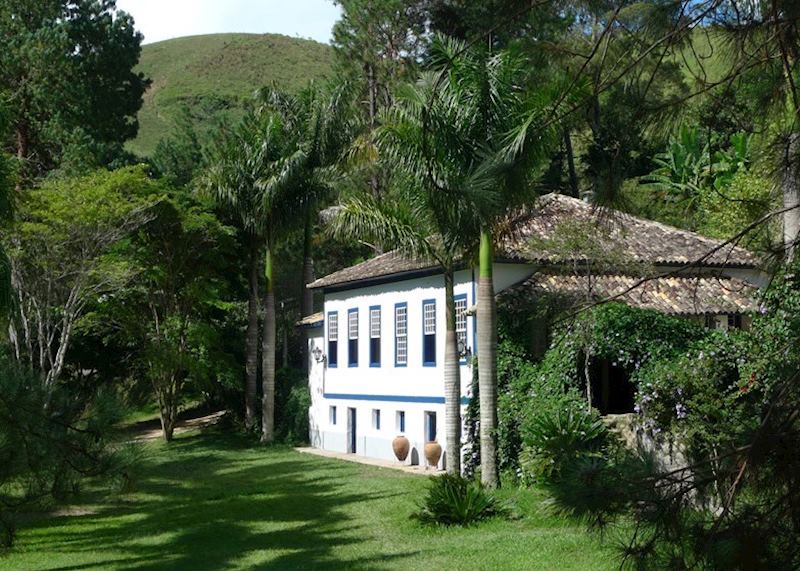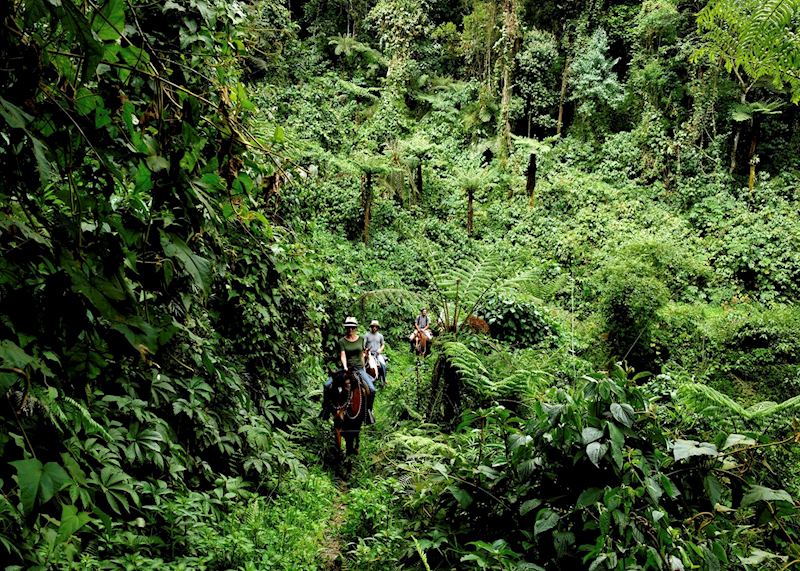 Two hours from São Paulo, tucked among coffee and sugar plantations and Atlantic Forest, lies Fazenda Catuçaba, a private estate-come-ecolodge-come-organic-farm. It's a retreat in every sense — from civilization (the nearest village is 5 km [3 miles] away), from digital overload (there's no internet or electronic entertainment) and, if you like, from scheduling. On your arrival, you'll talk to the fazenda's concierge about the activities on offer and, from there, they'll plan out your days.
The choice of activities is vast, and ranges from horseback rides to zip-lining, canyoning or hiking. You do all of this with private guides, but it's equally possible to explore the hiking trails independently, as a family. The property's isolation means going it alone isn't for everyone. But, if you're looking for a couple of days' breathing space in the middle of your trip, I think it's ideal.
Family-friendly beaches in Brazil
The Green Coast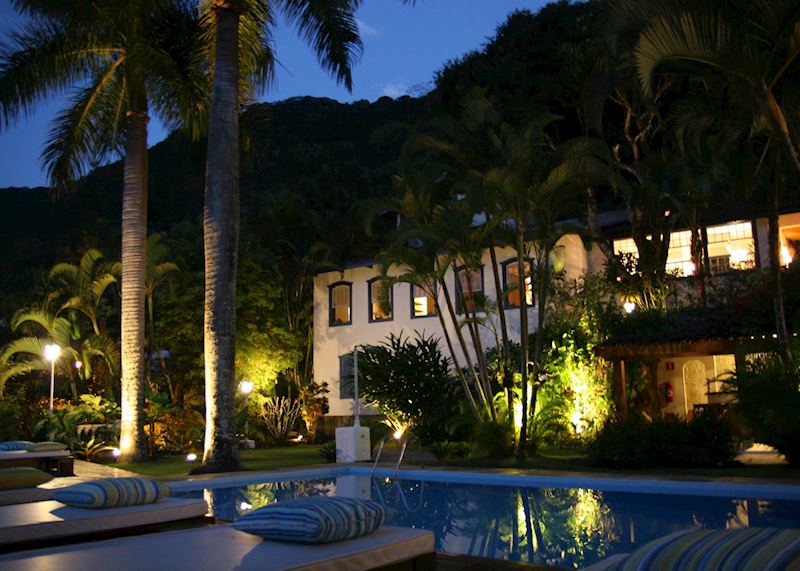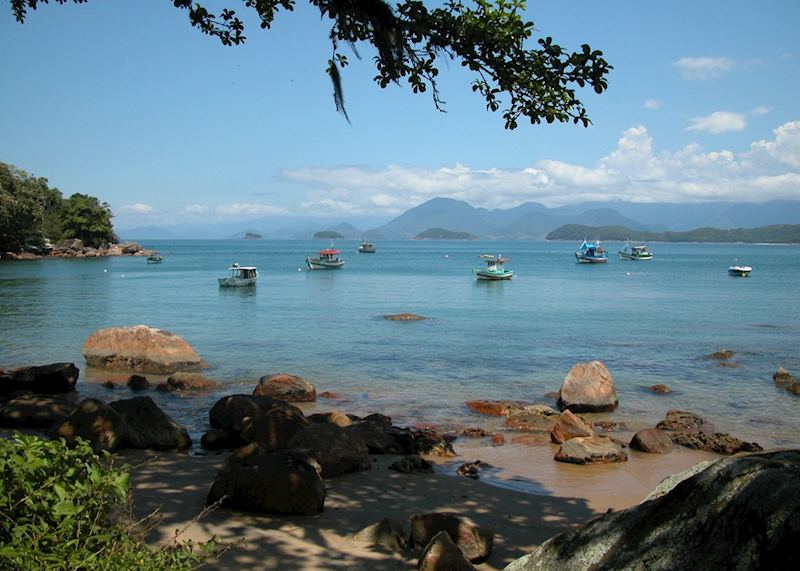 Pousada Picinguaba is hidden in a tiny fishing village on Brazil's Green Coast (around an hour's flight from São Paulo, then a two-and-a-half-hour road transfer). It's bordered by escarpments of tropical rainforest and a sickle of sand the shade of burned toffee. An out-of-the-way spot, the pousada sits right in the middle of a very small village. The only traffic you'll see here is the local fishermen hauling their crafts in and out of the water.
The sister property of Fazenda Catuçaba, Pousada Picinguaba holds by the same principles: you can choose from a number of guided experiences to take part in, but you can also choose to do nothing at all.
The rooms are simpler than at Fazenda Catuçaba, but you're well looked after, food is home-grown and plentiful, and the team are easily able to accommodate children of all ages. Activities include stand-up paddleboarding, surfing, guided hikes and kayaking, but the biggest delight is probably the pousada's schooner, Uyra.
You can rent Uyra privately as a family, or join in with a small-group trip. Either way, my time on board amounted to one of the most idyllic days I've ever spent in Brazil. I was lucky enough to have it all to myself, and spent a few hours sailing around the forested, uninhabited islets just off the Green Coast. Sometimes, I jumped straight off the boat into the ocean — a dreamy shade of curaçao blue — and swam only a few lengths to a deserted beach. At lunchtime, while the crew prepared a picnic of freshly grilled fish, I dozed off on the sand.
Northeast Brazil for families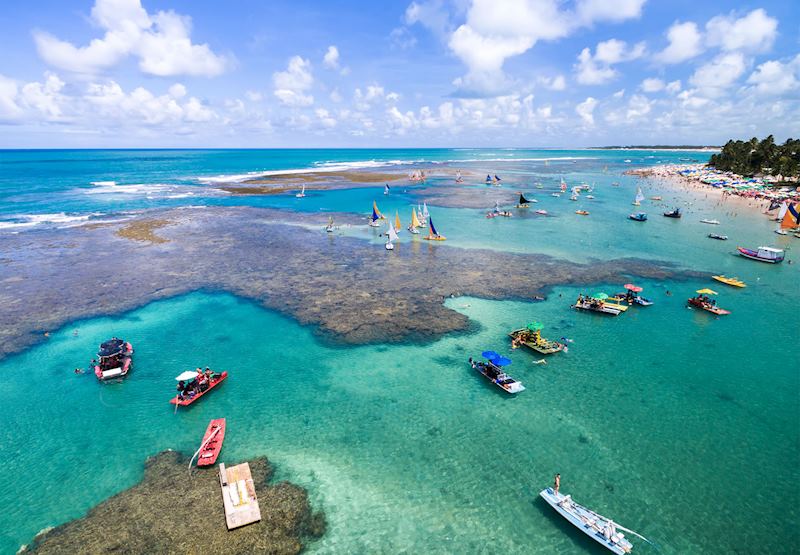 Porto de Galinhas, an hour south of Recife, is a bit more far-flung than the Green Coast. A resort town, it's more developed than other stretches of this relatively under-the-radar coastline, but it's still a looker. It has a boardwalk, slicks of burnished gold sand, clear, bottle-green sea, and some shallow tidal pools where the temperature is like bathwater. As an added bonus, you can fly here direct from Rio, with no airport layovers.
Nannai Resort & Spa is the best place to stay for families. A large hotel, it very much caters to local city dwellers who escape to Porto de Galinhas on a weekend. But, the rooms are comfortable and very large (there are private bungalows available, too), food is high quality, and you can arrange a number of experiences while you're there, such as dune buggy rides.
Iguaçu Falls for families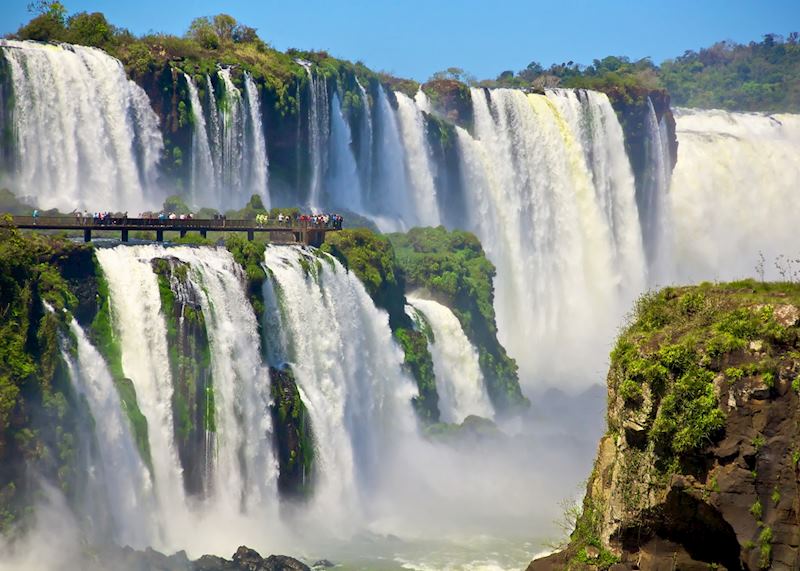 Time and budget permitting, I'd spend a day or so exploring this vast watery curtain that overlaps Brazil and Argentina. There are multiple ways to experience Iguaçu, including boat trips that edge thrillingly close to the falls (rain jacket obligatory) to hiking and cycling trails winding through the surrounding Atlantic Forest.
You can check off Argentina in your country count (and get a bonus passport stamp) if you choose to stay just over the border in the opulent Awasi. The hotel provides you with your own guide, driver and vehicle for the length of your stay. The classic family hotel option, however, is on the Brazilian side: the Belmond Hotel das Cataratas. It has a good pool and various benefits for guests, including evening access to the falls.
Read more about family trips to Brazil 

Start thinking about your experience. These itineraries are simply suggestions for how you could enjoy some of the same experiences as our specialists. They're just for inspiration, because your trip will be created around your particular tastes.
View All Tours in Brazil