Brazil's size can make it seem overwhelming — but it doesn't have to be. A country as vast and varied as this offers a lot of options: you can visit at least three of Brazil's big destinations in the space of two weeks, without the need to take a never-ending number of internal flights. Although domestic flights are sometimes inevitable, there are ways of reducing the number you take, while still experiencing the country's greatest highlights — from Rio to the Amazon Rainforest — in depth. It's also a question of finding ways to maximize your time in these places — and luckily, we have plenty of ideas when it comes to that.
Trip idea 1: São Paulo – Iguaçu Falls – São Paulo – Paraty – Ilha Grande – Rio de Janeiro
Internal flights: 2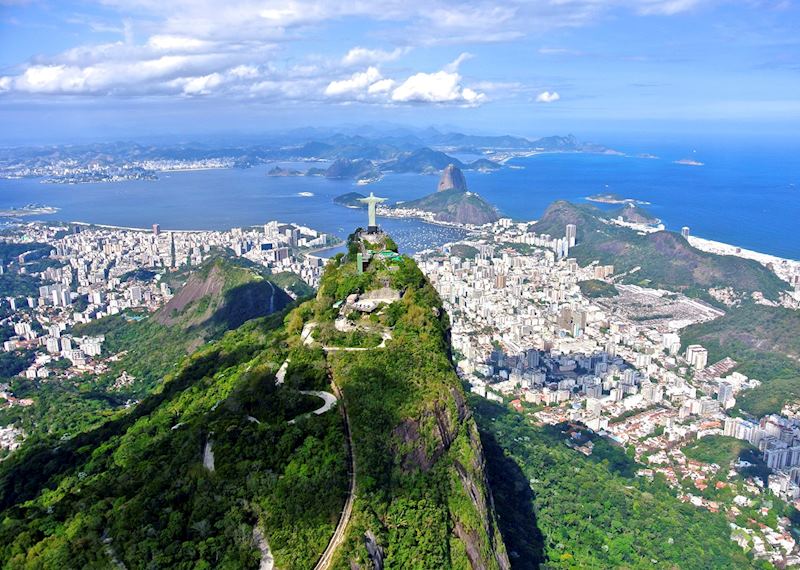 By Fiona
How this trip works (and flight-dodging tricks):
This trip combines the Iguaçu Falls with a taste of Portuguese colonial heritage in the petite town of Paraty and time on one of Brazil's best beach spots. It culminates with two nights in Rio de Janeiro, from where you catch your international flight home.
After getting into São Paulo on an overnight flight, you hop straight onto a 1 hour 45 minute flight to the Iguaçu Falls (see below) without having to endure a layover. (I always think this makes it feel as though you've simply been on one long, continuous flight.)
After three days, you fly back to São Paulo. From then on, you travel only by car or boat. You can take a four-hour road journey (with private driver) to Paraty, a time-warped former gold route town turned modern-day artists' enclave.
Two days later, take the ferry over to Ilha Grande, an island strewn 18 km (11 miles) off Brazil's Costa Verde, for some secluded beach time (especially if you visit in January, when you almost always find a beach all to yourself). Back on the mainland, you're driven the two-and-a-half hours on to Rio.
Making the most of your time in Brazil

I'd spend three days at the Iguaçu Falls, with one day to relax completely after your international flight. Most hotels here have swimming pools and plenty of inviting spaces for lounging. Then, get exploring: the wealth of things to do in this area ranges far beyond the actual waterfalls.
By all means, take a boat trip and be spattered with the spray given off by this titanic, silvery-white torrent, or cycle the trails weaving through the surrounding Atlantic forest. But don't underestimate the other possibilities.
I make time to visit the Argentine side of the falls, where (among other delights) you'll find a peaceful hummingbird garden, planted by a local family and attracting more than 20 species. You can also venture out to the Itaipu Dam, a hydroelectric feat at the point Argentina, Brazil and Paraguay converge.
After returning to São Paulo you drive to Paraty. I have a soft spot for this little town. It's a traffic-free cluster of whitewashed Portuguese colonial buildings (many with brightly painted doors), which house pousadas, churches, art galleries and bookshops.
Ilha Grande, on the other hand, is a primeval tangle of Mata Atlantic forest. Its interior has flourished with wild, undomesticated abandon thanks to the island's role as a penal colony for many years (prisoners weren't at liberty to wander at will, or hack away at the undergrowth).
Today, it remains largely free from development. The entire isle is girded by beaches, the best of which is Lopes Mendes, with its minutely grained sand and fringe of palms and almond trees. You can sway in hammocks in rustic waterfront pousadas, walk the jungle pathways (did I mention there are no cars?), and look for sea turtles as you snorkel.
Once you're in Rio, you might be tempted to skip the tried-and-tested classics of the granite monolith known as Sugarloaf Mountain and open-armed Christ the Redeemer. Don't. Especially Cristo Redentor (as he's known locally), since his statue taunts you almost everywhere you go in the city. You feel compelled to go up and stand at the base of his pedestal to take in his scale.
I'd also make a case for spending a day on the honey-gold sands of Copacabana Beach. You can watch games of volleyball and its soccer hybrid, footvolley. And, you'll see that everyone (and I mean everyone — from 5-year-olds to 105-year-olds) sports bikinis. It's a refreshingly liberating, intoxicating cross-section of Carioca (Rio's residents) life.
Trip idea 2: São Paulo – Cuiabá — São Paulo — Iguaçu Falls — Rio de Janeiro
Internal flights: 3 (4 if you finish in Rio)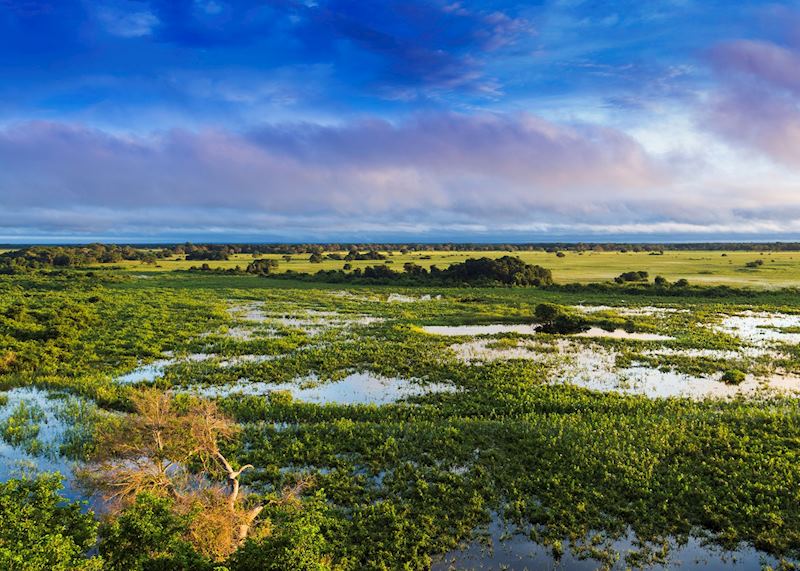 By Fiona
How this trip works (and flight-dodging tricks):
As with my first trip idea, you arrive into São Paulo before taking a connection to Cuiabá in the southern Pantanal, the largest tropical wetland on the planet. For me, it's Brazil's standout wildlife destination.
Cuiabá flight times generally mean you have to stay over in Cuiabá itself before journeying to your lodge via a three-hour drive the next day.
From here, you fly to the Iguaçu Falls indirectly, via São Paulo again. You then have the option to fly home from Rio rather than São Paulo, making use of the direct flights available from the falls.
Making the most of your time in Brazil

Don't be tempted to venture into São Paulo — just getting into the city from the airport can take hours. For me, it eats up too much time (that's better spent, I'd argue, in Rio — see my recommendations above).
Instead, this trip focuses on exploring the Pantanal. From the air, it looks like an infinite-seeming grassland mottled with woods and lagoons, which resemble whirlpool-like swirls and eddies.
Pousada do Rio Mutum is, in my book, one of the best places to stay in the northern Pantanal. You'll likely want to see as much wildlife and avifauna as possible, and the activities and experiences offered at this lodge increase your chances.
There are generally two trips a day (in the morning and late afternoon, giving you time to relax by the lodge's pool in-between). You can try 4x4 safaris, boat trips along the constantly shifting waterways, and horse riding (which is brilliant for getting a different vantage point of your environs: you can look into treelines, for example, or cross flooded patches of the savannah).
While on a water-based safari, I've seen a rare agami heron stalking through a reed patch, an impossibly tiny pygmy kingfisher, and jabiru storks, which stand at about 1 m (3.3 ft) high. Capybaras are commonly on the banks of the waterways. You can also experience some good wildlife sightings around the lodge: watch out for caiman skulking along the river beaches as you board your boat.
Trip idea 3: Rio de Janeiro – Manaus (for the Amazon) – Rio de Janeiro – Búzios or Paraty – Rio de Janeiro
Number of internal flights: 2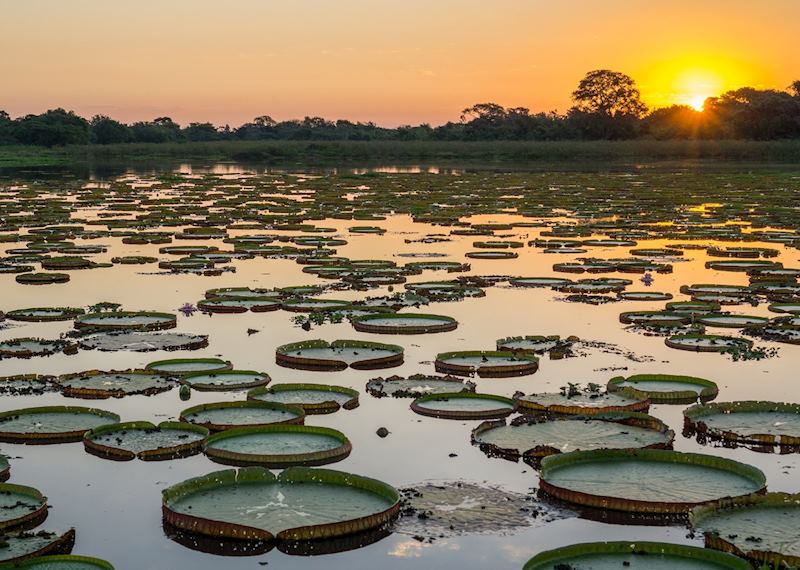 By Georgina
How this trip works (and flight-dodging tricks):
Many people express the desire to combine the Amazon and the Pantanal in the same trip, but I'd always recommend choosing one over the other if you're looking to avoid lots of domestic flights. The Amazon fits easily into most trips as you can fly direct to Manaus (the gateway town) from Rio de Janeiro.
So, starting this trip in Rio, fly to Manaus (spending a night there) before heading off by boat to your Amazon lodge. After the jungle, fly back to Rio. From here, you're driven either three hours east to Búzios (for some bonus beach time), or four hours south to Paraty (see option 1, above). From either of these places, you return to Rio by car to catch your international flight home.
Making the most of your time in Brazil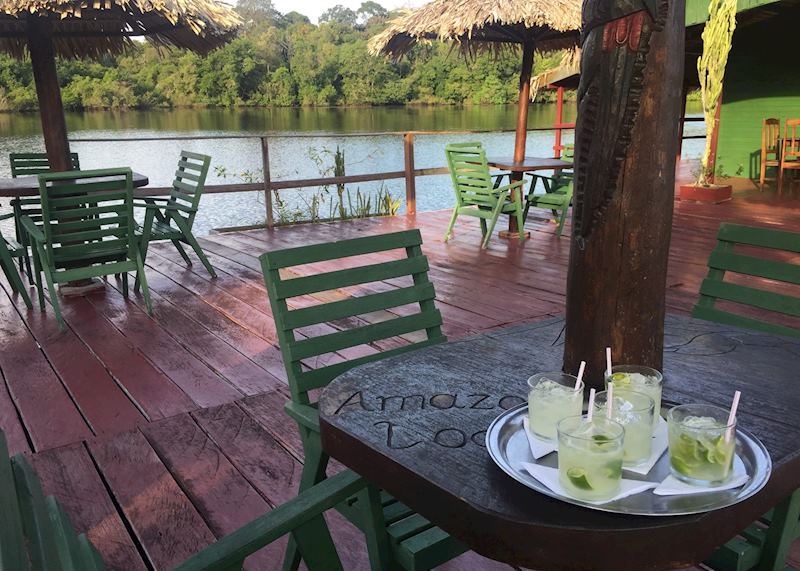 It might take four to five hours to get there on a boat, but I recommend staying at the simply named Amazon Lodge (a floating lodge) for an immersive Amazon jungle experience.
Its remoteness means there's no electricity at night, and although this requires you to give up a few creature comforts, it does make for a more intense encounter with the 'lungs of the planet.' You wake to what sounds like the rumbling of cars on a highway — the motor-like calls of howler monkeys. During your stay, you might also see toucans, macaws and sloths.
The lodge offers guided boat and canoe trips, during which you might see pink and gray river dolphins. It's these smaller boats that allow you to poke your way into the murky, deep-green otherworld of smaller tributaries, and you soon lose all sense of direction in the jungle. Instead, you can watch your guides and boatmen navigate using lily pads, overhanging branches, bends in the waterway: theirs is a world devoid of conventional signage.
Some jungle walks are available too — my guide showed me a bird spider on one — as well as piranha fishing.
Búzios reminds me of a Mediterranean beach town and is a pleasant place to laze around for a few days. Paraty meanwhile, is a good place for sampling Brazil's signature spirit, cachaça. You don't need long here — two or three days at the most — and I'd spend at least one of them sailing around the nameless, uninhabited islets just off Paraty's coast, stopping off to picnic and swim.
In Rio, I make a beeline for the Santa Teresa district. Located a little way from the main touristy hubs, its cobbled streets are crammed with galleries and shops celebrating local artists and Carioca life — I once stumbled across an exhibition of favela photography. It's best to go with a guide who knows exactly where to find the good galleries. You'll also be treated to excellent views of Sugarloaf Mountain.
Trip idea 4: Salvador — Chapada Diamantina National Park — Salvador — Praia do Forte or Porto Seguro (Trancoso) — Salvador
Number of internal flights: 0 (2 if you choose to visit Trancoso)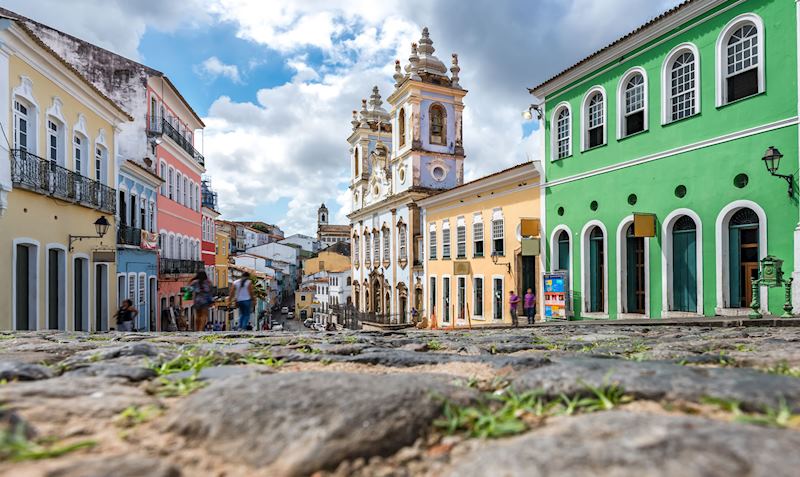 By Georgina
How this trip works (and flight-dodging tricks):
Newsflash: you don't need to go to Rio to experience Brazil. The northeast city of Salvador is another entry point to the country, and on this itinerary, you need never take an internal flight.
After a couple of days exploring Salvador's distinctly Bahian, Afro-Brazilian culture, take a seven-hour bus ride (or drive for five hours) to Chapada Diamantina National Park, a wilderness dominated by tabletop mountains.
After exploring its peaks and subterranean marvels (more on those, shortly), return to Salvador and take an hour's road trip to relax on the Polynesian-esque beaches of Praia do Forte. If you wish to go a little farther afield, fly an hour south from Salvador to Porto Seguro to spend a few days on the understated beaches of Trancoso.
Making the most of your time in Brazil

Salvador is a fulfilling city to explore, being slightly smaller (and more manageable) than Rio. You stay in the Pelourinho district, a huddle of cobblestone thoroughfares high on an escarpment. Its 16th-century buildings are painted in puce, banana yellow, oxblood, curaçao blue, lime green… anything goes. Sinewy, lithe capoeira artists flex, kick and flip in squares, and the sound of samba drumming echoes around the streets.
My first port of call would be the São Joaquim underground market: walk to the seafront and take the elevator down to it. You'll see all kinds of trinkets for sale, among them lines of rainbow-bright beads worn by devotees of the syncretic Candomblé religion, a key part of Afro-Brazilian life.
Brazil might not immediately spring to mind as a hiking destination, but off-the-beaten-track Chapada Diamantina National Park delivers the goods. Beneath its lofty flat-topped mountains, it's riddled with ravines, caverns, waterfalls and piercingly blue lakes. I'd spend a few days here exploring its trails.
Guides are optional, but some will drive you halfway up a mountain so you can get the views without all the exertion. Swim, if you can, in the fantastical neon-blue water of the Poço Encantado (Enchanted Well) and Poço Azul (Blue Well), two flooded caves lit by rays penetrating through unseen fissures in the rock.
Praia do Forte has smooth-sand, palm-bordered beaches that experience good weather nearly all year round, plus a modest sea-turtle sanctuary. Farther south, Trancoso is a clifftop village with a quadrado (town square) of alfresco restaurants and bars. There's very little to do (I say this as a positive), other than enjoy its uncrowded beaches.
Read more about trips to Brazil

Start thinking about your experience. These itineraries are simply suggestions for how you could enjoy some of the same experiences as our specialists. They're just for inspiration, because your trip will be created around your particular tastes.
View All Tours in Brazil