Whether its hilltop towns in Provence or Gothic castles scattered along the Rhine, a European river cruise allows you to visit a wide range of storied cities and out-of-the-way villages in a relaxed fashion. No matter where you go, you can enjoy gourmet dining, indulgent spa treatments, and your choice of in-depth tours with experts.
Here, we've created a primer to river cruising in Europe, introducing the distinctive, wide-bottomed ships and their on-shore experiences. We've picked out five of our top routes, which take in everything from tulip fields beside Dutch waterways to the ancient vineyards along Portugal's Douro River.
About the routes
We've spotlighted five of Europe's greatest rivers for cruising. Each one works well as a standalone trip, but we think you'll get even more from your experience if you combine them with an in-depth visit to the city or cities at the start or end of the cruise — you can use the itineraries we've suggested below as inspiration. Of course, your specialist will craft your trip just for you, choosing hotels and experiences that match your particular tastes.

Waterways in Belgium & the Netherlands
Duration: 7 nights
Start & end point: Amsterdam
Countries: The Netherlands and Belgium
Each spring, the Netherlands erupts in a riotous celebration of tulips and other spring flowers — from farm fields to botanical gardens, the country boasts millions of bulbs blooming in candy-bright shades of lipstick red, sunshine yellow, and vivid orange. If you're planning your cruise between late March and early May, you'll get to soak up the splendor of the blooms.
This cruise gives you a chance to explore the country's well-known love of tulips, with (optional) visits to a family-run tulip farm and the Floralia flower show in Antwerp. The grand finale is a stop at the annual festivities in the prestigious Keukenhof gardens, where 7 million bulbs — including 800 varieties of tulips, not to mention dozens of daffodils, hyacinths, and crocuses — draw visitors from around the globe every year.
The cruise begins and ends amid the scenic, shady canals of Amsterdam. Along the way, you'll get a chance to admire Belgium's wealth of medieval architecture in Bruges, Middelburg, and Ghent, and admire the historic windmills at the village of Kinderdijk. In addition to the floral-themed stops, you can discover the timeless appeal of Delft pottery or indulge in a masterclass from a Belgian chocolatier.
Learn more: You can incorporate this cruise on any trip to Europe, like this ten-day itinerary suggestion that includes time in Amsterdam.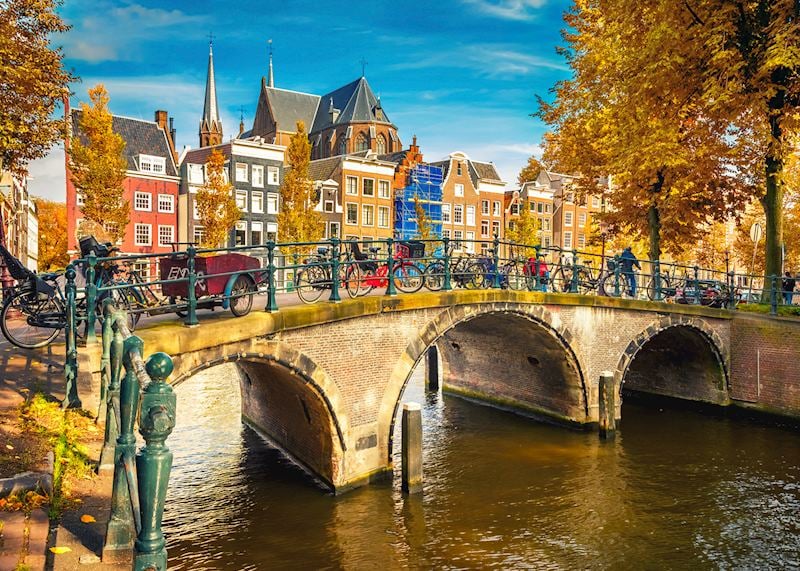 Germany & Luxembourg: the Rhine & the Moselle
Duration: 7 nights
Start & end point: Luxembourg and Nuremberg
Countries: Germany and Luxembourg
From the vineyard-lined shores of the Moselle to the castle-dotted bends of the Rhine, this cruise gives you a chance to explore the food, drink, and scenic landscapes of both Germany and Luxembourg. Many of the experiences here allow you to acquaint yourself with the region's cuisine and distinctive alcoholic beverages — you can sample smoked beer and traditional wurst in Bamberg, sip the renowned wines of the Rheingau region, or learn to bake a pretzel at a small local bakery. For a more active trip, you might opt for hikes through vineyards or up steep hills to explore local castles.
Along the way, you'll visit villages like Bernkastel-Kues, Cochem, and Wertheim, which seem lifted from the pages of a storybook with their half-timbered houses painted in cheerful primary hues. You can also opt to visit the Niederwalddenkmal monument via a gondola with panoramic views of the Rhine Valley. Or, you might venture down the Romantic Road to visit Rothenburg, Germany's best-preserved walled town.
Learn more: This 13-day suggested trip adds time in both Paris and Prague before and after your cruise, extending your exploration through the heart of Europe.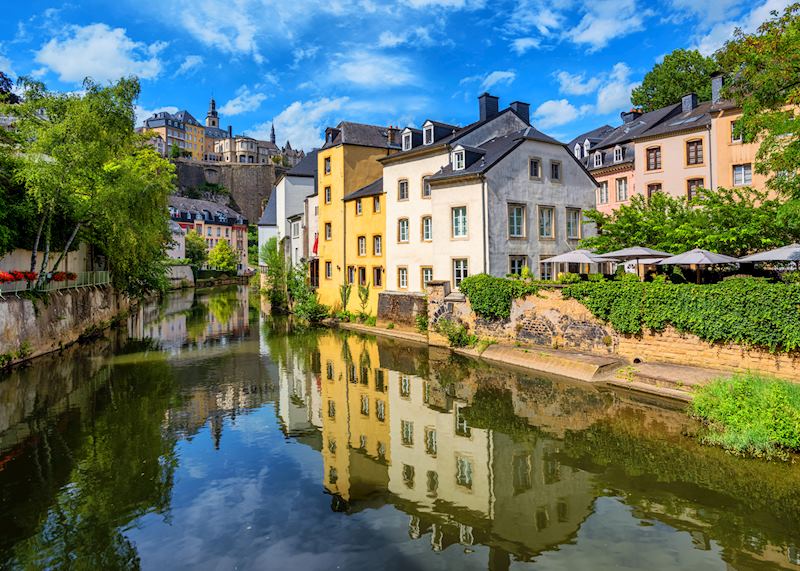 Germany & the Netherlands: the Rhine
Duration: 7 nights
Between: Geneva and Amsterdam
Countries: France, Germany, the Netherlands, and Switzerland
It seems like there's a castle around every curve of the Rhine — imposing Gothic confections of crenellated ramparts and pointed towers that loom over the river. Cruises along the Rhine let you admire the apparently endless parade from the water, and give you the chance to actually slip inside a few — for example, you can opt to take a guided tour of the stately interiors of Burg Lahneck in Germany.
In addition to castles, you'll find medieval villages dotted along the banks — places you likely wouldn't visit any other way. For example, you can stop at the Alsatian town of Strasbourg to visit the well-preserved 16th-century old town, packed with brightly painted half-timber buildings.
In Germany, the river is also known for its vineyards — you can enjoy a simple tasting in Rüdesheim am Rhein. Alternatively, join a cycle tour through Breisach or take a gondola ride to the Niederwalddenkmal monument, followed by a sampling of Riesling wines.
Learn more: This cruise pairs well with an in-depth exploration of Amsterdam, which is included in this 12-day suggested itinerary.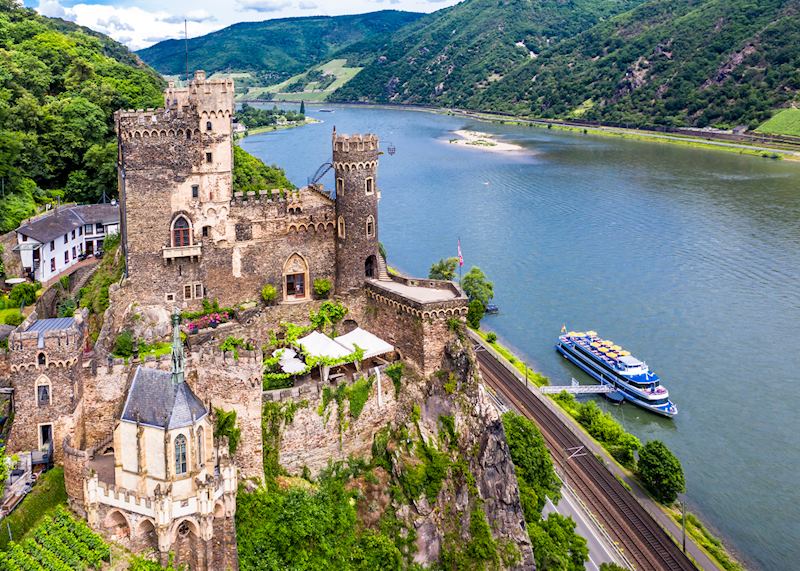 France: the Rhône
Duration: 7 nights
Start & end point: Lyon to Arles
Countries: France
Gentle hills drenched in sunshine, lavender fields that hum with bees, storied vineyards, and fragrant truffles — a Provence cruise between Lyon and Arles lets you fully indulge your senses. The route highlights why this region's sumptuous character has inspired poets, painters, chefs, vintners, and even popes since the Roman era.
The on-shore tours here include a truffle hunt through the sunny countryside, following a trained truffle-sniffing dog. You could choose a vineyard tour and tasting in the Beaujolais region, known for its gamay grapes and lighthearted approach to winemaking. Or, enjoy a red-wine-and-chocolate tasting at Le Château de Tournon.
With narrow medieval streets paved in honey-gold stones, Arles inspired Vincent Van Gogh when painting his Café Terrace at Night, which has made the French city a popular destination for art lovers. You can take a walking tour with an art historian to learn more about the painter's time here and visit a Van Gogh-themed gallery.
Arguably the climax of the cruise is a stop in Avignon, home to the Palais des Papes, or papal palace. A tour of this sprawling complex of turrets, fortifications, and battlements will give you a glimpse into the Pope's power in 14th-century Europe.
Learn more: Get inspired with our 13-day suggested trip, which includes this cruise as well as time in Paris, Versailles, and Cannes.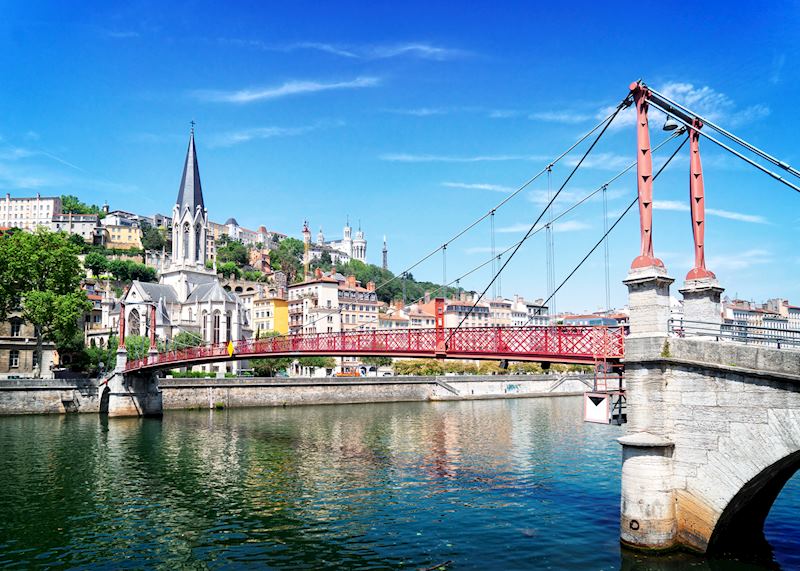 Portugal & Spain: the Douro
Duration: 7 nights
Start & end point: Porto & Vega de Terrón
Countries: Portugal and Spain
A cruise down the Douro in Portugal and Spain is a chance to explore one of the world's oldest designated wine regions, known for both its vistas and its vineyards. The steep sides of the valley are lined with hand-carved terraces where vintners have been growing grapes for more than a millennium — we think the best way to enjoy the views of the gently undulating terraces is from the river.
The route includes several chances to visit local quintas, a Portuguese word for wine estates. They dot the riverside and you'll be able to stop at several to try traditional cuisine as well as sample the fortified port wine that the region is known for. You can also stop for another tasting in the city that gave the wine its name — Porto.
Looking beyond food and wine, you can also choose to take guided tours of small local villages as well as the city of Salamanca, a Spanish UNESCO World Heritage Site that's home to one of the oldest universities in Europe. Other options include guided hikes and cycling tours, and a chance to explore the blue-and-white-tiled interior of the Palácio Anadia, a Baroque palace from the 18th century.
Learn more: A Douro cruise is included in this 13-day suggested itinerary, which also gives you time to explore Lisbon and Madrid.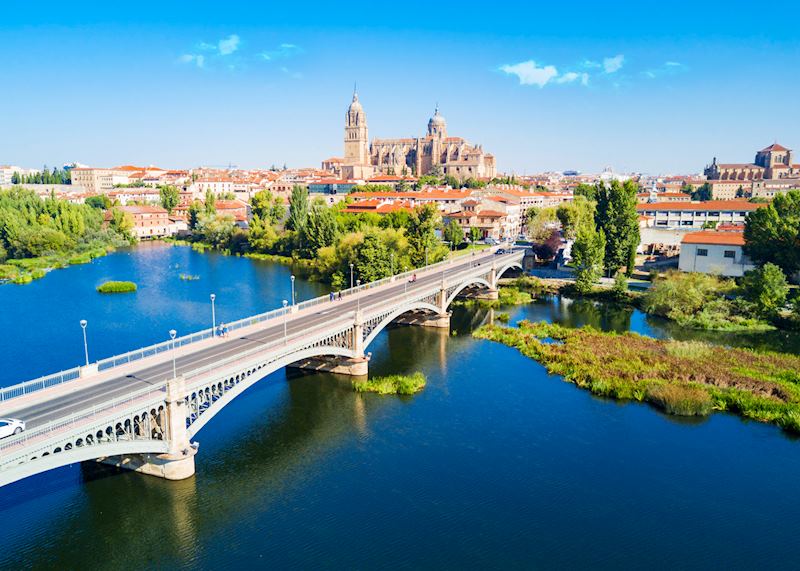 About the ships
These are not the ocean-going liners that many people think of when they hear 'cruise ship'. They're much smaller, usually only holding about 150 passengers, creating a more intimate trip. The keels are flat and wide — almost barge-like — and the low, close-to-the-water profile means you'll have a smooth voyage.
We've chosen ships with spacious staterooms that have floor-to-ceiling windows, as well as (usually) both a French balcony and an outdoor balcony. The sophisticated decor, attentive service, and luxe amenities are a match for most elegant hotels in Europe, and usually of a much higher standard than you'd find if you wanted to spend the night in many of the villages en route.
Dining here is a gourmet affair, with both local and international menus, and a generous wine cellar. You can sit down to breakfast, lunch, and dinner, as well as enjoy wine and beer with meals and tapas between eating times — all included as part of your package.
Also included is a wide menu of activities available at each stop. You can go for guided hikes, while a fleet of bicycles onboard means you can explore like the locals do, with or without a guide. Gourmets can opt for a wine tasting, market tour, cooking class, or beer-and-bratwurst feast. And, of course, there are guided walking tours.
In the evenings, as you travel effortlessly between villages, castles, and vineyards, you can take advantage of your ship's spa for treatments, attend the nightly entertainment, or simply enjoy a cocktail on the sun deck as you admire the countryside scrolling past you.
River cruise ideas in Europe
These itineraries are simply suggestions for how you could enjoy river cruise experiences in Europe. They're just for inspiration, because your trip will be created around your particular tastes.
Europe river cruises in pictures