French Polynesia is at its best between June and August when the climate is at its driest and the weather is balmy, sitting comfortably in the high 20s to mid 30s Celsius. However, this can be a slightly busier time of year and the months either side of this period can see comfortable temperatures, but lower prices.
French Polynesia can be visited year-round, but the months of November to April see tropical showers passing at greater frequency than other times of the year. However, they are often interspersed with periods of sunshine. This is a humid time of year, though, which can be uncomfortable and we recommend choosing a hotel with air-conditioning if visiting during these months. The islands rarely suffer from tropical storms except during years when El Niño affects ocean currents.
Creating tailor-made tours for over 25 years

Excellent
TrustScore

4.7 | 3431 reviews

Month-by-month guide for traveling in French Polynesia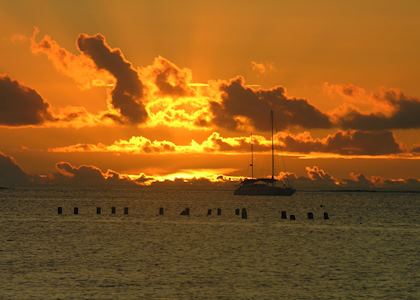 Visiting French Polynesia in January - April
By the start of the year the wet season is firmly established in French Polynesia, and the rain does not abate until April. However, more rain means emptier hotels, competitive rates, and far fewer visitors. Chinese New Year, which varies year on year but is generally mid-January to mid-February, sees the islands celebrating with parades, music and dancing.
Events & Festivals
The French Polynesian Chinese community in Tahiti celebrates the beginning of the Chinese New Year in either January or February depending on the year. Music, dancing and parades pervade the islands.
In April the Ori Tahiti Festival takes place focusing on the theme of traditional Polynesian dance.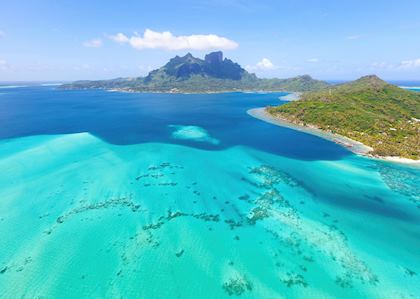 Visiting French Polynesia in May
The humidity begins to drop and rainfall starts to ease, but prices remain low and the islands maintain an overall quieter feel — for this reason this is often seen as a great time to visit French Polynesia.
Events & Festivals
In May, the Papenoo region of Tahiti holds the Matari'i Raro, also known as the Pleiades Festival, which marks the end of the harvest period, the beginning of the austral winter and the dry season.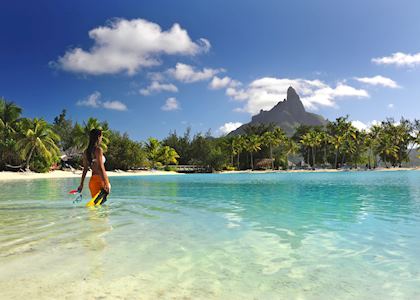 Visiting French Polynesia in June - August
French Polynesia has many of its own festivals to celebrate, such as Heiva i Bora Bora in July; an annual singing, dancing and sports competition. The season's balmy weather, combined with the traditional vacation period make this the most popular time to travel, but this means that hotels can fill up months in advance as both foreign visitors and locals flock to the smaller islands.
Events & Festivals
Heiva i Bora Bora takes place in July and is held in Vaitape on Bora Bora. This annual festival incorporates singing, dancing and a traditional sports competition.
Designed as an interactive event between visitors, sailors and residents, the Tahiti Moorea Sailing Rendez-Vous takes place over three days in July. The first day is in Tahiti with welcoming events, the second is a sailing rally and the last day is held on Tahiti's sister island Moorea, where a variety of Polynesian-style competitions take place.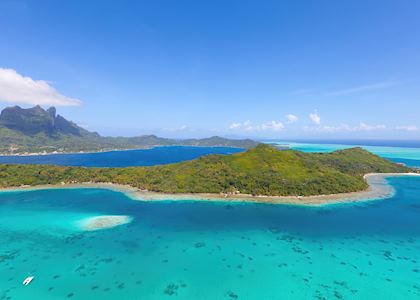 Visiting French Polynesia in September - October
Humidity begins to creep up as September and October progress, but the climate overall remains pleasant and the islands are quieter. Late September marks the spring equinox, when the sun's rays hit the islands' lagoons at just the right angle, bringing out the vivid turquoise hues of the classic French Polynesian landscape.
Events & Festivals
The HMS Bounty dropped anchor in October 1789 in Matavai Bay, Tahiti. The ship was on a mission to collect young bread fruit trees for the British Empire, but the operation was never completed following a crew mutiny and destruction of the ship. Every October, this epic event is re-interpreted and a replica of the Bounty is built.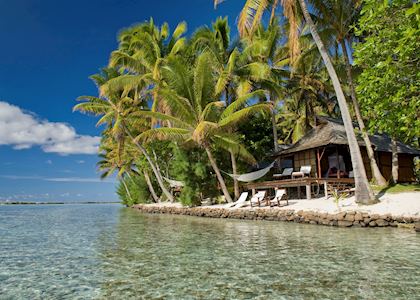 Visiting French Polynesia in November - December
November to April is French Polynesia's wet season, with concentrated bursts of rainfall punctuated by days of sunshine. At this time hotel air-conditioning becomes a necessity as humidity rises. However, it is possible to use French Polynesia's geography to your advantage; the Marquesas are closer to the Equator and are far enough north to benefit from the trade winds that temper the climate.
French Polynesia Climate Guide
Destination
Jan
Feb
Mar
Apr
May
Jun
Jul
Aug
Sep
Oct
Nov
Dec
Bora Bora

30°C

269mm

30°C

235mm

31°C

202mm

30°C

143mm

29°C

148mm

28°C

104mm

28°C

96mm

28°C

74mm

28°C

84mm

29°C

126mm

30°C

228mm

30°C

291mm

Marquesas Islands

30°C

110mm

30°C

104mm

30°C

145mm

30°C

146mm

29°C

122mm

29°C

178mm

28°C

137mm

28°C

116mm

29°C

74mm

30°C

82mm

30°C

77mm

31°C

88mm

Moorea

29°C

326mm

29°C

243mm

30°C

204mm

29°C

148mm

28°C

116mm

27°C

75mm

27°C

73mm

27°C

61mm

27°C

63mm

28°C

104mm

28°C

174mm

29°C

314mm

Tahiti

26°C

364mm

26°C

282mm

26°C

245mm

26°C

202mm

25°C

154mm

24°C

108mm

23°C

109mm

23°C

94mm

24°C

96mm

25°C

140mm

25°C

218mm

26°C

361mm

Tuamotu Islands

30°C

218mm

30°C

174mm

30°C

133mm

30°C

125mm

30°C

86mm

29°C

93mm

28°C

72mm

28°C

65mm

28°C

81mm

29°C

123mm

30°C

187mm

30°C

208mm
Why travel with Audley?
100% tailor-made tours
Fully protected travel
Established for over 25 years
98% of our clients would recommend us Travel advice
Practical tips for traveling to French Polynesia, from social protocols to guidance on money matters, with a link to the latest Government of Canada travel advice.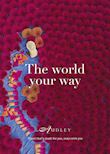 Request our brochure
Covering all seven continents, The world your way shows you how you can see the world with us. It features trip ideas from our specialists alongside hand-picked stays and experiences, and introduces our approach to creating meaningful travel experiences.
Trip ideas and travel guides for exploring French Polynesia