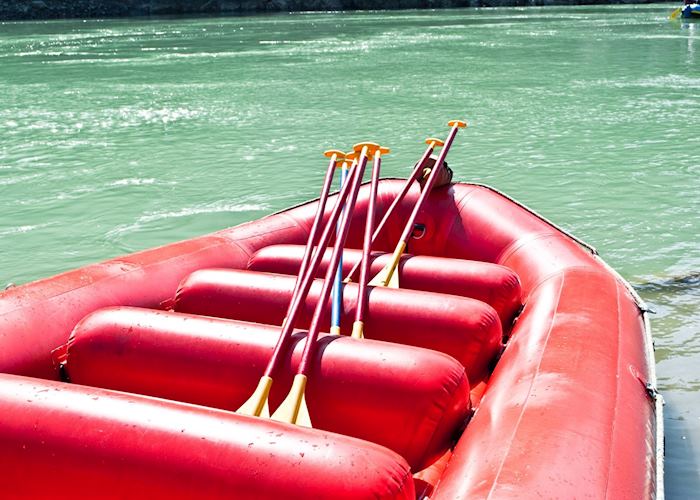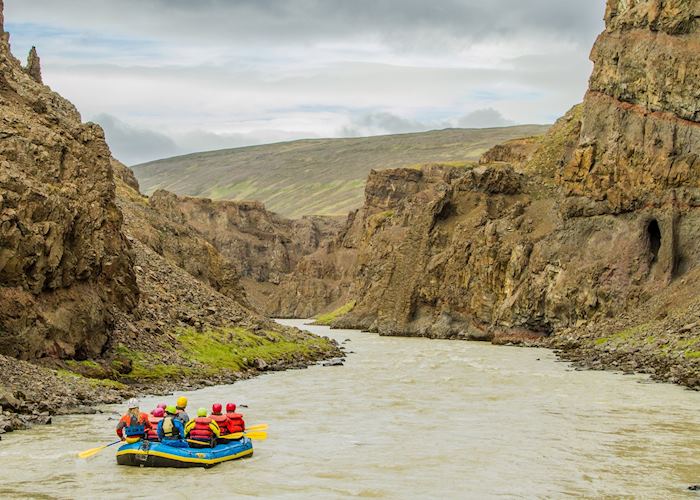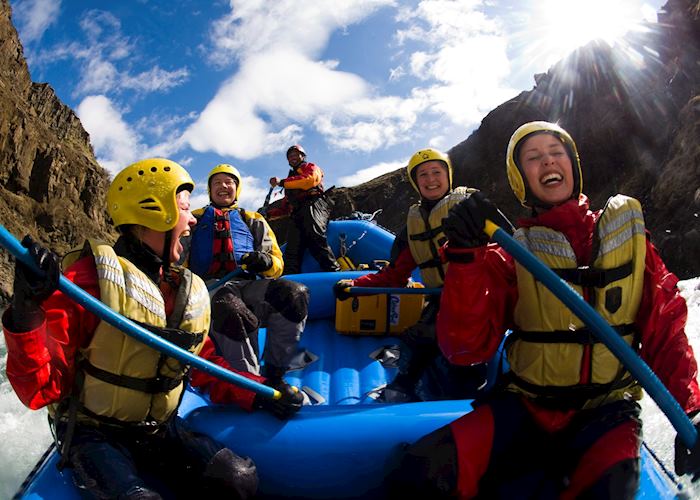 Family rafting
Experience north Iceland's wild and dramatic scenery from a new perspective as you raft down the meandering course and gentle rapids of the West Glacial River. The trip takes you through a towering canyon, giving the whole family a sense of great adventure as you travel through the rugged wilderness. You'll experience leisurely, slow-moving water that gives time to appreciate the scenery as well as a few exhilarating rapids. You'll also have the opportunity to enjoy hot chocolate brewed from a riverside hot spring and to swim in one of the calmer sections of the river.
The experience starts at the rafting base just outside Varmahlíð, where you'll meet your guide, instructor and the other members of the small group.
Before beginning your rafting trip, you'll be outfitted at the base with all the necessary equipment including a full dry suit and boots, a life jacket, helmet and gloves. We recommend wearing warm, thermal layers — the water is cold throughout the year.
There's a short drive to the section of the river where you'll start rafting, and then again at the end to return to the base. While members of the guiding team prepare your raft, you'll be taught the basics of paddling and a few key rafting terms to prepare you for the journey.
You'll then set off on a slow-moving section of river so that everyone can get used to the feel of the raft and the paddles. Your guide will tell you a little about the geology of the area and the canyon that you're paddling through as you float around twists and turns that reveal new views at every bend.
The river takes you through one of Iceland's least-visited areas of wilderness, so you're unlikely to see anyone else during your rafting adventure and can soak up the scenery in utter tranquillity.
As the river speeds up, you'll take on your first set of rapids. Your raft will be expertly guided by your certified river guide, who'll shout instructions as you reach each section. Although the West Glacial River is a relatively gentle one, expect to get a little splashed from time to time.
Later, stop at some bubbling riverside hot springs, where your guide will boil some water in 'nature's kettle' to make hot chocolate for the group before setting off again. There will also be time to take a swim, have a water fight or just admire the scenery as you continue down the river.
At the end of the paddle, you'll be collected and taken back to the rafting base outside Varmahlíð. The whole trip takes about three hours.
Speak to someone
who's been there

Start planning your tailor-made trip by contacting one of our Iceland specialists